Homemade Bone Broth versus Store Bought – Which is Better and More Affordable?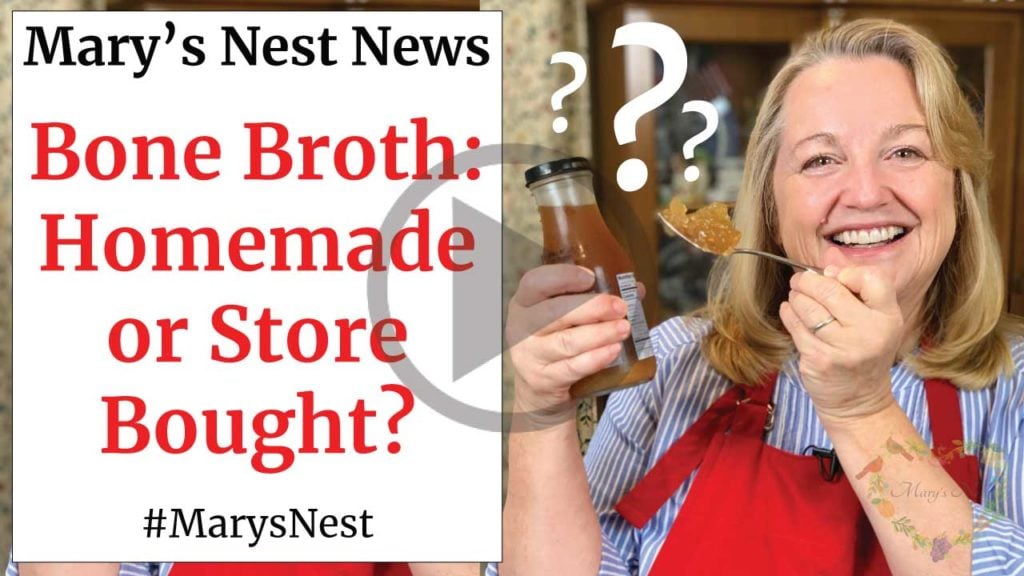 Hi Sweet Friends,
Clearly, homemade bone broth is always going to be the best option. However, does the cost of making homemade broth outweigh the benefits? This is a question I receive over and over again. So in my "Bone Broth: Homemade or Store Bought?" video, I discuss exactly how much homemade bone broth costs to make, both with commercially raised bones as well as organic grass fed bones.
Here's a list of the ingredients in the store-bought bone broth that's in my video:
Beef broth
Beef extract
Apple cider
Vinegar
Sea salt
Sugar
Onion powder
Tomato powder
Yeast extract
Cooked vegetables
Garlic powder
Salt
Corn oil
Potato flour
Black pepper
Olreoresin
Carrot powder
Do we know which bones were used to make the broth, or what olreoresin is? (Ah. Olreoresin is a natural or artificial mix of essential oils and resin. But why is it needed in bone broth?) And corn oil? Really? In bone broth? I hope they're kidding!
When we make our bone broth at home, we know what's in it, and I'm confident none of us are adding resin! But what does it cost to make bone broth homemade? Does it cost more than store-bought–cup for cup? Come join me in my kitchen with my "Bone Broth: Homemade or Store Bought?" video as we answer these questions and more!
US Wellness Meats
Plus, I have great news for those of you who would like to order your organic grass-fed beef bones online. The wonderful folks at US Wellness Meats have given me the MARYNEST promo code to share with my YouTube viewers and blog readers so that you can receive a 15% discount on regular-priced items!!
And US Wellness Meats sells lots more than just bones. They offer a wide selection of assorted meats and chickens too. Plus chicken feet…perfect for making Chicken Bone Broth!
Related Videos
Stay in Touch with Mary's Nest
Subscribe to My YouTube Channel for Traditional Foods Videos (Free) - When you subscribe, be sure to click on the notification bell that will let you know each time I upload a new video.


Subscribe to Mary's Traditional Foods Newsletter (Free) - Get a free eBook for signing up: How to Stock Your Essential Traditional Foods Four-Corners Pantry.


Join the Traditional Foods Kitchen Academy (Optional Paid) - For more detailed videos, live streams, and exclusive members-only perks, join my YouTube membership community.
I look forward to having you join me in my Texas Hill Country Kitchen!
Love,
Mary
♥
Shop for items used in this blog post or video
Visit my Shopping Guide page
Learn where I buy my Beef Bones, Wild-Caught Fish, Sprouted Grains, and more...and learn about Special Discounts for Mary's Nest visitors, including from US Wellness Meats, Vital Choice, Masontops, and Breadsmart.
*Affiliates note: As an Amazon Associate I earn from qualifying purchases. My videos and blog posts may contain affiliate links to products and services. If you click through and make a purchase, I'll receive a small commission. It does not affect the price you pay.
**Disclaimer: I am not a medical doctor, a medical professional, a dietician, or a nutritionist. All content found on the MarysNest.com website, including text, images, videos, eBooks or eGuides, social media, or other formats, were created solely for informational purposes only. The content is not intended to be a substitute for professional medical advice, diagnosis, or treatment. Always seek the advice of your physician or other qualified healthcare provider with any questions you may have regarding a medical condition or proper nutritional advice. Never disregard professional medical advice or delay in seeking it because of something you have watched in a video or read on this website. Use caution when following the recipe in this video. The creator and publisher of this video and website will not be held responsible for any adverse effects that may arise from the use of this recipe and method or any other recipe and method on this website or corresponding video channel.