Learn more about Limosilactobacillus reuteri as I answer questions from my viewers about this super yogurt.
During this month's members-only live stream, we talked about a variety of topics, including a preview of upcoming videos.
I was honored to have my new book, The Modern Pioneer Cookbook, chosen as the Lake Travis Reads selection in 2023.
Explore Traditional Foods: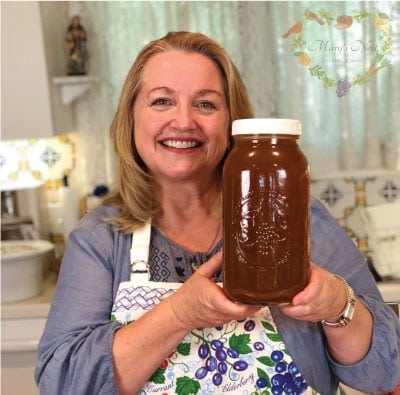 Hi Sweet Friends
Welcome to Mary's Nest Cooking School. Do you want to be a Modern Pioneer in the Kitchen and be part of the Traditional Foods Movement? If so, You've found a home! I teach Traditional Cooking Skills including How to Cook from Scratch so you can make "Nutrient Dense" Foods including Bone Broths, Cultured Dairy, Ferments, Sourdough Starter, Sourdough Bread, and More!
I'm so glad you're here!


Kitchen Pioneers
Join the Traditional Foods Kitchen Academy on YouTube for exclusive videos and live streams.