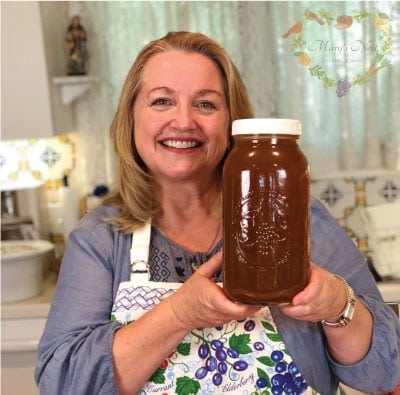 Hi Sweet Friends
Welcome to Mary's Nest Cooking School. Do you want to be a Modern Pioneer in the Kitchen and be part of the Traditional Foods Movement? If so, You've found a home! I teach Traditional Cooking Skills including How to Cook from Scratch so you can make "Nutrient Dense" Foods including Bone Broths, Cultured Dairy, Ferments, Sourdough Starter, Sourdough Bread, and More!
I'm so glad you're here!
Explore Traditional Foods:

Kitchen Pioneers
Join the Traditional Foods Kitchen Academy on YouTube for exclusive videos and live streams.
Learn about the products and supplies that will keep your pantry well-stocked. (Includes prices!)
Learn about the herbs, spices, and supplies you need to create an extensive set of healing preparations.
Get a chance to win a collection of 100 heirloom seeds, including varieties of vegetables, herbs, and flowers.
Time to do an inventory and restock your Prepper Pantry.
Find the best gourmet foods for your holiday table at big savings!
Grow your own Victory Garden now, or save the seeds for the future in your Prepper Pantry.