How to Make Fast No Knead Sourdough Bread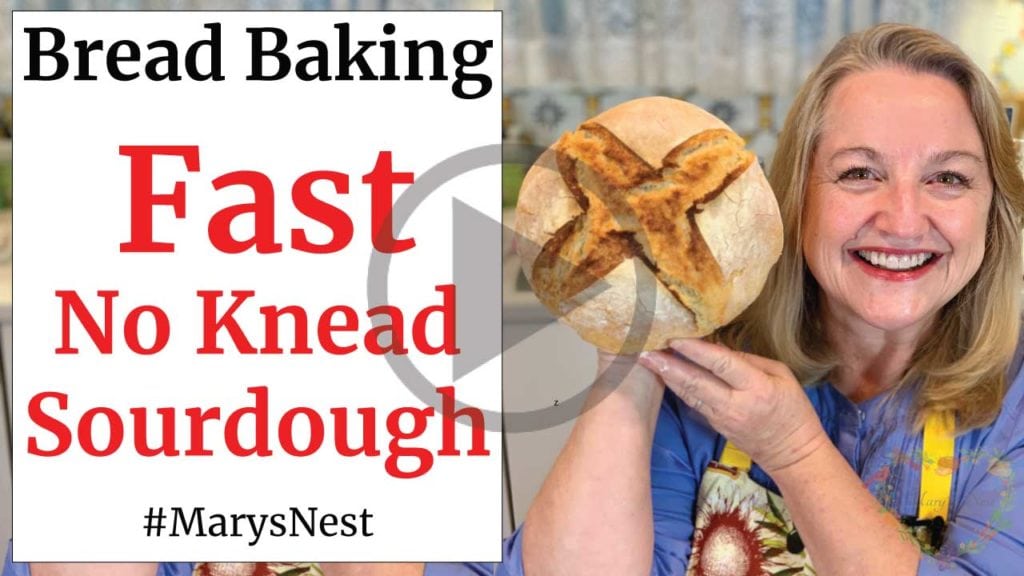 Hi Sweet Friends,
Watch this video for a fast and foolproof No Knead Sourdough Bread recipe that you can make in one day. No overnight rise is necessary! It's the perfect recipe for beginner bakers.

There is nothing like home-baked bread. This No Knead Sourdough Bread Recipe is the perfect bread to get everyone running into the kitchen for a slice. Follow the foolproof steps in my video to quickly make and bake homemade bread. Then slather a slice with butter, and you're all set to enjoy!
Related Videos
Subscribe to my channel for more easy recipes
And while you're visiting my Mary's Nest YouTube channel, be sure to subscribe and click on the notification bell that will let you know each time I upload a new video.
I look forward to having you join me in my Texas Hill Country Kitchen!
Love,
Mary
♥
You can print the recipe below.
Print Recipe
How to Make Fast No Knead Sourdough (Video)
Follow this recipe for a FAST and FOOLPROOF No Knead Sourdough Bread that you can make in one day. No overnight rise is necessary! It's the perfect recipe for beginner bakers.
Ingredients
1/2

cup

Fed sourdough starter

1

cup

Filtered water

3

cups

Organic bread flour

1

teaspoon

Fine ground sea salt
Instructions
Measure 1/2 cup sourdough starter into a bowl and add 1 cup water. Mix well.

In a second bowl, add 3 cups bread flour and the salt. Whisk well to distribute the salt with the flour.

Pour the starter mixture into the bowl with the flour and salt.

Use your hand to mix well in a roughly formed ball.

Cover the bowl with a towel and allow to rest for 30 minutes.

Remove the ball from the bowl and fold over a number of times and then form into a round. (See video)

Cover a baking sheet with parchment paper and dust with flour. Place round on the covered baking sheet. Dust the top of the dough with flour, cover with a cloth, and allow to rise 1 1/2 - 2 hours until double in size.

While the dough is rising, place your Dutch oven with lid into your cooking oven and preheat oven to 500 degrees Fahrenheit.

When the dough has doubled in size on your covered baking sheet, remove your Dutch oven from your cooking oven. Your Dutch oven will be hot, so use potholders and be careful. Remove the Dutch oven lid. Lift parchment paper with dough on it and place the paper and dough into your Dutch oven. Place the lid back on and transfer your Dutch oven back into your cooking oven.

Bake bread in your covered Dutch oven for 30 minutes.

Next, remove lid from your Dutch oven and allow bread to continue baking inside your cooking oven for 5-10 minutes more until golden brown.

Using pot holders, remove your Dutch oven from your cooking oven, and then continuing to use pot holders, remove bread from your Dutch oven by lifting it out using the parchment paper.

Transfer bread on parchment paper to a cooling rack.

Allow bread to cool, then slice with a serrated knife, and enjoy with butter.
Notes
Find this recipe and video at https://marysnest.com/recipe/how-to-make-fast-no-knead-sourdough-bread/
Copyright © 2019 Mary's Nest, LLC, All Rights Reserved
Shop for items used in this blog post or video
Visit my Shopping Guide page
Learn where I buy my Beef Bones, Wild-Caught Fish, Sprouted Grains, and more...and learn about Special Discounts for Mary's Nest visitors, including from US Wellness Meats, Vital Choice, Masontops, and Breadsmart.
Favorite Bread Making Supplies:
***
*A Note About Affiliates: My videos, video descriptions, and blog posts may contain affiliate links to various products. As an Amazon Associate I earn from qualifying purchases. If you click through and make a purchase, I'll receive a small commission. It does not affect the price you pay.
**Disclaimer: I am not a medical doctor, a medical professional, a dietician, or a nutritionist. All content found on the MarysNest.com website, including text, images, videos, eBooks or eGuides, social media, or other formats, were created solely for informational purposes only. The content is not intended to be a substitute for professional medical advice, diagnosis, or treatment. Always seek the advice of your physician or other qualified healthcare provider with any questions you may have regarding a medical condition or proper nutritional advice. Never disregard professional medical advice or delay in seeking it because of something you have watched in a video or read on this website.