Affiliates note: As an Amazon Associate I earn from qualifying purchases. My content may contain affiliate links to products and services. If you click through and make a purchase, I'll receive a small commission. It does not affect the price you pay.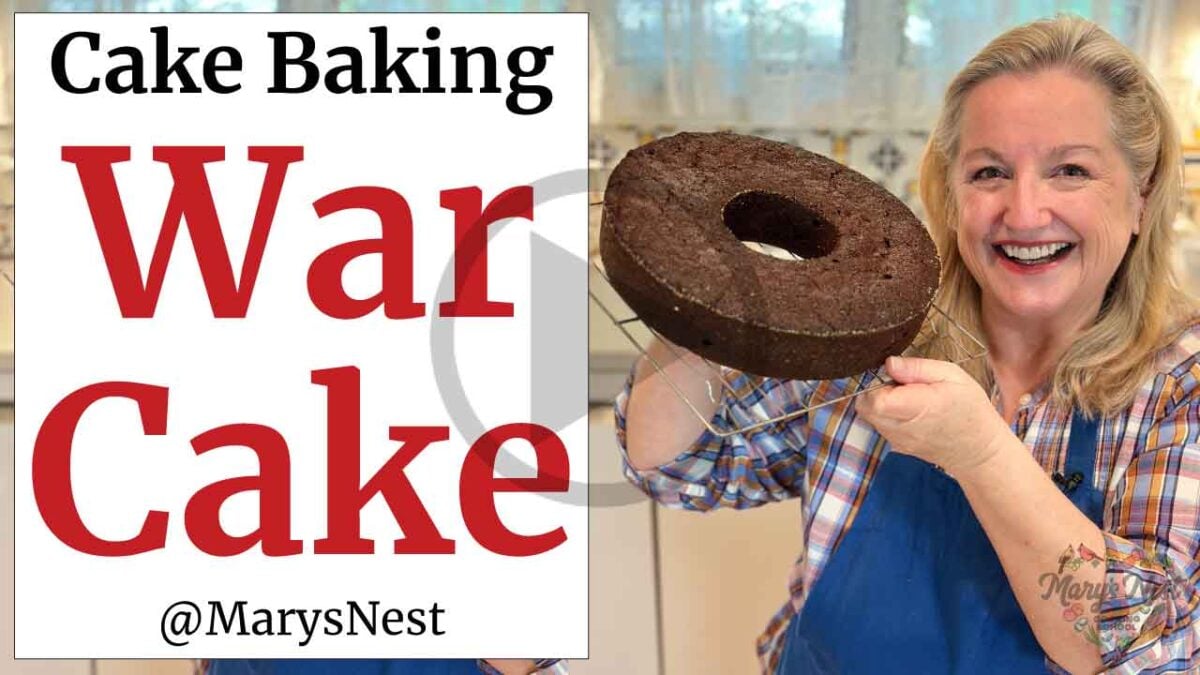 During World War 1, baking ingredients, such as flour, butter, eggs, and sugar, were rationed or in short supply. So, making creative use of the ingredients they had, home cooks of that era baked War Cake, and that's the innovative recipe that I'm excited to show you today.
This recipe helped home cooks make a flavorful dessert for their families during WWI, and thanks to their ingenuity, they created a recipe that continued to be popular through the Great Depression and World War 2. This War Cake recipe fed millions, and it is still popular today.
What Is War Cake?
War Cake (sometimes referred to as Poor Man's Boiled Raisin Cake) is a simple round or loaf pan style quick bread that shares the characteristics of peanut butter bread or banana bread. It's sweet like cake but forgoes the layers and icing typical of what many of us think of when we hear the term cake. However, even though this simple quick bread may lack icing, it is a delicious cake that is both tender and moist thanks to the boiled raisins.
War Cake owes its popularity due to its tastiness and because it uses cheap yet nutritious ingredients. It's still made today because it requires no eggs and no butter, so it's a cost-effective and delicious dessert to enjoy anytime, especially during these inflationary times!
What Type of Fat Is Used to Make War Cake?
With the food rationing during World War 1, home cooks had to be very clever when cooking or baking with the ingredients that were available to them. They used every last bit of food in some way, and all fat—whether rendered from a bit of bacon, some ground beef, or a roast chicken—was put to good use in various ways when cooking.
My maternal grandmother Louise was occasionally able to buy a leg of mutton (older sheep meat) during times of rationing. Mutton was more available to her and less expensive than beef. So when she slow roasted a leg of mutton to tenderize it, she saved all the fat that was rendered from it. She used this fat to sauté vegetables and make baked goods.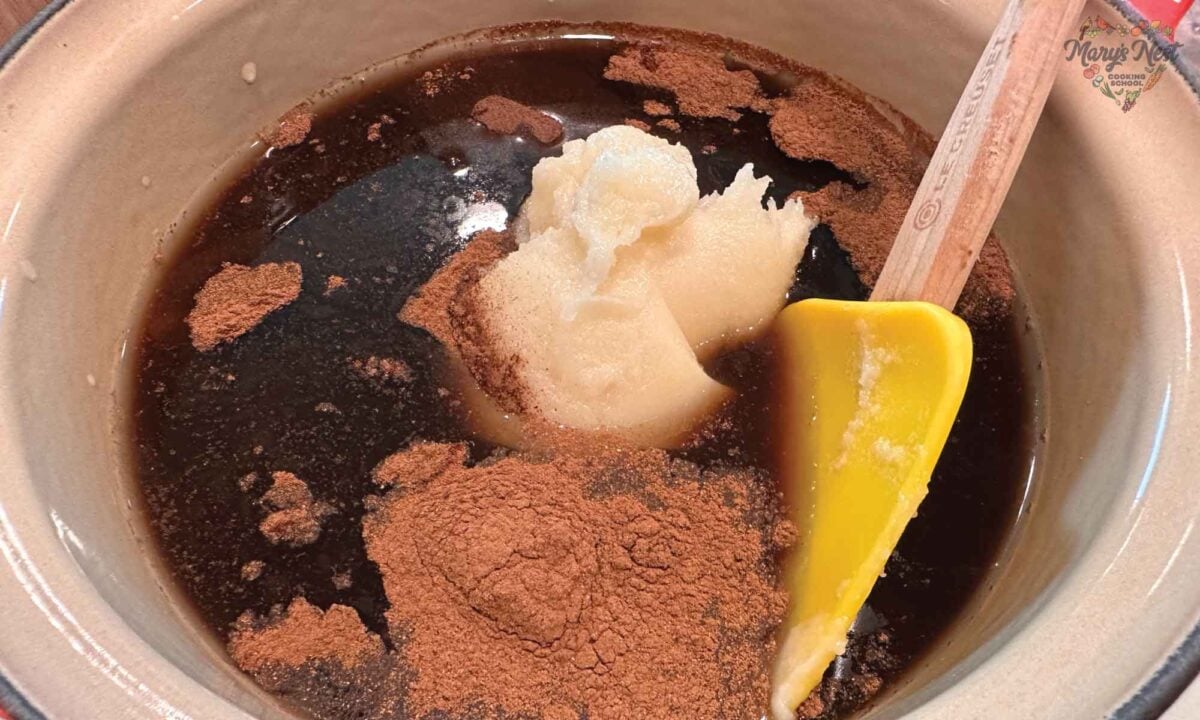 In this War Cake recipe, I use my saved bacon grease as my animal fat ingredient. Would using animal fats from bacon or mutton impart a taste to baked goods? Yes, but thanks to the use of lots of spices in their recipes, as with this War Cake recipe, home cooks were able to hide the taste of animal fats in their baked goods.
What Type of Sweetener Is Used to Make War Cake?
Making use of the ingredients readily available to home cooks during WWI and The Great Depression, this War Cake recipe uses molasses instead of sugar as a sweetener. (I used unsulphured molasses, not blackstrap. Alternatively, you can use honey or another liquid sweetener.) As I explain in this section, white sugar was hard to come by, so home cooks had to be creative.
Making the Most of the Ingredients You Have
I remember the stories my parents shared with me of living during The Great Depression. Their experiences with hardship and scarcity left such an impression on me. My mom made many of the recipes she grew up with, and I learned the importance of not wasting and creatively using the ingredients we had.
Since I first helped my mom in her kitchen, I've always been interested in the home cook's experience during The Great Depression and both world wars. As I researched the recipes of these eras, I was fascinated to learn the various ways home cooks conserved their use of white sugar by using alternative sweeteners.
During The Great Depression, white sugar was expensive, and during WWI and WWII, sugar was tightly controlled through rationing. Much of the white sugar processed in the United States was sent overseas to use in baked goods to feed the troops and our allies.
When home cooks were able to acquire some white sugar, they generally reserved it for their home canning needs since sugar is an essential ingredient in preserves. So they had to be creative when it came to baking or sweetening a cooked dish.
Choosing An Alternative Sweetener
The good news was that molasses was readily available and cheap, which was a godsend for families during the Depression. Molasses contains more nutrients than white sugar, and its availability during the war made it a go-to sweetener for many home cooks.
Additionally, depending on where in the United States families lived, home cooks could also choose from alternate sweeteners, such as syrups made from sorghum or barley. Honey was another acceptable alternative to white sugar.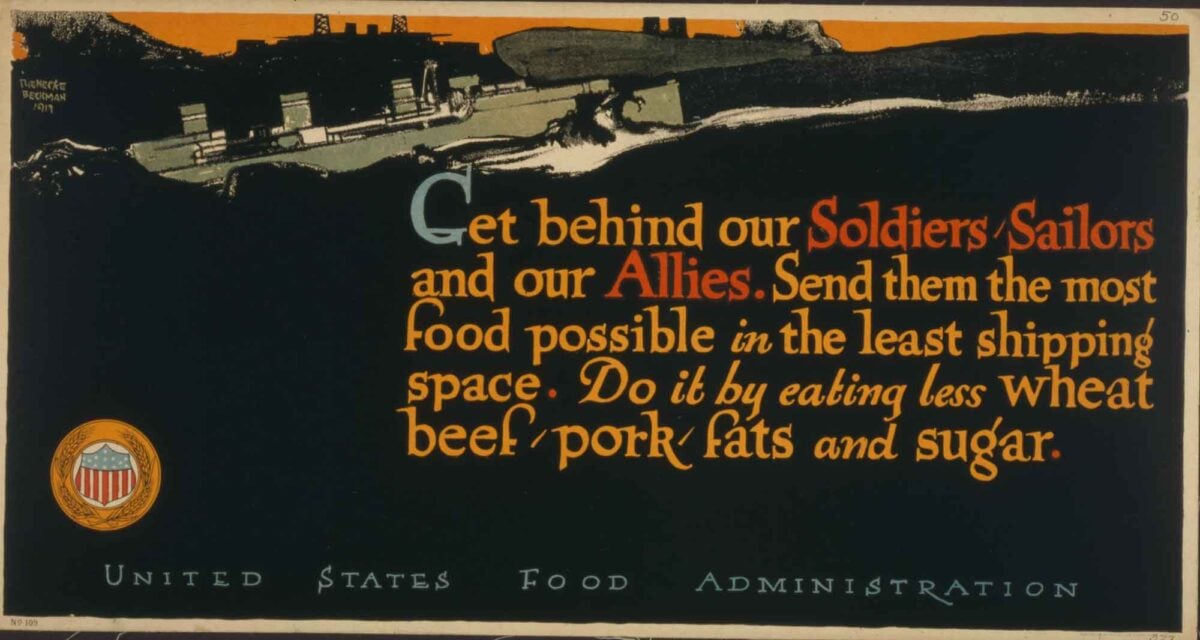 Another popular way for home cooks to sweeten baked goods was to simmer fresh or dried fruit in water and allow the water to evaporate and concentrate to create a sweet syrup. Raisins were often used in this way, as we are using them to sweeten our War Cake.
Home cooks often used stewed prunes to create a rich sweet syrup similar to molasses. I remember my mother still doing this well into the 1970s by regularly stewing prunes and enjoying the sticky sweet syrup drizzled over the plumped prunes or as a complement to a bit of vanilla ice cream.
Whatever alternative sweetener option home cooks chose to use, the good news is that they were using a healthier alternative than plain white sugar. So along with using alternate flours, these alternate sweeteners made nutritious baked goods. So when you make this War Cake, just like they did back in the 1910s or 1940s, you can enjoy it guilt free!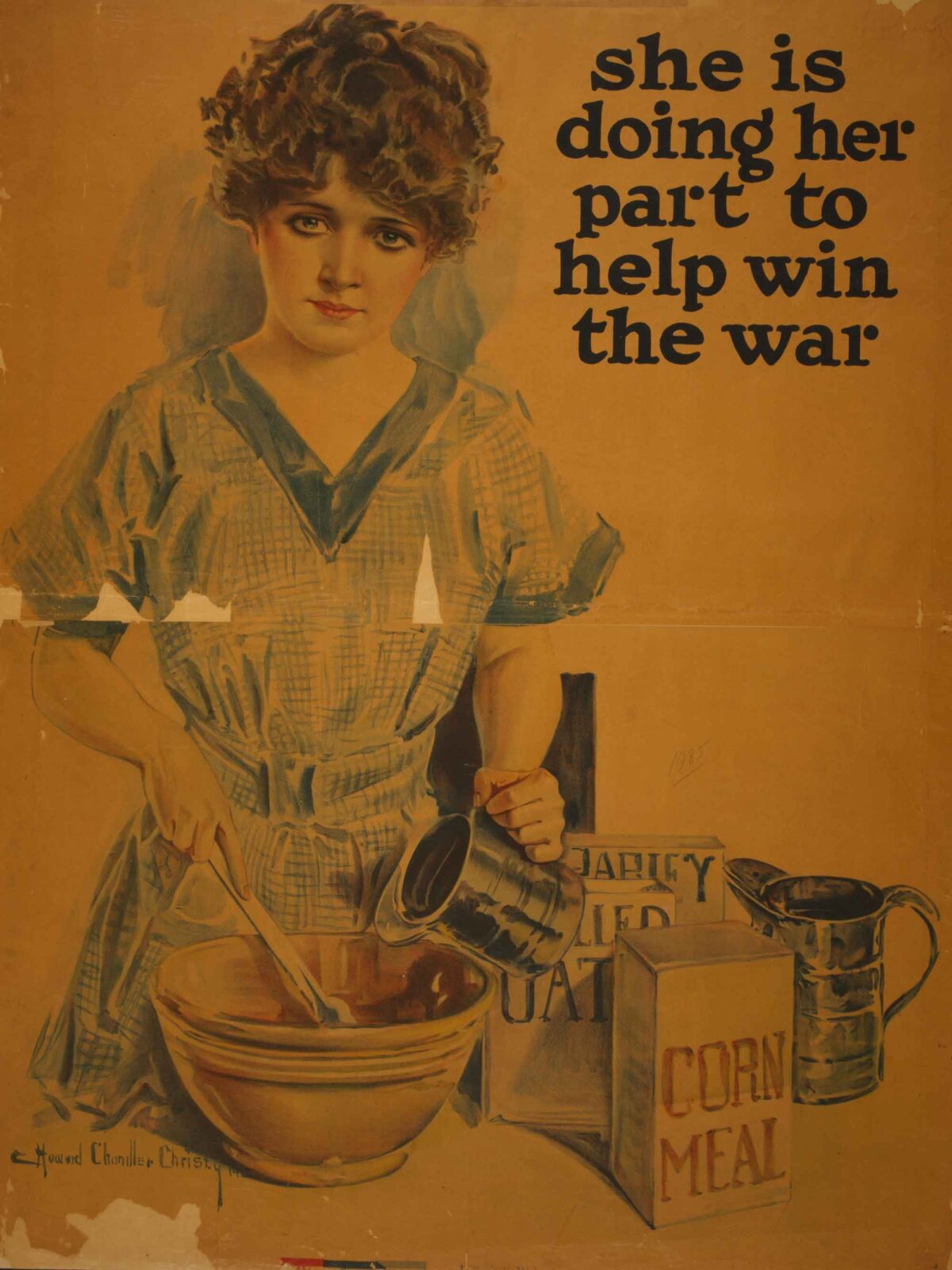 What Type of Flour Is Used to Make War Cake?
White flour or plain flour, what we commonly know today as all-purpose flour, was heavily rationed during both world wars. The US government needed to send the flour overseas to feed our troops and allies. So this scarcity of plain flour required home cooks to learn how to bake with alternate types of flour.
The most common flours available in the US during the world war included:
Barley
Buckwheat
Cornmeal
Oats
Rye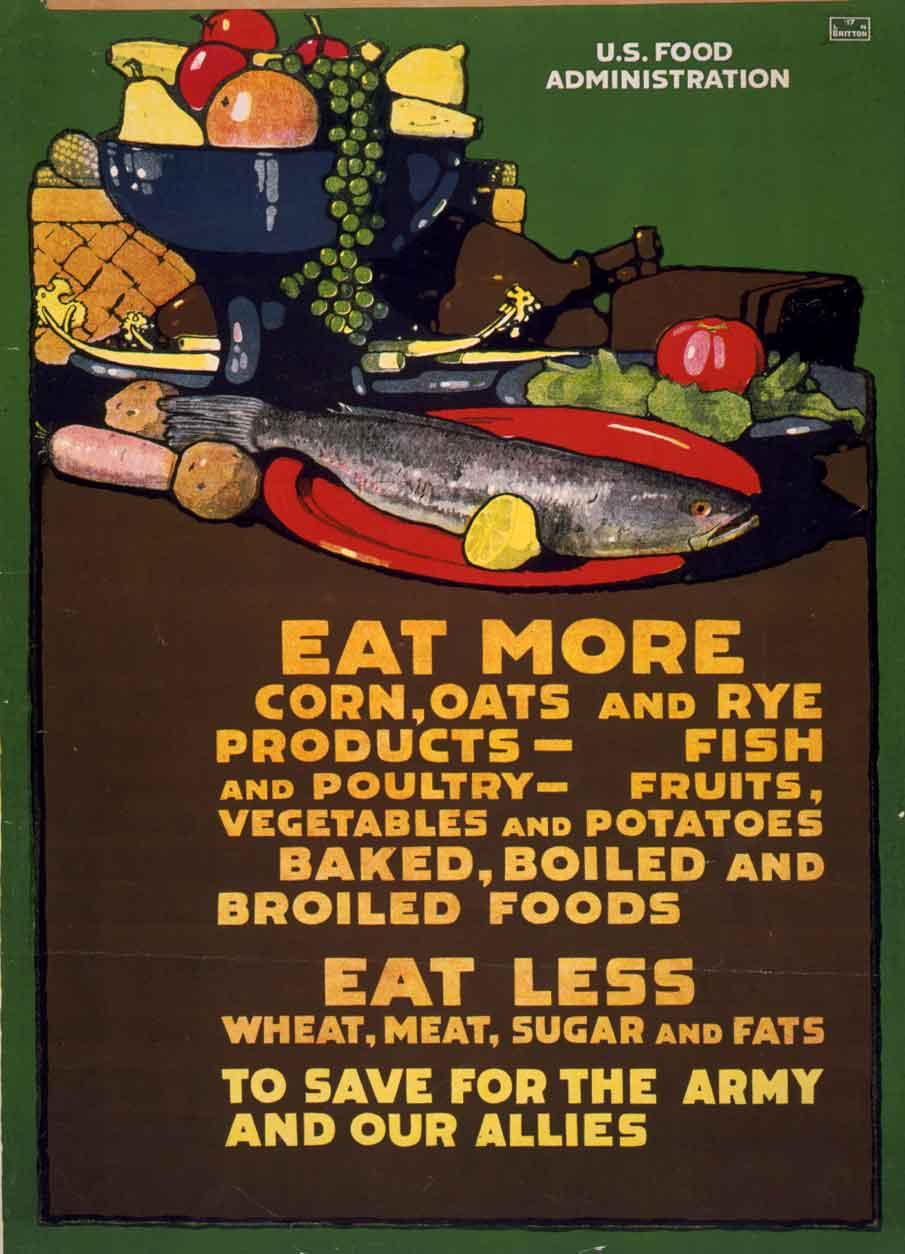 This recipe for War Cake uses whole-grain rye flour and old-fashioned rolled oats. The oats help create a lighter texture to offset the use of the whole grain flour. And by substituting all-purpose flour with these whole grain alternatives, we are creating a much healthier cake, which makes it the perfect treat to serve our family and friends in our traditional foods kitchen.
Today, you can buy rye flour at most grocery stores, but to make this recipe even more economical, I grind my whole grain rye groats (rye berries) into freshly milled flour. These rye groats are less expensive to purchase than store-bought rye flour.
Grind Your Own Flour with the Mockmill
To grind my rye groats or berries, I could use my manual or electric grain mill. Since it's much easier to grind grain to make flour with an electric grain mill, I keep my manual grain mill as a backup.
When it comes to electric grain mills, after I did A LOT of research, I decided to buy a Mockmill. And am I so happy I did! The Mockmill is a very affordable but beautifully crafted German-made mill that stone grinds grain with settings ranging from 1 to 10—fine to coarse ground grain. (I describe why I like to use setting 5 in my War Cake recipe video.)
And I have great news! The folks at Mockmill are very kind to offer my viewers and readers a special one-time discount on any of the grain mills that they sell.
Note: You can also get the new Flake Lover's Flaker from Mockmill. Using this device, you can flake whole grain in minutes.
You can see me unbox and try out the Mockmill 100 Grain mill in the following video. (This is not a sponsored post, I bought the Mockmill products that I show you, and I'm a happy user of their devices in my kitchen.)
More Information About WWI Recipes
For more information about War Cake and WWI recipes, visit the following resources that I talk about in today's video:
And if you'd like to browse more WWI posters and references, visit the US Library of Congress.
Download Your Free 36-Page Pantry List
For an extensive list of the traditional foods you can make and purchase to stock your pantry, be sure to download my free 36-page Traditional Foods Pantry List. This comprehensive eBook is full of links to recipe videos, helpful articles, and more!
The Modern Pioneer Cookbook
And if you're looking for a printed book full of my traditional foods recipes that shows you how to create a traditional foods kitchen, be sure to preorder your copy of my new book, The Modern Pioneer Cookbook.
Kitchen Academy Videos
Are you looking for more traditional foods videos? If so, I invite you to join the Traditional Foods Kitchen Academy. Members of this optional paid YouTube community get access to exclusive videos, live streams, and other members-only perks. Plus, your YouTube comments include a special members-only badge.
In the following members-only video, I answer your questions about making L. Reuteri Cultured Dairy, also known as "Super Yogurt."
I chat about why it was important for me to create this comprehensive curriculum for students in grades K-12.
I share upcoming recipes and what I have planned for my Mary's Nest YouTube channel in 2024.
During this month's members-only live stream, we talked about a variety of topics, including a preview of upcoming videos.
Stay in Touch with Mary's Nest
Subscribe to My YouTube Channel for Traditional Foods Videos (Free) - When you subscribe, be sure to click on the notification bell that will let you know each time I upload a new video.
Subscribe to Mary's Traditional Foods Newsletter (Free) - Get a free 36-page eBook for signing up: How to Stock Your Essential Traditional Foods Four-Corners Pantry.
Join the Traditional Foods Kitchen Academy (Optional Paid) - For more detailed videos, live streams, and exclusive members-only perks, join my YouTube membership community.
Order The Modern Pioneer Cookbook (Optional Paid) - Get a printed book of Mary's nourishing recipes from a Traditional Foods Kitchen. This bestselling cookbook is published by Penguin Random House with their DK imprint.
I look forward to having you join me in my Texas Hill Country Kitchen!
How to Make War Cake (Poor Man's Boiled Raisin Cake)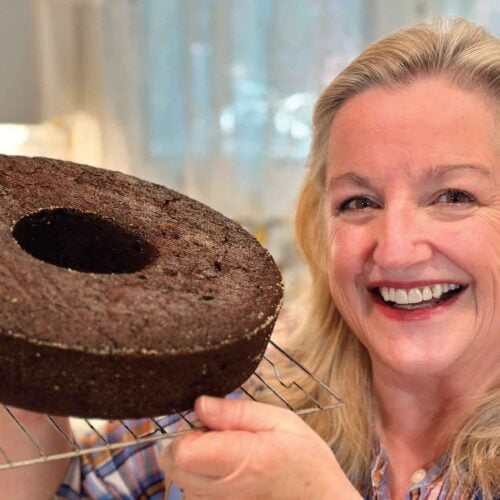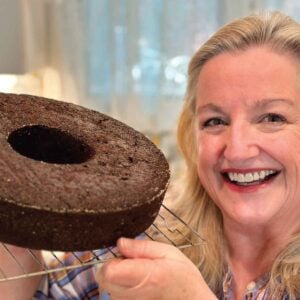 With food rationing in place during WWI, home cooks had to be very clever when cooking or baking with what was available to them. War Cake owes its popularity due to its tastiness and because it uses cheap yet nutritious ingredients. It's still made today because it requires no eggs and no butter, so it's a cost-effective and delicious dessert to enjoy anytime.
Equipment
1 medium saucepan

2 loaf pans

Alternatively, you can use one tube pan or one bundt pan.
Ingredients
2

cups

molasses

I used unsulphured molasses, not blackstrap. Alternatively, you can use honey or another liquid sweetener.

1/2

cups

water

2

cups

raisins, dark or golden

1/2

cup

fat

I used bacon grease. You will need additional fat to grease the pan(s).

1

tsp

salt

1

tsp

cinnamon

1/2

tsp

cloves

1/2

tsp

nutmeg

I substituted allspice

3

cups

rye flour

You can substitute up to 1 cups of old-fashioned rolled oats for 1 cup of rye flour. This is what I did. You will need additional flour for dusting the pan.

1/2

tsp

baking soda

2

tsps

baking powder

powdered sugar, optional

Also known as icing sugar.
Instructions
Add the first eight ingredients to the saucepan and bring to a boil on the stovetop over high heat. Boil for 5 minutes.

Preheat the oven to 325°F (163°C).

Grease the two loaf pans or one tube (or bundt) pan and dust with rye flour. Set aside. (In my recipe video, I use one tube pan.)

While the mixture is boiling, place the flour, baking soda, and baking powder in a large mixing bowl and whisk together.

Remove the saucepan from the stovetop, place on a heatproof surface, and allow the mixture to cool.

Once the mixture has cooled, make a well in the flour and pour the wet mixture into the well. Mix together until the flour is completely incorporated and no streaks of flour can be seen. Do not over mix.

Divide the batter into two loaf pans or one tube (or bundt) pan. Smooth the top.

Place the pan(s) on the middle rack of the preheated oven and bake for approximately 1 hour or until a toothpick inserted into the cake comes out clean.

Using potholders, remove the pan(s) from the oven and let them cool on a heatproof surface for 10 minutes. Afterward, remove the cake from the pan(s), serve, dust with powdered sugar if desired, and enjoy!

Wrapped well, the cake can be stored in the refrigerator for three to four days or two months in the freezer.
Notes
Find this recipe and video at https://marysnest.com/how-to-make-the-war-cake-that-fed-millions/
Copyright © 2023 Mary's Nest, LLC, All Rights Reserved
Nutrition
Calories:
310
kcal
|
Carbohydrates:
60
g
|
Protein:
3
g
|
Fat:
8
g
|
Saturated Fat:
3
g
|
Polyunsaturated Fat:
1
g
|
Monounsaturated Fat:
3
g
|
Cholesterol:
7
mg
|
Sodium:
265
mg
|
Potassium:
837
mg
|
Fiber:
4
g
|
Sugar:
32
g
|
Vitamin A:
0.5
IU
|
Vitamin C:
1
mg
|
Calcium:
127
mg
|
Iron:
3
mg
Watch Mary's Nest on YouTube
Shop for items used in this blog post or video
Favorite Baking Supplies
Favorite Kitchen Supplies
More Kitchen Supplies with Discount Codes
Learn more about Mockmill electric grain mills for making fresh flour and their Flake Lover's Flaker that flakes whole grain in minutes.
Use promo code MARYSNST for a one-time 15% off Masontops and Breadsmart products on Amazon.com.
Amazon Shop and Shopping Guide
Visit my Shopping Guide page
Get up to 15% off for stocking your Traditional Foods Pantry and equipping your Modern Pioneer Kitchen, including discounts from US Wellness Meats, Farmhouse Teas, Lehman's, Masontops, Cultures for Health, Survival Garden Seeds, Redmond Real Salt, Plan to Eat, and More!
Recommended Reading
**Disclaimer: I am not a medical doctor, a medical professional, a dietician, or a nutritionist. All content found on the MarysNest.com website, including text, images, videos, eBooks or eGuides, social media, or other formats, were created solely for informational purposes only. The content is not intended to be a substitute for professional medical advice, diagnosis, or treatment. Always seek the advice of your physician or other qualified healthcare provider with any questions you may have regarding a medical condition or proper nutritional advice. Never disregard professional medical advice or delay in seeking it because of something you have watched in a video or read on this website. Use caution when following the recipe in this video. The creator and publisher of this video and website will not be held responsible for any adverse effects that may arise from the use of this recipe and method or any other recipe and method on this website or corresponding video channel.