Mockmill Unboxing – An Affordable Grain Mill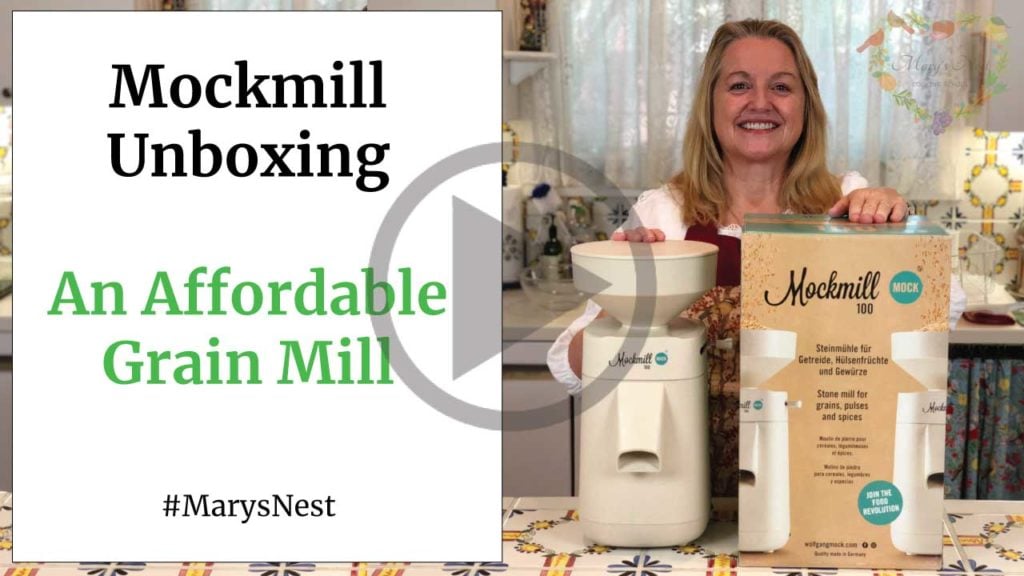 Hi Sweet Friends,
I finally broke down and bought a grain mill—A Mockmill 100 to be exact.  The cost was $299.00.  (This is NOT a sponsored post. I actually bought this product for myself.)
I researched various grain mills and decided on this one because it allows the user to pick a grind for the grain ranging from 1 (fine) up to 10 (coarse).  Plus it grinds the grain between two stones.  Stone ground flour at home!!
Retiring my Vitamix
As I have shared in the past, I have always used my 28-year-old Vitamix to grind my grain.  I would freeze my grain to prevent it from overheating and then whirl it in the Vitamix for under a minute—and voila!  Ground grain.  But I had to accept whatever level of grind I got.  It was far from an exact science.  So I decided to break down and finally buy a grain mill, and it was the Mockmill 100 that I finally decided on!
Unbox the Mockmill with me and set it up
Be sure to watch my Video where I unbox my Mockmill and get it ready to grind grain.  There are a few steps involved to prep it, but they are easy, and I walk you through them step-by-step.
Learn more
Head over to the Mockmill website where you can learn more about all the Mockmill products.
Subscribe to my channel for more easy recipes
And while you're visiting my Mary's Nest YouTube channel, be sure to subscribe and click on the notification bell that will let you know each time I upload a new video.
I look forward to having you join me in my Texas Hill Country Kitchen!
Love,
Mary
♥
Shop for items used in this blog post or video
***
*A Note About Affiliates: My videos, video descriptions, and blog posts may contain affiliate links to various products. As an Amazon Associate I earn from qualifying purchases. If you click through and make a purchase, I'll receive a small commission. It does not affect the price you pay.
**Disclaimer: I am not a medical doctor, a medical professional, a dietician, or a nutritionist. All content found on the MarysNest.com website, including text, images, videos, eBooks or eGuides, social media, or other formats, were created solely for informational purposes only. The content is not intended to be a substitute for professional medical advice, diagnosis, or treatment. Always seek the advice of your physician or other qualified healthcare provider with any questions you may have regarding a medical condition or proper nutritional advice. Never disregard professional medical advice or delay in seeking it because of something you have watched in a video or read on this website.