I am so excited to share with you a new kitchen tool for the Traditional Foods Cook: The Flake Lovers Flaker from Mockmill.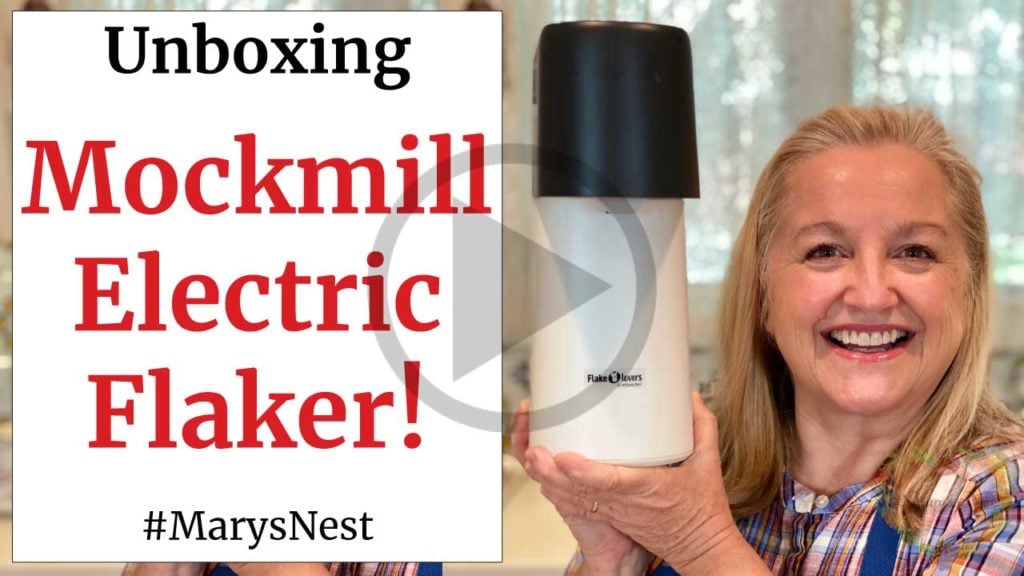 This electric flaker was made by Wolfgang Mock, the creator of the electric Mockmill Grain Mill. And like the grain mill, the housing for this flaker is made from the same sustainable materials.
Note: This is not a sponsored post. I purchased and use this product, and I'm glad to share my experience with you.
What Can You Do with Whole Grains?
Since whole grains have a longer shelf life than flaked grain or flour, you'll want to set aside space in your extended or Prepper Pantry to store whole grains, such as wheat berries, oat groats, and whole einkorn.
Whole grain will last longer in your Prepper Pantry than trying to store old-fashioned rolled oats or all-purpose flour, which have a shorter shelf life.
When you're ready to use your stored whole grains, you can make:
Making Flour
If you want to make fresh flour, you can also use an electric Mockmill grain mill or a manual grain mill to create flour from your stored whole grain. And with your fresh flour, you can make bread and all kinds of delicious baked goods.
For example, I show you how to make fresh flour using my Mockmill 100 grain mill in my How to Make All Purpose Einkorn Flour video.
Making Flaked Grain
This is where the Flake Lovers Flaker device will come in handy as your new traditional foods cook tool!
With your stored whole grain, you can use this electric device to create freshly flaked grain. This device flakes whole grain literally in minutes. (Be sure to watch my Flake Lovers Flaker video to see the tool in action.)
And with your flaked grain, such as flaked oats, you can make oatmeal, bread, cookies, and more!
Why Do We Want to Flake Grain?
The shelf life of whole grain is considerably longer than:
Steel cut grain (as in steel cut oats), or
Flaked or rolled grain (as in old-fashioned rolled oats)
So the whole grains that you buy and store will stay fresh longer in your extended or Prepper Pantry than if you tried storing flour, or in the case of oats, steel cut or old-fashioned rolled oats. Using the Flake Lovers Flaker, you can make freshly flaked grain whenever you want.
The device enables you to flake:
Almost all types of grain
Rice and Millet
Buckwheat and Quinoa
Most Oilseeds
And More!
Home-Flaked Grain is More Nutritious
Plus, home-flaked grain is more nutritious than factory-flaked or rolled grain that goes through a heating process. At home, you are not heating your grain, which keeps the enzymes intact.
So, if you decide to use your flaked grain in a non-heated capacity, such as when making homemade muesli, you will find that the grain will be very easy to digest. This is because the live enzymes in the fresh-flaked grain help us digest our food.
The Flake Lovers Hopper
Below is a picture of the top of the Flake Lovers Flaker hopper that can hold about 2/3 of a cup of a medium-sized whole grain. After running the grain through the device, you'll make a full and well-rounded cup of flakes.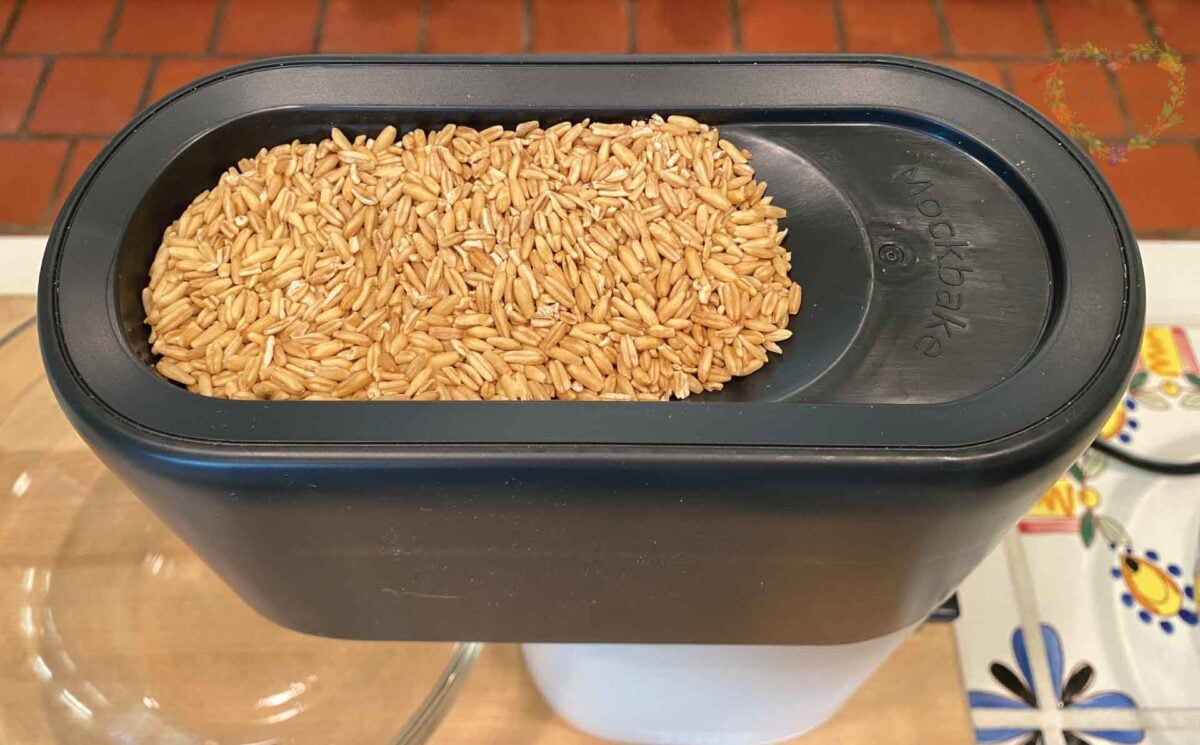 Turning Oat Groats into Oat Flakes
Now keep in mind that I was flaking oat groats, which are a medium-sized grain. So if you flake a larger or smaller whole grain, you might be able to fit more or less in the hopper.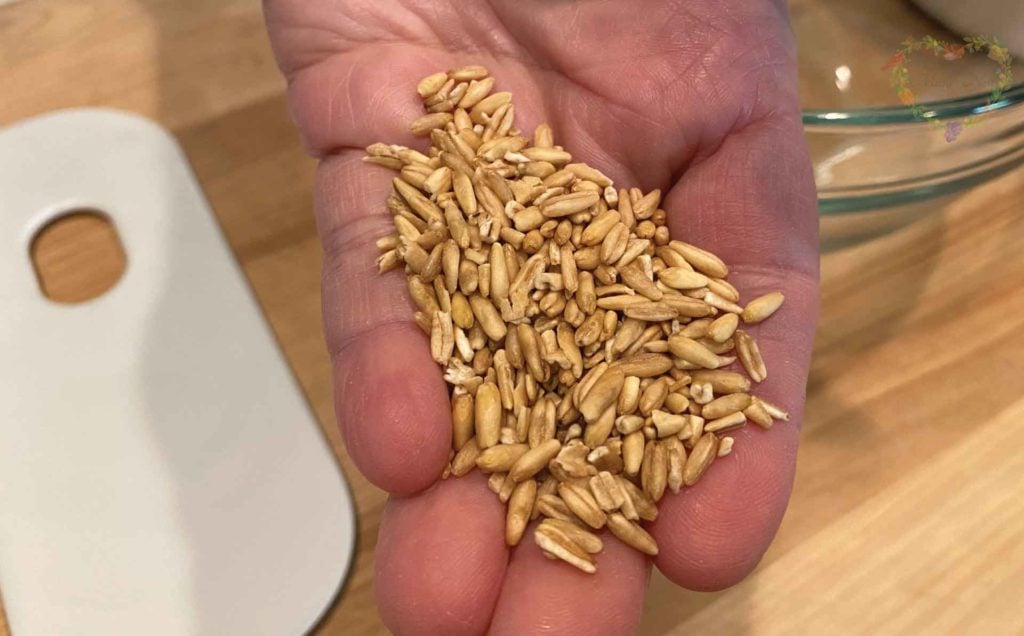 For example, I surmise that if you flake whole einkorn berries, which are quite small, you might be able to fit a full cup of the berries into the hopper.
Your Flake Lovers Flaker will turn your whole grain into flakes in about a minute and a half. That's fast!
I was especially pleased with how quiet the device is. Yes, certainly you hear the motor, but it is not jarring in the least.
Get the Flake Lovers Flaker
To learn more about the Flake Lovers Flaker device, visit the Mockmill website.
And be sure to visit my supplies section to get some of my favorite whole grains.
What Can You Do with Flaked Grains?
Most of us are familiar with old-fashioned rolled oats and how to use them. We can make oatmeal, muesli, and granola and use them in baking when making oatmeal bread and oatmeal cookies.
The good news is that you can do the same thing with any flaked grain! And that opens up a whole world of possibilities for bringing varied nutrition into your diet since each type of grain contains different nutrients.
Delicious Oatmeal Recipes
If you don't have a flaker yet, don't worry. In the video below, I show you how to make real oatmeal the old-fashioned way, starting with whole oat groats. I guarantee that this will be the best oatmeal you have ever had.
However, if you have a flaker or buy old-fashioned rolled oats, be sure to try baking my Pantry Oatmeal Bread. It's easy to make and uses only simple ingredients from your pantry.
And I wouldn't be a Texan if I didn't share with you a recipe for how to make Cowboy Cookies that are chocked full of rolled oats!
What Whole Grain to Stock and How to Store It
If you are new to stocking whole grain, it can be overwhelming to know which grain to stock, how best to store it, and then how to grind it into flour. In the videos below, I cover all this and more!
And if you have ever wondered about the differences between the variety of wheat berries available, I've got you covered!
Storing Whole Grain to Protect You Against Inflation
If you store whole grains in your Prepper Pantry, you can grind your grain or flake it when you need flour or flaked grain to make baked goods and meals for you and your family over an extended period of time.
While you're using your stored grain, you're protected from the rising prices of factory-made flour or flaked grain that may be going up because of inflation, disruptions to the supply chain, or other factors that are out of your control.
If you're looking for other food bargains, I show you some cheap foods you should buy now for your Four Corners Pantry in the following videos.
How to Create a Prepper Pantry
I talk a lot about storing food, such as whole grains, in your Prepper Pantry. However, if you haven't had a chance to start your Prepper Pantry, the following videos show you how to get started and how to identify the real foods you should be stocking.
Setting aside $5 a week to build your Prepper Pantry works well over time. However, if you need to build your Prepper Pantry faster, especially in this inflationary period, I show you how to accelerate your Prepper Pantry in the following video.
Grind Your Own Flour with the Mockmill
When it comes to electric grain mills, after I did A LOT of research, I decided to buy a Mockmill. And am I so happy I did! The Mockmill is a very affordable but beautifully crafted German-made mill that stone grinds grain with settings ranging from 1 to 10—fine to coarse ground grain.
You can see me unbox and try out the electric Mockmill 100 Grain mill in the following video.
Stocking the Traditional Foods Baking Pantry
Don't worry if you're not ready to stock whole grains, grind your own flour, or flake whole grain at home. In the video below, I share how to stock a traditional foods baking pantry that's perfect for helping beginners get started!
More Kitchen Tools for the Traditional Foods Cook
If you are a new or experienced traditional foods cook, you will love the following video. I share the essential kitchen tools and those fun extras that make cooking in the kitchen a joy!
Download Your Free 36-Page Pantry List
As you begin working more whole grains into your diet, you will want to completely overhaul your Four Corners Pantry over time, and I am here to help.
If you're new to the term Four Corners Pantry, it simply refers to all the places we traditional foods cooks store food, including our:
Working Pantry – where we store our everyday non-perishable foods
Refrigerator
Freezer
Extended or "Prepper" Pantry – where we store our backup non-perishable foods
For an extensive list of the traditional foods you can make and purchase to stock your Four Corners Pantry, be sure to download my free 36-page Traditional Foods Pantry List. This comprehensive eBook is full of links to recipe videos, helpful articles, and more!
And if you're looking for a printed book full of my traditional foods recipes that shows you how to create a traditional foods kitchen, be sure to order your copy of my new bestselling book, The Modern Pioneer Cookbook.
Kitchen Academy Videos
Are you looking for more traditional foods videos? If so, I invite you to join the Traditional Foods Kitchen Academy. Members of this optional paid YouTube community get access to exclusive videos, live streams, and other members-only perks. Plus, your YouTube comments include a special members-only badge.
In the following members-only video series, I talk about Equipping the Traditional Foods Kitchen with essential and optional equipment.
I chat about why it was important for me to create this comprehensive curriculum for students in grades K-12.
I share upcoming recipes and what I have planned for my Mary's Nest YouTube channel in 2024.
During this month's members-only live stream, we talked about a variety of topics, including a preview of upcoming videos.
Stay in Touch with Mary's Nest
Subscribe to My YouTube Channel for Traditional Foods Videos (Free) - When you subscribe, be sure to click on the notification bell that will let you know each time I upload a new video.
Subscribe to Mary's Traditional Foods Newsletter (Free) - Get a free 36-page eBook for signing up: How to Stock Your Essential Traditional Foods Four-Corners Pantry.
Join the Traditional Foods Kitchen Academy (Optional Paid) - For more detailed videos, live streams, and exclusive members-only perks, join my YouTube membership community.
Order The Modern Pioneer Cookbook (Optional Paid) - Get a printed book of Mary's nourishing recipes from a Traditional Foods Kitchen. This bestselling cookbook is published by Penguin Random House with their DK imprint.
I look forward to having you join me in my Texas Hill Country Kitchen!
---
Shop for items used in this blog post or video
Favorite Whole Grains
Favorite Kitchen Supplies
Amazon Shop and Shopping Guide
Visit my Shopping Guide page
Get up to 15% off for stocking your Traditional Foods Pantry and equipping your Modern Pioneer Kitchen, including discounts from US Wellness Meats, Farmhouse Teas, Lehman's, Masontops, Cultures for Health, Survival Garden Seeds, Redmond Real Salt, Plan to Eat, and More!
Recommended Reading