How to Make the Best Instant Pot Pinto Beans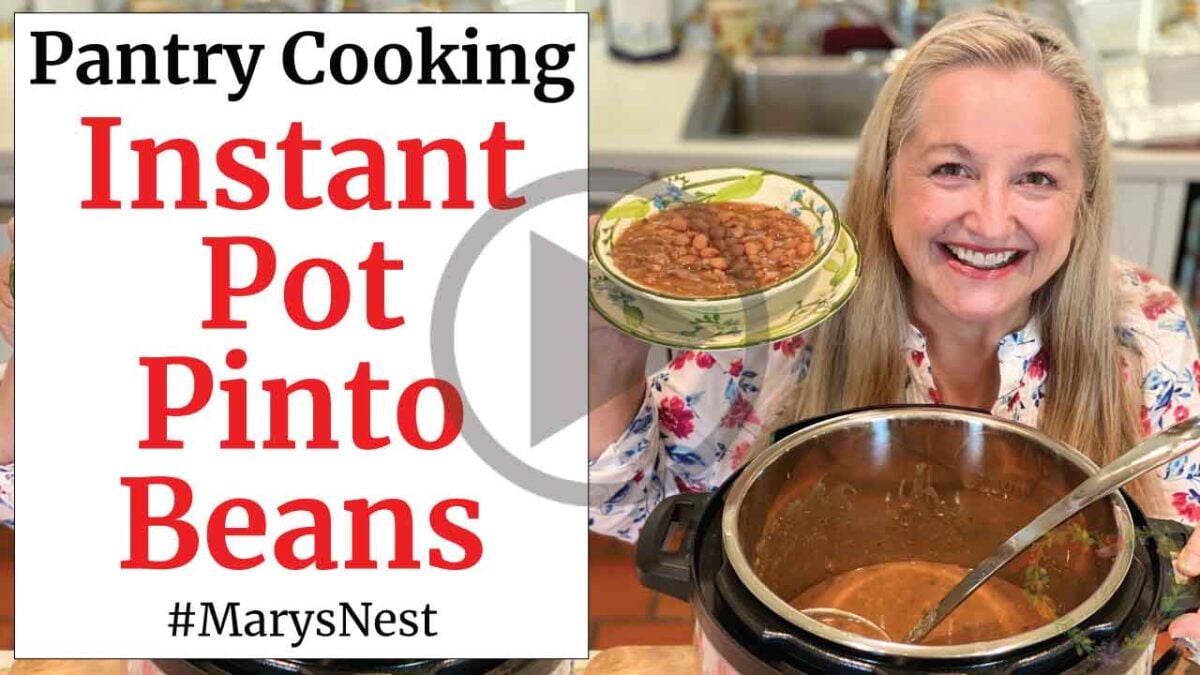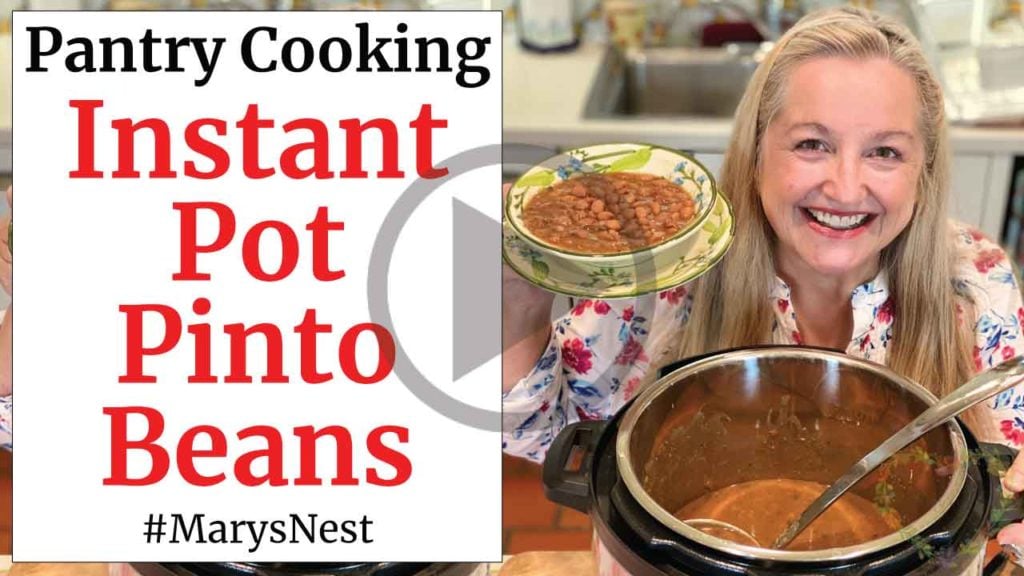 This recipe for the best Instant Pot Pinto Beans includes the no soaking method, which only takes 30 minutes to cook! Learn more about Tex Mex Pinto Beans and get a printable recipe with options for using soaked and unsoaked beans, as well as instructions for making Pinto Beans in the Instant Pot, stovetop, and slow cooker.
*Affiliates note: As an Amazon Associate I earn from qualifying purchases. My content may contain affiliate links to products and services. If you click through and make a purchase, I'll receive a small commission. It does not affect the price you pay.
First Taste of Pinto Beans in Central Texas
The chance to enjoy a dish of Pinto Beans was a new experience for me when I moved to Texas. I grew up on the East coast with Navy Beans and Baked Beans. And with my mom's Italian cooking, a favorite bean in our house was ceci or what are commonly known as Chick Peas or Garbanzo Beans.
Flavorful Tex-Mex Pinto Beans
I was introduced to Pinto Beans the first time my sweet husband took me to a barbecue joint in central Texas. And, oh my…they were delicious! I especially loved adding a bit of raw chopped onion on top.
Tex-Mex Pinto Beans are creamy and flavorful with a bit of heat thanks to a jalapeño and a mixture of spices, including cumin. And when it comes to adding a bit of chili powder to my pinto beans, I love using ancho chili powder. It's my latest favorite spice!
Fast Pinto Beans in the Instant Pot
This Pinto Beans recipe is the best because it is both delicious and fast, thanks to the Instant Pot. You'll love the richness of the beans and the delightful spice. If you use the no soaking method, these beans can take only 30 minutes to cook.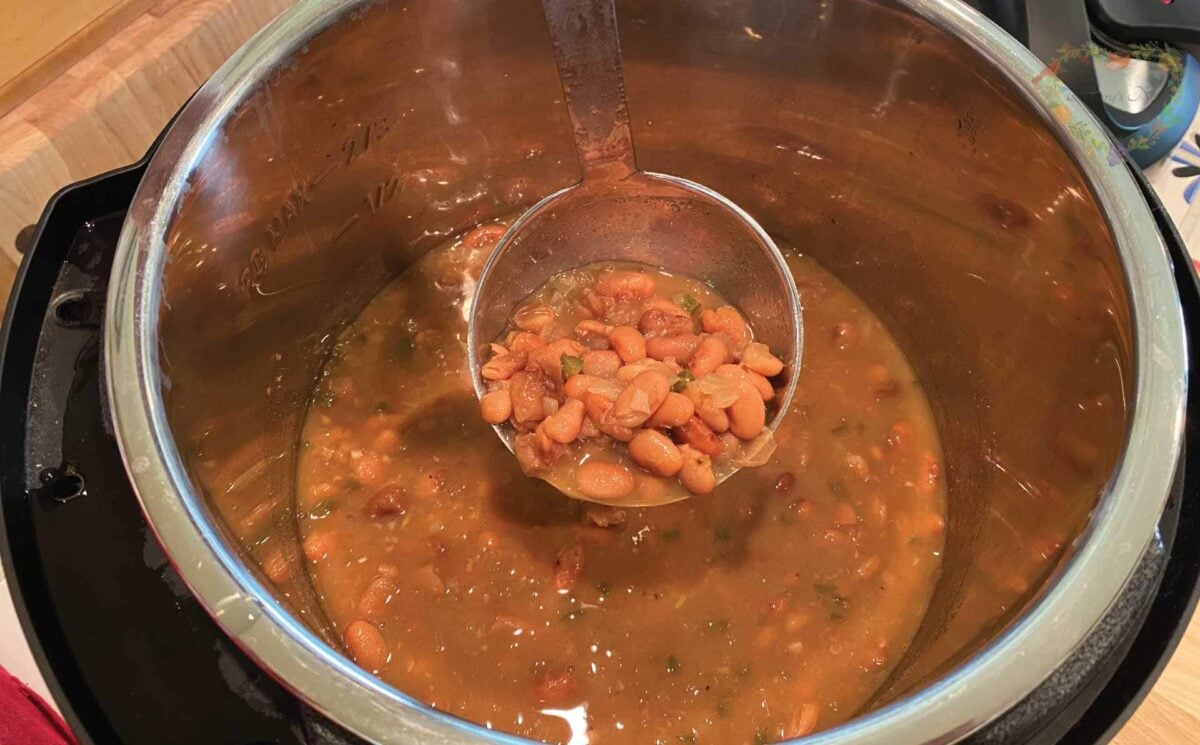 However, traditional cooks often soak their beans before cooking them, since soaking helps to reduce the phytic acid in legumes. If you decide that you do want to soak your beans overnight, your cook time the next day will only be 15 minutes!
Should You Add Salt to Your Pinto Beans?
When it comes to adding salt to Pinto Beans—or any beans—when they are cooking, home cooks will have different opinions.
Some recipes will say that it's fine to add salt to the cooking water. Other recipes will firmly state not to do it because the beans will take forever to cook, if ever! Other recipes will say that you can brine your dried beans in salted water when you soak them, but that you should rinse your brined beans well before cooking them.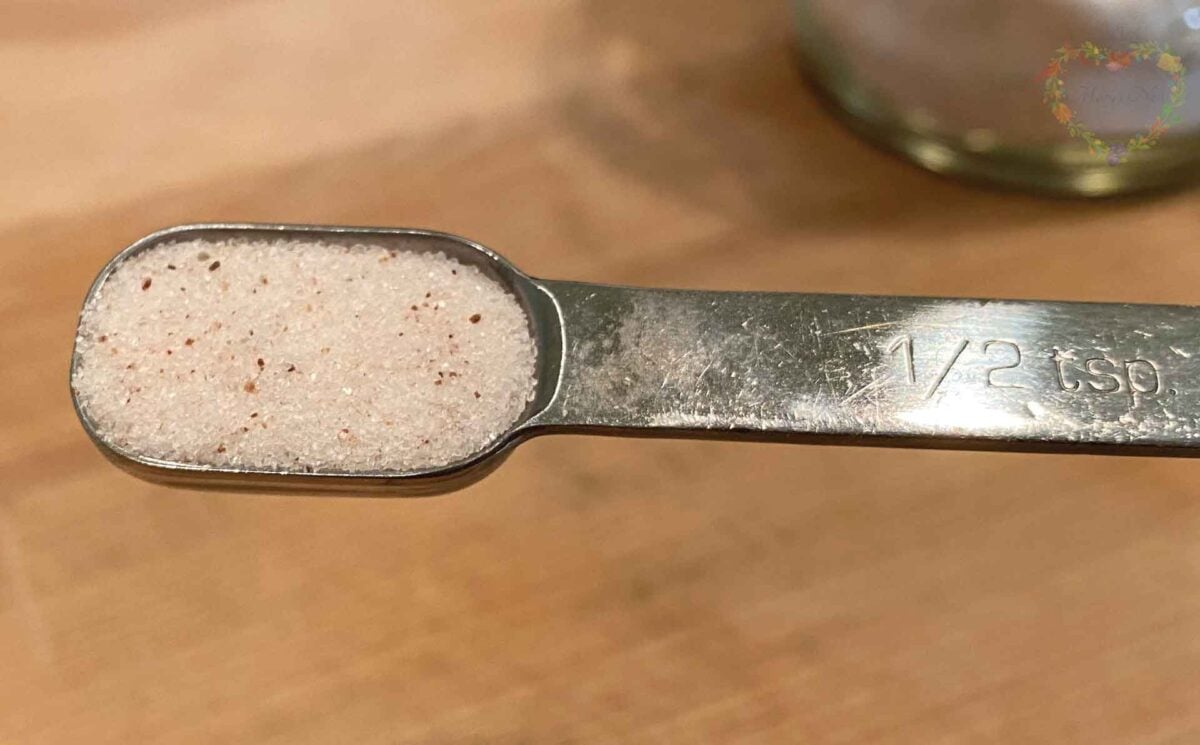 So what are we home cooks to do? Based on my experience, I find that beans are at their tender best when they are cooked without salt.
As to brining, I have tried soaking dried beans with and without a brine, and to be honest with you, I have found there to be little difference in the final taste. My advice is to simply salt your beans to taste once they are cooked.
Essential Salts for Your Prepper Pantry
In the following video, I share my favorite salts to stock in your Prepper Pantry and use in your traditional foods kitchen. Plus, I share which salts have the least amount of microplastics. As you may have already guessed, we want to reduce the amount of microplastics we consume as much as possible!
Chicken and Turkey in the Instant Pot
Want more ideas for what to cook in your Instant Pot in addition to Pinto Beans? Then be sure to check out the videos in the following sections. In these recipe videos, I share detailed step-by-step instructions to help you successfully make meals with your Instant Pot.
And these instructions have been well tested since they come directly from the manufacturer! Yes, I called Instant Pot and asked their experts the best way to cook a chicken and more in their versatile pressure cooker.
And I didn't forget turkey, especially if you want to make Thanksgiving a breeze. You can also cook up turkey any time of the year to easily add extra white meat for your dinner table. Cooking a turkey breast in the Instant Pot is not just fast, it produces flavorful and tender meat that's never dry!
Instant Pot Bone Broth Recipes
If you have been with me for a while, you know that I love to make bone broth. And I will be honest with you, I was skeptical about making bone broth in the Instant Pot. I was worried that the high pressure would diminish the nutritional benefits of bone broth.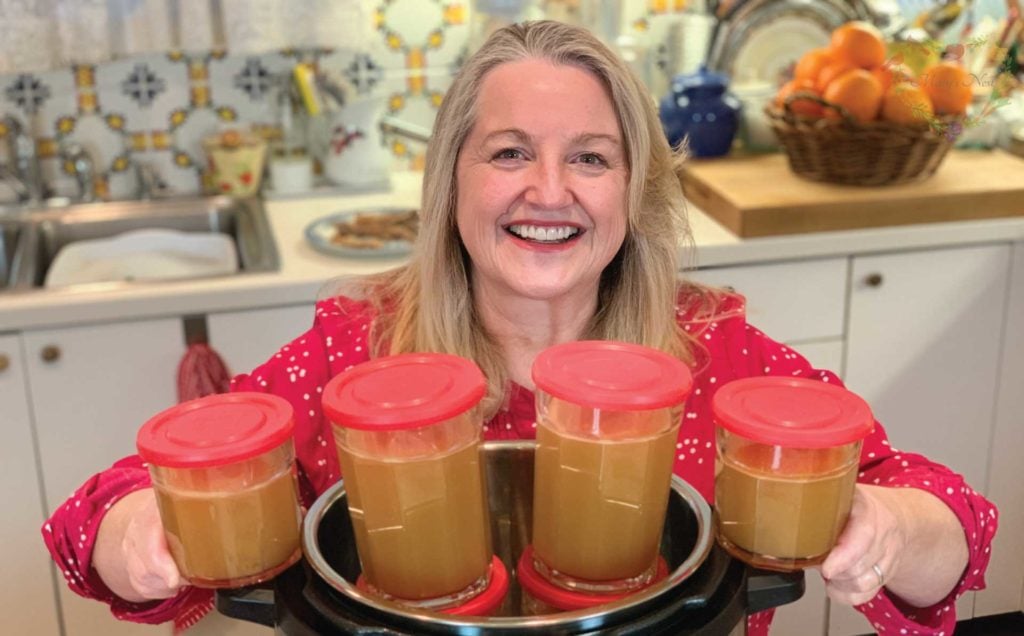 But after I spoke with the customer service folks at Instant Pot, I learned that to guarantee that my bone broth would come out rich and gelatinous, I should set my Instant Pot pressure to low, not high.
And they were right! Be sure to watch the videos below to learn more tips on how to guarantee that the bone broth in your Instant Pot comes out great every time! I have you covered with Instant Pot recipes for:
More Instant Pot Recipes
Have you struggled with getting your Mac and Cheese recipe to come out tasting great? I sure did. But through trial and error (and a little help from the Instant Pot customer service folks), I discovered the secret to perfect Instant Pot Mac and Cheese every time. And in the video below, I share it with you!
You'll also love making this super mineral broth vegetable soup and corned beef and cabbage (especially for St. Patrick's Day!) in the following recipe videos.
How to Clean Your Instant Pot
And at the end of the day, my Instant Pot deep cleaning video will give you all the essential tips for the best clean-up. Once again, I contacted the folks at Instant Pot to find out the right way to clean their handy kitchen appliance. I also learned the best way to get odors out of the silicone sealing ring.
Serve Your Pinto Beans with Cornbread
You can serve your Instant Pot Pinto Beans with a Tex-Mex kick as a side dish, wrapped in a corn tortilla, or poured over cornbread. In the following video, I show you how to make a whole grain, sweet buttermilk cornbread in a cast-iron skillet.
Download Your Free 36-Page Pantry List
Be sure to download your free 36-Page Essential Traditional Foods Pantry List. Pinto Beans and other dried beans play an important role in stocking your working pantry and long-term storage.
This comprehensive eBook will be a valuable tool in your traditional foods kitchen, especially if you are making the transition away from a processed foods kitchen!
More Bean Recipes
To learn how to properly cook any type of dried bean to maximize digestion and the assimilation of nutrients, watch my tutorial video below.
And if you're ready to go all-in and learn how to not only soak beans but also sprout them, be sure to check out the following video that's part of my Mastering the Basics of Traditional Nutrient-Dense Foods Cooking Series.
Have you seen those bags of mixed dried beans at your grocery store and always wondered how to best cook them to turn them into a tasty soup? I show you how in the following video. Plus, I throw out the packaged seasoning that comes with the dried beans and replace it with a healthier mix of seasonings!
Kitchen Academy Videos
Are you looking for more traditional foods videos? I invite you to join the Traditional Foods Kitchen Academy. Members of this optional paid YouTube community get access to exclusive videos, live streams, and other members-only perks. Plus, your YouTube comments include a special members-only badge.
In the following members-only video, I talk about how to Mix and Match Easy Weeknight Meals.
Trending Posts on Mary's Nest
Stay in Touch with Mary's Nest
Subscribe to My YouTube Channel for Traditional Foods Videos (Free) - When you subscribe, be sure to click on the notification bell that will let you know each time I upload a new video.
Subscribe to Mary's Traditional Foods Newsletter (Free) - Get a free 36-page eBook for signing up: How to Stock Your Essential Traditional Foods Four-Corners Pantry.
Join the Traditional Foods Kitchen Academy (Optional Paid) - For more detailed videos, live streams, and exclusive members-only perks, join my YouTube membership community.
Order The Modern Pioneer Cookbook (Optional Paid) - Get a printed book of Mary's nourishing recipes from a Traditional Foods Kitchen. This bestselling cookbook is published by Penguin Random House with their DK imprint.
I look forward to having you join me in my Texas Hill Country Kitchen!
Shop for items used in this blog post or video
Favorite Kitchen Supplies
More Kitchen Supplies with Promo Codes
Learn more about Mockmill electric grain mills for making fresh flour and their Flake Lover's Flaker that flakes whole grain in minutes.
Use promo code MARYSNST for a one-time 15% off Masontops and Breadsmart products on Amazon.com.
Amazon Shop and Shopping Guide
Visit my Shopping Guide page
Get up to 15% off for stocking your Traditional Foods Pantry and equipping your Modern Pioneer Kitchen, including discounts from US Wellness Meats, Farmhouse Teas, Lehman's, Masontops, Cultures for Health, Survival Garden Seeds, Redmond Real Salt, Plan to Eat, and More!
Recommended Reading
**Disclaimer: I am not a medical doctor, a medical professional, a dietician, or a nutritionist. All content found on the MarysNest.com website, including text, images, videos, eBooks or eGuides, social media, or other formats, were created solely for informational purposes only. The content is not intended to be a substitute for professional medical advice, diagnosis, or treatment. Always seek the advice of your physician or other qualified healthcare provider with any questions you may have regarding a medical condition or proper nutritional advice. Never disregard professional medical advice or delay in seeking it because of something you have watched in a video or read on this website. Use caution when following the recipe in this video. The creator and publisher of this video and website will not be held responsible for any adverse effects that may arise from the use of this recipe and method or any other recipe and method on this website or corresponding video channel.