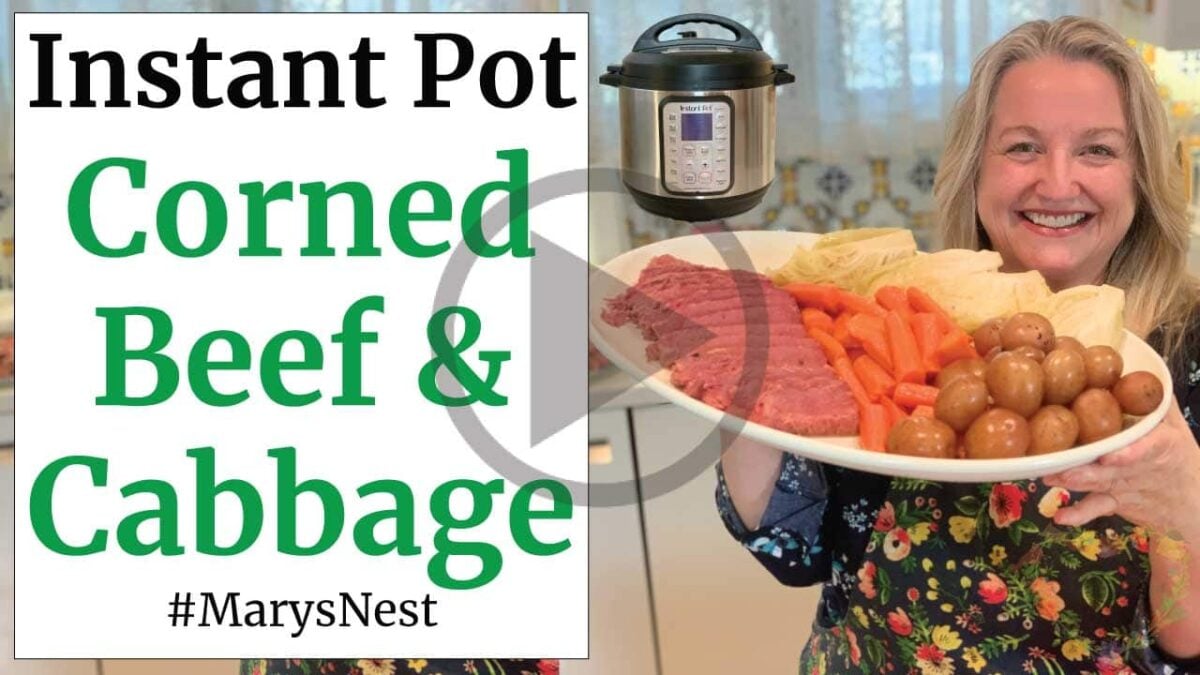 Learn how to make this Instant Pot Corned Beef and Cabbage recipe that can be ready in half the time of the Stovetop version!
Easy Corned Beef and Cabbage
If you would like to make a delicious St. Patrick's Day dinner, but you don't have all afternoon to let your corned beef cook on the stovetop, the Instant Pot will come to your rescue.
In less than 2 hours, you can have your dinner on the table that's worthy of feeding Saint Patrick!
Cooking Under Pressure
The nice thing about the Instant Pot is that when you use the pressure cook option, you can create delicious meals in about half the time it would take to cook a meal on your stovetop or in your oven.
Plus, your dish will come out tender and tasty, as you will find to be the case with this Corned Beef and Cabbage meal.
Remember to Cut Against the Grain
And don't forget, no matter how you cook your Corned Beef, when you go to slice it, be sure to cut "against the grain" to get those beautiful, picture-perfect slices.
If you are confused about this technique, I explain how to do this and demonstrate it in detail in this video.
Happy St. Patrick's Day!
So even if you're short on time, thanks to the Instant Pot, you can enjoy a traditional Irish American recipe to celebrate St. Patrick's Day in style.
Don't miss out, and be sure to treat yourself, your family, and friends to this tasty meal because, as the saying goes…Everyone is a little Irish on St. Patrick's Day!
More Instant Pot Recipes
Now that you've learned how to cook Corned Beef and Cabbage in the Instant Pot, try these other easy recipes, including:
How to Cook a Whole Chicken in the Instant Pot – the Right Way!
Instant Pot Beef Bone Broth that Gels Every Time
How to Make Creamy Mac and Cheese in the Instant Pot
I'll also show you how to clean your Instant Pot after you're done making these delicious recipes.
Try These St. Patrick's Day Recipes
Here are more recipes you can make for your St. Patrick's Day dinner or any time you feel like adding a little Irish flavor to your meals.
This Irish Apple Cake is easy to make with a one bowl recipe.
If you don't have an Instant Pot and you'd like to make corned beef and cabbage on the stovetop, I'll show you how in the following video.
All it takes is all-purpose flour, baking soda, and 30 minutes in the oven to create this beautiful and tasty bread!
Download Your Free 36-Page Pantry List
For an extensive list of the traditional foods you can make and purchase to stock your pantry, be sure to download my free 36-page Traditional Foods Pantry List. This comprehensive eBook is full of links to recipe videos, helpful articles, and more!
Kitchen Academy Videos
Are you looking for more traditional foods videos? If so, I invite you to join the Traditional Foods Kitchen Academy. Members of this optional paid YouTube community get access to exclusive videos, live streams, and other members-only perks. Plus, your YouTube comments include a special members-only badge.
In the following members-only video, I give you a full-length cooking class on how to make beef bone broth.
Stay in Touch with Mary's Nest
Subscribe to My YouTube Channel for Traditional Foods Videos (Free) - When you subscribe, be sure to click on the notification bell that will let you know each time I upload a new video.
Subscribe to Mary's Traditional Foods Newsletter (Free) - Get a free 36-page eBook for signing up: How to Stock Your Essential Traditional Foods Four-Corners Pantry.
Join the Traditional Foods Kitchen Academy (Optional Paid) - For more detailed videos, live streams, and exclusive members-only perks, join my YouTube membership community.
Order The Modern Pioneer Cookbook (Optional Paid) - Get a printed book of Mary's nourishing recipes from a Traditional Foods Kitchen. This bestselling cookbook is published by Penguin Random House with their DK imprint.
I look forward to having you join me in my Texas Hill Country Kitchen!
Shop for items used in this blog post or video
Favorite Corned Beef and Cabbage Making Supplies
Favorite Kitchen Supplies
Learn more about Mockmill electric grain mills for making fresh flour and their Flake Lover's Flaker that flakes whole grain in minutes.
Use promo code MARYSNST for a one-time 15% off Masontops and Breadsmart products on Amazon.com.
Amazon Shop and Shopping Guide
Visit my Shopping Guide page
Get up to 15% off for stocking your Traditional Foods Pantry and equipping your Modern Pioneer Kitchen, including discounts from US Wellness Meats, Farmhouse Teas, Lehman's, Masontops, Cultures for Health, Survival Garden Seeds, Redmond Real Salt, Plan to Eat, and More!
Recommended Reading
**Disclaimer: I am not a medical doctor, a medical professional, a dietician, or a nutritionist. All content found on the MarysNest.com website, including text, images, videos, eBooks or eGuides, social media, or other formats, were created solely for informational purposes only. The content is not intended to be a substitute for professional medical advice, diagnosis, or treatment. Always seek the advice of your physician or other qualified healthcare provider with any questions you may have regarding a medical condition or proper nutritional advice. Never disregard professional medical advice or delay in seeking it because of something you have watched in a video or read on this website. Use caution when following the recipe in this video. The creator and publisher of this video and website will not be held responsible for any adverse effects that may arise from the use of this recipe and method or any other recipe and method on this website or corresponding video channel.