How to Cook a Whole Chicken in the Instant Pot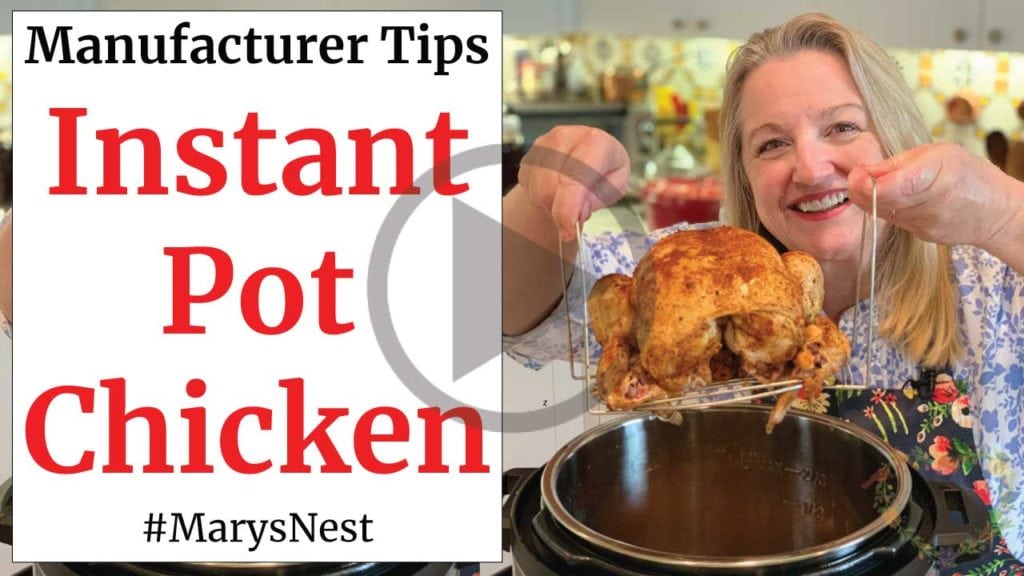 I called Instant Pot customer service for advice on How to Cook a Whole Chicken in the Instant Pot – the Right Way! And boy did I learn SO much valuable information and I'm sharing it all with you in this video!
*Affiliates note: As an Amazon Associate I earn from qualifying purchases. My videos and blog posts may contain affiliate links to products and services. If you click through and make a purchase, I'll receive a small commission. It does not affect the price you pay.
Hesitation with the Instant Pot
I've been hesitant to cook a whole chicken in the Instant Pot because I had read on many a food blog that the taste could be bland and the skin quite soggy. That sounded very unappealing to me, especially since I love my oven-roasted chicken.
But I decided with the popularity of these new pressure cookers that there had to be a better way to cook a whole chicken in the Instant Pot.
A Better Way
And I was right! There is a better way to cook a whole chicken in the Instant Pot. I called the manufacturer's customer service line and learned that there are certain techniques for creating a tasty, "fall off the bone" chicken, with skin that isn't limp.
Instant Pot Secrets Revealed!
There are a number of tips and tricks to getting the perfectly cooked chicken in the Instant Pot. I'll walk you through the process step-by-step in this video. And I want to share the most important piece of information that I learned. The secret to the most delicious chicken is…start with a dry rub. And not any dry rub. A barbecue rub or chili barbecue rub!
My Favorite Rub for an Instant Pot Chicken
The mixture I created for my dry rub included sea salt, red and green ancho chili powders, paprika, onion powder, coriander, and freshly ground pepper. (Recipe below.) It created a delightfully flavorful crust—yes a crust!—on my Instant Pot chicken.
Definitely the Best Whole Chicken
This Instant Pot chicken was delicious! Plus, it creates a flavorful broth that you can easily turn into a gravy for the chicken. So if you have been hesitant to cook a Whole Chicken in the Instant Pot, now is the time to give it a try. You'll be pleasantly surprised at how delicious it will be!
More Ideas for the Instant Pot
Once you try out this Instant Pot Chicken recipe, be sure to check out these other Instant Pot videos:
Stay in Touch with Mary's Nest
Subscribe to My YouTube Channel for Traditional Foods Videos (Free) - When you subscribe, be sure to click on the notification bell that will let you know each time I upload a new video.


Subscribe to Mary's Traditional Foods Newsletter (Free) - Get a free eBook for signing up: How to Stock Your Essential Traditional Foods Four-Corners Pantry.


Join the Traditional Foods Kitchen Academy (Optional Paid) - For more detailed videos, live streams, and exclusive members-only perks, join my YouTube membership community.
I look forward to having you join me in my Texas Hill Country Kitchen!
Love,
Mary
♥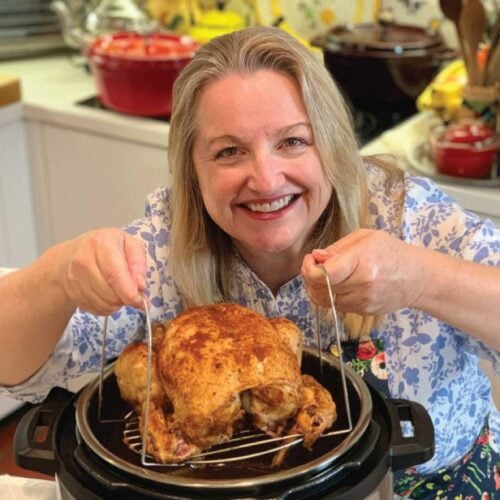 Print Recipe
How to Cook a Whole Chicken in an Instant Pot
Enjoy this fall off the bone chicken with a delightfully flavorful crust.
Equipment
6-Quart or 8-Quart Instant Pot
Ingredients
For the Chicken
4 1/4

pound

Whole chicken

1

Onion, skin on and cut into eighths

1 1/2 – 2

cups

Water

1 1/2 cups for the 6-quart Instant Pot or 2 cups for the 8-quart Instant Pot.
Dry Rub
2

teaspoons

Fine ground sea salt

1

teaspoon

Red ancho chili powder

1

teaspoon

Green ancho chili powder

1

teaspoon

Paprika

1

teaspoon

Onion powder

1

teaspoon

Ground coriander

1/2

teaspoon

Freshly ground black pepper
Instructions
Mix all the dry rub ingredients together then rub the mixture in the cavity of the chicken and all over the exterior of the chicken.

Place the onions in the cavity of the chicken.

Remove the lid from the Instant Pot and remove the rack. Next, pour the water into the stainless steel liner.

Place the chicken on the rack. Lower the rack into the Instant Pot stainless steel liner using the handles of the rack.

Properly seal the Instant Pot and set the vent to "sealing".

Set the Instant Pot to "high" pressure and set the timer for 34 minutes. (Or 8 minutes per pound of chicken.)

Once the chicken is finished cooking, allow the Instant Pot to come down from pressure naturally, or release the pressure moving the vent from "sealing" to "venting". BE CAREFUL! If you release the pressure in this way, steam will surge out of the vent. I prefer to allow the pressure to come down naturally.

Once the pressure has been released, open the Instant Pot, and remove the lid. Lift the chicken out of the stainless steel liner using the handles of the rack. Transfer the chicken to a serving plate and enjoy!
Notes
Find this recipe and video at https://marysnest.com/how-to-cook-a-whole-chicken-in-the-instant-pot/
Copyright © 2019 Mary's Nest, LLC, All Rights Reserved
Shop for items used in this blog post or video
Visit my Shopping Guide page
Learn where I buy my Beef Bones, Wild-Caught Fish, Sprouted Grains, and more...and learn about Special Discounts for Mary's Nest visitors, including from US Wellness Meats, Vital Choice, Masontops, and Breadsmart.
Featured products:
**Disclaimer: I am not a medical doctor, a medical professional, a dietician, or a nutritionist. All content found on the MarysNest.com website, including text, images, videos, eBooks or eGuides, social media, or other formats, were created solely for informational purposes only. The content is not intended to be a substitute for professional medical advice, diagnosis, or treatment. Always seek the advice of your physician or other qualified healthcare provider with any questions you may have regarding a medical condition or proper nutritional advice. Never disregard professional medical advice or delay in seeking it because of something you have watched in a video or read on this website. Use caution when following the recipe in this video. The creator and publisher of this video and website will not be held responsible for any adverse effects that may arise from the use of this recipe and method or any other recipe and method on this website or corresponding video channel.