Instant Pot Chicken Bone Broth That Gels Every Time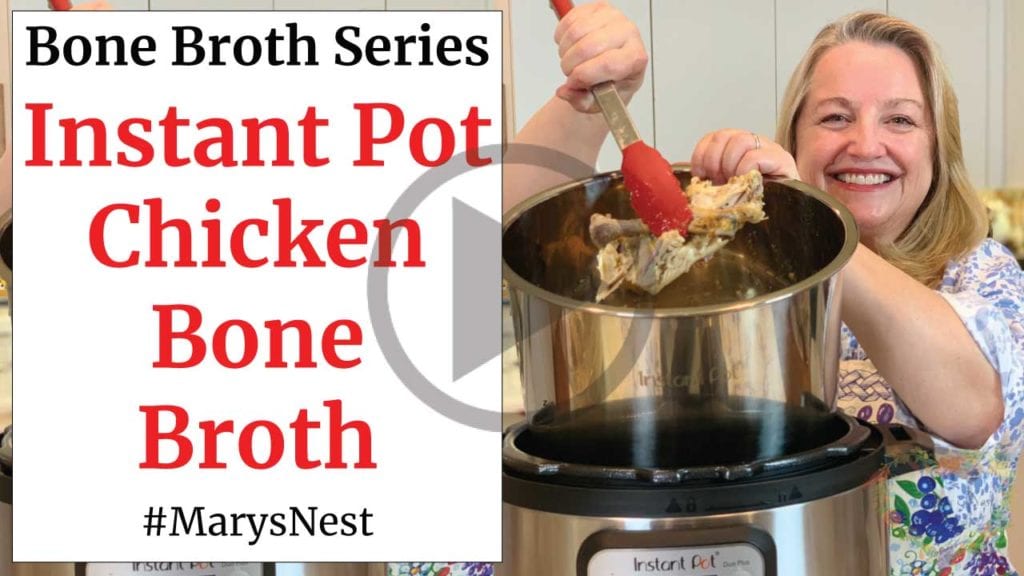 Instant Pot Chicken Bone Broth is a quick and easy way to make bone broth. And with these step-by-step instructions, your bone broth will gel every time!
Homemade Chicken Bone Broth is a tasty gelatin-rich liquid that is wonderful for promoting good gut health. Since Bone Broth is gut healing, the broth gives a boost to our digestive health and our immune system. And scientists tell us that our gut is, in essence, our second brain and has a significant impact on our overall health.
Related Videos
Stay in Touch with Mary's Nest
Subscribe to My YouTube Channel for Traditional Foods Videos (Free) - When you subscribe, be sure to click on the notification bell that will let you know each time I upload a new video.


Subscribe to Mary's Traditional Foods Newsletter (Free) - Get a free eBook for signing up: How to Stock Your Essential Traditional Foods Four-Corners Pantry.


Join the Traditional Foods Kitchen Academy (Optional Paid) - For more detailed videos, live streams, and exclusive members-only perks, join my YouTube membership community.
I look forward to having you join me in my Texas Hill Country Kitchen!
Love,
Mary
♥
You can print the recipe below.
Print Recipe
Instant Pot Chicken Bone Broth that Gels Every Time
Instant Pot Chicken Bone Broth is a quick and easy way to make bone broth that gels every time.
Ingredients
2

Chicken carcass

6

Chicken feet

1

cup

White vermouth

2-3

Carrots, unpeeled and roughly chopped

2-3

stalks

Celery, roughly chopped

1

Yellow onion, unpeeled and roughly chopped

1

Bay leaf

1

teaspoon

Black Peppercorns

Water

enough water to cover bones
Instructions
Place all the ingredients into the liner pot of the Instant Pot.

Add water to the Instant Pot to just cover the bones, no more than 1 inch above the bones and no higher than the pressure cooker mark.

Press the Soup/Broth button, and set the instant pot to "Low Pressure" for 2 hours.

When the bone broth is finished, follow the manufacturer's instructions for releasing pressure from the Instant Pot or allow the Instant Pot to come down from pressure naturally.

Once the pressure has been completely released, open the Instant Pot and remove all the solids and then strain the broth. (See video.)

Store bone broth in jars. Bone broth will stay fresh refrigerated for 2-3 days, and fresh frozen for 2-3 months.
Video
Shop for items used in this blog post or video
Favorite Bone Broth Making Supplies
Recommended Reading
Amazon Shop and Shopping Guide
Learn where I buy my Beef Bones, Wild-Caught Fish, Sprouted Grains, and more…and learn about Special Discounts for Mary's Nest visitors, including from US Wellness Meats, Vital Choice, Masontops, and Breadsmart.
*Affiliates note: As an Amazon Associate I earn from qualifying purchases. My videos and blog posts may contain affiliate links to products and services. If you click through and make a purchase, I'll receive a small commission. It does not affect the price you pay.
**Disclaimer: I am not a medical doctor, a medical professional, a dietician, or a nutritionist. All content found on the MarysNest.com website, including text, images, videos, eBooks or eGuides, social media, or other formats, were created solely for informational purposes only. The content is not intended to be a substitute for professional medical advice, diagnosis, or treatment. Always seek the advice of your physician or other qualified healthcare provider with any questions you may have regarding a medical condition or proper nutritional advice. Never disregard professional medical advice or delay in seeking it because of something you have watched in a video or read on this website. Use caution when following the recipe in this video. The creator and publisher of this video and website will not be held responsible for any adverse effects that may arise from the use of this recipe and method or any other recipe and method on this website or corresponding video channel.