How To Make Chicken Bone Broth for Pennies a Jar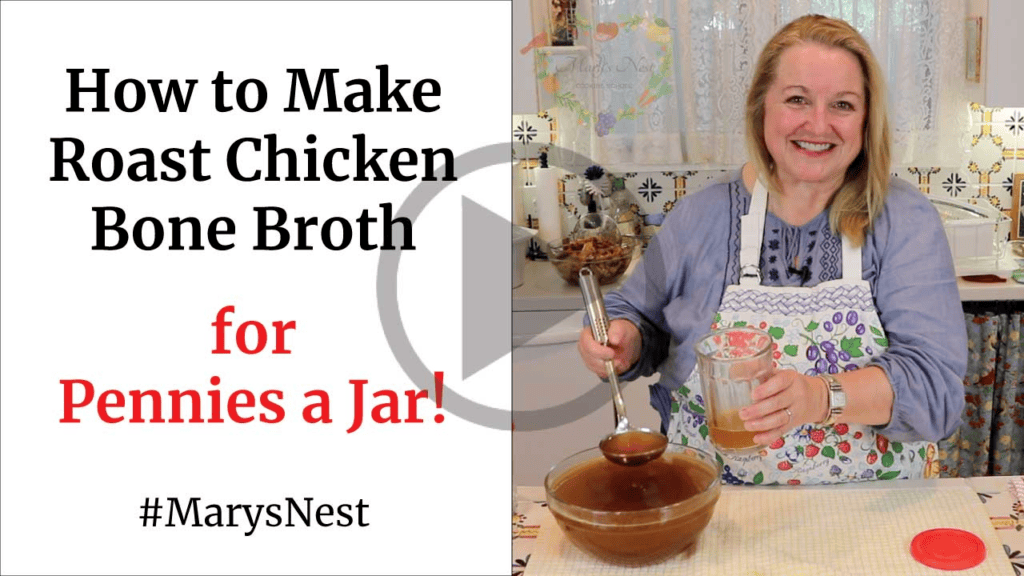 I love to make a Simple Roast Chicken. And now, I'm sharing how I make Chicken Bone Broth. And for pennies a jar! How? By simply using the leftover chicken bones and carcass. And a secret ingredient! Or what I like to call the pièce de résistance–otherwise known as chicken feet!  Adding these little gems will make the most gelatinous chicken bone broth.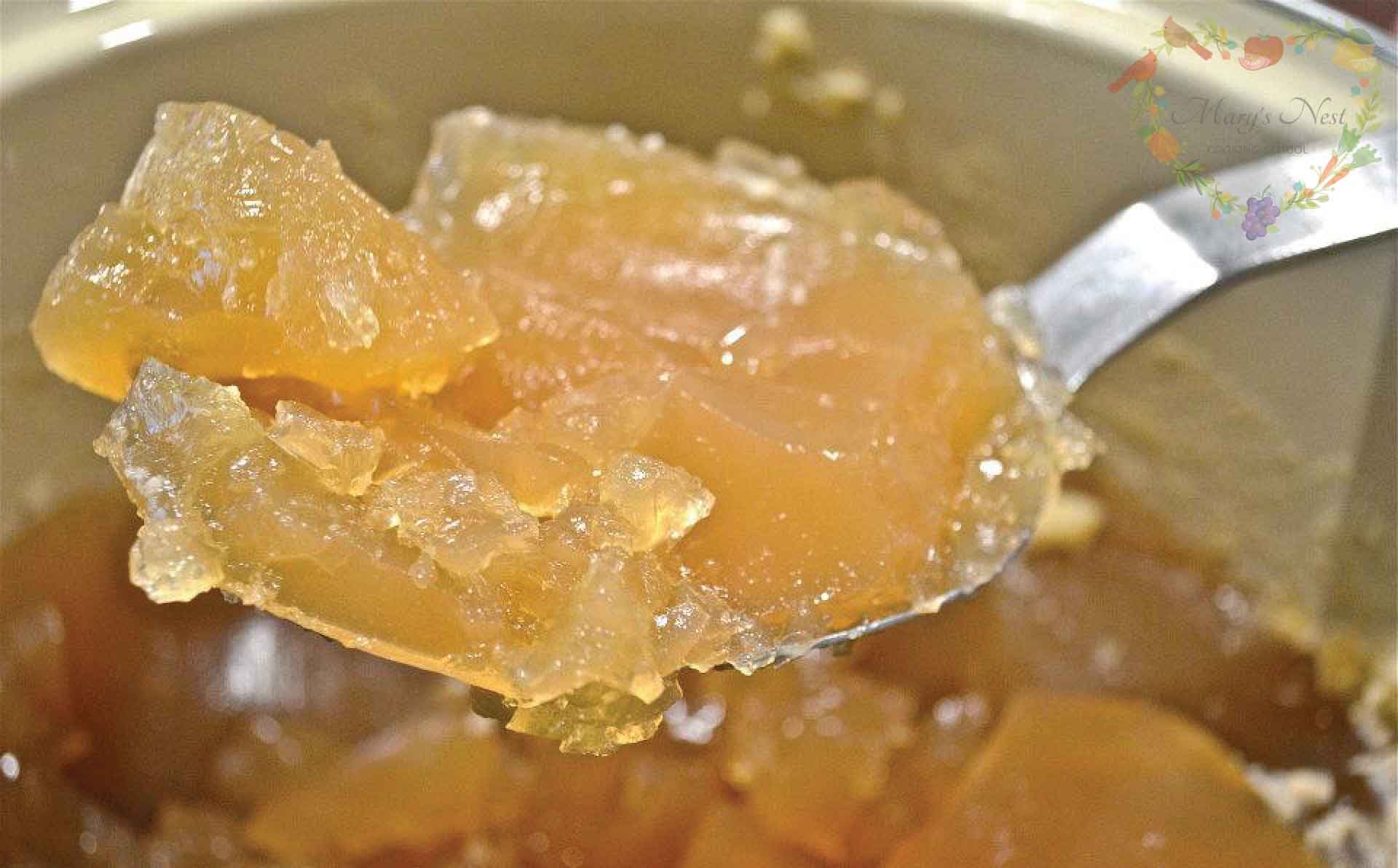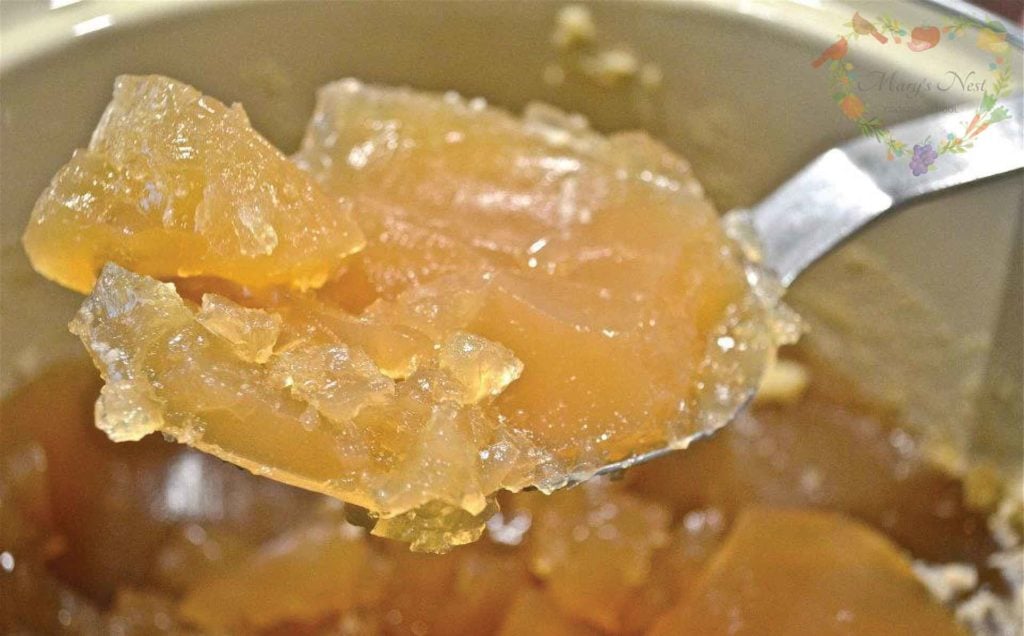 The Home Cook's Arsenal of Flavor
I like to make bone broth because it makes me feel virtuous. I basically make use of scraps that many cooks might otherwise throw out. But by harnessing the last bit of goodness from bits and bobs around my kitchen, I can create a delicious broth that is rich in nourishing minerals and gelatin.
Chicken Bone Broth is extremely versatile. It can be enjoyed simply by itself or as a base for tasty soups, stews, gravies, and sauces. It's quite amazing when you think about it. Nothing more than scraps that virtually can serve as the backbone of a home cook's arsenal of flavor.
This Bone Broth Recipe is Easy…and Flexible
Although I am providing a "recipe" for this bone broth, this really is the sort of thing for which there isn't a specific hard and fast recipe. There is a lot of flexibility when it comes to making bone broths of any variety. As to Chicken Bone Broth, how many chicken carcasses you use, and what chicken scraps you throw into your stock pot, can be a bit variable. So by all means, customize this recipe and make it your own.
The Secret to a Rich and Flavorful Broth
And certainly, chicken bone broth can be made from a raw chicken. But when you use the carcass and scraps from a roast chicken, the flavor of the broth will be so much richer. This is my favorite way to make chicken bone broth. Now, that said, I usually use more than one chicken carcass. After each time I roast a chicken, I store the carcass in my freezer in a container that holds about 3 carcasses along with their scraps.
Once the container is full, I make the bone broth and add a few chicken feet to boost the gelatinous consistency of the final product. You can make this with just one carcass, but I suggest that you wait until you have at least two. However, that said, if you have only one carcass but you have some chicken feet, wings, necks, or backs, you can make bone broth with just one carcass.
Add Scraps and Aromatics to Bone Broth
Along with the three carcasses, leftover chicken skin, and scraps, I also like to add various aromatics. These bone broth aromatics include:
Bay leaves
Carrots
Celery
Onions
Peppercorns
I use both fresh aromatics and various cooking scraps I have saved over time that I have thrown into a bag in my freezer.
Tips on What to Avoid Adding to Bone Broth
Personally, I recommend not to add garlic. Garlic can leave a bit of an off-putting taste after a long simmer, so it can be best to add garlic later when you use the bone broth for soup or for whatever purpose you choose.
I also avoid adding potatoes or other root vegetables to the stock pot. They can make the bone broth cloudy, and in some cases, depending on the root vegetable used, add a strong flavor. Plus, you should avoid adding any vegetables from the cruciferous family (the brassicas) when making bone broths. They, too, can add unwanted flavor.
Plus, the broth obtained from crucifers contain goitrogens.  You may want to avoid these because of the possible strain they can put on the thyroid gland. (However, that said, goitrogens may offer protection against some cancers. So you can certainly enjoy them cooked.  Just don't drink the water in which they were steamed or boiled.)
Choose An Acid for Your Bone Broth
Once you have amassed a collection of chicken carcasses, skin, and scraps, you're ready to make Chicken Bone Broth. All you need now is some aromatics, water, and a small amount of some type of acid.
I like to use white vermouth for the acid as it adds a pleasant flavor to the final product.  But a simple splash of apple cider vinegar will do the trick just fine. Just use one or the other for the acid in your bone broth.
A Simple Six-Hour Simmer is All You Need
Although you may have heard that you need to simmer bone broth for three days on your stovetop, that really isn't the case. Simmering for about six hours is sufficient to leach the nutrients out of the bones and create a nice gelatinous broth. Excessive simmering can actually "break" the gelatin and make a watery broth.
Plus, bone broth simmered too long can develop an "overcooked" flavor. So make things easy on yourself.  Simmer this bone broth for six hours and then strain it. If after straining it, you think the carcass and scraps may render more bone broth, you can, of course, reuse them to make a second batch.
A Few Final Tips
You can simmer this broth on the stove top or in a slow cooker. However, if you use a slow cooker, you will need one that has a "Keep Warm" setting that heats to 180°F. (You can check the temperature by filling your slow cooker with water, set it on Keep Warm, and test the temperature with a cooking thermometer after a few hours.) The Keep Warm temperature will create the perfect environment for making delicious, gelatinous bone broth.
If your slow cooker does not have a "Keep Warm" setting, you can still use it to make bone broth.  However, you will need to use the low setting and adjust the lid slightly to one side, allowing some heat to escape.  This technique will prevent the broth from boiling.
Learn How to Make Other Bone Broths
Follow my printable recipe to master making Chicken Bone Broth from a Roast Chicken. Afterward, be sure to check out my videos about how to make Beef Bone Broth, as well as fish, turkey, and pork bone broth. You can also learn about the best bones to use to get the richest and most gelatinous broth!
If you've ever wondered what the difference is between broth, stock, and bone broth, check out the following video.
Stay in Touch with Mary's Nest
Subscribe to My YouTube Channel for Traditional Foods Videos (Free) - When you subscribe, be sure to click on the notification bell that will let you know each time I upload a new video.


Subscribe to Mary's Traditional Foods Newsletter (Free) - Get a free eBook for signing up: How to Stock Your Essential Traditional Foods Four-Corners Pantry.


Join the Traditional Foods Kitchen Academy (Optional Paid) - For more detailed videos, live streams, and exclusive members-only perks, join my YouTube membership community.
I look forward to having you join me in my Texas Hill Country Kitchen!
Love,
Mary
♥
Shop for items used in this blog post or video
Amazon Shop and Shopping Guide
Visit my Shopping Guide page
Learn where I buy my beef bones, electric grain mills, sprouted grains, and more…and get special discounts for Mary's Nest visitors, including from US Wellness Meats, Mockmill, Masontops, and Cultures for Health.
Favorite Bone Broth Making Supplies
Recommended Reading
*Affiliates note: As an Amazon Associate I earn from qualifying purchases. My videos and blog posts may contain affiliate links to products and services. If you click through and make a purchase, I'll receive a small commission. It does not affect the price you pay.
**Disclaimer: I am not a medical doctor, a medical professional, a dietician, or a nutritionist. All content found on the MarysNest.com website, including text, images, videos, eBooks or eGuides, social media, or other formats, were created solely for informational purposes only. The content is not intended to be a substitute for professional medical advice, diagnosis, or treatment. Always seek the advice of your physician or other qualified healthcare provider with any questions you may have regarding a medical condition or proper nutritional advice. Never disregard professional medical advice or delay in seeking it because of something you have watched in a video or read on this website. Use caution when following the recipe in this video. The creator and publisher of this video and website will not be held responsible for any adverse effects that may arise from the use of this recipe and method or any other recipe and method on this website or corresponding video channel.