Affiliates note: As an Amazon Associate I earn from qualifying purchases. My content may contain affiliate links to products and services. If you click through and make a purchase, I'll receive a small commission. It does not affect the price you pay.
How to Make Turkey Bone Broth in the Slow Cooker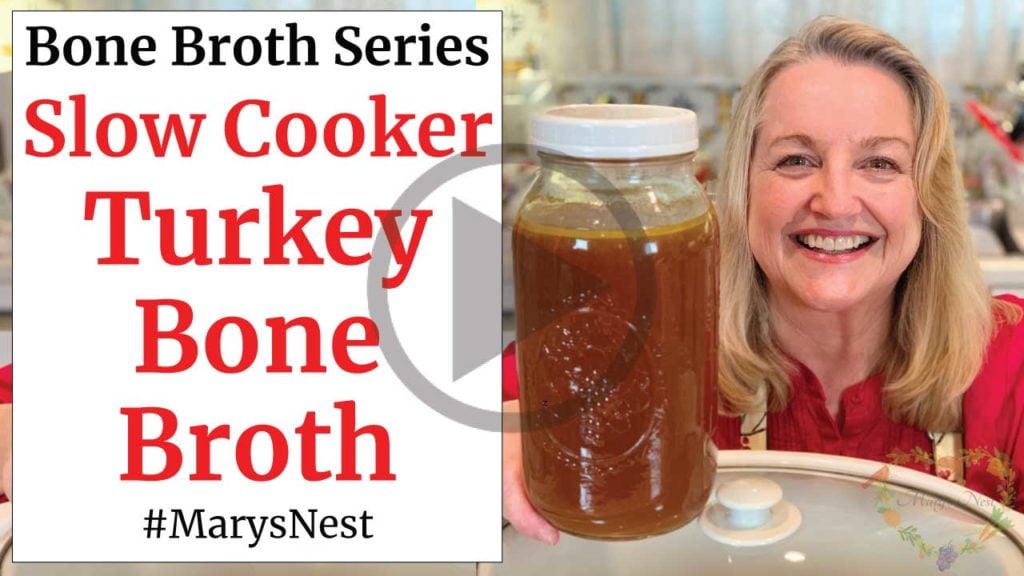 If you cooked a turkey on Thanksgiving—or any time of year—and now are left with the turkey carcass and lots of scraps, this is the perfect time to make Turkey Bone Broth! (I also talk about how you can make bone broth in the Instant Pot.)
Versatile Turkey Bone Broth
Turkey Bone Broth is great to have on hand because it can be used as a base for soups and stews, such as Turkey Barley Soup. It also makes a delicious protein-rich sipping beverage that's full of collagen and soothes our stomachs. Plus, the collagen in bone broth is beneficial for our skin, hair, and nails, providing the type of protein these parts of our bodies crave.
Why the Slow Cooker?
My favorite way to make any bone broth, including Turkey Bone Broth, is using the slow cooker. Yes, the stovetop method is great too, but you have to keep more of a watchful eye on it. The slow cooker allows you to start the process and basically forget it. The convenience is wonderfully liberating!
But what about the Instant Pot? I have made bone broth in the Instant Pot, and it is certainly quick. If you're in a rush, I highly recommend it. However, that said, I have found that the bone broth that it creates is not as gelatinous as the slow cooker or the stovetop methods. But if you're short on time, by all means, use the Instant Pot. You may know my motto by now…It's better to make bone broth any way you can than not to make bone broth at all!
Using the Fat Separator
In my video, I'll show you how to use the Fat Separator device. It's a handy way to easily separate the fat from your bone broth when you decant it into your storage containers.
More Bone Broth Videos and Recipes
After you've learned how to make turkey bone broth in a slow cooker, discover the different ways to make bone broth, the different types of bone broth, and helpful information about bone broth.
Stay in Touch with Mary's Nest
Subscribe to My YouTube Channel for Traditional Foods Videos (Free) - When you subscribe, be sure to click on the notification bell that will let you know each time I upload a new video.
Subscribe to Mary's Traditional Foods Newsletter (Free) - Get a free 36-page eBook for signing up: How to Stock Your Essential Traditional Foods Four-Corners Pantry.
Join the Traditional Foods Kitchen Academy (Optional Paid) - For more detailed videos, live streams, and exclusive members-only perks, join my YouTube membership community.
Preorder The Modern Pioneer Cookbook (Optional Paid) - Get a printed book of Mary's nourishing recipes from a Traditional Foods Kitchen. This cookbook will be published by Penguin Random House with their DK imprint.
I look forward to having you join me in my Texas Hill Country Kitchen!
Turkey Bone Broth in the Slow Cooker
Learn how to make delicious and nutritious bone broth from your leftover turkey carcass.
Equipment
Slow Cooker

Stock Pot, optional

Instant Pot, optional
Ingredients
1

Turkey carcass plus scraps

6

Chicken feet, optional

1

cup

White vermouth

Can substitute with 1/4 cup apple cider vinegar

2

Onions, unpeeled and chopped

2

stalks

Celery, chopped

2

Carrots, unpeeled and chopped

2

Mandarin oranges, unpeeled and chopped, optional

3

inch

Piece of fresh ginger, sliced, optional

Unpeeled if organic

1

inch

Piece of fresh turmeric, sliced, optional

Unpeeled if organic

1

tsp

Black peppercorns, whole

1

Bay leaf

Water, preferably filtered or spring water

Use enough to cover all ingredients in a slow cooker
Instructions
Add the turkey carcass and scraps to the slow cooker. Also add in the chicken feet, if using.

Pour white vermouth into the slow cooker.

Add all remaining ingredients to the slow cooker, and fill with enough water to cover all the ingredients, but take care to leave at least a one-inch headspace in the slow cooker. Do not fill the slow cooker to the rim. If some of the ingredients are popping over the top of the water, that is okay. They will shrink and sink during the simmering time.

Set the slow cooker to high for one hour, then turn down to "keep warm". Allow the bone broth to simmer on keep warm for six hours.

If your slow cooker does not have a keep warm setting, turn it down to low. If, during the simmering process, the bone broth boils, tilt the lid of the slow cooker to release the heat. You want to see only periodic bubbles as the bone broth simmers. If you have a food thermometer, you can check the temperature of the bone broth. It should simmer at 180°F. But if you do not have a food thermometer, just watch the bone broth and make sure that it stays at a low simmer with only periodic bubbles.

After the six-hour simmer on keep warm, remove all the solids.

Once the solids are removed, strain the bone broth through a flour sack towel or cheesecloth to remove any remaining bits of debris.

At this point, you may decant the bone broth or use a fat separator device to remove the fat and then decant it.

The bone broth will be at its freshest for 2-3 days, refrigerated. If you keep a substantial fat layer on top of the broth, it may stay fresh for 1-2 weeks, refrigerated. If frozen, the bone broth will be at its freshest for 2-3 months but may retain its freshness up to 6 months.

To drink as a beverage, reheat gently and add sea salt to taste, if needed. For recipes calling for water such as soups, stews, or the cooking of grains, use bone broth in place of the water.
Watch Mary's Nest on YouTube
Shop for items used in this blog post or video
Favorite Bone Broth Making Supplies
Recommended Reading
Amazon Shop and Shopping Guide
Visit my Shopping Guide page
Get up to 15% off for stocking your Traditional Foods Pantry and equipping your Modern Pioneer Kitchen, including discounts from US Wellness Meats, Mockmill Grain Mill, Masontops, Cultures for Health, Survival Garden Seeds, Redmond Real Salt, Plan to Eat, and More!
*Affiliates note: As an Amazon Associate I earn from qualifying purchases. My content may contain affiliate links to products and services. If you click through and make a purchase, I'll receive a small commission. It does not affect the price you pay.
**Disclaimer: I am not a medical doctor, a medical professional, a dietician, or a nutritionist. All content found on the MarysNest.com website, including text, images, videos, eBooks or eGuides, social media, or other formats, were created solely for informational purposes only. The content is not intended to be a substitute for professional medical advice, diagnosis, or treatment. Always seek the advice of your physician or other qualified healthcare provider with any questions you may have regarding a medical condition or proper nutritional advice. Never disregard professional medical advice or delay in seeking it because of something you have watched in a video or read on this website. Use caution when following the recipe in this video. The creator and publisher of this video and website will not be held responsible for any adverse effects that may arise from the use of this recipe and method or any other recipe and method on this website or corresponding video channel.