How to Make Turkey Bone Broth in the Slow Cooker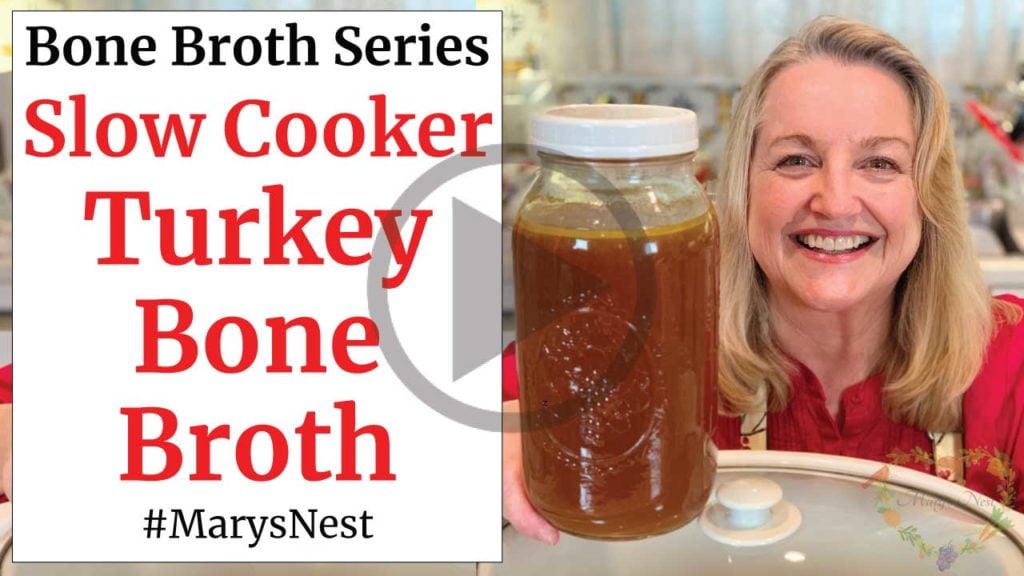 If you cooked a turkey on Thanksgiving—or any time of year—and now are left with the turkey carcass and lots of scraps, this is the perfect time to make Turkey Bone Broth! (I also talk about how you can make bone broth in the Instant Pot.)
Versatile Turkey Bone Broth
Turkey Bone Broth is great to have on hand because it can be used as a base for soups and stews, such as Turkey Barley Soup. It also makes a delicious protein-rich sipping beverage that's full of collagen and soothes our stomachs. Plus, the collagen in bone broth is beneficial for our skin, hair, and nails, providing the type of protein these parts of our bodies crave.
Why the Slow Cooker?
My favorite way to make any bone broth, including Turkey Bone Broth, is using the slow cooker. Yes, the stovetop method is great too, but you have to keep more of a watchful eye on it. The slow cooker allows you to start the process and basically forget it. The convenience is wonderfully liberating!
But what about the Instant Pot? I have made bone broth in the Instant Pot, and it is certainly quick. If you're in a rush, I highly recommend it. However, that said, I have found that the bone broth that it creates is not as gelatinous as the slow cooker or the stovetop methods. But if you're short on time, by all means, use the Instant Pot. You may know my motto by now…It's better to make bone broth any way you can than not to make bone broth at all!
Using the Fat Separator
In my video, I'll show you how to use the Fat Separator device. It's a handy way to easily separate the fat from your bone broth when you decant it into your storage containers.
More Bone Broth Videos and Recipes
After you've learned how to make turkey bone broth in a slow cooker, discover the different ways to make bone broth, the different types of bone broth, and helpful information about bone broth.
Stay in Touch with Mary's Nest
Subscribe to My YouTube Channel for Traditional Foods Videos (Free) - When you subscribe, be sure to click on the notification bell that will let you know each time I upload a new video.


Subscribe to Mary's Traditional Foods Newsletter (Free) - Get a free eBook for signing up: How to Stock Your Essential Traditional Foods Four-Corners Pantry.


Join the Traditional Foods Kitchen Academy (Optional Paid) - For more detailed videos, live streams, and exclusive members-only perks, join my YouTube membership community.
I look forward to having you join me in my Texas Hill Country Kitchen!
Love,
Mary
♥
Shop for items used in this blog post or video
Favorite Bone Broth Making Supplies
Recommended Reading
Amazon Shop and Shopping Guide
Visit my Shopping Guide page
Learn where I buy my beef bones, electric grain mills, sprouted grains, and more…and get special discounts for Mary's Nest visitors, including from US Wellness Meats, Mockmill, Masontops, and Cultures for Health.
*Affiliates note: As an Amazon Associate I earn from qualifying purchases. My videos and blog posts may contain affiliate links to products and services. If you click through and make a purchase, I'll receive a small commission. It does not affect the price you pay.
**Disclaimer: I am not a medical doctor, a medical professional, a dietician, or a nutritionist. All content found on the MarysNest.com website, including text, images, videos, eBooks or eGuides, social media, or other formats, were created solely for informational purposes only. The content is not intended to be a substitute for professional medical advice, diagnosis, or treatment. Always seek the advice of your physician or other qualified healthcare provider with any questions you may have regarding a medical condition or proper nutritional advice. Never disregard professional medical advice or delay in seeking it because of something you have watched in a video or read on this website. Use caution when following the recipe in this video. The creator and publisher of this video and website will not be held responsible for any adverse effects that may arise from the use of this recipe and method or any other recipe and method on this website or corresponding video channel.