Affiliates note: As an Amazon Associate I earn from qualifying purchases. My content may contain affiliate links to products and services. If you click through and make a purchase, I'll receive a small commission. It does not affect the price you pay.
Instant Pot Turkey Bone Broth is the quick and easy way to make bone broth. And with these step-by-step instructions, your bone broth will gel every time!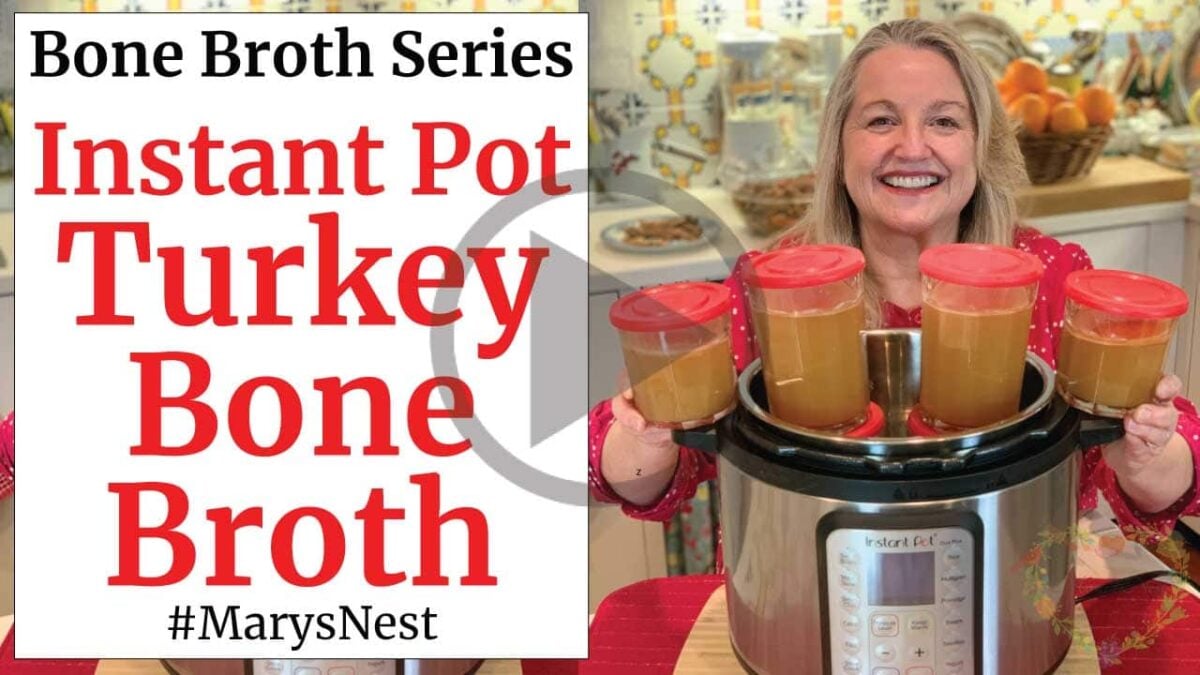 Just Make Turkey Bone Broth
If you're a subscriber, you know that my favorite way to make bone broth is in the slow cooker. The slow cooker, or the stovetop for that matter, will create the most gelatinous bone broth.
However, I am a firm believer that making bone broth in the most convenient way for you is what matters most! And if you are in a rush, the Instant Pot will be your best friend! Yes, you may sacrifice a bit of gelatin, but you are still going to be able to create a nicely gelatinous bone broth that will be nutritious and delicious.
Because as I say…just make bone broth! Whether on the stovetop, the slow cooker, or the Instant Pot!
Homemade Is Always the Best
Homemade Turkey Bone Broth is a tasty gelatin-rich liquid that is wonderful for promoting good gut health. Since Bone Broth is gut healing, this broth gives a boost to our digestive health and our immune system. And scientists tell us that our gut is, in essence, our second brain and has a significant impact on our overall health.
Benefits of a Fat Separator
Now, many of you have asked me about this little gadget, so I thought I would devote a little time to giving it its due! This Fat Separator helps you remove all the fat from your Bone Broth so that you can decant a nicely clarified end product.
The Fat Separator is a clever design that enables you to fill it with your liquid. After a few moments, the fat will rise to the top, and you can press a lever that opens a hole on the bottom that lets you drain your de-fatted bone broth into the vessel of your choosing. (I use glass storage jars with plastic lids.) I love this device!
But don't worry…let me assure you…I am NOT throwing out the fat! I simply decant it into a different storage container where I save it to use for cooking. So no one panic! 😉
Using Turkey or Other Bone Broth
Once you have your "liquid gold" as I like to call bone broth, you can warm it gently on your stovetop, add a bit of sea salt, and pour it into a mug for a delightfully sipping broth!
But bone broth has so many other uses! You can use it as a base for soups and stews, or as a substitute for water when making rice or other grains. Integrating this broth into any recipe you are making helps to increase the overall nutrition. And did you know, you can even use bone broth in a smoothie!
More Bone Broth Videos
Now that you're a pro at making Turkey Bone Broth in the Instant Pot, be sure to check out these other Instant Pot videos including How to Cook a Chicken in the Instant Pot – The Right Way! as well as other ideas for making a variety of Bone Broths.
Stay in Touch with Mary's Nest
Subscribe to My YouTube Channel for Traditional Foods Videos (Free) - When you subscribe, be sure to click on the notification bell that will let you know each time I upload a new video.
Subscribe to Mary's Traditional Foods Newsletter (Free) - Get a free 36-page eBook for signing up: How to Stock Your Essential Traditional Foods Four-Corners Pantry.
Join the Traditional Foods Kitchen Academy (Optional Paid) - For more detailed videos, live streams, and exclusive members-only perks, join my YouTube membership community.
Order The Modern Pioneer Cookbook (Optional Paid) - Get a printed book of Mary's nourishing recipes from a Traditional Foods Kitchen. This bestselling cookbook is published by Penguin Random House with their DK imprint.
I look forward to having you join me in my Texas Hill Country Kitchen!
Instant Pot Turkey Bone Broth that Gels Every Time
Instant Pot Turkey Bone Broth is the quick and easy way to make bone broth that gels every time.
Ingredients
1

Turkey carcass and scraps

6

Chicken feet, optional

2

Carrots, peels on and rough chopped

2

stalks

Celery, rough chopped

1

Onion, skins on and quartered

1

Bay leaf

1

teaspoon

Black peppercorns

1

cup

White vermouth

Water

enough water to cover the bones
Instructions
Place all the ingredients into the liner pot of the Instant Pot. Make sure to NOT exceed the 2/3 fill line.

Add water to the Instant Pot to just cover the bones, no more than 1 inch above the bones and no higher than the pressure cooker 2/3 mark.

You can press the "Soup/Broth" button, "Pressure Cook" button, or "Manual" button depending on your Instant Pot model. Then set the Instant Pot to "Low Pressure" for 2 hours.

When the bone broth is finished, follow the manufacturer's instructions for releasing pressure from the Instant Pot quickly or allow the Instant Pot to come down from pressure naturally.

Once the pressure has been completely released, open the Instant Pot and remove all the solids and then strain the broth. (See video.)

Store bone broth in jars. Bone broth will stay fresh refrigerated for 2-3 days, and fresh frozen for 2-3 months.
Watch Mary's Nest on YouTube
Shop for items used in this blog post or video
Favorite Bone Broth Making Supplies
Amazon Shop and Shopping Guide
Recommended Reading