How to Make Pork Bone Broth in a Slow Cooker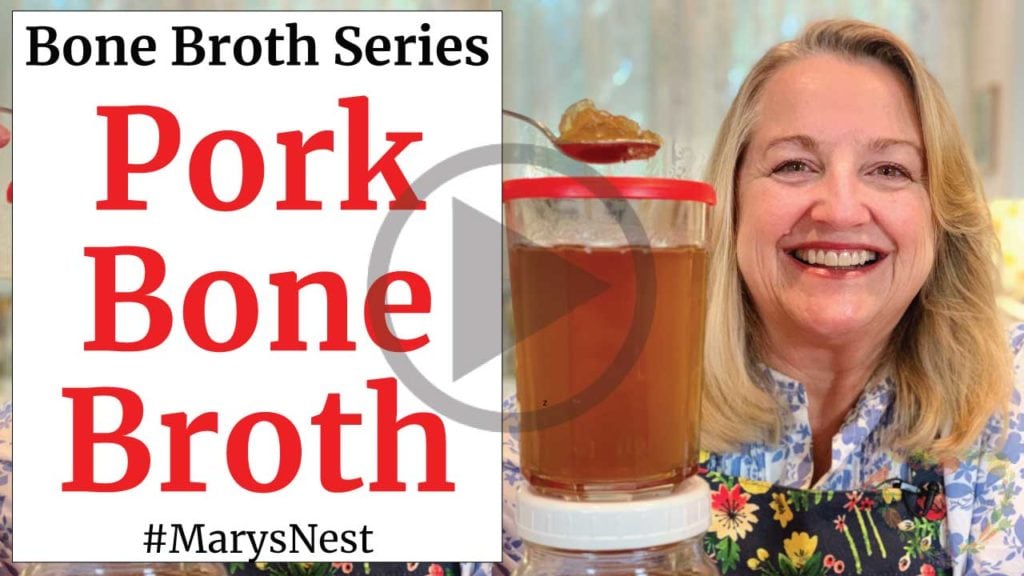 Learn How to Make Pork Bone Broth in a Slow Cooker for a nutritional powerhouse of collagen to nourish your skin, nails, hair, and gut health. PLUS, this recipe makes great Ramen Broth too!
Pig Skin for Great Skin
Pork Bone Broth is easy to make with smoked ham hocks for a wonderful flavor. But they are valued for much more than their flavor.
If you can find hocks, they will make the most nourishing bone broth, thanks to the pig skin that surrounds the hock. The pig skin is great for our skin because it is very rich in collagen, and the collagen helps to keep our skin smooth and wrinkle-free.
Other Options for Bone Broth
But what if you can't find ham hocks? Not to worry. You can also use ham shanks or rib bones, as well as bones from bone-in pork chops and the leg bone from a bone-in ham. Any combination of pork bones will do to make an excellent Pork Bone Broth.
How Do I Use Pork Bone Broth?
Pork Bone Broth, like all bone broth, is very versatile. You can warm it and drink as a beverage. You can use it in place of water when making rice and other grains. And it's great for making bean soups. Also, if you enjoy making ramen, this is the broth you want to learn how to make!
More Bone Broth Recipes
After you've learned how to make pork bone broth in a slow cooker, learn about the different ways to make bone broth, discover the different types of bone broth, and get printable recipes so you can create your own traditional foods cookbook.
Stay in Touch with Mary's Nest
Subscribe to My YouTube Channel for Traditional Foods Videos (Free) - When you subscribe, be sure to click on the notification bell that will let you know each time I upload a new video.


Subscribe to Mary's Traditional Foods Newsletter (Free) - Get a free eBook for signing up: How to Stock Your Essential Traditional Foods Four-Corners Pantry.


Join the Traditional Foods Kitchen Academy (Optional Paid) - For more detailed videos and exclusive members-only perks, join my YouTube membership community.
I look forward to having you join me in my Texas Hill Country Kitchen!
Love,
Mary
♥
Print Recipe
How To Make Pork Bone Broth in the Slow Cooker
Learn How to Make Pork Bone Broth in a Slow Cooker for a nutritional powerhouse of collagen to nourish your skin, nails, hair, and gut health. PLUS, this makes great Ramen Broth too!
Equipment
8-Quart Slow Cooker (If using a 6-Quart slow cooker, reduce bones to 3 pounds and water to 3-Quarts.)
Ingredients
4

pounds

Ham Hocks

Or other mix of pork bones, including ham shanks and ham bones.

1

cup

Fortified wine, such as Madeira, Marsala, or Port (regular wine can also be used)

Optional

1/4

cup

Apple cider vinegar (ACV)

If using ACV, omit fortified wine.

3

Onions, quartered with skins on

3

Celery stalks including leaves, large chop

3

Carrots, unpeeled and large chops

2

Bay leaves

10

Peppercorns

4

quarts

Filtered water

You may need less water. You just want to use enough water to cover all the ingredients.
Instructions
Place all the ingredients into the slow cooker. If you choose to use the fortified wine or wine, you can omit the apple cider vinegar. Add water to the slow cooker or stock pot just to cover all the ingredients.

Turn the slow cooker to the high setting for one hour, then turn it down to the keep warm setting and allow to simmer on keep warm for six hours. If your slow cooker does not have a keep warm setting, turn it down to the low setting, but tilt the slow cooker lid to allow for some of the steam to escape to prevent the bone broth from boiling.

After six hours, turn off the slow cooker. Allow broth to cool slightly and then begin to strain ingredients with a slotted spoon. Reserve meat, bones, and skin to be reused to make a second batch of broth. (Or just reserve bones and skin for second batch of bone broth and eat the meat.)

Once all the ingredients have been strained from the broth, line a colander with cheese cloth or a flour sack towel and place over a deep pot. Use a ladle to transfer the broth from the slow cooker or stock pot into the lined colander. The broth will drain through the lined colander into the deep pot. This will help to strain out the small bits of meat and vegetables, etc., that were not strained out with the slotted spoon.

Once all the broth has been strained through the lined colander into the deep pot, transfer this pot to the refrigerator until the fat rises to the top and congeals. (Or you can use a fat separator to remove the fat before refrigerating. See Video.) Upon removing the bone broth from the refrigerator, skim off the fat that has risen and congealed at the top, and transfer the fat to a separate container to be used in other recipes. Transfer the broth to one or more containers with a cover that can then be refrigerated or frozen. You can store the broth in multiple smaller containers or one single large container, depending on how you plan to use it.

This bone broth will stay fresh for 3-4 days when refrigerated. If frozen in the freezer of a refrigerator, it will stay fresh for 6 months. In a separate freezer that is not opened frequently, it will stay fresh for up to 12 months.
Video
Shop for items used in this blog post or video
Visit my Shopping Guide page
Learn where I buy my Beef Bones, Wild-Caught Fish, Sprouted Grains, and more...and learn about Special Discounts for Mary's Nest visitors, including from US Wellness Meats, Vital Choice, Masontops, and Breadsmart.
Favorite Bone Broth Making Supplies:
*Affiliates note: As an Amazon Associate I earn from qualifying purchases. My videos and blog posts may contain affiliate links to products and services. If you click through and make a purchase, I'll receive a small commission. It does not affect the price you pay.
**Disclaimer: I am not a medical doctor, a medical professional, a dietician, or a nutritionist. All content found on the MarysNest.com website, including text, images, videos, eBooks or eGuides, social media, or other formats, were created solely for informational purposes only. The content is not intended to be a substitute for professional medical advice, diagnosis, or treatment. Always seek the advice of your physician or other qualified healthcare provider with any questions you may have regarding a medical condition or proper nutritional advice. Never disregard professional medical advice or delay in seeking it because of something you have watched in a video or read on this website. Use caution when following the recipe in this video. The creator and publisher of this video and website will not be held responsible for any adverse effects that may arise from the use of this recipe and method or any other recipe and method on this website or corresponding video channel.