How to Make Lard – The Right Way!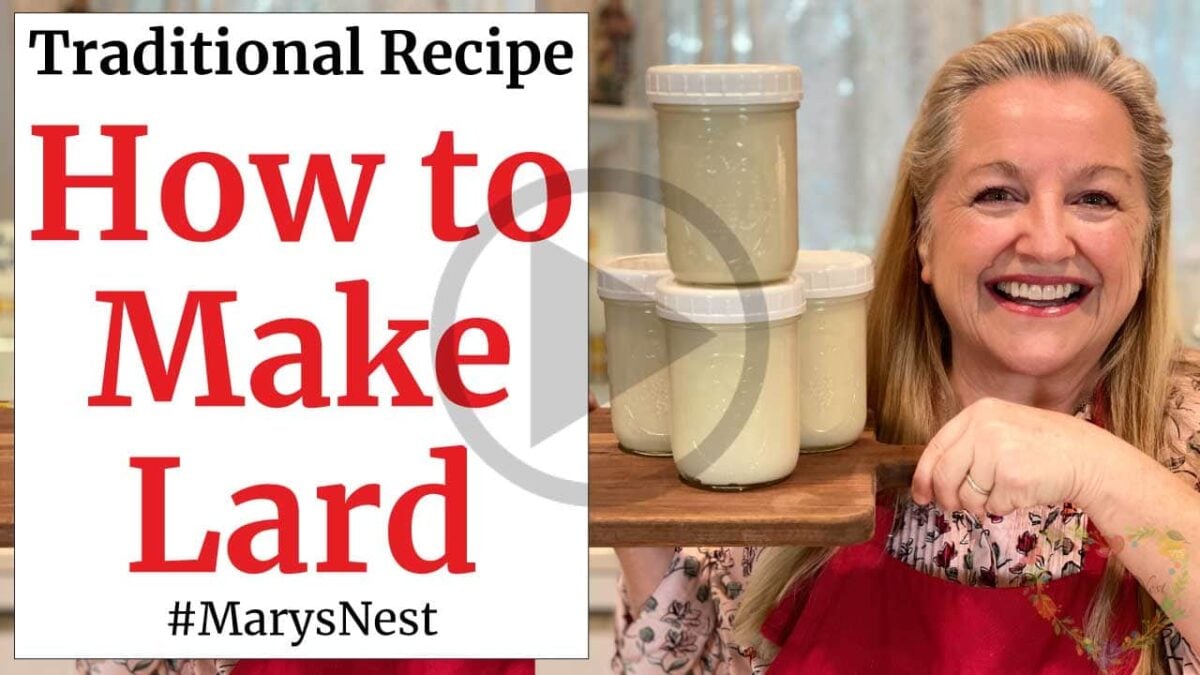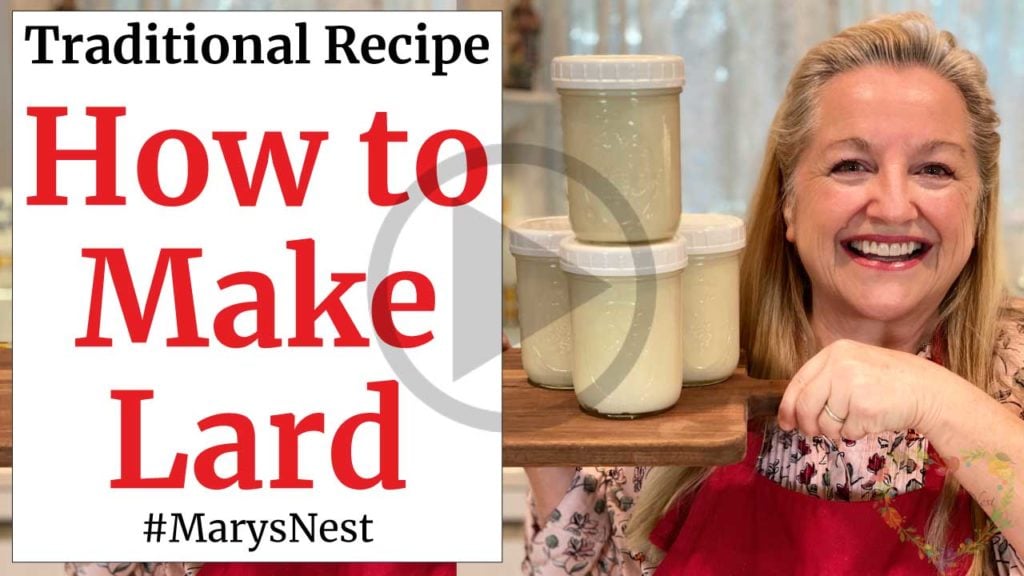 Lard is regaining its acclaim as a healthy fat for cooking. I'll show you how to easily make lard by rendering pork fat, but not just any way. I'll show you the right way with the tips I share in my recipe video and this recipe post.
*Affiliates note: As an Amazon Associate I earn from qualifying purchases. My content may contain affiliate links to products and services. If you click through and make a purchase, I'll receive a small commission. It does not affect the price you pay.
What Are the Benefits of Lard?
First things first. You might be wondering, "Why would I ever want to render pork fat to make lard? I heard it was so bad for us!" Unfortunately, that is a misconception that many folks have.
But truth be told, lard has been vindicated. This is terrific news for those of us who are traditional cooks. Lard actually contains nutrients that are beneficial to our health, including lots of vitamins.
Here are just a few of the surprising benefits of lard:
High in cancer-fighting Vitamin D.
Contains choline that may help to stave off Alzheimer's and liver disease.
Rich in monounsaturated fats that may lower bad cholesterol while maintaining good cholesterol, thereby lowering heart disease.
Scientists have extensively studied the vitamins in lard. As you'll discover from the following research links, you'll learn more about the health benefits of foods rich in Vitamin D, Choline, and Monounsaturated Fatty Acids: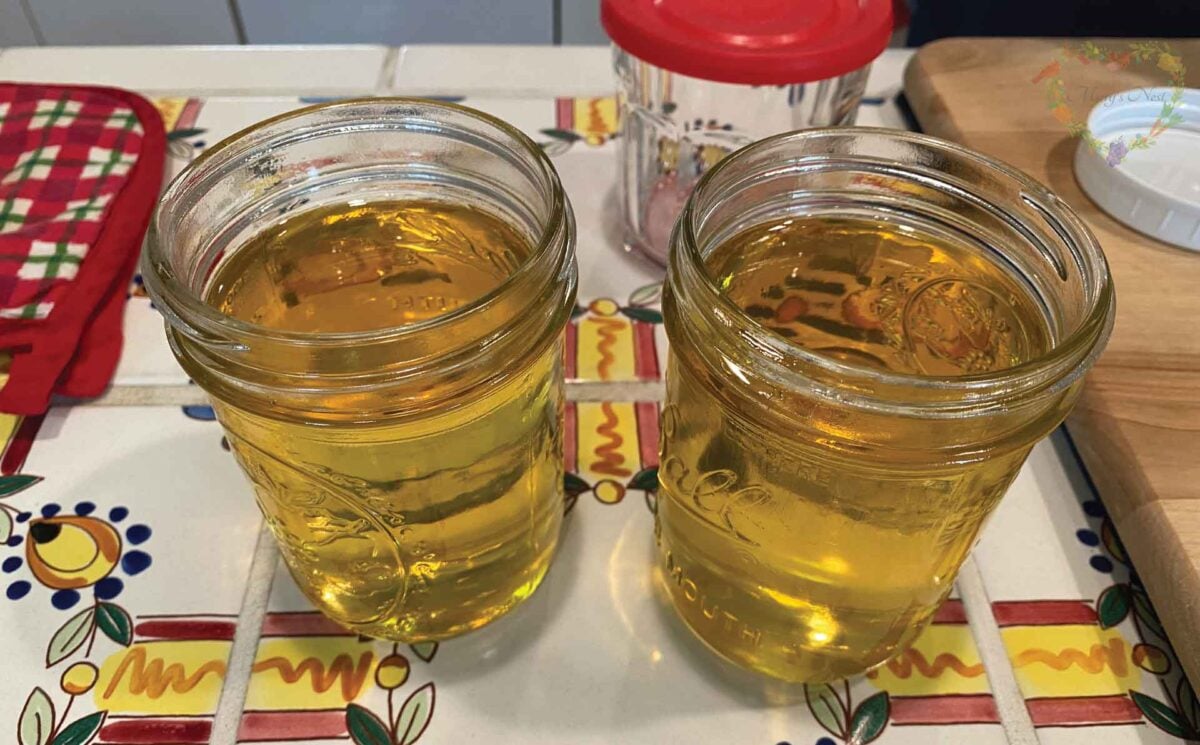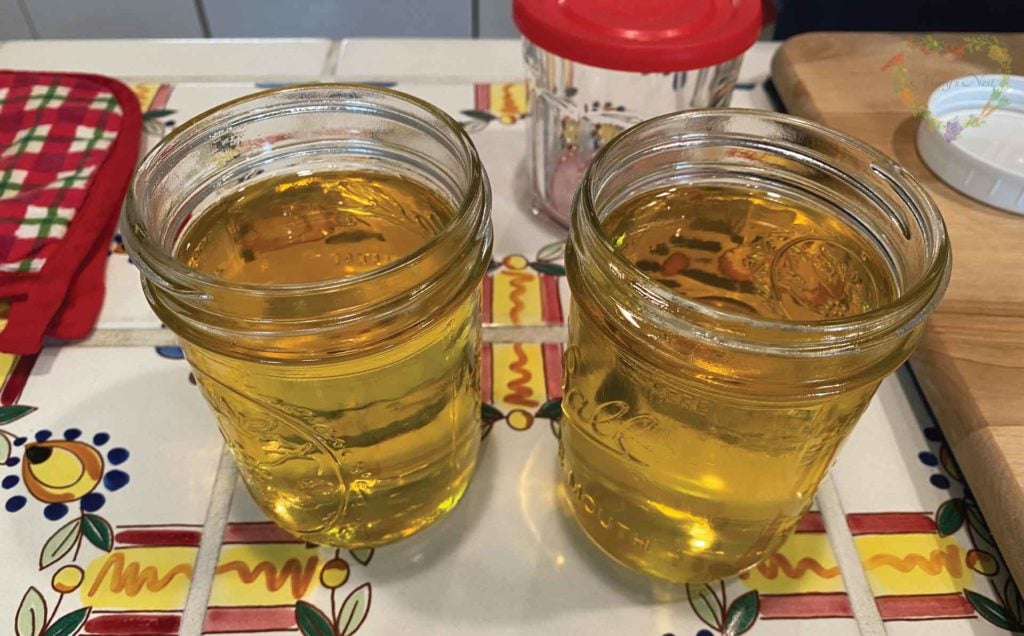 Tips for Making Lard the Right Way
Now that we've cleared up any misconceptions about lard, let's talk about a few tips for how to best render pork fat to make lard.
When it comes to rendering animal fat, including pork fat, there are two essential tips you need to follow to make sure that your final product comes out perfect every time.
Tip Number 1: Never Add Water
First, you never want to add water when rendering animal fat. It's completely unnecessary.
You may think that the water will help your fat from burning as it is rendering, but if you are worried about burning, that means that your oven temperature is too high.
Tip Number 2: Keep Your Oven Temperature Low
Second, make sure you keep your oven temperature very low when you are making lard or rendering another animal fat. This is a low and slow process. You want to make sure that you never set your oven temperature higher than 225°F.
Three Ways to Render Animal Fat
There are three ways to render animal fat:
Stovetop Method
Dutch Oven Method
Stockpot and Colander Method
In two previous videos, I showed you:
Learn more about these two methods in the following recipe videos.
Rendering Fat with the Stockpot and Colander Method
Both of these methods are relatively easy, but my favorite way to render animal fat is by using a stockpot and a colander or mesh strainer. This method requires the least amount of straining to remove the cracklins' from your liquid, which means less work. So I'm all for that!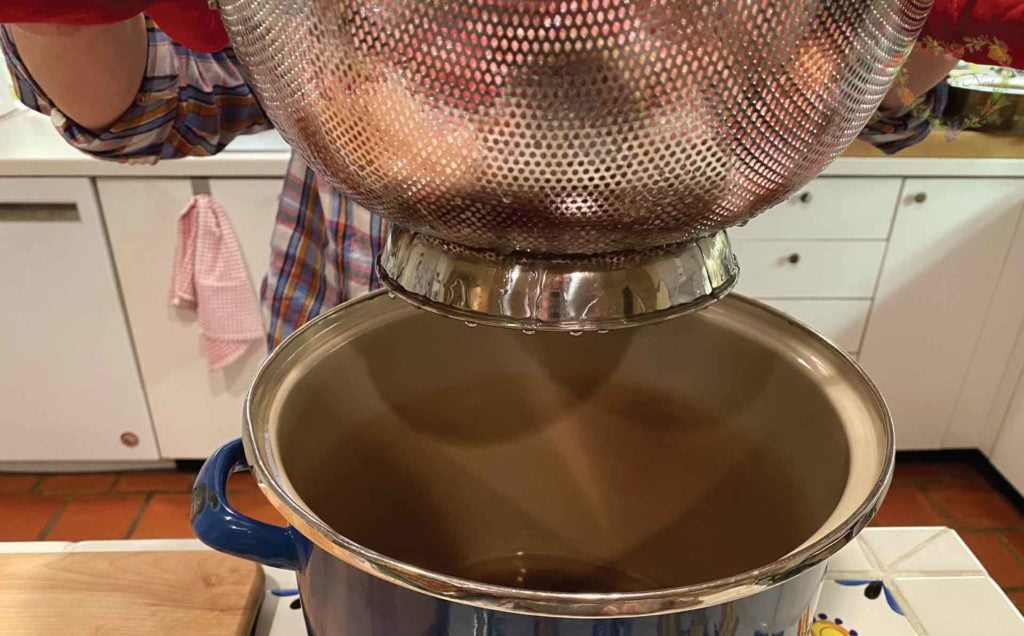 Be sure to watch my recipe video for making lard where I walk you through the entire process of rending pork fat using a stockpot and a colander. The process really couldn't be easier:
Place the chopped pork fat into the colander.
Place the colander over the stockpot.
Pop your colander and stockpot into your oven.
In about 6 hours, your stockpot will contain beautifully melted lard, and the cracklings will remain in the colander.
Be sure to print out the full recipe for all the ingredients and directions for making lard.
How to Use Rendered Animal Fats
Animal fats include tallow, lard, or Schmaltz. Once you render your animal fat, you'll be ready to cook with it. Tallow has a very high smoke point, which is the temperature you can heat your fat without it becoming damaged. Tallow is an excellent fat for deep frying.
If you like apple fritters, be sure to try the recipe in the video below where I fry the fritters in tallow—just like grandma did!
Lard and Schmaltz have a slightly lower smoke point, but they are well-suited for pan-frying and sautéing. When it comes to making chopped chicken livers, Schmaltz is a must-have ingredient!
How is Lard Used in Baking?
For the traditional cook, there is one universal truth: lard makes the best pie crust! 😉 So if you have been using the solid vegetable shortening in a can to achieve a beautiful flaky pie crust, throw out that processed fat right now and replace it with lard!
A mixture of lard and butter will give you the texture and flavor you want in the perfect pie crust. And if you can find pork leaf fat so that you can render it to make leaf lard—all the better.
What's So Special About Leaf Lard?
Bakers prize leaf lard because it is the fat that comes from around the kidney of the pig, as opposed to the back of the pig. This pork leaf fat creates a beautifully pure lard with no pork flavor or aroma, making it perfect for baking your favorite sweet treats.
But don't worry if you can't find pork leaf fat. Even the back fat from the pig can make excellent lard. It's always perfect for cooking or baking savory foods, and it can work well in sweet baked goods that have stronger flavors like cinnamon and chocolate.
Making Creams from Animal Fat
Even though our focus here is on lard, I really can't finish this blog post without filling you in on a little secret about tallow. Now, I know that making creams from animal fat may be a stretch for some of you, but trust me. A face balm or a foot balm made from tallow is going to be one of the best things you can ever do for your skin.
I'm in my mid-60s, and I swear by it! You will never have to buy a fancy, high-priced beauty cream again! Tallow is great for nourishing the skin on your face and keeping wrinkles at bay. And NO, you will not smell like beef! 😊
And if you suffer from cracked heels, a few nights of using tallow balm on your feet will have you waking up to smooth heels! Just remember to wear socks to bed! This is a very rich cream, and you only need a small dollop.
More Pork Recipes
Learn how to make pork bone broth in a slow cooker for a nutritional powerhouse of collagen to nourish your skin, nails, hair, and gut health. Plus, this recipe makes great Ramen Broth too!
If you have pork ribs or pork chops, try these recipes for warm and delicious meals.
Looking for Pork Fat or Beef Suet?
If you can't find pork fat (either back fat or leaf fat) or beef suet at your neighborhood supermarket or farmer's market, check out US Wellness Meats for all of these nutrient-rich fats that you can render at home to make lard and tallow.
And if you are not up for rendering your own animal fat, US Wellness Meats will come to your rescue. They sell lard, leaf lard, and tallow already rendered for you! (See the list below for product links.)
Use discount code MARYNEST and my link to save 15% off regular-priced items on your US Wellness Meats order. You can shop for a variety of products, including:
This post is not sponsored. I'm a long-time customer of US Wellness Meats because I have always been impressed by the quality of their products. Check out my US Wellness Meats unboxing video to see the types of products you can get, including bones for beef bone broth!
Download Your Free 36-Page Pantry List
Incorporating rendered animal fats into our cooking is a hallmark of a traditional foods kitchen. If you are on your journey transitioning from a processed foods kitchen to a traditional foods kitchen, and you want to toss out that can of solid vegetable shortening and restock your pantry, be sure to download my free 36-page Traditional Foods Pantry List.
This extensive pantry list is not just a list of foods; it is full of links to recipe videos, helpful articles, and more. You will find this eBook to be the most comprehensive list of the traditional foods you can make and purchase to stock your pantry.
Kitchen Academy Videos
Are you looking for more traditional foods videos? If so, I invite you to join the Traditional Foods Kitchen Academy. Members of this optional paid YouTube community get access to exclusive videos, live streams, and other members-only perks. Plus, your YouTube comments include a special members-only badge.
In the following members-only video, I talk about the Importance of Cooking with Traditional Fats: Animal Fats.
Stay in Touch with Mary's Nest
Subscribe to My YouTube Channel for Traditional Foods Videos (Free) - When you subscribe, be sure to click on the notification bell that will let you know each time I upload a new video.
Subscribe to Mary's Traditional Foods Newsletter (Free) - Get a free 36-page eBook for signing up: How to Stock Your Essential Traditional Foods Four-Corners Pantry.
Join the Traditional Foods Kitchen Academy (Optional Paid) - For more detailed videos, live streams, and exclusive members-only perks, join my YouTube membership community.
Order The Modern Pioneer Cookbook (Optional Paid) - Get a printed book of Mary's nourishing recipes from a Traditional Foods Kitchen. This bestselling cookbook is published by Penguin Random House with their DK imprint.
I look forward to having you join me in my Texas Hill Country Kitchen!
Trending Posts on Mary's Nest
Shop for items used in this blog post or video
Favorite Kitchen Supplies
More Kitchen Supplies with Discount Codes
Learn more about Mockmill electric grain mills for making fresh flour and their Flake Lover's Flaker that flakes whole grain in minutes.
Use promo code MARYSNST for a one-time 15% off Masontops and Breadsmart products on Amazon.com.
Amazon Shop and Shopping Guide
Visit my Shopping Guide page
Get up to 15% off for stocking your Traditional Foods Pantry and equipping your Modern Pioneer Kitchen, including discounts from US Wellness Meats, Farmhouse Teas, Lehman's, Masontops, Cultures for Health, Survival Garden Seeds, Redmond Real Salt, Plan to Eat, and More!
Recommended Reading
**Disclaimer: I am not a medical doctor, a medical professional, a dietician, or a nutritionist. All content found on the MarysNest.com website, including text, images, videos, eBooks or eGuides, social media, or other formats, were created solely for informational purposes only. The content is not intended to be a substitute for professional medical advice, diagnosis, or treatment. Always seek the advice of your physician or other qualified healthcare provider with any questions you may have regarding a medical condition or proper nutritional advice. Never disregard professional medical advice or delay in seeking it because of something you have watched in a video or read on this website. Use caution when following the recipe in this video. The creator and publisher of this video and website will not be held responsible for any adverse effects that may arise from the use of this recipe and method or any other recipe and method on this website or corresponding video channel.