Affiliates note: As an Amazon Associate I earn from qualifying purchases. My content may contain affiliate links to products and services. If you click through and make a purchase, I'll receive a small commission. It does not affect the price you pay.
"Yes, ladies, we're putting beef fat on our faces!!" How my friends and I laugh when we get together and make this cream. But all kidding aside, Tallow Balm—made from rendered beef fat and a touch of olive oil—is quite soothing to all types of skin, particularly dry skin.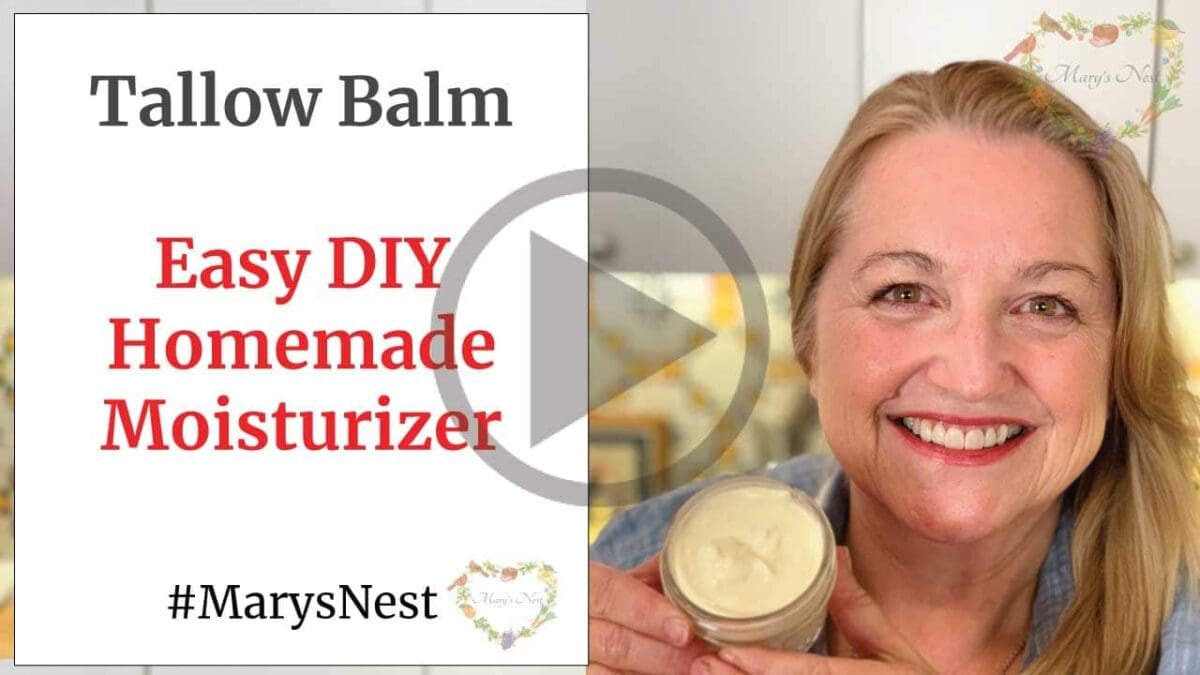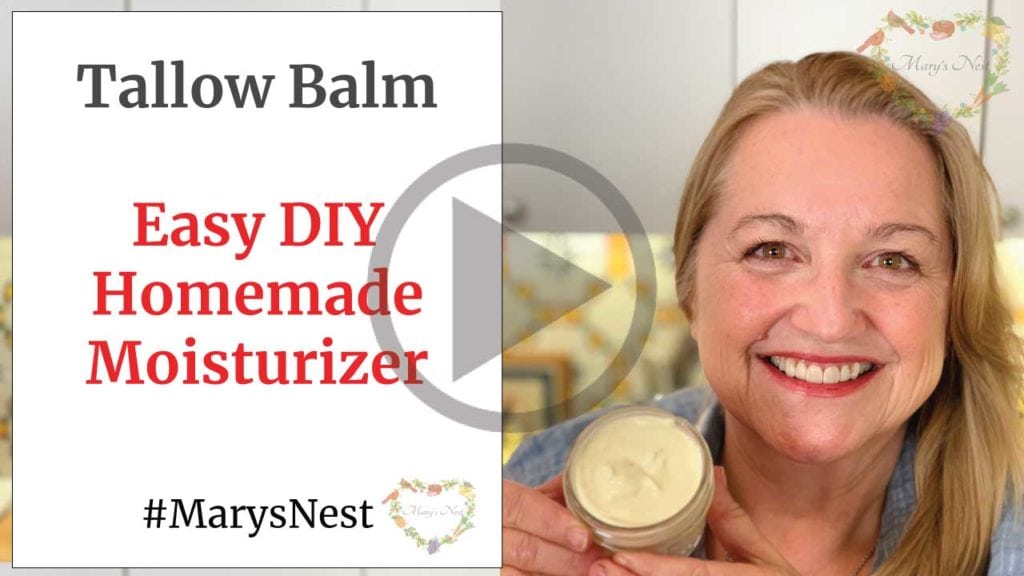 This cream is perfect to use on your entire body, and it's especially wonderful for dry, cracked heels. Put some on when you get out of the shower, slip on your socks, and rest in bed. In the morning, your feet will feel petal-soft!
Personalize Your Tallow Balm
This recipe for making Tallow Balm is very flexible. You start with the rendered beef fat and then add a bit of oil of your choice, such as:
Olive oil
Sesame oil
Avocado oil
Coconut oil
I like olive oil, but you can use any nourishing oil you want. In addition to olive oil, I also like to add a few drops of rose hip oil, argan oil, and castor oil when I make Tallow Balm to use on my face. These particular oils are thought to help to decrease the appearance of fine lines.
Tallow Balm Does Not Smell Like Beef
You don't need to worry about the aroma of your homemade tallow balm. After you add a few drops of your favorite essential oil, you'll never know you're putting beef fat on your skin!
Note of caution: Make sure that you test the balm on a small area of your inner arm to make sure that the essential oils do not irritate your skin.
More Homemade Remedies
Now that you know how to make tallow cream, watch the following videos to learn more recipes too.
Stay in Touch with Mary's Nest
Subscribe to My YouTube Channel for Traditional Foods Videos (Free) - When you subscribe, be sure to click on the notification bell that will let you know each time I upload a new video.
Subscribe to Mary's Traditional Foods Newsletter (Free) - Get a free 36-page eBook for signing up: How to Stock Your Essential Traditional Foods Four-Corners Pantry.
Join the Traditional Foods Kitchen Academy (Optional Paid) - For more detailed videos, live streams, and exclusive members-only perks, join my YouTube membership community.
Order The Modern Pioneer Cookbook (Optional Paid) - Get a printed book of Mary's nourishing recipes from a Traditional Foods Kitchen. This bestselling cookbook is published by Penguin Random House with their DK imprint.
I look forward to having you join me in my Texas Hill Country Kitchen!
Tallow Balm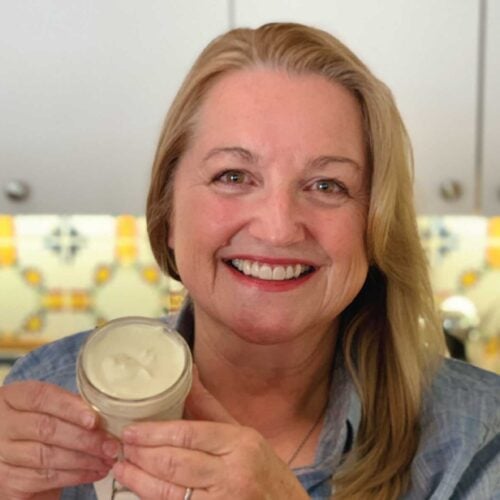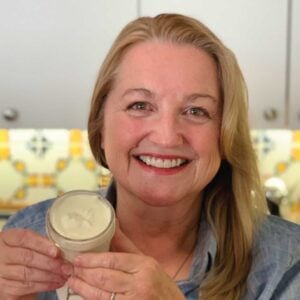 This Tallow Balm Recipe is an easy DIY Homemade Moisturizer scented with fragrant essential oils that will help to soften your skin beautifully and make you smell heavenly.
Ingredients
3.5

ounces

Beef tallow

2

tablespoons

Olive oil

or other oil of choice, such as sesame oil, avocado oil, or coconut oil

25-50

drops

Essential oils

your choice
Instructions
Melt the tallow over medium heat. Once melted, remove the tallow from the heat and transfer it to a medium-sized bowl. Allow the tallow to cool at room temperature for approximately 10 minutes.

Add the olive oil to the tallow.

Now add the essential oils of your choice. For this balm, you should add 25 drops of essential oil if making a face cream and 50 drops of essential oil if making a body cream.

Allow the mixture to cool in the refrigerator for 1 hour. Then remove the mixture from the refrigerator and use an electric hand mixer to whip the balm into a cream-like consistency.

Decant the balm into a lidded jar. Store in a cool dark place, such as a cabinet or pantry.

The shelf life of the balm is approximately 1 year. Please see "Important Information" in the Recipe Notes section below before using your Tallow Balm.
Notes
Important Information: This recipe is intended for adult use only and is not recommend to be used on children, infants, or babies. Exercise caution when using a tallow balm for the first time. Always do a patch test on a small area of skin to make sure that the tallow, oils, and essential oils agree with your skin.
Notice: Use caution when following this recipe and the accompanying method, or any recipe and method described here and on this website. The author and publisher will not be held responsible for any adverse effects that may arise from the use of this recipe and method or any other recipe and method on this website.
Find this recipe and video at https://marysnest.com/tallow-balm-easy-diy-homemade-moisturizer-video/
Copyright © 2018 Mary's Nest, LLC, All Rights Reserved
Watch Mary's Nest on YouTube
Shop for items used in this blog post or video
Favorite Balm Supplies
Favorite Essential Oils
NOW Foods Essential Oils:
Amazon Shop and Shopping Guide
Visit my Shopping Guide page
Get up to 15% off for stocking your Traditional Foods Pantry and equipping your Modern Pioneer Kitchen, including discounts from Lehman's, Mockmill Grain Mill, Masontops, Cultures for Health, Survival Garden Seeds, Redmond Real Salt, Plan to Eat, US Wellness Meats, and More!
Recommended Reading
**Disclaimer: I am not a medical doctor, a medical professional, a dietician, or a nutritionist. All content found on the MarysNest.com website, including text, images, videos, eBooks or eGuides, social media, or other formats, were created solely for informational purposes only. The content is not intended to be a substitute for professional medical advice, diagnosis, or treatment. Always seek the advice of your physician or other qualified healthcare provider with any questions you may have regarding a medical condition or proper nutritional advice. Never disregard professional medical advice or delay in seeking it because of something you have watched in a video or read on this website. Use caution when following the recipe in this video. The creator and publisher of this video and website will not be held responsible for any adverse effects that may arise from the use of this recipe and method or any other recipe and method on this website or corresponding video channel.