Affiliates note: As an Amazon Associate I earn from qualifying purchases. My content may contain affiliate links to products and services. If you click through and make a purchase, I'll receive a small commission. It does not affect the price you pay.
News from Mary's Nest: Aprons, Vinegar, and Diets
Today I am sharing some news from my nest! I had various questions on my Facebook Page and Instagram about some of the pictures I have been posting, so I thought I would share an update on what I have been up to in my kitchen with aprons, vinegar, and diets.
A Beautiful Handmade Apron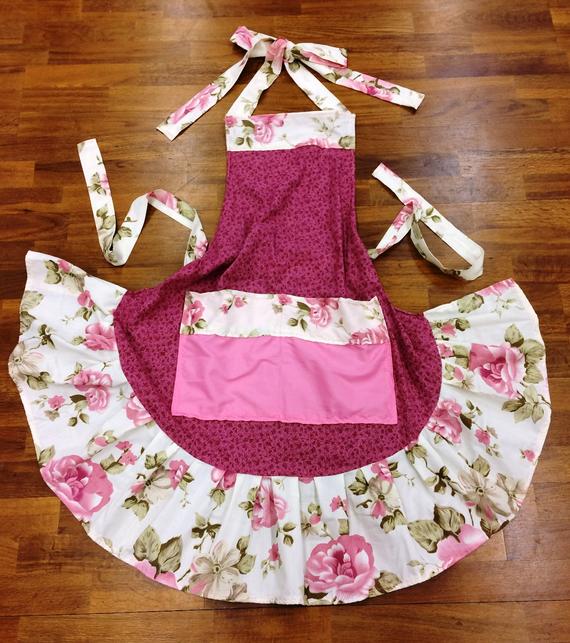 Pretty in Pink Ruffled Floral Apron, one of the unique items from Heidi at Rain Country Homestead on Etsy
As mentioned in the title, I want to talk about aprons…specifically, a very special apron that I purchased from Heidi over at Rain Country Homestead. (Credit for the apron picture above goes to Heidi.) Heidi makes beautiful aprons that make you feel like a real pioneer woman. They are generous in fabric, and every stitch shows the love that she puts into every apron. I'm thrilled to own one. So be sure to visit Heidi's Etsy shop to view her lovely collection of handcrafted items including aprons, skirts, and more. She takes special orders too!
Homemade "Fruit Scrap" Vinegar
Next on my list is vinegar.  As I shared on Facebook, I was watching Heidi make Fruit Scrap Vinegar, and I thought is was such a clever use of something that is often just thrown into the compost pile—or the trash.  So I experimented with different fruit scraps and made three different vinegars:
The first contained just strawberry tops.
The second blended nectarine scraps, honeydew melon rinds, and a few strawberry tops.
Finally, the third combined honeydew melon rinds, lemon peels, and a few apricot scraps.
Each vinegar is so unique. I plan to use the strawberry vinegar for salad dressings, the nectarine vinegar for a hair rinse, and the last vinegar as a cleaning solution since it has a lovely lemony smell!
These fruit scrap vinegars are also one of the easiest things to make:
Fill a jar halfway up with fruit scraps
Cover with water
Add some sugar (about 1/4 cup to a half gallon jar)
Stir
Cover
Set aside
That's it!  After a few days add another 1/4 cup of sugar and give it a stir. In about four to eight weeks, you will have vinegar.  If you want to speed up the process just stir your vinegar every day.  A chopstick works great for this process.  That's it!
Once it smells like vinegar, you can give it a taste (or use a Hydrion pH Strip) to see how acidic it is. If it tastes like vinegar, you're all set.  And if you use a PH strip, which is what I did, you are looking for a PH less that 4.5.  Mine turned out to be 3.0.  Then all you have left to do is strain out the fruit and decant your vinegar which you have basically made for free!
I hope you'll give it a try. And if you have any questions, please leave them bellow. I'm happy to answer any questions!
And a Book All About Nourishing Diets
Finally, the last thing I want to share with you is a bit of synopsis of the book Nourishing Diets: How Paleo, Ancestral and Traditional Peoples Really Ate by Sally Fallon Morrell.
When I shared on my Facebook Page and Instagram that I had purchased the book, a number of you had questions as to what it was all about.
Nourishing Diets is a wonderful book, and I highly recommend it.  But before I share my thoughts, I wanted to mention that Sally is also the author of Nourishing Traditions: The Cookbook that Challenges Politically Correct Nutrition and the Diet Dictocrats, which is one of the pivotal books that inaugurated the modern day Traditional or Real Foods Movement.
For many, Nourishing Traditions has served as an introduction on how to prepare real foods including bone broths, cultured dairy, ferments, sourdough, sprouted grains, and more. This seminal work should be on the bookshelf of every Real Foods kitchen!
As a handy reference, it's also worth reading Nutrition and Physical Degeneration, by Dr. Weston A Price on whom's research Sally based her first book.
In addition to Nourishing Traditions, here are all the books from Sally that I have on my bookshelf:
And now, Nourishing Diets is Sally's latest book in this wonderful series of traditional foods books.
So what is this new book all about? It basically starts with a question…There are so many diets out there today that will tell you that ancient people ate this or that but did they in reality? Or is it just modern day people trying to make up a diet based on what they think our ancestors ate? Two good questions. And Sally answers both and more.
Nourishing Diets shares one chapter after another about the diets of traditional people and what they REALLY ate, not what we want to think they ate. Each traditional culture Sally examines has certain habits in common, such as eating properly prepared foods including broths, some form of cultured food, ferments, etc., but each traditional culture also ate significantly varying degrees of fats, carbohydrates, and protein. Yet all had a good health.
A fascinating point in this book (and one that makes complete sense) was how each person's ancestral ties play a role in what foods are right for each individual. The book helps provide a clear picture of what your direct ancestors ate and analyzes how they fared. Were they in good health? Did they live a long time? Answers to these questions can give you a glimpse into what you should and shouldn't eat. Couple this knowledge by eating with the seasons and you could very well be on the road to eating what is best for you.
But what if all your ancestors all died young and you really have no idea what they ate? All is not lost. Your DNA is not a harbinger of doom and gloom. Sally shares that the DNA in your genes—whether it be good, bad or indifferent—does not necessarily foreshadow the same outcome for you as it did for your ancestors. She explains that with the discovery of the epigenome (in essence, something that overlays your genes) can play a significant role in your health and your lifespan.
By eating the right traditional or real foods diet, you'll increase the probability that you will have a healthy epigenome and live a long happy and healthy life! In a nutshell, it's not just nature that affects your health, it's nurture too!
So regardless of what's in your genes, what you chose to eat can play a significant role in overcoming the genetic anomalies that you may carry in your DNA. The challenge is finding the right foods for your best health. But what a fun challenge it is: eat a diet of Real Foods and see what agrees best with you!
Well, that's all for my blog post today. I share a lot more in my News from Mary's Nest: Aprons, Vinegar, and Diets video, along with how I made the Basil Salt that I shared on my Facebook Page. If you have any questions or comments about any of this, please leave them below. I'd love to hear from you!
Stay in Touch with Mary's Nest
Subscribe to My YouTube Channel for Traditional Foods Videos (Free) - When you subscribe, be sure to click on the notification bell that will let you know each time I upload a new video.
Subscribe to Mary's Traditional Foods Newsletter (Free) - Get a free 36-page eBook for signing up: How to Stock Your Essential Traditional Foods Four-Corners Pantry.
Join the Traditional Foods Kitchen Academy (Optional Paid) - For more detailed videos, live streams, and exclusive members-only perks, join my YouTube membership community.
Order The Modern Pioneer Cookbook (Optional Paid) - Get a printed book of Mary's nourishing recipes from a Traditional Foods Kitchen. This bestselling cookbook is published by Penguin Random House with their DK imprint.
I look forward to having you join me in my Texas Hill Country Kitchen!
Amazon Shop and Shopping Guide
Visit my Shopping Guide page
Get up to 15% off for stocking your Traditional Foods Pantry and equipping your Modern Pioneer Kitchen, including discounts from US Wellness Meats, Farmhouse Teas, Lehman's, Masontops, Cultures for Health, Survival Garden Seeds, Redmond Real Salt, Plan to Eat, and More!
*Affiliates note: As an Amazon Associate I earn from qualifying purchases. My content may contain affiliate links to products and services. If you click through and make a purchase, I'll receive a small commission. It does not affect the price you pay.
**Disclaimer: I am not a medical doctor, a medical professional, a dietician, or a nutritionist. All content found on the MarysNest.com website, including text, images, videos, eBooks or eGuides, social media, or other formats, were created solely for informational purposes only. The content is not intended to be a substitute for professional medical advice, diagnosis, or treatment. Always seek the advice of your physician or other qualified healthcare provider with any questions you may have regarding a medical condition or proper nutritional advice. Never disregard professional medical advice or delay in seeking it because of something you have watched in a video or read on this website. Use caution when following the recipe in this video. The creator and publisher of this video and website will not be held responsible for any adverse effects that may arise from the use of this recipe and method or any other recipe and method on this website or corresponding video channel.