How to Make Old Fashioned Apple Fritters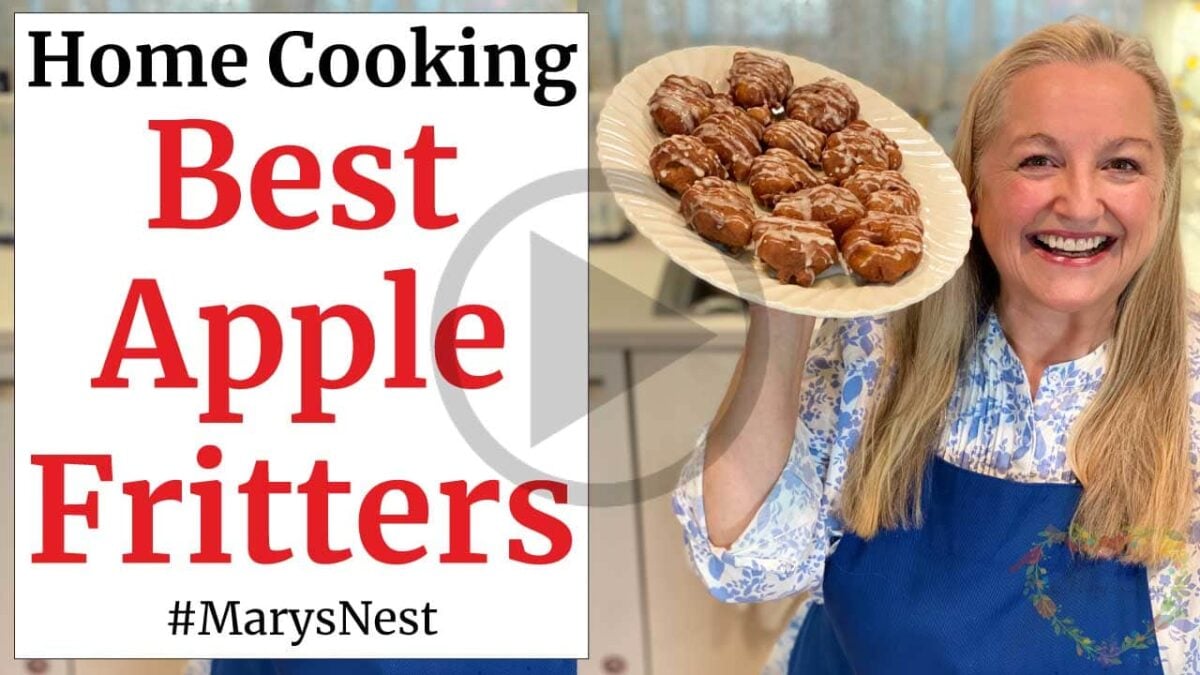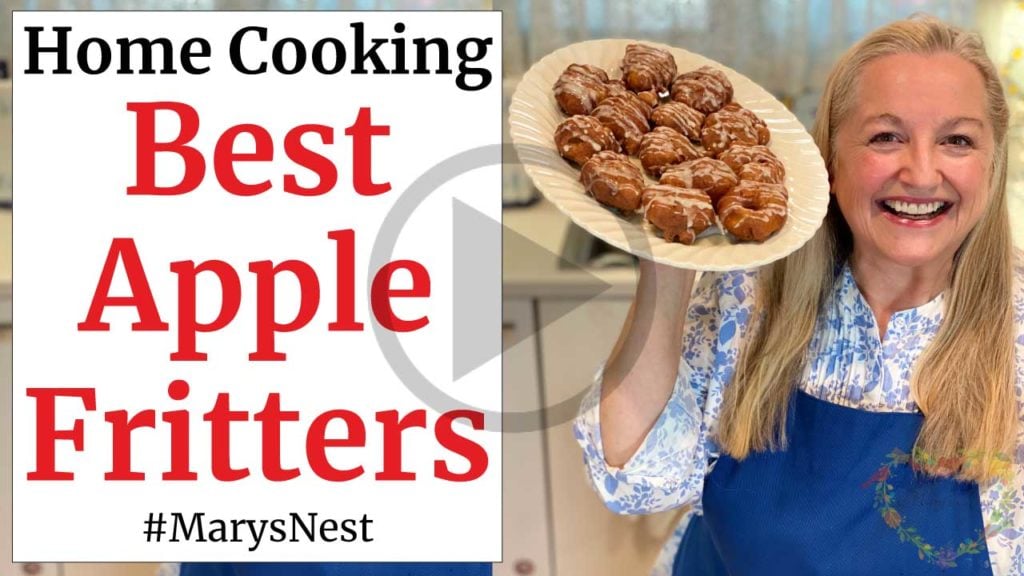 Learn how to make old fashioned apple fritters with a few tips and tricks that will make them come out perfect every time. They'll be crisp and sweet on the outside with perfectly cooked apples on the inside!
*Affiliates note: As an Amazon Associate I earn from qualifying purchases. My content may contain affiliate links to products and services. If you click through and make a purchase, I'll receive a small commission. It does not affect the price you pay.
Apple Fritters for Breakfast or Anytime
Apple fritters make the perfect breakfast pastry with a hot cup of coffee or a cold glass of milk. But they are equally welcome as an afternoon snack or dessert after supper.
But the secret to a tasty, old-fashioned apple fritter is to make sure that the outside is nice and crisp with a touch of sweetness, while the apples inside are well cooked. And most importantly, you don't want any mushy, uncooked batter inside your fritter!
So how do you get this perfect balance of flavors and textures? Well, I have a few tips and tricks up my sleeve that will show you how to make perfect fritters every time.
How to Choose the Best Apples for Apple Fritters?
When it comes to making apple fritters, yes, you can basically use any apple you have on hand. However, some apples are better than others—at least when it comes to making apple fritters!
One of the best apples to choose from for this apple fritters recipe are the Granny Smith variety. Their tartness provides a nice balance to the crispy sweetness of the exterior of the fritter. But there is one main reason why this type of apple works so well.
A Granny Smith apple is a drier apple lower in moisture. This means less juice will ooze from the apple when you cook it in the batter. And why do we want less juice to be released from the apple? Because too much juice will mean a soggy fritter interior with a somewhat mushy, uncooked batter appearance.
Do You Need to Cook Apples for Apple Fritters?
But what if you don't have any Granny Smith apples? Not to worry. I have a trick that helps resolve the problem if you need to use a juicy apple to make fritters. And this trick actually serves two purposes.
After you chop up your apples to make your fritters, take a few minutes to sauté your apples in a bit of butter and sugar. This will not only help release some of the juices from your apples, but it will also soften them slightly.
If you are left with a lot of juice in the pan, simply strain out your apples and save the juice for another use. Now, you have sautéd apples that will be perfectly cooked inside your fritter, and there will be no extra moisture to create a damp interior.
Using these sautéd apples, you'll have a crispy outside and something almost akin to an apple pie filling inside. No raw—or close to raw—apple chunks in your fritters anymore!
Preparing Your Apple Fritter Batter
When pulling together the ingredients for your apple fritter batter, you'll want to make sure that you use a variety of spices to get a delicious flavor boost. Yes, you can certainly just use cinnamon, but why not make things more interesting by adding cloves, allspice, ginger, and more?
However, in case you just want to use one spice blend, you're in luck. Apple pie spice to the rescue! As part of my Homemade Seasoning Blends video, I show you how to make your own homemade version of apple pie spice along with a whole host of other homemade spice blends. Once you make these spice blends, you'll never have to buy them again!
How to Fry Your Apple Fritters
Apple fritters are a deep-fried delicacy—a country cooking delicacy! Can you fry your apple fritters in a variety of fats or oils? Certainly. But if you want to make perfectly crisp fritters every time, you have to choose the best fat to fry them in.
If you have been with me for a while, I bet you can guess what I am going to say. That's right! Fry your apple fritters in tallow for a truly old-fashioned recipe.
Tallow is rendered beef suet, and there is nothing like it when it comes to deep frying, no matter what you are frying. You can certainly buy tallow nowadays; I have even seen jars of tallow at my grocery store. But nothing beats homemade.
To make your own tallow, ask your butcher for about five pounds of beef suet. And then watch my how to make beef tallow video where I show you how to render it. If you think it's hard to make, no worries! Rendering suet will probably be one of the easiest traditional food recipes you'll ever make.
Don't Forget the Glaze for Your Apple Fritters!
You can certainly roll your hot fritters in a sugar-cinnamon mixture or let them cool a bit and sprinkle them with powdered sugar. However, nothing quite beats the taste of a sweet glaze drizzled across the top of a homemade apple fritter!
The best thing about a glaze is that it's SO easy to make. A bit of powdered sugar and a splash of liquid will do the trick. All you have to do is whisk the mixture for a few seconds, and you're ready to drizzle.
And Speaking of Whisking…
Whenever I have a recipe in which I have to whisk something, I can't pass up the opportunity to share with you my favorite whisk of all time. It's a tiny little whisk called a Magic Whisk. How can something so small whisk better than any other whisk I have ever had? It's nothing short of magic!
The Magic Whisk comes in stainless steel and silicon (to protect your non-stick cookware). These whisks are very reasonable, and once you try one, you will always grab it whenever you have something to whisk!
And you can think about getting more than one. (They are often sold in sets.) Once I misplaced my magic whisk in my kitchen, and I went into a little bit of a panic until I could find it! LOL! 😊
Download Your Free 36-Page Pantry List
Do you love home cooking and want to get back to the basics? Then be sure to download my FREE 36-page traditional foods pantry list. This comprehensive eBook will help you know which foods to buy or make so that you can transition from a modern-day processed foods kitchen to an old-fashioned traditional foods kitchen.
But this guide is much more than a list of what to buy to stock your pantry. I also share lots of links to videos and printable recipes. These resources will show you how to use all the foods you are stocking up on so you can make nutritious and delicious meals. So be sure to download your free copy today!
A Clever Use for Apple Peelings and Scraps
Don't throw out your apple scraps as you peel and chop your apples for your apple fritters. You can make some of the best raw homemade apple cider vinegar (ACV) with those scraps. Check out my ACV recipe, where I walk you through the entire 30-day process. And don't worry! It's not 30 days of labor on your part. The apple scraps do all the work.
For more fun ideas for how to make homemade vinegars using a variety of fruit scraps, be sure to watch my fruit scrap vinegar recipe video too.
More Tasty Apple Recipes
Are you the lucky recipient of a bunch of apples? Once you've made some delicious, old-fashioned apple fritters, try drying some of your apples. In addition to being a delightful snack, dried apples are easy to make. You don't need any special equipment. You can dry them right in your oven!
And if you like to make applesauce, be sure to try my easy way to make quick work of this task. All you need is a food mill, and you can have applesauce ready in no time.
Did I mention that you DO NOT have to peel or core your apples? That's right. Just chop your apples up, cook them until they're soft, then run them through your food mill. Voilà! Delicious applesauce!
The Best of Home Cooking
Need some main dish, home-cooked meal ideas? Be sure to check out the videos below, where I share how to make an Old Fashioned Hamburger Casserole, the best ever Meatloaf, a cozy Beef Stew, and more!
Top Off Your Meals with More Sweet Treats!
For a few more home-baked sweet treat ideas, check out my videos for Texas Cowboy Cookies, Molasses Cookies, and Skillet Apple Pie. And for a special healthy treat using an ancient grain, try making an Einkorn Apple Butter Cake!
Kitchen Academy Videos
Are you looking for more traditional foods videos? If so, I invite you to join the Traditional Foods Kitchen Academy. Members of this optional paid YouTube community get access to exclusive videos, live streams, and other members-only perks. Plus, your YouTube comments include a special members-only badge.
In the following members-only video, I talk about Ten Staples for the Traditional Foods Kitchen.
Stay in Touch with Mary's Nest
Subscribe to My YouTube Channel for Traditional Foods Videos (Free) - When you subscribe, be sure to click on the notification bell that will let you know each time I upload a new video.
Subscribe to Mary's Traditional Foods Newsletter (Free) - Get a free 36-page eBook for signing up: How to Stock Your Essential Traditional Foods Four-Corners Pantry.
Join the Traditional Foods Kitchen Academy (Optional Paid) - For more detailed videos, live streams, and exclusive members-only perks, join my YouTube membership community.
Order The Modern Pioneer Cookbook (Optional Paid) - Get a printed book of Mary's nourishing recipes from a Traditional Foods Kitchen. This bestselling cookbook is published by Penguin Random House with their DK imprint.
I look forward to having you join me in my Texas Hill Country Kitchen!
Trending Posts on Mary's Nest
Shop for items used in this blog post or video
Favorite Kitchen Supplies
More Kitchen Supplies with Discount Codes
Use my Mockmill affiliate link for a special one-time 5% discount on Mockmill Stone Grain Mill products, including the new Flake Lover's Flaker. (The Mockmill discount will appear when you checkout.)
Use promo code MARYSNST for a one-time 15% off Masontops and Breadsmart products on Amazon.com.
Amazon Shop and Shopping Guide
Visit my Shopping Guide page
Get up to 15% off for stocking your Traditional Foods Pantry and equipping your Modern Pioneer Kitchen, including discounts from Lehman's, Mockmill Grain Mill, Masontops, Cultures for Health, Survival Garden Seeds, Redmond Real Salt, Plan to Eat, US Wellness Meats, and More!
Recommended Reading
**Disclaimer: I am not a medical doctor, a medical professional, a dietician, or a nutritionist. All content found on the MarysNest.com website, including text, images, videos, eBooks or eGuides, social media, or other formats, were created solely for informational purposes only. The content is not intended to be a substitute for professional medical advice, diagnosis, or treatment. Always seek the advice of your physician or other qualified healthcare provider with any questions you may have regarding a medical condition or proper nutritional advice. Never disregard professional medical advice or delay in seeking it because of something you have watched in a video or read on this website. Use caution when following the recipe in this video. The creator and publisher of this video and website will not be held responsible for any adverse effects that may arise from the use of this recipe and method or any other recipe and method on this website or corresponding video channel.