How to Make 10 Homemade Seasoning Blends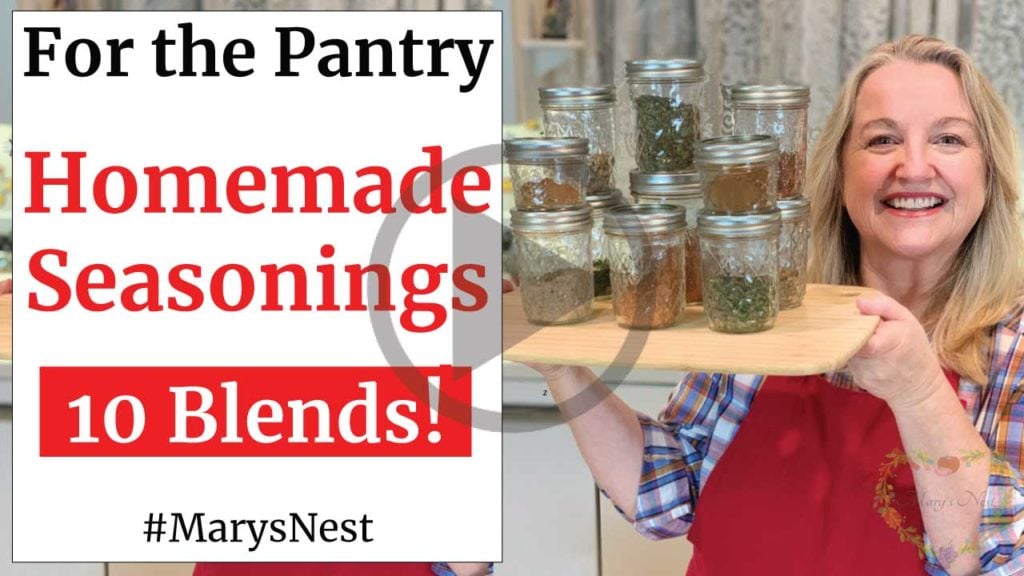 Learn how to make Homemade Seasoning Blends—a total of 10 blends!  I include how to make a Ranch Dressing Mix, as well as how to make an Onion Soup Mix. Plus, my personal "House Seasoning" Blend that is not to be missed!
*Affiliates note: As an Amazon Associate I earn from qualifying purchases. My videos and blog posts may contain affiliate links to products and services. If you click through and make a purchase, I'll receive a small commission. It does not affect the price you pay.
Two All-Time Favorites
When it comes to Homemade Seasonings, the two most requested blends are Ranch Dressing Mix and Onion Soup Mix. Pre-made versions are available at most grocery stores, but unfortunately, they often contain ingredients that are unwanted in our Traditional Foods Kitchens!
Make Your Own Ranch Dressing
Now you can make these mixes—and lots more right in your own kitchen! And using these mixes in your everyday recipes couldn't be easier. You can whip up a delicious Ranch Dressing by adding some of your homemade mix to a 1/2 cup of mayonnaise mixed with a 1/4 cup of buttermilk. No buttermilk? No problem. Just thin a bit of sour cream or yogurt with milk or water, and you're all set.
Make Your Own Onion Dip
Want to make that delicious sought after party favorite onion dip? Just take a 1/2 cup of mayonnaise mixed with a 1/4 cup of sour cream and add in some of your homemade Onion Soup Mix, and you're all done. Everyone will be asking you for the recipe!
And speaking of the Onion Soup Mix, be sure to watch the How to Make Homemade Season Blends video where I share a little tip on how to boost, not only the flavor of your mix, but the nutrition too!
More Seasoning Blends!
We're not going to stop at those two seasoning blends. Here's the list of seasonings that I show you how to make in my video (with timestamps):
Barbecue Spice Rub (21:29)
Herbs de Provence (14:20)
House Seasoning (23:06)
Italian Seasoning (8:57)
Lemon Pepper (25:47)
Onion Soup Mix (27:39)
Pumpkin Pie Spice and Apple Pie Spice (19:21)
Ranch Dressing Mix (16:35)
Steak Seasoning (24:32)
Taco Mix Seasoning (3:54)
Every one of these is going to add that extra special dash of flavor to every dish you prepare.
New to Herbs de Provence?
If Herbs de Provence is a seasoning mix you're not familiar with, you're not alone. Pretty much everyone has Italian Seasoning in their spice rack, but they may not have this French cousin. Herbs de Provence is a wonderful mixture of thyme, oregano, basil, rosemary, tarragon, and more. It's perfect when making any chicken dish. And this seasoning mix is especially delicious when applied right on chicken skin. The taste—with that little bit of tarragon overtone—is hard to resist!
What About That House Seasoning?
As promised, I also share with you my personal House Seasoning Blend, which I started putting together years ago. It's morphed a bit since those early years, and now it's just about perfect, and I'm sharing the recipe with you.
In my video and recipe, I show you how to make a small amount so you can try it out. In my kitchen, I make a big batch, and I keep it by my stove to often sprinkle into everything I cook. And by all means, tweak this recipe blend any way you want to make it your own "house" seasoning!
Ideas For Using These Homemade Seasonings
In addition to some of the ideas I've shared in this recipe post for how to use these seasoning mixes, be sure to check out the How to Make Homemade Seasoning Blends video where I provide you with lots more ideas and inspirations!
Let's Talk Shelf Life
Generally speaking, any of these Seasoning Blends will stay fresh approximately one year. However, I have found that their shelf life can be extended in a number of ways that I cover in detail in the video. One way that I'll share here is that if you find your Seasoning Blend has gone past its one-year shelf life, you can toss it in a dry frying pan over low heat to revive its flavor.
Stocking the Traditional Foods Pantry
Now that you've created Homemade Seasoning Blends for your Traditional Foods Pantry, watch these other pantry videos too! I share how to make 10 Homemade Flavored Extracts, including "Perpetual" Vanilla Extract.
Plus, learn how to make your own Cultured Butter in which real buttermilk is a by-product that's perfect for making that Ranch Dressing!! Oh…and you'll need some sour cream for that Onion Dip. Don't worry – I've got you covered too with an easy homemade 2-ingredient Sour Cream. And just to round things out, I'll even show you how to make Homemade Mayonnaise that comes together in 1 minute with an immersion blender! (We are Modern Pioneers, after all! 😉 )
Stay in Touch with Mary's Nest
Subscribe to My YouTube Channel for Traditional Foods Videos (Free) - When you subscribe, be sure to click on the notification bell that will let you know each time I upload a new video.


Subscribe to Mary's Traditional Foods Newsletter (Free) - Get a free eBook for signing up: How to Stock Your Essential Traditional Foods Four-Corners Pantry.


Join the Traditional Foods Kitchen Academy (Optional Paid) - For more detailed videos, live streams, and exclusive members-only perks, join my YouTube membership community.
I look forward to having you join me in my Texas Hill Country Kitchen!
Love,
Mary
♥
Shop for items used in this blog post or video
Favorite Seasoning Blend Making Supplies
Recommended Reading
Amazon Shop and Shopping Guide
Visit my Shopping Guide page
Learn where I buy my beef bones, electric grain mills, sprouted grains, and more…and get special discounts for Mary's Nest visitors, including from US Wellness Meats, Mockmill, Masontops, and Cultures for Health.
**Disclaimer: I am not a medical doctor, a medical professional, a dietician, or a nutritionist. All content found on the MarysNest.com website, including text, images, videos, eBooks or eGuides, social media, or other formats, were created solely for informational purposes only. The content is not intended to be a substitute for professional medical advice, diagnosis, or treatment. Always seek the advice of your physician or other qualified healthcare provider with any questions you may have regarding a medical condition or proper nutritional advice. Never disregard professional medical advice or delay in seeking it because of something you have watched in a video or read on this website. Use caution when following the recipe in this video. The creator and publisher of this video and website will not be held responsible for any adverse effects that may arise from the use of this recipe and method or any other recipe and method on this website or corresponding video channel.