Affiliates note: As an Amazon Associate I earn from qualifying purchases. My content may contain affiliate links to products and services. If you click through and make a purchase, I'll receive a small commission. It does not affect the price you pay.
How to Make Cultured Butter with Only 2 Ingredients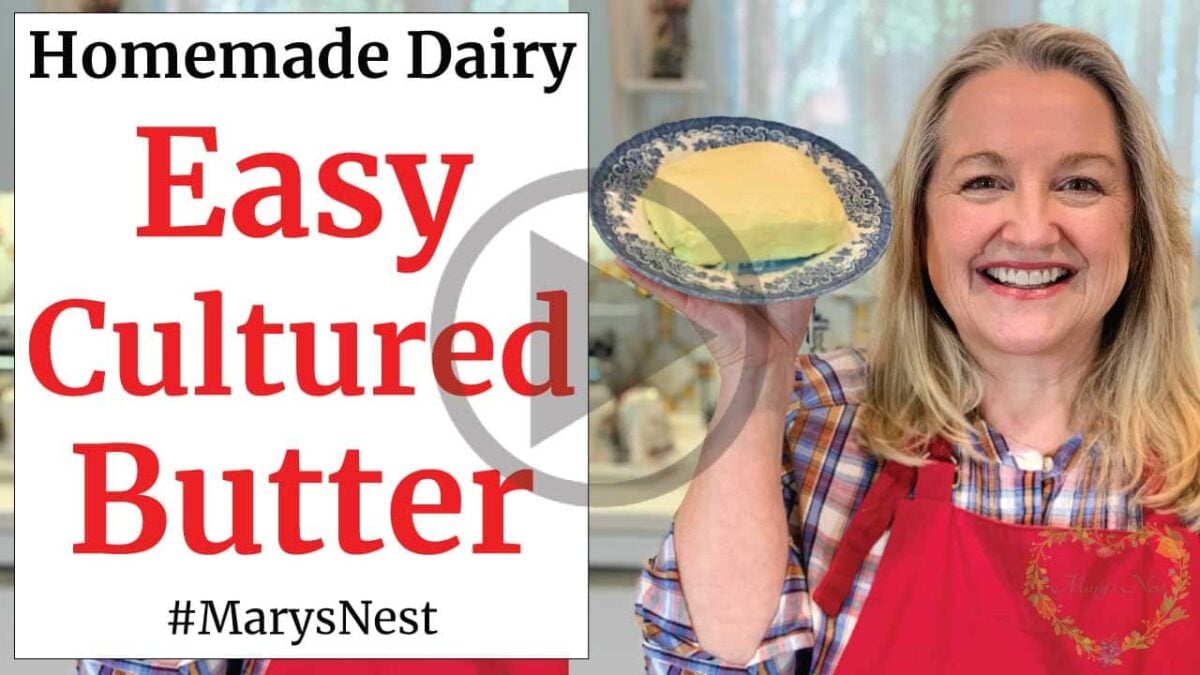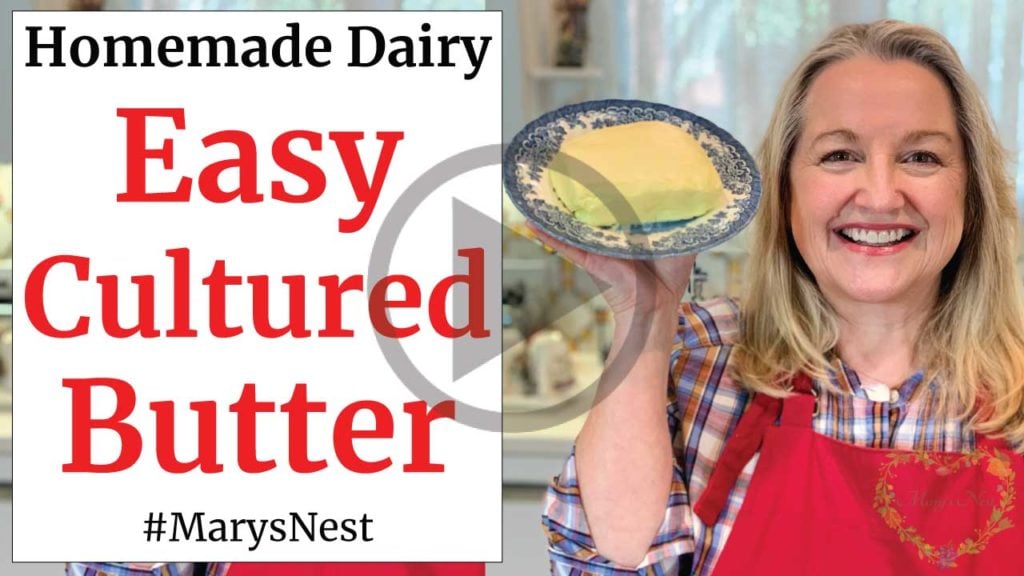 Today, I am sharing how to make Cultured Butter. And this recipe only requires two ingredients! Now, why are we culturing butter? That's a great question! Read on…
Why Culture Butter?
There are two main reasons for making homemade Cultured Butter. First, you can't beat the taste. That little touch of tang—especially when the butter is unsalted—is especially delicious. Unsalted butter can sometimes taste bland. But once you culture it, you'll never miss the salt.
Second, by culturing cream to make butter, we are improving its nutrition by the introduction of good bacteria—otherwise knows as beneficial bacteria. And why is it "beneficial"? Because good bacteria leads to good gut health.
Improving the nutrition of cream when making homemade butter is especially important if, when making it, all you have access to is ultra-pasteurized cream. For those of you who have been with me for a while, you know that I do not encourage the use of ultra-pasteurized dairy. Unfortunately, the ultra-pasteurization process destroys many of the nutritional benefits of milk and cream. But the culturing process can help to restore some of the benefits destroyed by the high heat processing of ultra-pasteurization.
Two Ingredients and Time
So to get started making homemade Cultured Butter, all you need is cream and a bit of a culturing agent such as buttermilk, milk kefir, or yogurt.
If you are using pasteurized cream, chances are the carton or bottle will simply say "Whipping Cream." However, if you do have the option between "Whipping Cream" and "Heavy Whipping Cream," choose the latter.
If you are using ultra-pasteurized cream, you typically will have a choice between "Whipping Cream" and "Heavy Whipping Cream." You will want to choose the "Heavy Whipping Cream" option. Heavy whipping cream is higher in fat and better for making butter.
Next, you'll need your culturing agent. Cultured buttermilk works great, and you can usually find it at most grocery stores. Other options include plain milk kefir or plain whole milk yogurt. The procedure with the buttermilk and kefir are the same, but the process is slightly different when using yogurt. The printable recipe below provides the instructions for the different options.
Basically, you just need to mix your cream with your culturing agent and let the mixture sit in a warm place in your kitchen for anywhere from 8 to 48 hours.
If you are new to cultured butter, I recommend that you start tasting your cream at eight hours to see if you like the level of tang that has developed. If the cream is perfect to your taste, great! You're ready to make butter. If you'd like a bit more tang, let it culture a bit longer.
Ready to Make Cultured Butter
Once your cream has cultured to your liking, you're ready to make butter. You can do this with a stand mixer, food processor, or an electric hand whisk. If you don't have any of these, no problem. Be sure to watch the video and learn how my second-grade teacher showed me how to make butter with nothing more than a jar!
What About Raw Milk?
If you have access to raw milk, you are in luck! It's very easy to make cultured butter from the cream from raw milk. All you have to do is put your cream in a jar and let it culture— "sour" —naturally for the amount of time that you like to get the taste that you like.
That's the great thing about raw milk and its cream. It doesn't go bad the way pasteurized or ultra-pasteurized milk and cream do. It will simply sour naturally and take on a delightful tang.
More Homemade Dairy Videos
Now that you've made cultured butter, try your hand at other Homemade Dairy recipes, including cottage cheese, as well as an easy yogurt made without a machine, kefir, evaporated milk, and condensed milk.
Stay in Touch with Mary's Nest
Subscribe to My YouTube Channel for Traditional Foods Videos (Free) - When you subscribe, be sure to click on the notification bell that will let you know each time I upload a new video.
Subscribe to Mary's Traditional Foods Newsletter (Free) - Get a free 36-page eBook for signing up: How to Stock Your Essential Traditional Foods Four-Corners Pantry.
Join the Traditional Foods Kitchen Academy (Optional Paid) - For more detailed videos, live streams, and exclusive members-only perks, join my YouTube membership community.
Order The Modern Pioneer Cookbook (Optional Paid) - Get a printed book of Mary's nourishing recipes from a Traditional Foods Kitchen. This bestselling cookbook is published by Penguin Random House with their DK imprint.
I look forward to having you join me in my Texas Hill Country Kitchen!
How to Make Cultured Butter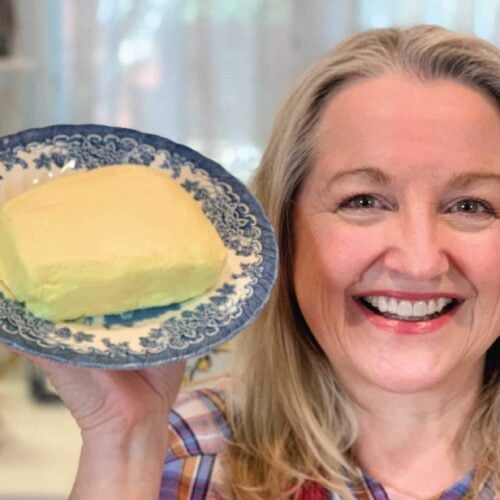 Make this delicious tangy butter that is great for cooking and for topping toast.
Equipment
Stand Mixer, Food Processor, or Electric Hand Mixer

Colander or mesh strainer

Cheesecloth or Flour Sack Towel
Ingredients
32

ounces

Cream

Pasteurized, Ultra-Pasteurized, or Raw Cream

1

tablespoon

Cultured buttermilk, plain milk kefir, or plain whole milk yogurt.

1/2

teaspoon

Fine ground sea salt, optional
Instructions
Pour cream into a clean quart-sized jar, and add 1 tablespoon of the cultured buttermilk, kefir, or yogurt. Mix well with a clean utensil, and cover jar loosely with a lid or a clean cloth.

If culturing the cream with buttermilk or kefir, place the jar in a warm place in your kitchen. If you are culturing the cream with yogurt, you will need to place your jar in a warmer place. For example, you can place your jar in your oven, keep your oven turned off, and have your jar warmed by the oven's pilot light or electric light on. (You want to maintain a temperature of about 110°F when culturing cream with yogurt.)

Allow the cream to culture anywhere from 8 to 48 hours. Once you achieve the desired level of taste, transfer the cultured cream to the device you will be using to whip it, such as a stand mixer. Whip the cream until butter forms and a white liquid is left in the bottom of the mixer bowl. This white liquid is real buttermilk.

Line a colander or mesh strainer with cheesecloth or a flour sack towel and place the lined strainer over a large bowl. Strain the butter and buttermilk through the lined strainer. Pull the cloth together and squeeze out as much buttermilk as possible from the butter. (See the video for the process.)

Next, transfer the butter to a clean bowl and cover it with cold chlorine-free water. Press the butter with a spatula to release any bits of remaining buttermilk. The water will become cloudy. Pour off the water and repeat this process until the water remains clear and no more buttermilk can be pressed out of the butter. Drain off all water. Press the butter to release any remaining water and pour it from the bowl.

If you wish to salt your butter, add in some sea salt at this point and work it into the butter.

Transfer the butter to a surface covered with wax paper, parchment paper, or plastic wrap. Form the butter into a rectangular shape. Wrap the butter well, or put it in a butter dish and refrigerate. The butter should remain fresh for approximately two weeks.
Watch Mary's Nest on YouTube
Shop for items used in this blog post or video
Favorite Cultured Butter Making Supplies
Recommended Reading
Amazon Shop and Shopping Guide
Visit my Shopping Guide page
Get up to 15% off for stocking your Traditional Foods Pantry and equipping your Modern Pioneer Kitchen, including discounts from US Wellness Meats, Farmhouse Teas, Lehman's, Masontops, Cultures for Health, Survival Garden Seeds, Redmond Real Salt, Plan to Eat, and More!
*Affiliates note: As an Amazon Associate I earn from qualifying purchases. My content may contain affiliate links to products and services. If you click through and make a purchase, I'll receive a small commission. It does not affect the price you pay.
**Disclaimer: I am not a medical doctor, a medical professional, a dietician, or a nutritionist. All content found on the MarysNest.com website, including text, images, videos, eBooks or eGuides, social media, or other formats, were created solely for informational purposes only. The content is not intended to be a substitute for professional medical advice, diagnosis, or treatment. Always seek the advice of your physician or other qualified healthcare provider with any questions you may have regarding a medical condition or proper nutritional advice. Never disregard professional medical advice or delay in seeking it because of something you have watched in a video or read on this website. Use caution when following the recipe in this video. The creator and publisher of this video and website will not be held responsible for any adverse effects that may arise from the use of this recipe and method or any other recipe and method on this website or corresponding video channel.