Learn How to Make Homemade Yogurt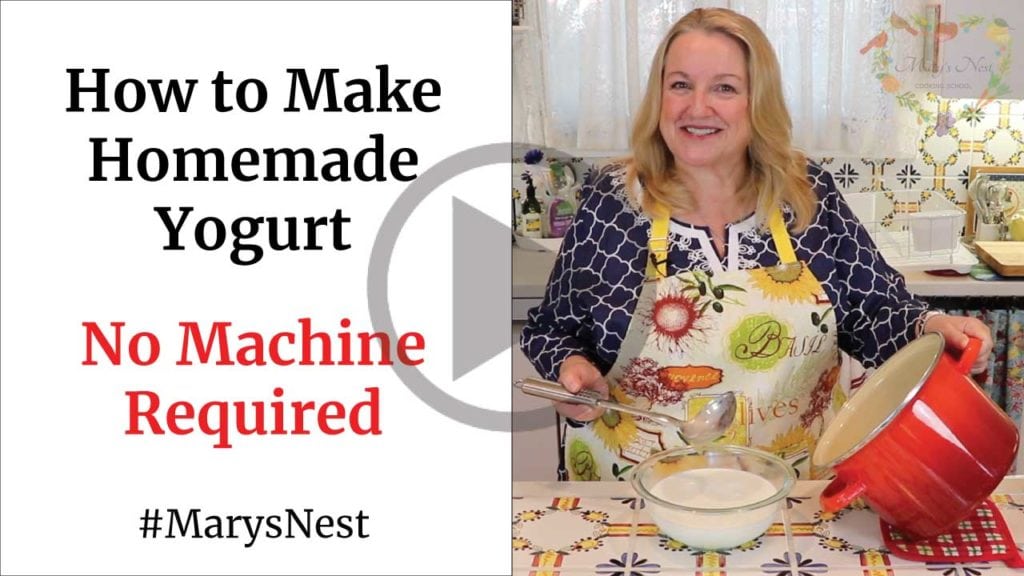 Hi Sweet Friends,
When there are so many choices of yogurt at the grocery store, many of which are reasonably priced, why would you ever want to make homemade yogurt?
The fresher the better
Well, it is still more thrifty than anything you can buy from the store—but more importantly—fresh homemade yogurt will be teaming with many more probiotics than those sitting on the shelves at the grocery store!  And my recipe couldn't be easier.  All you need is a bowl.  No machine required!
Use whole milk for the creamiest yogurt
You can make homemade yogurt as rich and creamy as you like, especially if you use whole milk.  And you can also control the level of tartness that you like.  Less tart—culture it for a shorter time.  More tart—culture it for a longer time.  It's all quite easy.  And the nice thing about homemade yogurt is that it's very forgiving. So don't worry. It's hard to mess up. You can do this! 🙂
Step-by-Step Instructions
In my YouTube video above,  I walk you step-by-step through the process of how to make homemade yogurt.  So give it a try today.  You can do this!
Ready for more cultured dairy?
And if you would like to try your hand at another type of cultured dairy, be sure to check out my video on How to Make Milk Kefir – The Champagne of Milk!
Stay in Touch with Mary's Nest
Subscribe to My YouTube Channel for Traditional Foods Videos (Free) - When you subscribe, be sure to click on the notification bell that will let you know each time I upload a new video.


Subscribe to Mary's Traditional Foods Newsletter (Free) - Get a free eBook for signing up: How to Stock Your Essential Traditional Foods Four-Corners Pantry.


Join the Traditional Foods Kitchen Academy (Optional Paid) - For more detailed videos, live streams, and exclusive members-only perks, join my YouTube membership community.
I look forward to having you join me in my Texas Hill Country Kitchen!
Love,
Mary
♥
You can print the recipe below.
Print Recipe
How to Make Homemade Yogurt
Homemade yogurt is so superior to anything you can buy at the grocery store.  It is fresher and teaming with probiotics to nourish your gut.  And with this recipe all you need is a bowl!  So give this a try today.  You can do this!
Ingredients
4

cups

Whole milk

1/4

cup

Plain whole milk yogurt
Instructions
Pour the milk into a pot and place it on the stovetop. Bring it up to a boil over medium heat.  Stir continually to make sure that the milk does not burn on the bottom of the pan.  When it comes to a boil, the milk will be 180°F.  As soon as it boils, remove the pan from the heat.

Allow the milk to cool to approximately 110°F.  A candy thermometer is useful to determine this temperature, but if you do not have a thermometer, you can use your CLEAN finger to judge the correct temperature.  The milk will feel comfortably warm to the touch, like a warm bath.  It will not be uncomfortable for you to put your finger into the milk. 

While the milk is cooling, place a dish towel over a rimmed baking sheet to cover, and then place a large bowl onto the covered baking sheet.  This larger bowl can be tempered glass, ceramic, earthenware, or stoneware.  DO NOT use plastic.

Next, place a medium-sized bowl into the larger bowl. Make sure that the medium-sized bowl is larger enough to hold the 4 cups of milk. This medium-sized bowl can be tempered glass, ceramic, earthenware, or stoneware.  DO NOT use plastic.

When the milk has cooled to the correct temperature, transfer the milk to the medium-sized bowl and add the yogurt to the milk. Stir the milk and yogurt together until the yogurt is completely incorporated. 

Boil some water in a tea kettle. Once it comes to a boil, allow it to cool for a minute or so and then pour the hot water in between the two bowls.  The water should come to right below the lip of the medium-sized bowl. (See video.)

If the bowls have lids, put the lid on the medium-sized bowl and then put the lid on the large bowl.  If your bowls do not have lids, you can cover them with plastic wrap. 

Cover the bowls with two dish towels or one large towel and let them stand in a warm place, undisturbed.  An oven that has been turned OFF, but has the light on or a pilot light, is an ideal place.  Other acceptable places include the top of a refrigerator or a pantry. 

After 4 hours, check the yogurt.  It should be set firm.  If not, re-cover it and let it continue to culture for another hour.  The longer you allow it to culture, the firmer it will become, but it will also become more tangy or tart tasting.  Also, keep in mind, when you refrigerate the yogurt, it will also become slightly thicker without the addition of tanginess. This is important to note if you are planning on feeding the yogurt to children (or adults for that matter!) who do not like a particularly tart tasting yogurt.

When the yogurt has reached the consistency and taste that you like, refrigerate it.  It will stay fresh for up to 1 week, refrigerated.
Notes
Once you make your homemade yogurt, save a little from this first batch to make your next batch.
If you like a Greek style yogurt, place a mesh strainer lined with a flour sack towel, cheese cloth, or a coffee filter over a bowl.  Pour some of the yogurt into the lined strainer, place in the refrigerator, and allow the whey (a clear to yellowish tinged semi-clear liquid) to drain into the bowl.  Check the yogurt after about an hour to see if it has reached the consistency that you like.  If you wish, you can continue to drain the whey from the yogurt, and it will take on the consistency a soft cheese.
Do not discard the whey.  Whey is very nutritious and full of probiotics. You can drink it straight, or mix it with sparkling water and pour over ice for a refreshing beverage.  You can also use whey as a starter to add to the water in which grains are soaked or to add the the water used to ferment vegetables.
Find this recipe and video at https://marysnest.com/how-to-make-homemade-yogurt-no-machine-required/
Copyright © 2020 Mary's Nest, LLC, All Rights Reserved
Shop for items used in this blog post or video
Visit my Shopping Guide page
Learn where I buy my Beef Bones, Wild-Caught Fish, Sprouted Grains, and more...and learn about Special Discounts for Mary's Nest visitors, including from US Wellness Meats, Vital Choice, Masontops, and Breadsmart.
Pyrex Smart Essentials Mixing Bowl Set Including Locking Lids (Clear), 8 piece

I love these bowls. They nest into each other and also have lids, which makes them multipurpose.  You can use them for making yogurt or mixing cake batter, but they are also great for making salads and other recipes that need to be covered and refrigerated.  I use these bowls everyday and find them indispensable in my kitchen.

Pyrex 4-Piece Glass Measuring Cup Set with Large 8 Cup Measuring Cup

These are a staple in my kitchen.  With 4 sizes, I always have the right measuring cup for the job, and you can never go wrong with Pyrex.  The quality is top par.

All-Clad 59917 Stainless Steel Measuring Cups Cookware Set

These are another staple in my kitchen that I use practically every day.  They are heavy weight and well made.

Mini Kitchen Silicone Spatulas – Set of 6

These little gems come in so handy for helping to get into tiny nooks and crannies to get out every little bit of goodness from jars and small measuring cups.

Classic Line Candy/Deep Fry Thermometer

This is an affordable classic thermometer for making yogurt that can also be used for making candy and deep frying.  I've had mine for years and it has held up beautifully.

Ball 252 Wide Mouth Quart Jar – Set Of 12

These are a workhorse in the kitchen.  From canning to fermenting to making yogurt, they do the job.  They even make great drinking glasses for a large lemonade!

Ball Wide-Mouth Jar Plastic Storage Caps, 8-Count

Perfect for using on wide mouth canning jars.

Ball Jelly Elite Collection Jam Jar – Set of 4

Perfect for culturing yogurt in individual serving sizes.

Ball Regular Mouth Jar Plastic Storage Caps, 8-Count

Perfect for using on regular mouth jelly canning jars.

Le Creuset Enamel-on-Steel 16-Quart Covered Stockpot

A multi-use pot for everything from boiling pasta to making bone broth. As I show in my homemade yogurt video, you can also use he pot to culture yogurt in wide-mouth canning jars.

Le Creuset Enamel-on-Steel 10-Quart Covered Stockpot

As with the 16-Quart stockpot, shown above, this 10-Quart stockpot is also a multi-use pot for everything from boiling past to making bone broth. You can also use it to culture yogurt in the smaller regular mouth jelly canning jars, as demonstrated in my homemade yogurt video.
*Affiliates note: As an Amazon Associate I earn from qualifying purchases. My videos and blog posts may contain affiliate links to products and services. If you click through and make a purchase, I'll receive a small commission. It does not affect the price you pay.
**Disclaimer: I am not a medical doctor, a medical professional, a dietician, or a nutritionist. All content found on the MarysNest.com website, including text, images, videos, eBooks or eGuides, social media, or other formats, were created solely for informational purposes only. The content is not intended to be a substitute for professional medical advice, diagnosis, or treatment. Always seek the advice of your physician or other qualified healthcare provider with any questions you may have regarding a medical condition or proper nutritional advice. Never disregard professional medical advice or delay in seeking it because of something you have watched in a video or read on this website. Use caution when following the recipe in this video. The creator and publisher of this video and website will not be held responsible for any adverse effects that may arise from the use of this recipe and method or any other recipe and method on this website or corresponding video channel.