Affiliates note: As an Amazon Associate I earn from qualifying purchases. My content may contain affiliate links to products and services. If you click through and make a purchase, I'll receive a small commission. It does not affect the price you pay.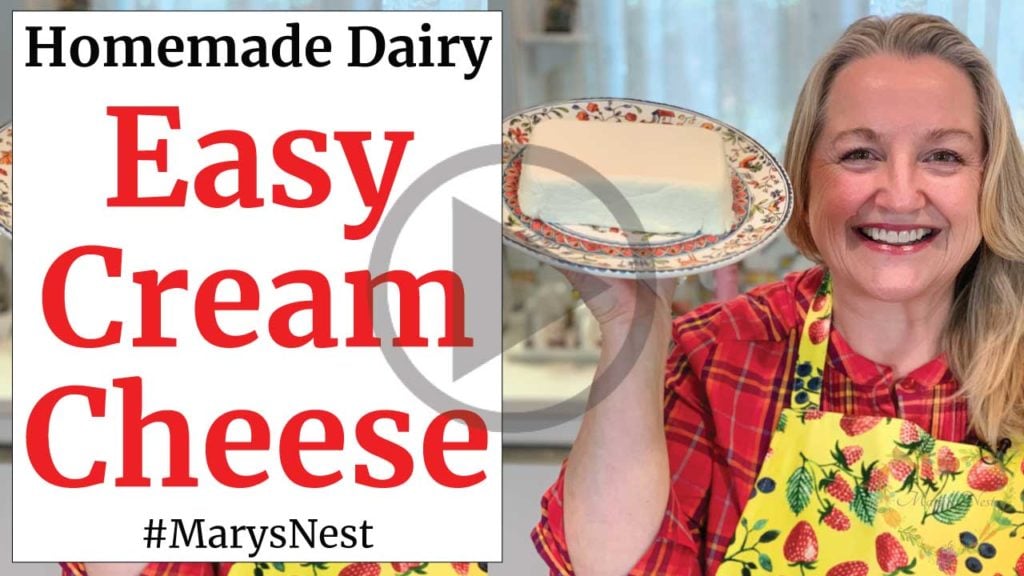 Learn How to Make Cream Cheese with this simple One Ingredient Recipe.
Yogurt Cheese or Cream Cheese?
Making homemade cream cheese couldn't be easier, and it only takes one ingredient to make it…yogurt! Any yogurt will do—full-fat, low-fat, or fat-free. In this recipe, I am using full-fat yogurt because I believe it creates the best final product. Plus, make sure the yogurt that you use is plain, unflavored yogurt and not Greek yogurt.
Why Not Greek Yogurt?
I recommend making this homemade cream cheese with regular yogurt for two reasons:
First, plain unflavored yogurt is generally less expensive than Greek yogurt.
Second, by straining regular yogurt, which is the first step in this process, you will be getting a nice amount of whey liquid. Whey is a nutritious probiotic-rich by-product of making homemade cream cheese. In a future video and blog post, I will be sharing how to use this wonderful liquid in a myriad of different ways. So stay tuned!
Straining Yogurt and Molding Yogurt Cheese
After straining the yogurt for 24 hours, you'll be ready for the next step, which involves lining a small container—any type you have will do—with some cloth and allowing your cream cheese to "ripen" or "age" for about a week in the refrigerator. Once you un-mold it from your container, you'll have homemade cream cheese! This couldn't be easier!!
How to Use Homemade Cream Cheese
You can use your homemade cream cheese in the same way that you would use the block of cream cheese that you can buy from the grocery store. Your cheese can be used in both sweet and savory dishes. And easiest of all, you can simply place the homemade "block" on to a plate and cover it with some spicy jelly or shrimp and cocktail sauce, and you have a quick and easy dessert!!
More Homemade Dairy Recipes
Now that you've learned how to make Cream Cheese be sure to try your hand at making other homemade dairy recipes, including homemade Cottage Cheese, Ricotta Cheese, Sour Cream, and Cultured Butter.
Stay in Touch with Mary's Nest
Subscribe to My YouTube Channel for Traditional Foods Videos (Free) - When you subscribe, be sure to click on the notification bell that will let you know each time I upload a new video.
Subscribe to Mary's Traditional Foods Newsletter (Free) - Get a free 36-page eBook for signing up: How to Stock Your Essential Traditional Foods Four-Corners Pantry.
Join the Traditional Foods Kitchen Academy (Optional Paid) - For more detailed videos, live streams, and exclusive members-only perks, join my YouTube membership community.
Order The Modern Pioneer Cookbook (Optional Paid) - Get a printed book of Mary's nourishing recipes from a Traditional Foods Kitchen. This bestselling cookbook is published by Penguin Random House with their DK imprint.
I look forward to having you join me in my Texas Hill Country Kitchen!
Homemade Cream Cheese with One Ingredient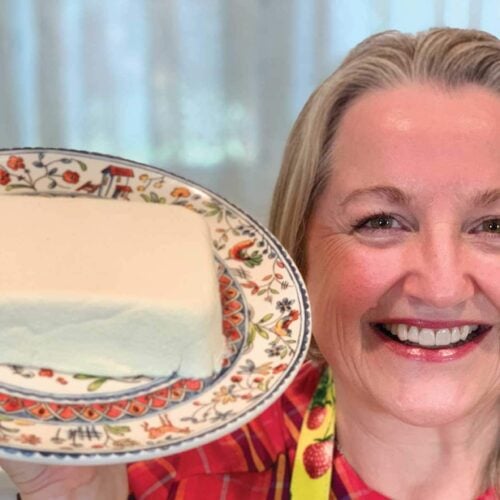 Learn how easy it is to make homemade cream cheese with just one ingredient
Equipment
Bowl or large measuring cup

Flour sack towel, cheesecloth, or coffee filters
Ingredients
32

ounces

Plain whole milk yogurt, unflavored

Low-fat or fat-free yogurt can also be used
Instructions
Line a mesh strainer with a flour sack towel, cheesecloth, or coffee filters.

Place strainer over a bowl or large measuring cup.

Pour yogurt into the lined strainer.

Place lined strainer with yogurt, which is over the bowl (or measuring cup), into the refrigerator, and allow the yogurt to drain for 24 hours.

The yellowish liquid that will accumulate in the bowl or measuring cup is acidic whey. Transfer this to a lidded jar and refrigerate. This will last, refrigerated, for six months. It is rich in probiotics. You can drink it, use it in place of liquid in baked goods, or use it to soak grains.

After the yogurt has drained for 24 hours, transfer it to a small container lined with a small flour sack towel, cheesecloth, or coffee filters. (See Video.) And then cover the container with a lid or other weight such a plate.

After one week, un-mold the "cream cheese" and store it in the refrigerator to be used in any recipe that calls for cream cheese. This homemade cream cheese will stay fresh, refrigerated, for about 2 weeks.
Notes
Find this recipe and video at https://marysnest.com/how-to-make-cream-cheese/
Copyright © 2020 Mary's Nest, LLC, All Rights Reserved
Nutrition
Calories:
69
kcal
|
Carbohydrates:
5
g
|
Protein:
4
g
|
Fat:
4
g
|
Saturated Fat:
2
g
|
Polyunsaturated Fat:
0.1
g
|
Monounsaturated Fat:
1
g
|
Cholesterol:
15
mg
|
Sodium:
52
mg
|
Potassium:
176
mg
|
Sugar:
5
g
|
Vitamin A:
112
IU
|
Vitamin C:
1
mg
|
Calcium:
137
mg
|
Iron:
0.1
mg
Watch Mary's Nest on YouTube
Shop for items used in this blog post or video
Favorite Homemade Dairy Supplies
Recommended Reading
Amazon Shop and Shopping Guide
Visit my Shopping Guide page
Get up to 15% off for stocking your Traditional Foods Pantry and equipping your Modern Pioneer Kitchen, including discounts from Lehman's, Mockmill Grain Mill, Masontops, Cultures for Health, Survival Garden Seeds, Redmond Real Salt, Plan to Eat, US Wellness Meats, and More!
*Affiliates note: As an Amazon Associate I earn from qualifying purchases. My content may contain affiliate links to products and services. If you click through and make a purchase, I'll receive a small commission. It does not affect the price you pay.
**Disclaimer: I am not a medical doctor, a medical professional, a dietician, or a nutritionist. All content found on the MarysNest.com website, including text, images, videos, eBooks or eGuides, social media, or other formats, were created solely for informational purposes only. The content is not intended to be a substitute for professional medical advice, diagnosis, or treatment. Always seek the advice of your physician or other qualified healthcare provider with any questions you may have regarding a medical condition or proper nutritional advice. Never disregard professional medical advice or delay in seeking it because of something you have watched in a video or read on this website. Use caution when following the recipe in this video. The creator and publisher of this video and website will not be held responsible for any adverse effects that may arise from the use of this recipe and method or any other recipe and method on this website or corresponding video channel.