How to Make Sour Cream with 2 Ingredients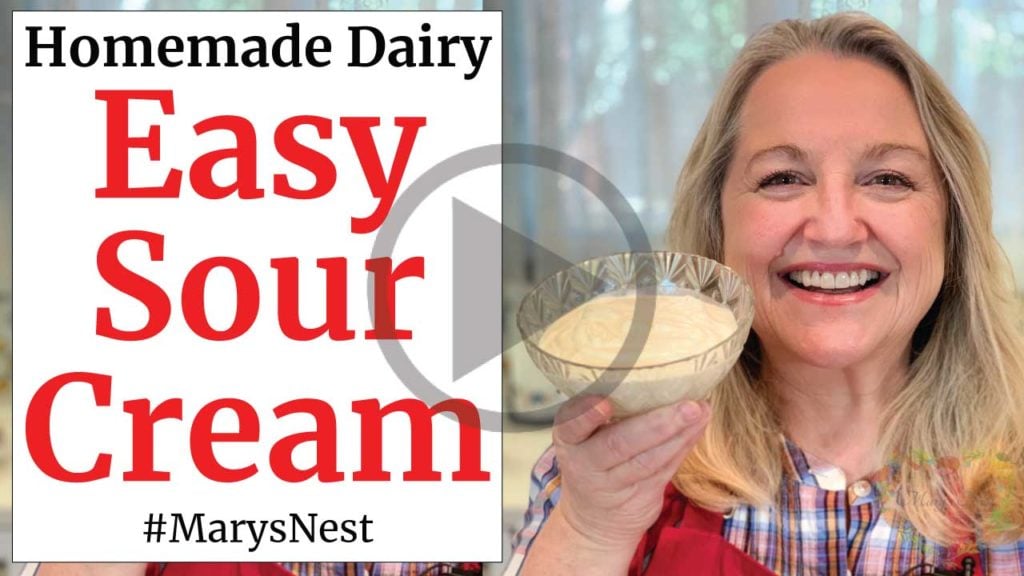 Learn How to Make Sour Cream with 2 ingredients from your grocery store. Homemade Sour Cream is easy to make and is great for making dips, topping a baked potato, and adding to baking recipes to create tender, lighter, fluffier cakes and baked goods.
2-Ingredient Homemade Sour Cream
Making Homemade Sour Cream is one of the easiest things you can do. All you need is:
Some pasteurized regular whipping cream (not "heavy" whipping cream)
A cultured milk product
For your cultured milk product, you can choose from:
Buttermilk
Plain whole milk kefir (store-bought or homemade), or
Whole milk yogurt (also store-bought or homemade)
If you use buttermilk to make your sour cream, you can use the cultured whole milk buttermilk that you can buy at the store. However, if you make homemade cultured butter, you will have your own homemade real buttermilk that you can also use.
But Can I Use Ultra-Pasteurized Cream?
If you've been with me awhile, you know that I generally don't recommend drinking ultra-pasteurized milk or cream. However, if that is all you can find in your area, don't worry. Whether you are making this sour cream or another homemade dairy-like yogurt, we are improving its nutritional value because we are culturing it.
What exactly do I mean by culturing? We are trying to recreate what would happen naturally in raw cream by inoculating pasteurized or ultra-pasteurized cream with a culture of good bacteria. And why is good bacteria important? Because it nourishes our intestinal lining—our "gut." And scientists tell us the healthier our gut, the healthier we are.
Now, is our cultured pasteurized or ultra-pasteurized cream as nutritious as raw milk? No. It's not as perfect as raw milk, but it's a start. And that is all that matters. Start on your traditional foods journey wherever you are. As a wise person once said, "Grow where you are planted." Just do the best you can with what you have. You are moving in the right direction!
But Everyone Else Makes This in a Different Way!
Now, yes, you may have seen a lot of recipes that make American sour cream differently than what I am showing you here. These other recipes will mix milk, cream, and some sort of acid, such as vinegar or lemon juice. This mixture will curdle into curds and whey. Once this happens, the curds and whey are remixed together, and you have American sour cream.
I do not make sour cream like this for two reasons. One, after you refrigerate it, it may separate, and then each time you go to use it, you need to remix it. But there is a much more important reason that I do not make homemade sour cream this way. The second reason is that adding an acid to milk and cream does nothing to improve the nutritional value of the end product.
As we discussed above, culturing is essential if you are using pasteurized or ultra-pasteurized cream. Restoring some of the nutrients destroyed during the pasteurization process is of paramount importance to me. This is, after all, a website about making traditional "nutrient dense" foods. So my goal is to make the foods that we create in our traditional foods kitchen to be as nutritious—nutrient dense—as possible.
Simple Steps to Making Homemade Sour Cream
Once you have your ingredients ready, pour your whipping cream into a clean jar with a bit of your culturing agent. Give it a good stir, and put a top on the jar. Afterward, put the jar in a room temperature (warm, but not hot) place in your kitchen where it will be undisturbed and allowed to thicken.
If you are using yogurt as your culturing agent, you will want to put your jar in a slightly warmer place such as an oven that is turned off, but with the electric light or the pilot light turned on. I explain all of this in detail in the recipe below.
It will take anywhere from 12-24 hours for your cream to "sour" and thicken. And that's it! You now have sour cream.
Is this Sour Cream or Creme Fraiche?
Great question! When we make this sour cream, we are using regular whipping cream, not heavy whipping cream. Regular whipping cream has less fat than heavy whipping cream. And therein lies the difference. "American" sour cream has less fat than "European" sour cream or what in France is knows as Creme Fraiche. So if you are looking for something similar to what you would buy at a grocery store in the United States, this is the option you want.
But don't worry. If Creme Fraiche is what you want, simply replace the regular whipping with heavy whipping cream, and you're all set. After 12-24 hours, you'll have Creme Fraiche!
But What If I Have Raw Cream?
If you have access to raw cream, you are blessed. And it is even easier to make sour cream. You can just put your raw cream in a jar, cover it, and allow it to sit in a warm place in your kitchen for 12-24 hours. It will sour naturally, and you will have sour cream. But will this be American Sour Cream or the higher fat Creme Fraiche? Great question!
What type of "soured" cream you have depends on where your cream originated. Was it the cream from a Jersey cow that produces a rich high fat cream? Then most likely, you will have Creme Fraiche. Or was the cream from a Holstein cow that produces a slightly lower fat cream? If so, chances are that your final sour cream will be more similar to American Sour Cream.
More Homemade Dairy Videos
Now that you've made sour cream, try your hand at other Homemade Dairy recipes, including cottage cheese, ricotta cheese, evaporated milk, condensed milk, and an easy yogurt made without a yogurt maker.
Stay in Touch with Mary's Nest
Subscribe to My YouTube Channel for Traditional Foods Videos (Free) - When you subscribe, be sure to click on the notification bell that will let you know each time I upload a new video.


Subscribe to Mary's Traditional Foods Newsletter (Free) - Get a free eBook for signing up: How to Stock Your Essential Traditional Foods Four-Corners Pantry.


Join the Traditional Foods Kitchen Academy (Optional Paid) - For more detailed videos, live streams, and exclusive members-only perks, join my YouTube membership community.
I look forward to having you join me in my Texas Hill Country Kitchen!
Love,
Mary
♥
Shop for items used in this blog post or video
Favorite Sour Cream Making Supplies
Recommended Reading
Amazon Shop and Shopping Guide
Visit my Shopping Guide page
Learn where I buy my beef bones, electric grain mills, sprouted grains, and more…and get special discounts for Mary's Nest visitors, including from US Wellness Meats, Mockmill, Masontops, and Cultures for Health.
*Affiliates note: As an Amazon Associate I earn from qualifying purchases. My videos and blog posts may contain affiliate links to products and services. If you click through and make a purchase, I'll receive a small commission. It does not affect the price you pay.
**Disclaimer: I am not a medical doctor, a medical professional, a dietician, or a nutritionist. All content found on the MarysNest.com website, including text, images, videos, eBooks or eGuides, social media, or other formats, were created solely for informational purposes only. The content is not intended to be a substitute for professional medical advice, diagnosis, or treatment. Always seek the advice of your physician or other qualified healthcare provider with any questions you may have regarding a medical condition or proper nutritional advice. Never disregard professional medical advice or delay in seeking it because of something you have watched in a video or read on this website. Use caution when following the recipe in this video. The creator and publisher of this video and website will not be held responsible for any adverse effects that may arise from the use of this recipe and method or any other recipe and method on this website or corresponding video channel.