How to Make Milk Kefir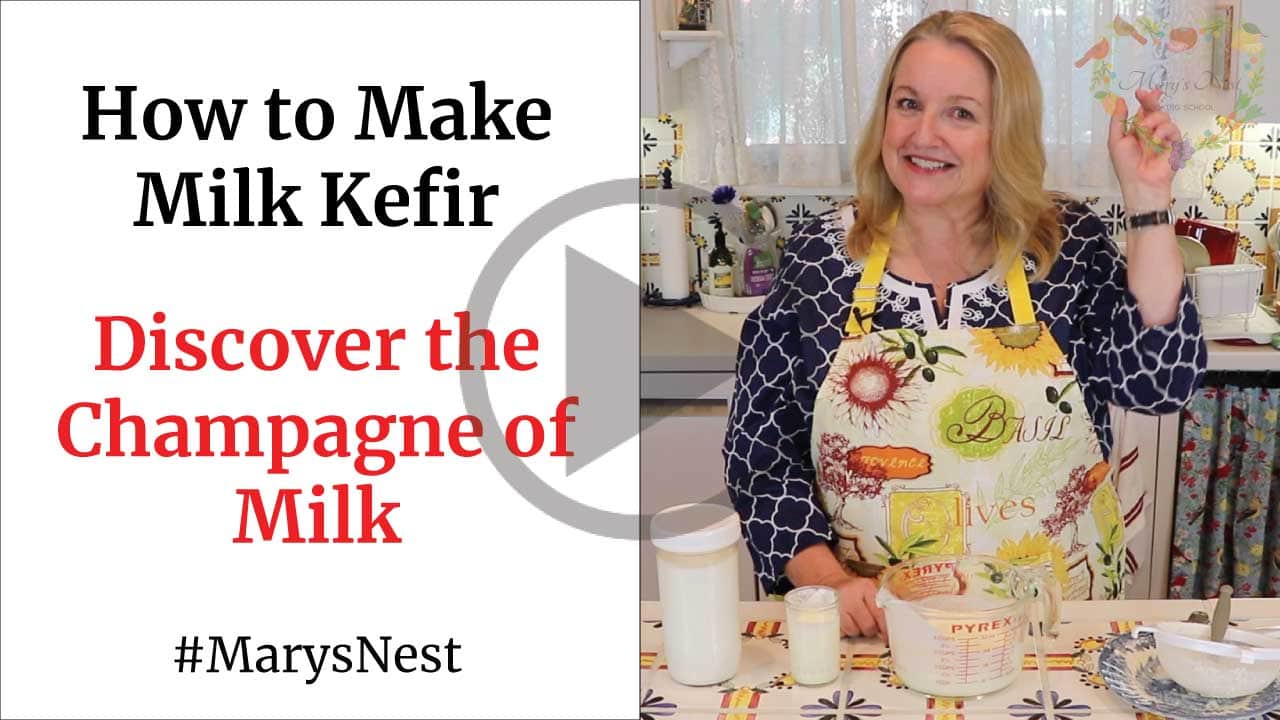 Hi Sweet Friends,
When it comes to cultured dairy, milk kefir is one of my favorite.  I even like it better than yogurt.  It's tangy and fizzy…and well, just downright delicious. And thanks to that fizz, it has been coined the champagne of milk!!  So not only does it tickle your tongue, it tickles your belly too…it's teaming with probiotics for good gut health. And the best thing about milk kefir?  It's easy to make.
No heat required
Unlike yogurt, when it comes to making milk kefir, you do not need to heat the milk. Put the kefir grains in a jar (about a tablespoons worth), pour milk over them, put a lid on the jar, and place the jar in a warm spot on your counter.  Leave the jar undisturbed for about 12 hours…and voila!  Milk kefir.  It couldn't be easier.
And all that's left is to enjoy
Strain out the grains from the jar in which you have cultured the milk kefir and enjoy.  You can certainly drink it room temperature but I like it best after it has been refrigerated for a bit.  And what do you do next with the kefir grains?  Put them back in the jar, pour milk over them, and start the process all over again.
But where do I get the kefir grains?
Sourcing kefir grains is easy.  You may have a friend who has some extra and will share a few with you. (They multiply quite quickly!)  If your neighbor doesn't have any available, you can buy them online.  Cultures for Health sells them in a dehydrated form.  When they arrive, you just need to rehydrate them, which takes a day or two and then you can start making kefir.
Step-by-step instructions
Be sure to watch the YouTube video as I walk you through the step-by-step process of making milk kefir.
Stay in Touch with Mary's Nest
Subscribe to My YouTube Channel for Traditional Foods Videos (Free) - When you subscribe, be sure to click on the notification bell that will let you know each time I upload a new video.


Subscribe to Mary's Traditional Foods Newsletter (Free) - Get a free eBook for signing up: How to Stock Your Essential Traditional Foods Four-Corners Pantry.


Join the Traditional Foods Kitchen Academy (Optional Paid) - For more detailed videos, live streams, and exclusive members-only perks, join my YouTube membership community.
I look forward to having you join me in my Texas Hill Country Kitchen!
Love,
Mary
♥
You can print the recipe below.
Print Recipe
How to Make Milk Kefir
Milk kefir is a form of cultured dairy similar to yogurt but with one major difference. You do not need to heat the milk. This makes milk kefir an easy beverage to make. But not only is it easy to make - it's also delicious. It's fizzy and tangy...it's the champagne of milk!
Ingredients
2

cups

Whole milk

1

tablespoon

Kefir grains

If dehydrated, rehydrate before using
Instructions
Combine the milk and the grains in a jar and stir gently.

Place a lid on the jar and tighten it gently.

Place the jar in a warm place where it can rest, undisturbed, for approximately 12 hours.

After 12 hours, place a small strainer over a new container in which you will store the milk kefir. Strain the milk kefir into this container, using the strainer to catch the grains.

You can now drink the milk kefir or refrigerate it to enjoy it cold.

Transfer the kefir grains back into the original jar, add fresh milk, stir, replace the cap, and place the jar in a warm spot where the jar can be undisturbed for 12 hours while the milk cultures into another batch of milk kefir. You can repeat this process indefinitely, making milk kefir every day.
Notes
If you wish to cease making milk kefir, you can store your grains covered with milk in a jar for a few days in your refrigerator.
If you want to store your grains longer than a few days, you can store them covered with filtered water in jar in your refrigerator.  This will allow the grains to "go to sleep".
When you are ready to make milk kefir again, you can "wake up" your grains by following the instructions for making milk kefir.  The first few batches of milk kefir will be watery, but after a few days, your grains should begin to culture the milk into a thicker milk kefir.
Find this recipe at https://marysnest.com/how-to-make-milk-kefir/
Copyright © 2018 Mary's Nest, LLC, All Rights Reserved
Shop for items used in this blog post or video
Visit my Shopping Guide page
Learn where I buy my Beef Bones, Wild-Caught Fish, Sprouted Grains, and more...and learn about Special Discounts for Mary's Nest visitors, including from US Wellness Meats, Vital Choice, Masontops, and Breadsmart.
Below is a link to Amazon.com where you can purchase the Cultures for Health kefir grains:
*Affiliates note: As an Amazon Associate I earn from qualifying purchases. My videos and blog posts may contain affiliate links to products and services. If you click through and make a purchase, I'll receive a small commission. It does not affect the price you pay.
**Disclaimer: I am not a medical doctor, a medical professional, a dietician, or a nutritionist. All content found on the MarysNest.com website, including text, images, videos, eBooks or eGuides, social media, or other formats, were created solely for informational purposes only. The content is not intended to be a substitute for professional medical advice, diagnosis, or treatment. Always seek the advice of your physician or other qualified healthcare provider with any questions you may have regarding a medical condition or proper nutritional advice. Never disregard professional medical advice or delay in seeking it because of something you have watched in a video or read on this website. Use caution when following the recipe in this video. The creator and publisher of this video and website will not be held responsible for any adverse effects that may arise from the use of this recipe and method or any other recipe and method on this website or corresponding video channel.