Affiliates note: As an Amazon Associate I earn from qualifying purchases. My content may contain affiliate links to products and services. If you click through and make a purchase, I'll receive a small commission. It does not affect the price you pay.
Learn How to Make Homemade Vanilla Extract, and you'll never have to buy it again. Watch my video and print out the recipe in this post for step-by-step instructions. This vanilla extract is perpetual and will last indefinitely.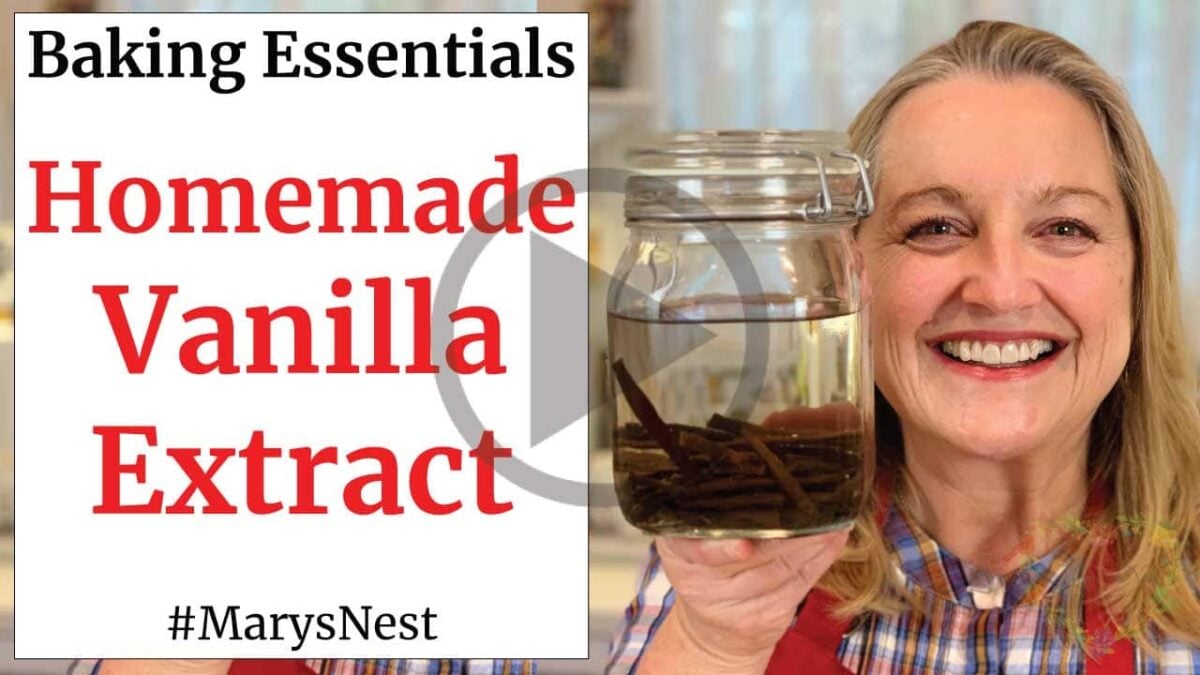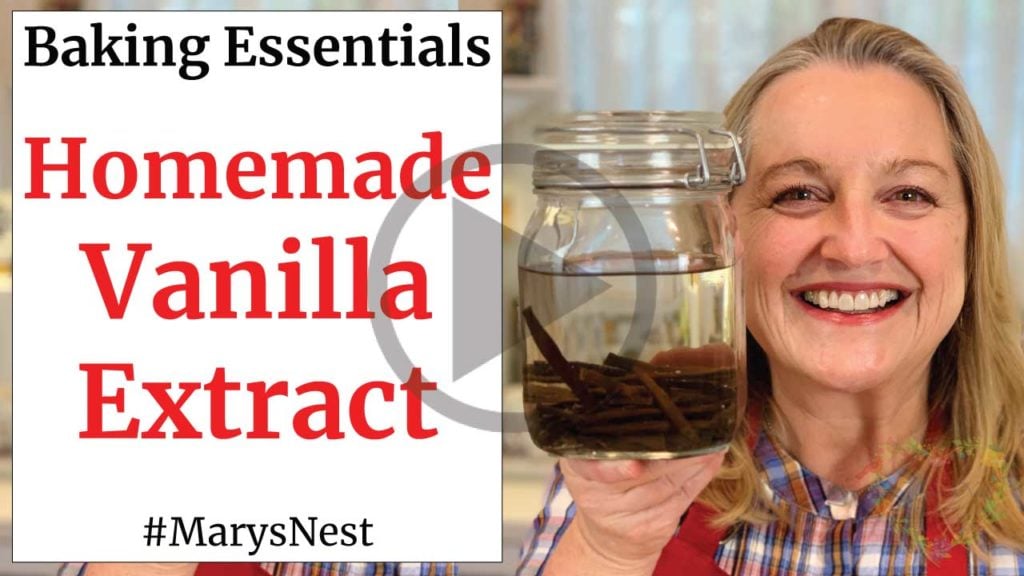 Making Homemade Extracts
Making homemade extracts is probably one of the easiest things to do. Vanilla Extract is probably the simplest, and it lasts the longest. Some call it a perpetual extract. Ina Garten, the best selling cookbook author, once said that the beans used in her extract are almost 20 years old. Now that certainly warrants the perpetual label!
Step-by-Step Instructions
In my video, I walk you through the easy steps involved in making Vanilla Extract. You'll simply cut the beans in half, split them down the middle, or do both. Next, you'll place them in a quart-sized or one-liter jar and then fill it with vodka.
Why Vodka for My Extract?
I like to use vodka when making Vanilla Extract or any extract for that matter. Vodka is colorless and basically tasteless and odorless, so it lets the vanilla flavor shine through. However, you can also try other spirits, including rum or bourbon.
What If I Don't Want to Use Alcohol for My Extract?
Keep in mind that when you use a Homemade Extract, you are most likely going to use it in baking. The heat of the oven will help the alcohol dissipate and just leave the lovely extract flavor behind.
However, if you are concerned about the high-proof alcohol used in making an extract, you have options. To replacing the vodka or other high-proof alcohol in any extract recipe, simply substitute the alcohol called for with three parts liquid glycerine and one part water. Now keep in mind, glycerine is, in essence, alcohol, but with a much lower alcohol content than 80-100 proof spirits.
One other option when making extracts is to use a low-alcohol wine mixed with glycerine to make your extract. To learn how to make homemade wine and use it with glycerin to make a low-alcohol extract, please visit my sweet friend Heidi over at Rain Country Homestead.
More Ideas for the Traditional Foods Pantry
Now that you've learned how to make homemade Vanilla Extract, be sure to try your hand at making more Homemade Extracts and other essentials for stocking your Traditional Foods Pantry.
Homemade Vinegar Recipes
Making vinegars can be fun too, and they look great next to the homemade extracts in your pantry. I recommend starting out with a homemade Apple Cider Vinegar, but depending on the season, fruit scrap vinegars would be perfect too.
Download Your Free 36-Page Pantry List
For an extensive list of the traditional foods you can make and purchase to stock your pantry, be sure to download my free 36-page Traditional Foods Pantry List. This comprehensive eBook is full of links to recipe videos, helpful articles, and more!
The Modern Pioneer Cookbook
And if you're looking for a printed book full of my traditional foods recipes that shows you how to create a traditional foods kitchen, be sure to preorder your copy of my new book, The Modern Pioneer Cookbook.
Join the Traditional Foods Kitchen Academy
Are you looking for more traditional foods videos? If so, I invite you to join the Traditional Foods Kitchen Academy. Members of this optional paid YouTube community get access to exclusive videos, live streams, and other members-only perks. Plus, your YouTube comments include a special members-only badge.
In the following members-only video, I take you behind the scenes with my working pantry.
During this month's members-only live stream, we talked about a variety of topics, including a preview of upcoming videos.
I talk about the people I met at this year's conference and share some behind-the-scenes of my new cookbook.
Get ready to harness the power of gluten-free buckwheat to help a healthy diet.
Stay in Touch with Mary's Nest
Subscribe to My YouTube Channel for Traditional Foods Videos (Free) - When you subscribe, be sure to click on the notification bell that will let you know each time I upload a new video.
Subscribe to Mary's Traditional Foods Newsletter (Free) - Get a free 36-page eBook for signing up: How to Stock Your Essential Traditional Foods Four-Corners Pantry.
Join the Traditional Foods Kitchen Academy (Optional Paid) - For more detailed videos, live streams, and exclusive members-only perks, join my YouTube membership community.
Order The Modern Pioneer Cookbook (Optional Paid) - Get a printed book of Mary's nourishing recipes from a Traditional Foods Kitchen. This bestselling cookbook is published by Penguin Random House with their DK imprint.
I look forward to having you join me in my Texas Hill Country Kitchen!
How to Make Homemade Vanilla Extract
This vanilla extract is perpetual and will last indefinitely!
Equipment
1 quart-sized jar or 1 liter-sized jar
Instructions
Add vanilla beans to the clean jar and cover with vodka.

Allow the beans to steep in vodka for six months in a dark pantry or cupboard.

After six months, remove some of the vanilla extract and decant it into a clean bottle.

Add new vodka to the original jar containing the vanilla beans, and return the jar to the pantry or cupboard to steep for another six months.

Every six months, continue this process of decanting some vanilla extract into a separate bottle and topping off the jar containing the vanilla beans with additional alcohol. By following this process, your vanilla extract will basically last indefinitely.
Notes
Find this recipe and video at https://marysnest.com/how-to-make-homemade-vanilla-extract/
Copyright © 2019 Mary's Nest, LLC, All Rights Reserved
Nutrition
Calories:
2
kcal
|
Carbohydrates:
0.2
g
|
Fat:
0.1
g
Watch Mary's Nest on YouTube
Shop for items used in this blog post or video
Favorite Homemade Vanilla Supplies
Favorite Kitchen Supplies
More Kitchen Supplies with Discount Codes
Use my Mockmill affiliate link for a special one-time 5% discount on Mockmill Stone Grain Mill products, including the new Flake Lover's Flaker. (The Mockmill discount will appear when you checkout.)
Use promo code MARYSNST for a one-time 15% off Masontops and Breadsmart products on Amazon.com.
Amazon Shop and Shopping Guide
Recommended Reading
**Disclaimer: I am not a medical doctor, a medical professional, a dietician, or a nutritionist. All content found on the MarysNest.com website, including text, images, videos, eBooks or eGuides, social media, or other formats, were created solely for informational purposes only. The content is not intended to be a substitute for professional medical advice, diagnosis, or treatment. Always seek the advice of your physician or other qualified healthcare provider with any questions you may have regarding a medical condition or proper nutritional advice. Never disregard professional medical advice or delay in seeking it because of something you have watched in a video or read on this website. Use caution when following the recipe in this video. The creator and publisher of this video and website will not be held responsible for any adverse effects that may arise from the use of this recipe and method or any other recipe and method on this website or corresponding video channel.