How to Make Homemade Apple Cider Vinegar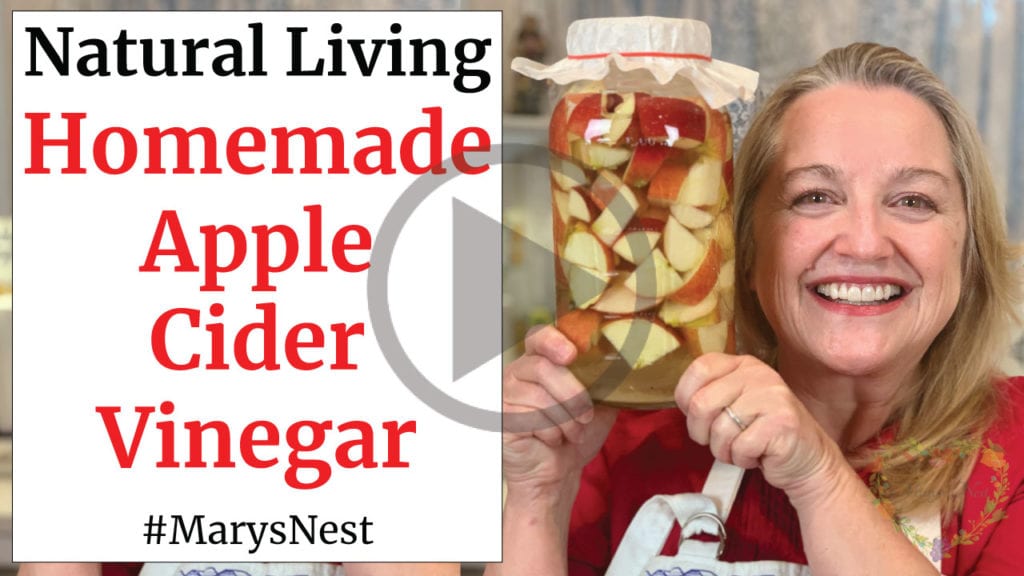 Today, I am sharing How to Make Homemade Apple Cider Vinegar, complete from start to finish with two video updates. This is one of the easiest DIY projects ever! You'll wonder why you never tried it before.
Never Buy Store Bought Again!
Once you give this recipe a try, you'll be making Homemade Apple Cider Vinegar all the time. You won't have to buy it anymore. This will ease the burden on your grocery budget since this vinegar can be costly, and you'll have the pride of making your vinegar homemade.
Where to Start Making Apple Cider Vinegar?
So how do you get started making Apple Cider Vinegar? To begin with, you have two options.
Option 1: You can use apple scraps, including peels and cores (seeds removed).
Option 2: You can use cut-up whole apples. If you choose to use whole apples, this is an excellent way to use up those apples that may be slightly past their prime.
Do I Need to Use Organic Apples to Make Vinegar?
If you can use organic apples, that is the best option. But if not, be sure to wash your apples with a mixture of vinegar and baking soda. You can make a foamy paste out of these ingredients and use the paste as a scrub to clean the apples.
Next, rinse the apples thoroughly to remove as much pesticide residue as possible. (Keep this in mind when you are using your apples for other recipes. This way, the apple scraps you save to make vinegar will have already been washed.)
Get Your Equipment Ready
Next, you'll want to get a half-gallon size jar and fill it about halfway with the scraps or the cut-up apples. Even a combination of the two can work. This recipe is very flexible.
Once the jar is filled halfway with the apples, you'll add in a 1/4 cup of white cane sugar. Again, try to use organic sugar if you can.
Don't Be Afraid of the White Sugar!
I want to stress here to use white sugar. Do not be afraid. You want to feed the yeast and eventually, the bacteria that will turn this mixture into vinegar. Yes, the apples have natural sugar, but they often need a boost.
Acetobacter, the bacteria that will turn this mixture into vinegar, likes to eat the white sugar. And it will eat and eat it. The final product will not taste sweet at all! It will taste like Vinegar—Apple Cider Vinegar!
Stir, Stir, Stir!
Also, giving the apples a little boost of extra sugar will help to speed up the process and keep mold at bay. The most important trick for keeping mold away is by stirring your vinegar every day. Preferably twice a day—morning and night.
After a week or so, the environment for mold will become quite inhospitable, and you will be on your way to making homemade Apple Cider Vinegar!
Why Does My Vinegar Smell Like Beer?
Don't worry if, in the first week or two, your vinegar smells like beer. This is part of the natural process. In the beginning stages of making vinegar, it will initially smell like alcohol. Some say it smells like beer. That's the yeast at work.
Soon the good bacteria—acetobacter—will take over, and your mixture will start to smell as it should—like vinegar!
Why I am I Making Vinegar?
Now, other than helping to lighten our grocery budget, why do we want to make Homemade Apple Cider Vinegar? Because when we make it homemade, we create a vinegar that is raw.
You may have heard the expression that raw apple cider vinegar contains "The Mother." This "Mother" is a colony of beneficial bacteria and is wonderful for good gut health.
And There's More!
I have a How to Make Homemade Apple Cider Vinegar playlist of three videos that walk you through the entire process of making Apple Cider Vinegar. The videos will help you get started and check your vinegar's progress from start to finish.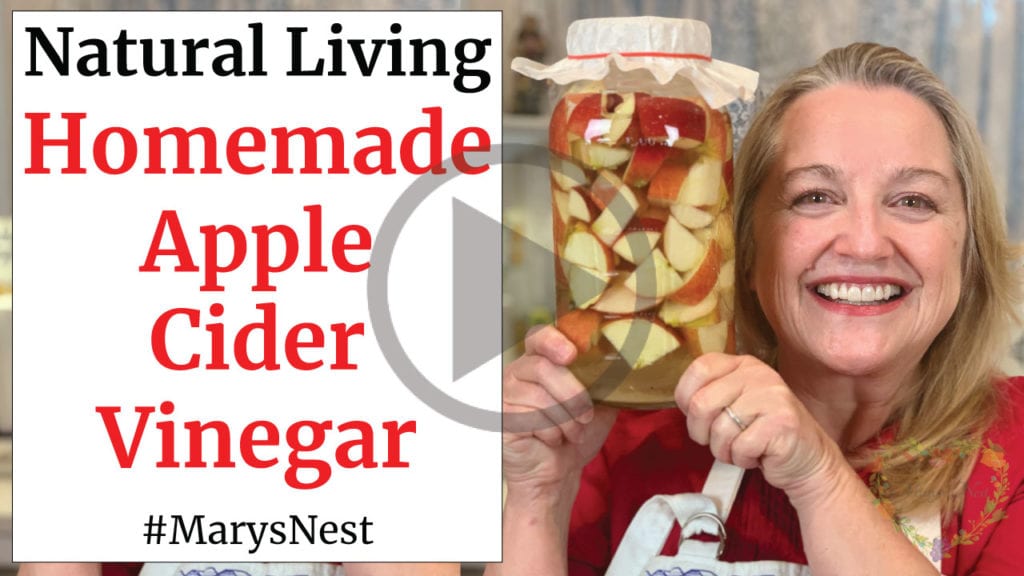 Main Video: The first video in the series gets you started learning how to make homemade Apple Cider Vinegar with the mother. It's a DIY from scratch recipe for beginners.
Update #1: The second video in the series shows you what to expect at the two-week mark.
Update #2: The third video in the series shows you what to expect at the 30-day mark. Plus, I show you how to strain the vinegar, decant it, and store it.
More Ideas for Vinegar
Once you've tried this Apple Cider Vinegar Recipe, be sure to check out these other vinegar videos:
Stay in Touch with Mary's Nest
Subscribe to My YouTube Channel for Traditional Foods Videos (Free) - When you subscribe, be sure to click on the notification bell that will let you know each time I upload a new video.


Subscribe to Mary's Traditional Foods Newsletter (Free) - Get a free eBook for signing up: How to Stock Your Essential Traditional Foods Four-Corners Pantry.


Join the Traditional Foods Kitchen Academy (Optional Paid) - For more detailed videos, live streams, and exclusive members-only perks, join my YouTube membership community.
I look forward to having you join me in my Texas Hill Country Kitchen!
Love,
Mary
♥
Shop for items used in this blog post or video
Favorite Homemade Vinegar Supplies
Recommended Reading
Amazon Shop and Shopping Guide
Visit my Shopping Guide page
Learn where I buy my beef bones, electric grain mills, sprouted grains, and more…and get special discounts for Mary's Nest visitors, including from US Wellness Meats, Mockmill, Masontops, and Cultures for Health.
*Affiliates note: As an Amazon Associate I earn from qualifying purchases. My videos and blog posts may contain affiliate links to products and services. If you click through and make a purchase, I'll receive a small commission. It does not affect the price you pay.
**Disclaimer: I am not a medical doctor, a medical professional, a dietician, or a nutritionist. All content found on the MarysNest.com website, including text, images, videos, eBooks or eGuides, social media, or other formats, were created solely for informational purposes only. The content is not intended to be a substitute for professional medical advice, diagnosis, or treatment. Always seek the advice of your physician or other qualified healthcare provider with any questions you may have regarding a medical condition or proper nutritional advice. Never disregard professional medical advice or delay in seeking it because of something you have watched in a video or read on this website. Use caution when following the recipe in this video. The creator and publisher of this video and website will not be held responsible for any adverse effects that may arise from the use of this recipe and method or any other recipe and method on this website or corresponding video channel.