I remember when our son Ben was growing up and how excited he would get when it was time to dress up for trick or treating. He always loved donning his Star Wars costume and battling the scary ghosts and goblins in the neighborhood while collecting tasty candies at the same time.
Did you know that there are also scary things in your traditional foods kitchen? However, don't let them frighten you away. Once you get to know what they are, they won't seem so scary after all. In fact, they may be quite delicious!
*Affiliates note: As an Amazon Associate I earn from qualifying purchases. My content may contain affiliate links to products and services. If you click through and make a purchase, I'll receive a small commission. It does not affect the price you pay.
An Unexpected Spider Web
That spider web on your homemade vinegar sure looks frightening. You may even motion loved ones to back away as you reach for your magic whisk to defend yourself.
When it comes to making fruit scrap vinegars, especially those that start with the scraps of sweet fruits, like pineapple or strawberries, you might discover a white spider-web film forming across the top of your vinegar-in-the-making. This white film is kahm yeast.
The good news is that kahm yeast is not harmful, but it is persnickety! But don't worry. Just skim it off the top, and then give your vinegar liquid a good stir.
You can learn how to make a pineapple fruit scrap vinegar in the following video. And if kahm yeast makes an unexpected appearance, you'll know how to drive off this unexpected pest.
Aliens to Give You Pause
Were they aliens that didn't make it back on the mothership? This is something that will give you pause (paws?) the first time you see them.
Whether you call them chicken feet or chicken paws, they're nothing to be afraid of. They're your best friend if you're looking for a way to make sure your chicken bone broth or mushroom broth is gelatinous.
The secret to nutritious bone broth is to make it as gelatinous as possible. Once refrigerated, your bone broth should look like gelatin. The gelatin occurs because bones, especially cartilage, are rich in collagen. And once you cook bones and cartilage, the collagen seeps out to make your bone broth gelatinous.
Find out how to make Homemade Collagen Rich Bone Broth using aliens…I mean chicken feet…for under $2.00.
The Blob
Did this giant blob originate from a small meteorite that fell on earth? (Note to self: Don't poke at any meteorites.) Does this creature come in peace?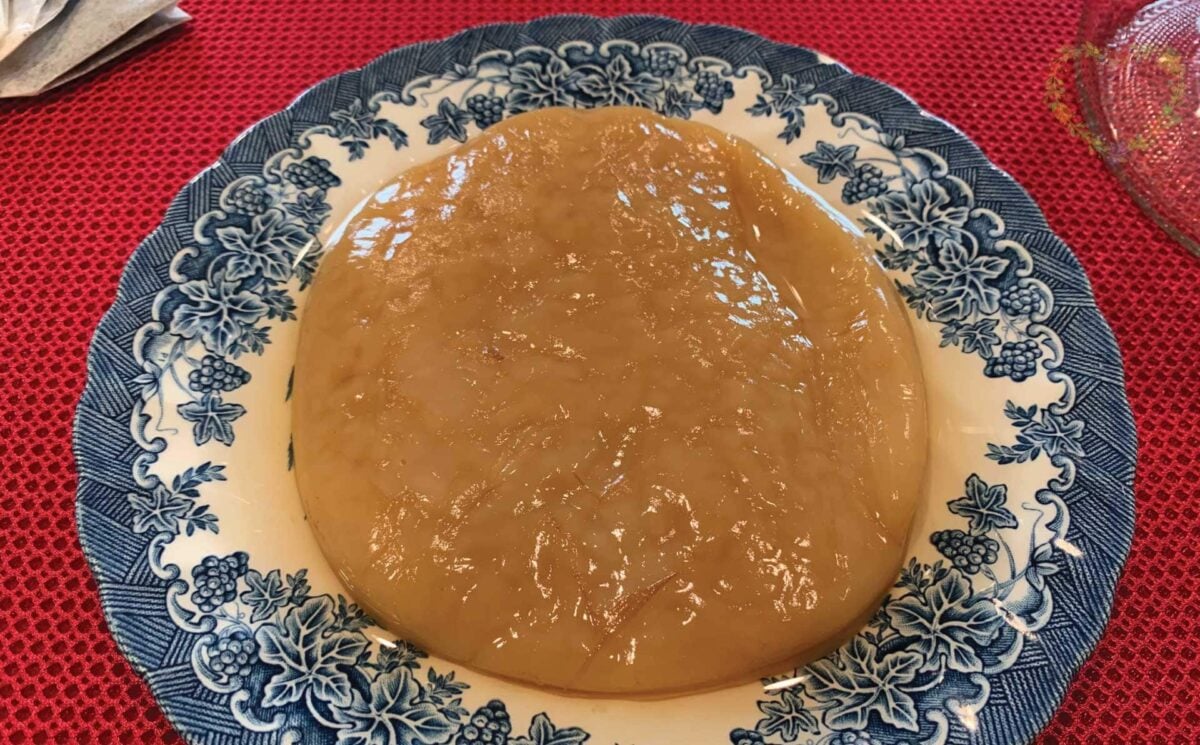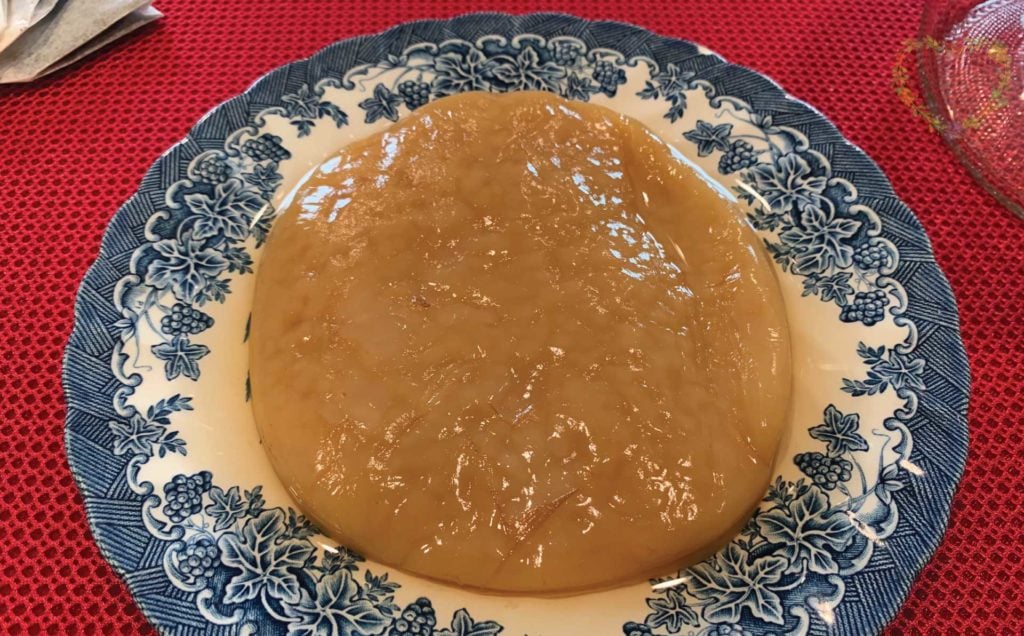 You're seeing a picture of a SCOBY, which stands for "Symbiotic Culture of Bacteria and Yeast," and you use it to make a fermented tea known as Kombucha.
This SCOBY allows us to take a simple sweetened black tea and turn it into a delightfully effervescent probiotic-rich beverage. Moreover, we can do this at home for a fraction of the cost of buying it from the store.
So don't be afraid of this blob. Learn how to use it to make Kombucha in the following recipe video.
The Scariest Picture of All
This is probably the scariest picture of all, and not for the full of stomach. Is there still hope?
Yes! There is hope for this empty bread basket. You can create many bakery delights to treat yourself and your family. Try a no-knead sandwich bread or yeast dinner rolls and banish your growling stomach with some delightful homemade bread.
If you've never made bread before, it's easy with the following delicious recipes.
An All Saints' Day Tradition
I hope you enjoyed this tour of the spooky things you might discover (or want to encounter) in your Traditional Foods Kitchen.
During this time of year, we like to celebrate All Saints Day with a Chickpea and Pork Rib Soup—A Northern Italian Tradition. And legend holds that if you eat this soup on November 1, you will be blessed with good fortune and protection!
This soup makes an abbondanza meal, which means an abundant meal—a meal of plenty. I hope you'll give it a try and treat yourself to some leftover Halloween candy afterward. 😊
Looking for Chicken Feet?
If you can't find chicken feet in your neighborhood supermarket to make your collagen-rich bone broth, check out US Wellness Meats for the meats, bones, and other essentials to make bone broth and other delicious and nutritious meals in your Traditional Foods Kitchen.
Use discount code MARYNEST and my link to save 15% off regular-priced items on your US Wellness Meats order. You can shop for a variety of products, including:
This post is not sponsored. I'm a long-time customer of US Wellness Meats because I have always been impressed by the quality of their products. Check out my US Wellness Meats unboxing video to see the types of products you can get, including bones for beef bone broth!
Grind Your Own Flour with the Mockmill
Storing whole grains is better than storing flour in your Pepper Pantry because whole grains have a longer shelf life than all-purpose or wheat flour. However, you'll need a manual or electric grain mill if you want to turn your whole grains into flour so you can make no-knead sandwich bread or yeast rolls.
When it comes to electric grain mills, after I did A LOT of research, I decided to buy a Mockmill. And am I so happy I did! The Mockmill is a very affordable but beautifully crafted German-made mill that stone grinds grain with settings ranging from 1 to 10—fine to coarse ground grain.
And I have great news! The folks at Mockmill are very kind to offer my viewers and readers a special one-time discount on any of the grain mills that they sell.
Note: You can also get the new Flake Lover's Flaker from Mockmill. Using this device, you can flake whole grain in minutes.
You can see me unbox and try out the Mockmill 100 Grain mill in the following video. (This is not a sponsored post, I bought the Mockmill products that I show you, and I'm a happy user of their devices in my kitchen.)
Masontops Mason Jar Fermentation Kit Discount Coupon
Although you don't need any special equipment to start making ferments, the Masontops kit can help you simplify the process and enable you to create your ferment successfully. In my Masontops unboxing video, I show you my Masontops Complete Mason Jar Fermentation Kit and go over everything the kit includes.
Download Your Free 36-Page Pantry List
For an extensive list of the traditional foods you can make and purchase to stock your pantry, be sure to download my free 36-page Traditional Foods Pantry List. This comprehensive eBook is full of links to recipe videos, helpful articles, and more!
Kitchen Academy Videos
Are you looking for more traditional foods videos? If so, I invite you to join the Traditional Foods Kitchen Academy. Members of this optional paid YouTube community get access to exclusive videos, live streams, and other members-only perks. Plus, your YouTube comments include a special members-only badge.
In the following members-only video, I give you a full-length cooking class on how to make beef bone broth.
Stay in Touch with Mary's Nest
Subscribe to My YouTube Channel for Traditional Foods Videos (Free) - When you subscribe, be sure to click on the notification bell that will let you know each time I upload a new video.
Subscribe to Mary's Traditional Foods Newsletter (Free) - Get a free 36-page eBook for signing up: How to Stock Your Essential Traditional Foods Four-Corners Pantry.
Join the Traditional Foods Kitchen Academy (Optional Paid) - For more detailed videos, live streams, and exclusive members-only perks, join my YouTube membership community.
Order The Modern Pioneer Cookbook (Optional Paid) - Get a printed book of Mary's nourishing recipes from a Traditional Foods Kitchen. This bestselling cookbook is published by Penguin Random House with their DK imprint.
I look forward to having you join me in my Texas Hill Country Kitchen!
Trending Posts on Mary's Nest
Shop for items used in this blog post or video
Favorite Prepper Pantry Supplies
Favorite Kitchen Supplies
More Kitchen Supplies with Discount Codes
Use my Mockmill affiliate link for a special one-time 5% discount on Mockmill Stone Grain Mill products, including the new Flake Lover's Flaker. (The Mockmill discount will appear when you checkout.)
Use promo code MARYSNST for a one-time 15% off Masontops and Breadsmart products on Amazon.com.
Amazon Shop and Shopping Guide
Visit my Shopping Guide page
Get up to 15% off for stocking your Traditional Foods Pantry and equipping your Modern Pioneer Kitchen, including discounts from Lehman's, Mockmill Grain Mill, Masontops, Cultures for Health, Survival Garden Seeds, Redmond Real Salt, Plan to Eat, US Wellness Meats, and More!
Recommended Reading
**Disclaimer: I am not a medical doctor, a medical professional, a dietician, or a nutritionist. All content found on the MarysNest.com website, including text, images, videos, eBooks or eGuides, social media, or other formats, were created solely for informational purposes only. The content is not intended to be a substitute for professional medical advice, diagnosis, or treatment. Always seek the advice of your physician or other qualified healthcare provider with any questions you may have regarding a medical condition or proper nutritional advice. Never disregard professional medical advice or delay in seeking it because of something you have watched in a video or read on this website. Use caution when following the recipe in this video. The creator and publisher of this video and website will not be held responsible for any adverse effects that may arise from the use of this recipe and method or any other recipe and method on this website or corresponding video channel.