Masontops Unboxing – Fermentation Made Easy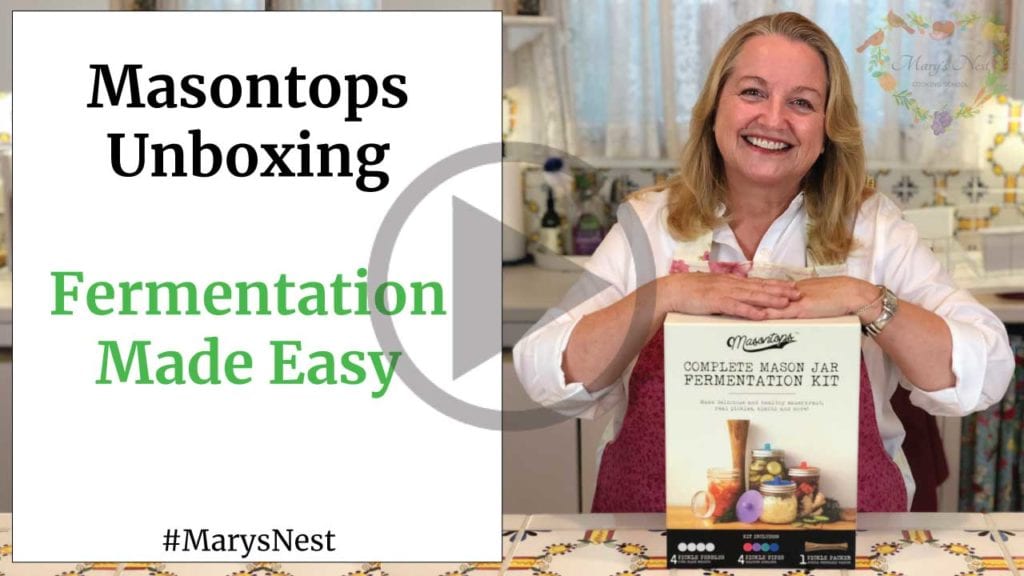 Can you believe that I just learned about Masontops?!? And by the way…This is NOT a sponsored post. I actually bought this product for myself.
I have always taken a very simple path when it comes to fermenting. Using canning jars with canning lids and rings, plus a small 4-ounce jelly jar as a weight, has been my usual method.
Enter "Masontops"
However, my old way may take a back seat to something new I just discovered—the Masontops Complete Mason Jar Fermentation Kit. The box states that it's filled with what I like to call a "krautpounder", four glass weights, and four clever little silicon lids. These lids are designed to keep oxygen away from the ferments while letting the carbon dioxide escape.
Use promo code MARYSNST for a one-time 15% off Masontops and Breadsmart products on Amazon.com.
So what's in the box?
In this YouTube video, I open the box and share what the contents look like. I'll admit…I'm impressed and look forward to giving it a try. I especially like the silicon lids that will eliminate the daily need of loosening the canning lids to release the build-up of carbon dioxide. And hopefully, they'll prevent the sometimes messy overflow that can happen with fermentations.
When you forget to loosen the lids and then attempt the task after a few days, things can get out of hand!! You can watch the mess I made in this video. 😉
Subscribe to my channel for more easy recipes
And while you're visiting my Mary's Nest YouTube channel, be sure to subscribe and click on the notification bell that will let you know each time I upload a new video.
I look forward to having you join me in my Texas Hill Country Kitchen!
Love,
Mary
♥
Shop for items used in this blog post or video
Visit my Shopping Guide page
Learn where I buy my Beef Bones, Wild-Caught Fish, Sprouted Grains, and more...and learn about Special Discounts for Mary's Nest visitors, including from US Wellness Meats, Vital Choice, Masontops, and Breadsmart.
Product mentioned in this video:
Use promo code MARYSNST for a one-time 15% off Masontops and Breadsmart products on Amazon.com.
Favorite Fermented Beverage Making Supplies:
***
*A Note About Affiliates: My videos, video descriptions, and blog posts may contain affiliate links to various products. As an Amazon Associate I earn from qualifying purchases. If you click through and make a purchase, I'll receive a small commission. It does not affect the price you pay.
**Disclaimer: I am not a medical doctor, a medical professional, a dietician, or a nutritionist. All content found on the MarysNest.com website, including text, images, videos, eBooks or eGuides, social media, or other formats, were created solely for informational purposes only. The content is not intended to be a substitute for professional medical advice, diagnosis, or treatment. Always seek the advice of your physician or other qualified healthcare provider with any questions you may have regarding a medical condition or proper nutritional advice. Never disregard professional medical advice or delay in seeking it because of something you have watched in a video or read on this website.