How to Make the Best Beef Stew and Avoid 5 Common Mistakes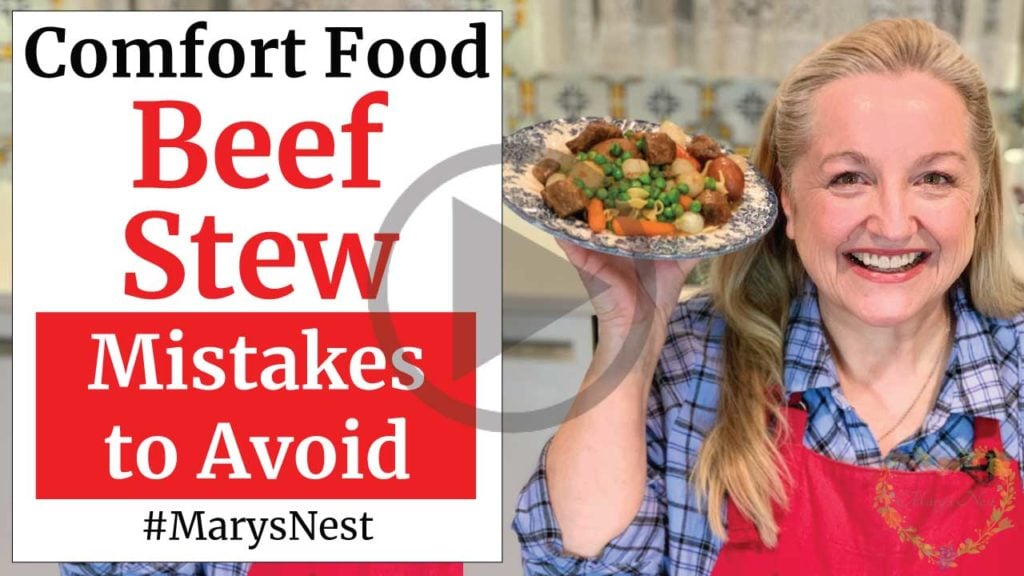 Have you made beef stew in the past and found that it just didn't come out the way you had hoped or the way it looked in the cookbook photograph? Don't feel bad. It happens to the best of us!
Today, I am going to help you put those less than stellar beef stews behind you. I share the 5 most common mistakes that home cooks make when it comes to beef stew. And once you avoid these 5 mistakes, you'll make the best beef stew ever!
*Affiliates note: As an Amazon Associate I earn from qualifying purchases. My content may contain affiliate links to products and services. If you click through and make a purchase, I'll receive a small commission. It does not affect the price you pay.
The 5 Mistakes When it Comes to Beef Stew
In my recipe video, I go into detail as to what the five mistakes are when it comes to making beef stew, but I'll quickly review them here:
Picking the wrong cut of meat
Not browning the meat
Adding the vegetables too soon
Not simmering the stew long enough
Not serving the soup with the right accompaniment
I can't stress enough how important each one of these is, but if I had to pick one, I would say that not browning the meat is such a common mistake! If you made beef stew in the past and instead of the stew having a rich, beautiful brown color, it more resembles a grey concrete mixture…well, you probably didn't brown the meat. (Watch my recipe video to learn how to best brown your stew meat.)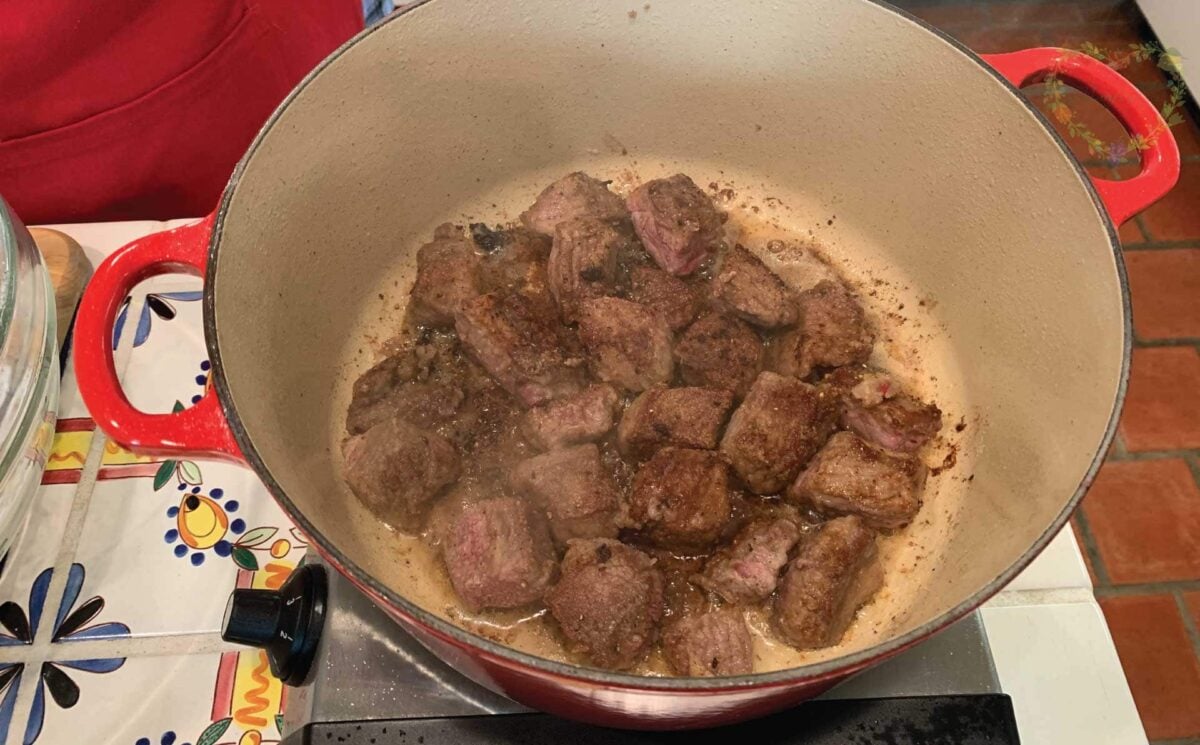 But from now on, if you avoid that mistake, as well as the others listed earlier, you'll make a delicious stew that friends and family alike will inhale and ask for seconds!
Choose Inexpensive Meats for a Budget-Friendly Meal
If you have been with me for a while, you know that I often talk about staying "in the budget"—specifically the grocery budget. And that is why I love making beef stew because it is such a budget-friendly meal. Why? Because the good news is that to make a great beef stew, you want to buy the cheapest cut of meat you can find. The cheapest? You heard me right!
Save your money and buy an inexpensive chuck roast (preferably bone-in if you can find it) instead of a sirloin. If you try to make a beef stew with an expensive sirloin, you will turn it into shoe leather, and your good hard-earned money will go down the drain!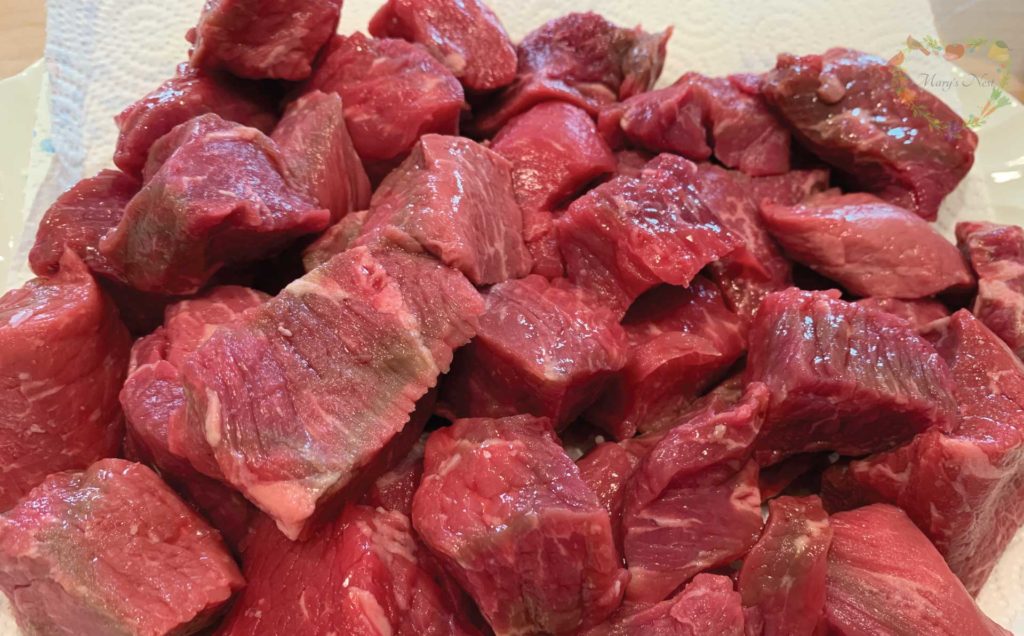 But a chuck roast, which is a tough cut riddled with fat, is going to be cooked low and slow to soften the meat and melt all the fat. This process makes the most delicious beef stew since the cubes of cooked meat are going to melt in your mouth!
Add Extra Nutrition to Your Beef Stew
Here are a few options to add extra nutrition to your beef stew, depending on what ingredients you have.
Option 1: Bone-in Chuck Roast
If you are lucky enough to find a bone-in chuck roast, be sure to throw that bone into the stew as you are cooking it. The bone will add nutrition to the stew gravy.
Option 2: Beef Bone Broth
If you can't find a bone-in chuck roast, don't worry. Try using beef bone broth as the liquid for your stew. The bone broth will enhance the flavor, and it will increase the nutrition and digestibility of the stew, thanks to all the gelatin in the bone broth.
Option 3: Fortified Wine or Apple Cider Vinegar
If you have neither a bone nor beef bone broth on hand, you can still increase your stew's nutrition by adding a bit of wine, fortified wine, or a touch of apple cider vinegar to your stew when you are cooking it. The acid in these liquids will help pull out the collagen in the meat and release it into the stew gravy.
Now, you might wonder why you should pull out the collagen from the meat if you are already eating the meat? Well, gelatin is cooked collagen. When cooking releases the collagen from meat and bones, it is easier for our bodies to digest the liquid collagen. This collagen (or gelatin) helps us assimilate all the nutrients in a meal when we digest our food.
When Life Gives You Bones…Make Bone Broth!
If you have a collection of beef bones, be sure to try making Beef Bone Broth. Choose the video that uses the vessel (slow cooker, stovetop, or Instant Pot) that you'd like to use to make beef bone broth:
The following videos help you learn more about the best bones for making beef bone broth and why gelatinous bone broth is so important.
You can even dehydrate your bone broth, if you are tight on space or if you'd like to create a shelf-stable bone broth that you can store in your extended pantry. (Not sure what else to include in your pantry? Be sure to download my free 36-page pantry list.)
And if you're a member of our Traditional Foods Kitchen Academy, watch this video for a complete bone broth class. (The link also includes information on how you can become a Kitchen Pioneer.)
US Wellness Meats Discount Code
If you can't find the cuts of meat that you want from your local grocery store or if you're looking for particular bones to make a gelatinous beef bone broth, check out US Wellness Meats to get beef, poultry, pork, and other meats to create a nutrient-dense meal for you and your family.
Use promocode MARYNEST and my US Wellness Meats link to save 15% off regular-priced items in your order.
Curious how US Wellness Meats packs their orders? Watch the following unboxing video to see the items that I purchased from them.
More Dinner Recipes
Ready for more dinner recipes perfect for these cooler months? Be sure to watch the following recipe videos to learn how to make wonderful comfort food dishes.
Stay in Touch with Mary's Nest
Subscribe to My YouTube Channel for Traditional Foods Videos (Free) - When you subscribe, be sure to click on the notification bell that will let you know each time I upload a new video.
Subscribe to Mary's Traditional Foods Newsletter (Free) - Get a free 36-page eBook for signing up: How to Stock Your Essential Traditional Foods Four-Corners Pantry.
Join the Traditional Foods Kitchen Academy (Optional Paid) - For more detailed videos, live streams, and exclusive members-only perks, join my YouTube membership community.
Order The Modern Pioneer Cookbook (Optional Paid) - Get a printed book of Mary's nourishing recipes from a Traditional Foods Kitchen. This bestselling cookbook is published by Penguin Random House with their DK imprint.
I look forward to having you join me in my Texas Hill Country Kitchen!
Shop for items used in this blog post or video
Favorite Kitchen Supplies
Use promo code MARYSNST for a one-time 15% off Masontops and Breadsmart products on Amazon.com.
Use my Mockmill affiliate link for a special one-time 5% discount on Mockmill Stone Grain Mill products, including the new Flake Lover's Flaker. (The Mockmill discount will appear when you checkout.)
Amazon Shop and Shopping Guide
Recommended Reading
**Disclaimer: I am not a medical doctor, a medical professional, a dietician, or a nutritionist. All content found on the MarysNest.com website, including text, images, videos, eBooks or eGuides, social media, or other formats, were created solely for informational purposes only. The content is not intended to be a substitute for professional medical advice, diagnosis, or treatment. Always seek the advice of your physician or other qualified healthcare provider with any questions you may have regarding a medical condition or proper nutritional advice. Never disregard professional medical advice or delay in seeking it because of something you have watched in a video or read on this website. Use caution when following the recipe in this video. The creator and publisher of this video and website will not be held responsible for any adverse effects that may arise from the use of this recipe and method or any other recipe and method on this website or corresponding video channel.