How to Make Homemade Sloppy Joes
Here's a quick and easy recipe for homemade Sloppy Joes. And best of all, it's delicious and budget-friendly too!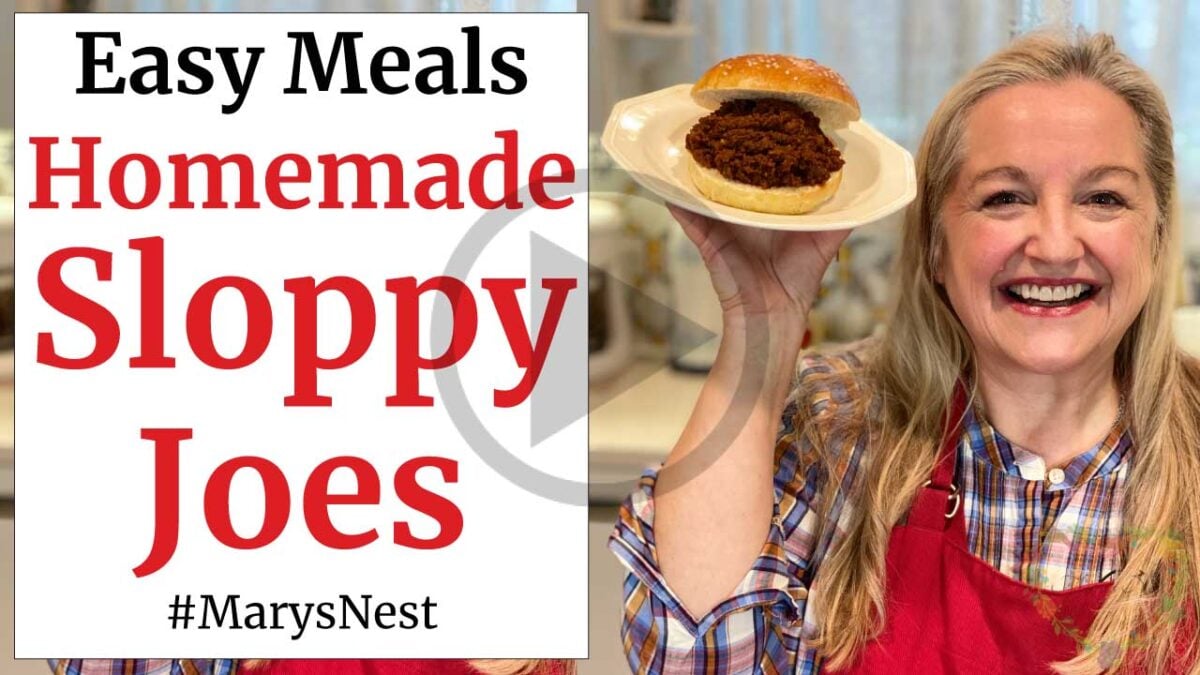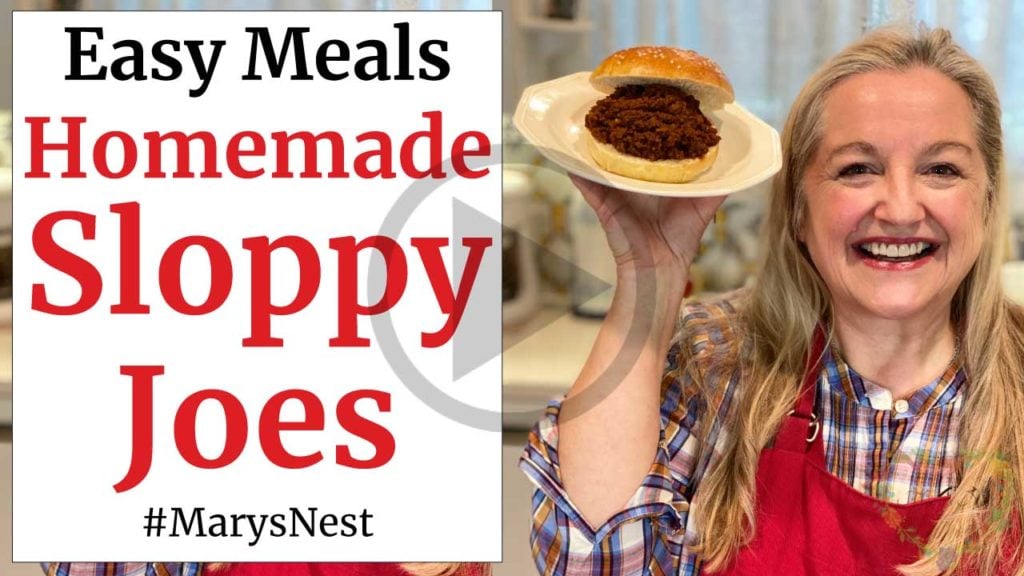 Homemade Sloppy Joes Are the Best
Sloppy Joes bring back lots of wonderful childhood memories, so when I ran across a magazine that talked about making them homemade, I knew that I wanted to share my take on a Sloppy Joes recipe with you!
This adapted Sloppy Joes recipe is the perfect balance of being slightly sweet, but not overly sweet. However, it's still as tasty as we all remember and a lot more nutritious than the kind that they sell in a can.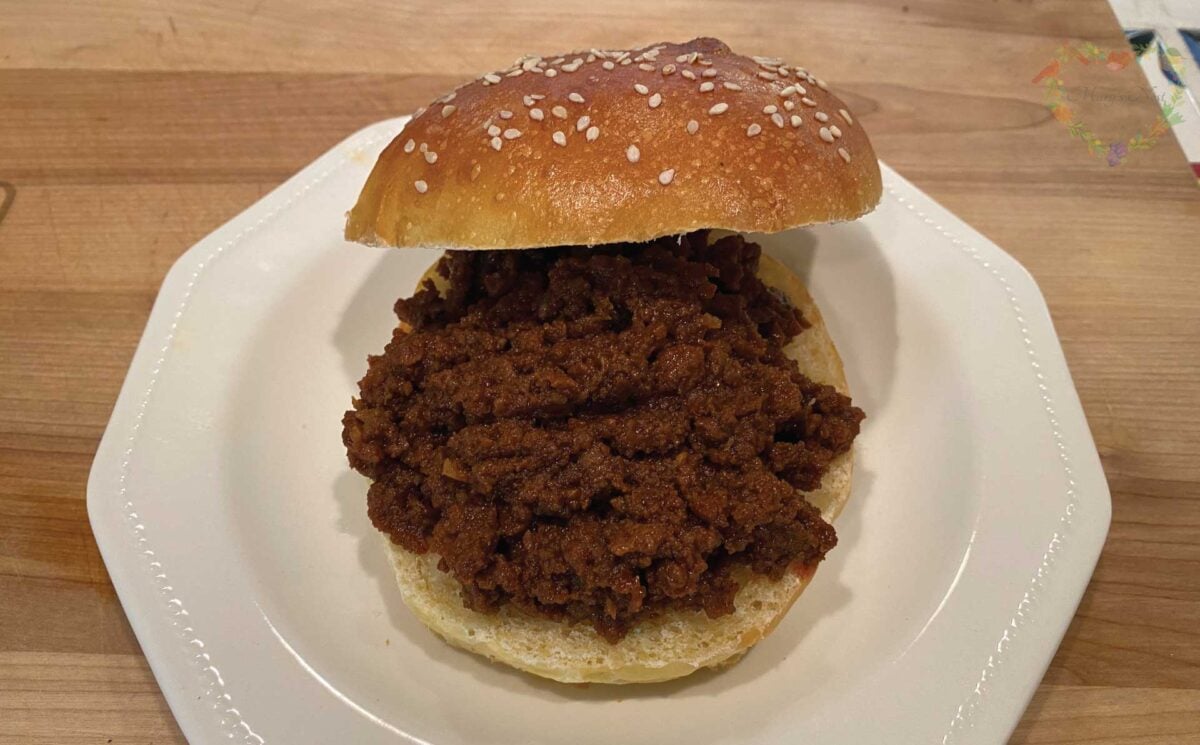 I also share a few tips for how to make these Sloppy Joes in a way that will help them stay on the bun more easily. (And not just any bun. In my recipe video, I use homemade hamburger buns!)
The tasty consistency of the recipe helps us enjoy more of the Sloppy Joe on our hamburger bun and share less with our plates! 😉
Sloppy Joes for a Budget-Friendly Meal
Sloppy Joes are an ideal budget-friendly meal because you can make them with ground beef, instead of having to use pricer cuts of beef.
The best ground beef for this recipe is one that is 85% lean/15% fat. This grade of ground beef is also generally less expensive than the leaner ground beefs.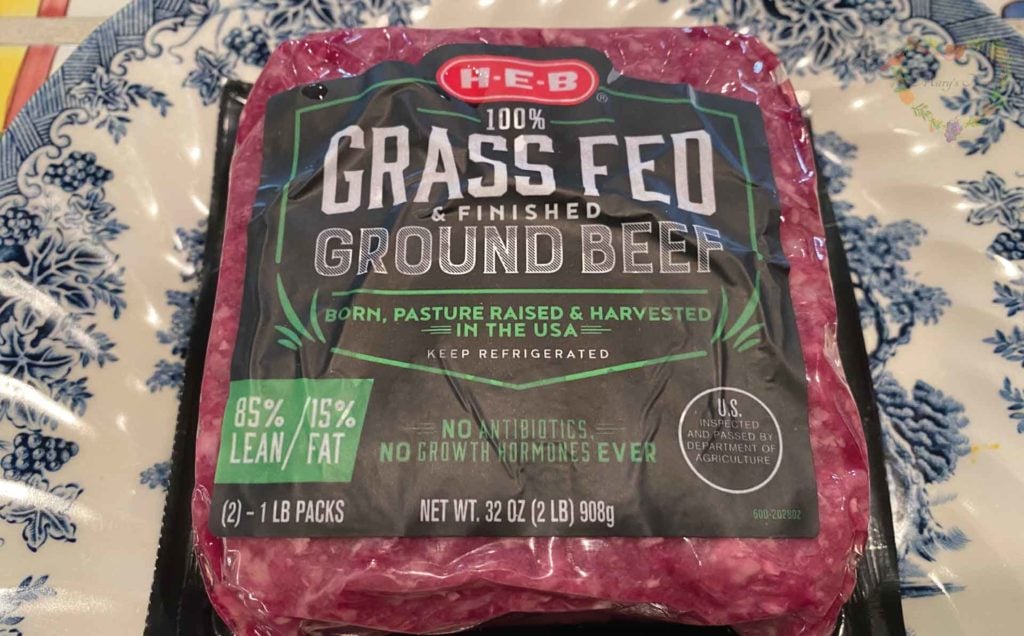 Note that instead of "ground beef," I sometimes use the term "chopped meat," since that's a term I grew up with when my mom made meals for us in her mid-century kitchen.
But don't be worried that these Sloppy Joes will be greasy. You'll learn how to combine the fat from the ground beef with a little bit of cornstarch (or other thickener if you can't have corn) will turn your Sloppy Joe sauce into something deliciously smooth without any hint of grease. It won't be runny either!
Homemade Hamburger Buns for Your Sloppy Joes
If you have time to do some baking in your kitchen, be sure to serve up your Sloppy Joes on homemade hamburger buns.
As I show you in my recipe video, these hamburger buns are so easy to make with real ingredients that you will never want to buy the factory-made ones from your grocery store again.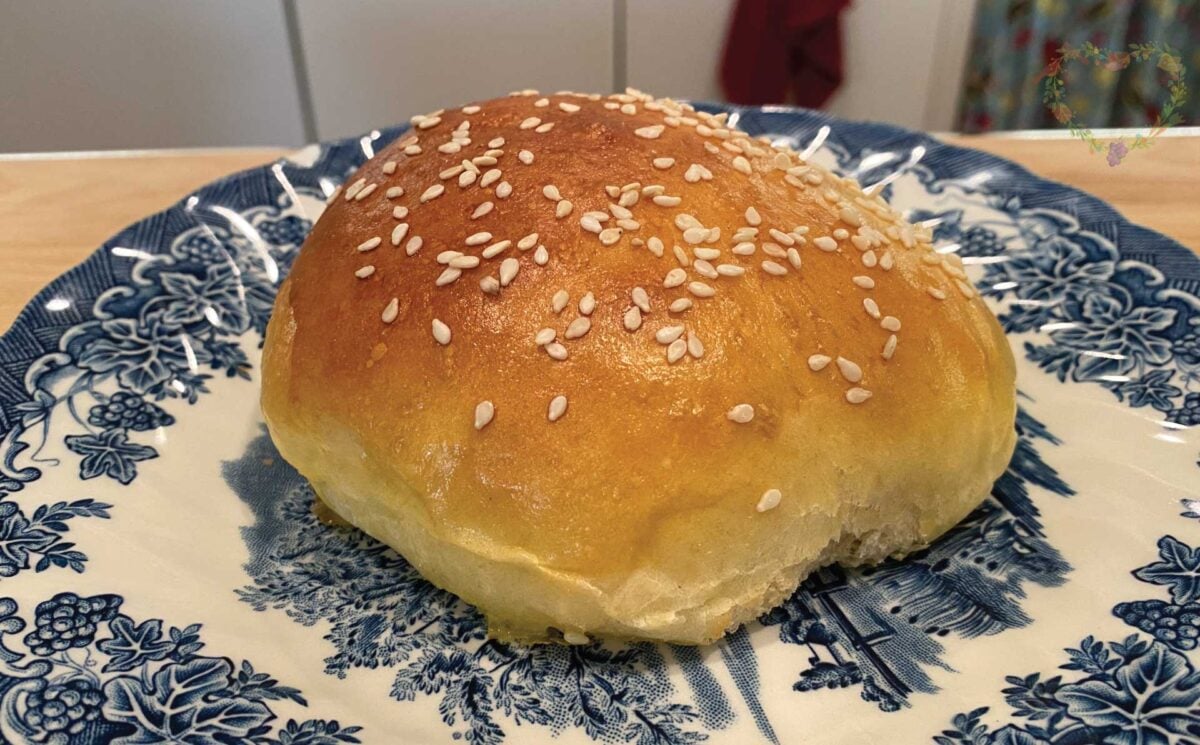 Plus, these hamburger buns are perfect for Sloppy Joes because they are pillowy soft on the inside, yet firm enough to hold any filling. So they won't turn your sandwich into a mushy mess!
So be sure to check out the recipe below to learn how to make homemade hamburger buns. I walk you through the process step-by-step to make the process easy for beginner bakers.
Sloppy Joe Ingredients
When you make homemade Sloppy Joes, you can tailor the ingredients exactly to your tastes. Unfortunately, in addition to not having the best ingredients, sometimes the canned versions can be cloyingly sweet.
To avoid this excessive sweetness, I scaled back how much ketchup goes into these Sloppy Joes, and instead, I added other flavorful ingredients to round out the right balance of sweet and tangy.
Instead of going overboard with ketchup in this recipe, you'll add a tasty combination of:
Tomato paste
Vinegar
Worcestershire sauce
This combination, along with a bit of ketchup, helps you make Sloppy Joes that adults and children will love!
Should I Use Fermented Ingredients in my Sloppy Joes?
Although I have taught you how to make fermented ketchup and apple cider vinegar, you'll want to save these fermented foods for other recipes. You don't want to cook either of these fermented foods because you do not want to destroy all the beneficial bacteria found in them.
However, you can certainly top your hamburger with fermented ketchup before serving your hamburger dish. Or you can use your fermented ketchup in other ways that does not heat the ketchup. Also, your apple cider vinegar is perfect for making your homemade salad dressings!
What is the Best Sugar for Sloppy Joes?
When it comes to adding that touch of sweetness to your Sloppy Joes, pick a sugar that is rich in the taste of molasses. Sucanat is an excellent choice since it is dried sugar can juice with all the molasses intact. You could also use brown sugar, which has the molasses added back into white sugar.
In my Essential Sugars video, I go into more detail all about Sucanat and other whole sweeteners. I also share which sugars are the best for your traditional foods kitchen.
In case you don't have any brown sugar in your pantry, but you do have white sugar and molasses, I show you how to make your own homemade versions of light brown sugar, dark brown sugar, and a mock Sucanat.
Budget Friendly Recipes
Sloppy Joes are a budget-friendly recipe, and that's something we certainly need right now! For more affordable recipes that don't bust the grocery budget, check out the following videos.
And like Sloppy Joes, Tuna Boat Surprise is both a vintage school lunch favorite and budget-friendly.
Shopping on a Budget
Grocery prices seem to be rising every day, so we need to shop judiciously and stretch our dollar as far as it can go. In the following video, I share tips on how to shop for traditional foods on a budget.
And as you stock your Prepper Pantry, be sure to watch my Prepper Pantry on a budget video that has over 650,000 views on YouTube as of this writing. (Its companion video about how to stock your Prepper Pantry with real food has over 1.2 million views.). I walk you through the easy way to add more groceries to your shopping cart each week for as little as $5.00 extra added to your grocery budget.
In the two videos below, I share with you how I shop for traditional foods at both Costco and Sam's Club. And I share prices too!
Download Your Free 36-Page Pantry List
Not sure what to put into your Four Corners Pantry, which includes your Prepper Pantry? For an extensive list of the traditional foods you can make and purchase to stock your pantry, be sure to download my free 36-page Traditional Foods Pantry List. This comprehensive eBook is full of links to recipe videos, helpful articles, and more!
And if you're looking for a printed book full of my traditional foods recipes that shows you how to create a traditional foods kitchen, be sure to order your copy of my new book, The Modern Pioneer Cookbook.
Incorporating More Organ Meats
In my Sloppy Joes video, I talk about optionally using ground beef that includes organ meats as a way to get more nutrition and traditional foods into your recipes.
Organ meats are nutritious and extremely high in a wide array of vitamins and minerals, including vitamins A and D. Vitamin A contributes to your eye health, and Vitamin D helps keep your bones strong.
And when you incorporate organ meats into your diet, you are eating from the nose to the tail of the animal, wasting nothing.
To learn one of the tastiest recipes for incorporating beef liver into your diet, check out the following recipe video. It's a kids' crowd pleaser too!
And the next time you want to impress your guests, be sure to serve them chopped chicken livers. It's easy to make and very tasty. Your friends will think you splurged on a fancy pâté!
Looking for Ground Beef with Organ Meats?
If you can't find grass-fed and grass-finished ground beef in your neighborhood supermarket or farmer's market, check out US Wellness Meats.
They sell organic grass-fed and finished ground beef, as well as ground beef mixed with organ meats for added nutrition. (You'll never know they're in there!)
Use discount code MARYNEST and my link to save 15% off regular-priced items on your US Wellness Meats order. You can shop for a variety of products, including:
This post is not sponsored. I'm a long-time customer of US Wellness Meats because I have always been impressed by the quality of their products. Check out my US Wellness Meats unboxing video to see the types of products you can get, including bones for beef bone broth!
Join the Traditional Foods Kitchen Academy
Are you looking for more traditional foods videos? If so, I invite you to join the Traditional Foods Kitchen Academy. Members of this optional paid YouTube community get access to exclusive videos, live streams, and other members-only perks. Plus, your YouTube comments include a special members-only badge.
In the following members-only video, I give you a full-length cooking class on How to Make Beef Bone Broth.
In today's vodcast, I answer all the questions I received from you about making L. reuteri cultured dairy.
Come join us and learn about my favorite old…and new…cookbooks!
Learn about new forms of cultured dairy in my latest live stream for Kitchen Pioneers.
Stay in Touch with Mary's Nest
Subscribe to My YouTube Channel for Traditional Foods Videos (Free) - When you subscribe, be sure to click on the notification bell that will let you know each time I upload a new video.
Subscribe to Mary's Traditional Foods Newsletter (Free) - Get a free 36-page eBook for signing up: How to Stock Your Essential Traditional Foods Four-Corners Pantry.
Join the Traditional Foods Kitchen Academy (Optional Paid) - For more detailed videos, live streams, and exclusive members-only perks, join my YouTube membership community.
Order The Modern Pioneer Cookbook (Optional Paid) - Get a printed book of Mary's nourishing recipes from a Traditional Foods Kitchen. This bestselling cookbook is published by Penguin Random House with their DK imprint.
I look forward to having you join me in my Texas Hill Country Kitchen!
Shop for items used in this blog post or video
Favorite Kitchen Supplies
More Kitchen Supplies with Discount Codes
Learn more about Mockmill electric grain mills for making fresh flour and their Flake Lover's Flaker that flakes whole grain in minutes.
Use promo code MARYSNST for a one-time 15% off Masontops and Breadsmart products on Amazon.com.
Amazon Shop and Shopping Guide
Visit my Shopping Guide page
Get up to 15% off for stocking your Traditional Foods Pantry and equipping your Modern Pioneer Kitchen, including discounts from US Wellness Meats, Farmhouse Teas, Lehman's, Masontops, Cultures for Health, Survival Garden Seeds, Redmond Real Salt, Plan to Eat, and More!
Recommended Reading
**Disclaimer: I am not a medical doctor, a medical professional, a dietician, or a nutritionist. All content found on the MarysNest.com website, including text, images, videos, eBooks or eGuides, social media, or other formats, were created solely for informational purposes only. The content is not intended to be a substitute for professional medical advice, diagnosis, or treatment. Always seek the advice of your physician or other qualified healthcare provider with any questions you may have regarding a medical condition or proper nutritional advice. Never disregard professional medical advice or delay in seeking it because of something you have watched in a video or read on this website. Use caution when following the recipe in this video. The creator and publisher of this video and website will not be held responsible for any adverse effects that may arise from the use of this recipe and method or any other recipe and method on this website or corresponding video channel.