Costco Haul with Prices for the Traditional Foods Kitchen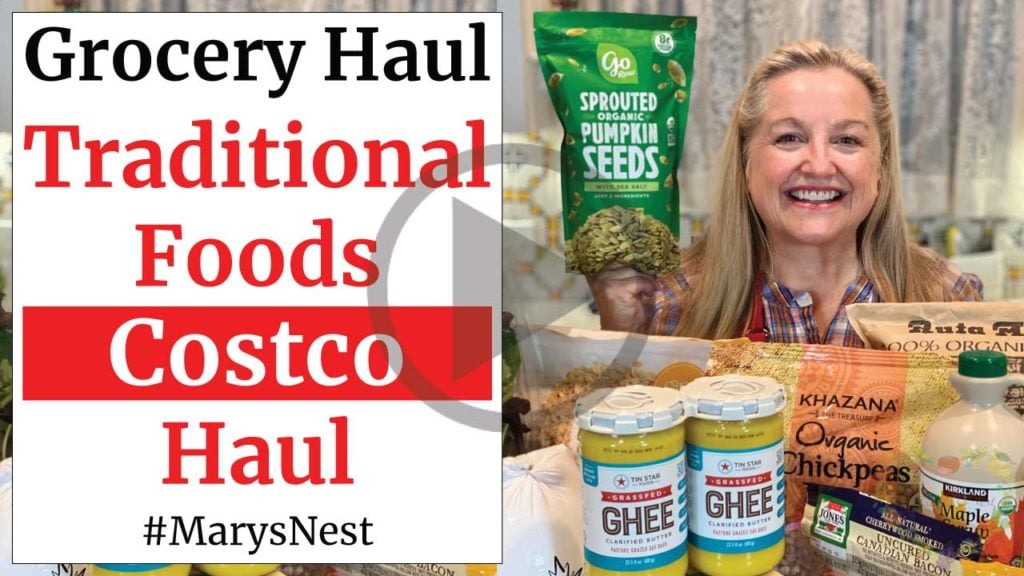 Join me today as I share with you my recent Costco Haul with Prices for the Traditional Foods Kitchen. I'll show you the traditional foods products that I look for, as well as some of the items that I didn't purchase on my recent grocery haul.
*Affiliates note: As an Amazon Associate I earn from qualifying purchases. My content may contain affiliate links to products and services. If you click through and make a purchase, I'll receive a small commission. It does not affect the price you pay.
A Costco Haul for Traditional Foods
If you have been with me awhile, you know that I love to shop at my local Texas grocery store H-E-B, but on occasion, I head into Austin and shop for traditional foods—real foods—at Costco. I always comparison price shop to make sure that I am getting the most for my dollar, and I want to share my Costco Haul with you to help you save and stock your pantry too!
How to Shop for Traditional Foods at Costco
As you make the transition from a processed foods kitchen to a Traditional Foods Kitchen, you'll find Costco to be an outstanding resource for traditional nutrient-dense foods. If you don't mind buying some foods in bulk, you can enjoy significant cost savings. And remember, you can easily repackage many of the dry goods for long-term storage.
When you shop at Costco, you have to keep in mind that the items they carry often change with the seasons. If you like to cook and eat seasonally, as I do, you'll look forward to their changing variety of goods. Items can also go in and out of stock and sometimes may be discontinued, so as you're going down the aisles for your Costco haul, don't hesitate to grab those food items that you know you will need over the next couple of months. The next time you come back, Costco may no longer carry the item, or they may simply be out of stock.
Watch for Costco Sales and Discontinued Items
Speaking of discontinued items, be sure to keep your eyes out for these great buys. On my most recent trip, Costco was discontinuing a large jar of organic, low-sugar, and seedless raspberry jam (my husband's favorite!). Costco drops the price to move items quickly, as often is the case with their discontinued items. In the case of this jam, they lowered the price by $1.50, bringing the cost down to about $3.99. That was a real bargain for such a large jar, so I bought two. I certainly couldn't make it homemade for that price!
As you peruse the aisles at Costco, keep your eye out for items you use that may be on sale. As you'll see in my Costco Haul video, the discounts can often be significant, such as with my recent purchase of Kirkland Macadamia Nuts that was on sale for $4.00 off! Costco frequently discounts items with significant markdowns, so when you come across these great bargains, you'll know that it'll be the perfect time to stock up, not only for your everyday working pantry, but for your Prepper Pantry as well.
A Costco Haul for the Prepper Pantry
Your extended or Prepper Pantry is the area in your home where you store extra food, water, and other supplies that you can use to restock your everyday working pantry. In addition, your Prepper Pantry will provide you with your essential foods if you face an emergency situation like bad weather, disruptions to the supply chain, illness, or even job loss.
When it comes to stocking your Prepper Pantry, Costco can be a great place not only to get started building your supplies but also to restock items as you use them up. Costco sells many canned items in boxes that are easy to store away by simply stacking them one on top of the other. For example, I like the easy-to-store packages of Kirkland Diced Tomatoes.
Since Costco packages many of their food items in bulk, the per-item cost is lower, making stocking up easier on the budget. And as I shared above, you can easily repackage bulk food items into smaller amounts.
Foods I Didn't Purchase at Costco
In my Costco Haul video, I talk about some of the foods that I didn't purchase. I didn't mention Apple Cider Vinegar, but that's another item that didn't make it into my checkout cart.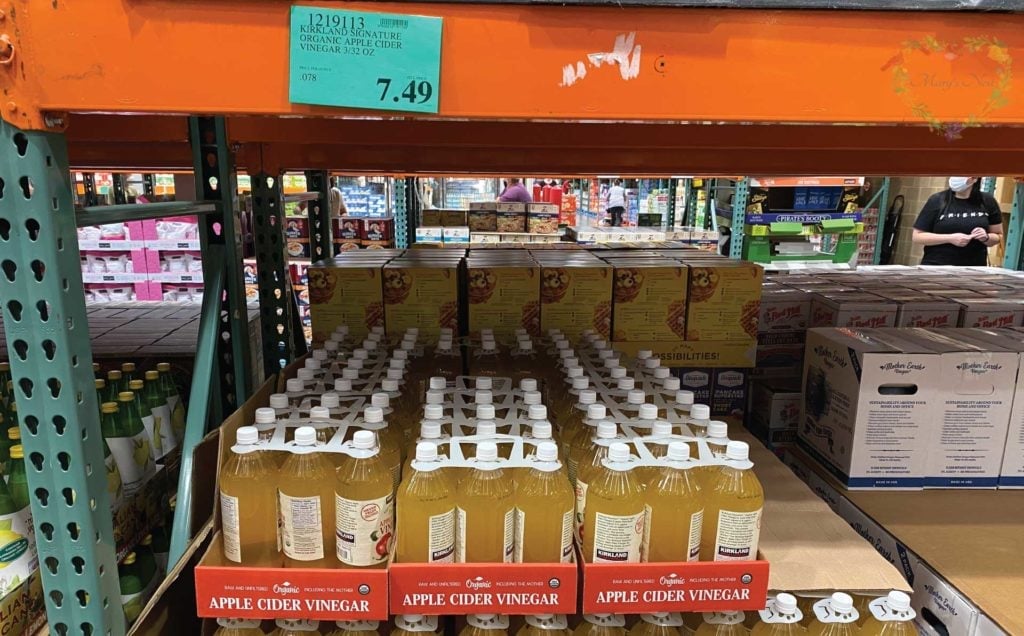 That's because it's so easy to make your own Apple Cider Vinegar with the mother, as I show you in my tutorial video. However, you can always add organic Apple Cider Vinegar to your Costco Haul to supplement the vinegar you make at home. Their Kirkland brand bottles are excellent for long-term storage in your Prepper Pantry.
Roast Chicken Recipes
As part of my Costco Haul, I purchased whole chickens and chicken breasts. I prefer whole chickens since I can use the chicken bones to make bone broth. However, when you don't have much time to cook up a meal, having organic chicken breasts in your refrigerator or freezer can be a lifesaver.
If you've never roasted a chicken before, I've got you covered with step-by-step instructions in the videos below. Choose one of the recipes to make your roast chicken, and you'll have a life skill that will propel you down your traditional foods journey.
Bone Broth Recipes
As I was walking through their freezer section, another traditional food poultry item caught my eye. I show you the duck that I purchased in my Costco Haul video. After I roast the duck for my family, I'll save the bones to make bone broth. You'll make duck bone broth in the same way that you make chicken bone broth, and I show you how to make chicken bone broth in the Instant Pot, slow cooker, or stovetop in the following videos.
Chicken Breast Recipe Video
If you like the convenience of keeping some easy-to-defrost boneless skinless chicken breasts on hand, be sure to try this delicious recipe for Crispy Chicken Cutlets. These tasty cutlets are always a hit at our dinner table.
What's the Best Way to Cook Bacon?
In my video, I show you a package of turkey bacon that I purchased at Costco. I had never bought this type of bacon before, but I thought I would give it a try. (Update: We cooked it in the oven, and it's delicious!)
And speaking of bacon, if you have pork bacon that you'd like to make for a traditional breakfast with eggs and sourdough toast, check out my video below for how to cook bacon in the oven that's perfect every time with an easy cleanup.
Get Started with Water Bath Canning
Costco is a great resource for canned goods of all kinds, but keep your eyes open every time you shop there because their inventory changes, and sometimes many things can be sold out! In my Costco Haul video, I show you canned tomatoes that I purchased on a previous Costco shopping trip because they were out of this product on my recent visit. So don't wait or hesitate when you see what you need. When it's in stock—stock up!
Canned products are excellent to store in your extended or Prepper Pantry. You can also water bath can your own tomatoes and jam. Learning the water bath canning process is another essential traditional foods kitchen skill that you'll want to know, and I show you how in the following videos.
Free 36-Page Pantry List Download
Speaking of your Prepper Pantry, be sure to download my free 36-page Pantry List for the Traditional Foods Kitchen. In this comprehensive eBook, I share all the real foods you want to add to your pantry, especially if you are at the beginning of making the transition from a processed foods kitchen to a traditional foods kitchen.
This downloadable eBook is not just a list of items to buy. I share lots of valuable information on how to start incorporating traditional foods into your meals, along with links to step-by-step videos and printable recipes.
If you're new to creating a Prepper Pantry, watch the first three videos in my Prepper Pantry Series. In those videos, you'll learn:
Herb videos
As you become more conscious about stocking your pantry with real food and saving money at the same time, you might enjoy learning how to grow your own herbs. It's easy to do even if you just have a sunny windowsill.
And once you start growing your herbs, you can dry them to preserve them. I show you how to dehydrate and dry your herbs in the following video, and the good news is that you don't even need any special equipment!
If you want to grow or purchase the essential herbs for your herbal medicine cabinet, I show you the 15 (10+5) best ones to get in the following videos.
Mountain Rose Herbs
If you are just starting with an herb garden and you want to buy some seeds, I highly recommend that you check out Mountain Rose Herbs. And don't forget to use the updated coupon code below for a significant savings! (This is not a sponsored post. I am a long-time and satisfied customer of Mountain Rose Herbs.)
If you are not ready to grow your own herbs, Mountain Rose Herbs also sells a wide selection of dried herbs and spices perfect for your culinary uses or for making home remedies.
A Word of Caution as to Medicinal Herbs
Although we may think of herbs as mere ingredients we toss in our pasta sauce, many herbs have potent medicinal properties and have been used as medicine for centuries. With this in mind, you need to approach herbs with knowledge and caution.

If you are pregnant, nursing, taking medication (over the counter or prescription), have allergies, or are thinking of using medicinal herbs with children, make sure you first talk to your doctor, pediatrician, or other health care professional. You want to ensure that the herbs you plan to use will not adversely affect you or your children. I can't stress this enough! Herbs are medicine. Never be casual or negligent in their use.
Chickpeas, Beans, and More
In my Costco Haul, I was so pleased to find a huge bag of dried chickpeas! They are so versatile and can be used in all sorts of recipes, from homemade hummus to salads, soups, and more! And along with chickpeas, Costco has also been selling large bags of dal (Indian lentils), which are perfect for making Kitchari. Watch my Kitchari recipe video to learn how to make this simple dish that is wonderful for digestive health.
And if you're a Traditional Foods Kitchen Academy member, I also bring you behind the scenes on the filming of this recipe with this special member video.
Recipe Videos with Oats
You can now buy organic sprouted rolled oats at Costco, and I show you the kind that I buy in my Costco Haul video. You can use these oats in any type of baked good and make oatmeal without soaking the oats overnight. In addition, you can turn the rolled oats into oat flour (a gluten-free flour) with a simple blender.
However, if you would like to learn how to make old-fashioned oatmeal, starting with oat groats (the whole oat), I show you an easy process for making soaked oatmeal in the following video.
And when you are ready to start making your own sprouted flour, I walk you through the whole process, step-by-step.
More Haul Videos
Do you like all types of haul videos? If so, you'll enjoy the videos below where I share the kitchen and garden treasures that I look for in thrift stores, junk shops, and the garbage.
Kitchen Academy Videos
Are you looking for more traditional foods videos? I invite you to join the Traditional Foods Kitchen Academy. Members of this optional paid YouTube community get access to exclusive videos, live streams, and other members-only perks.
In the following members-only video, I talk about stocking the Traditional Foods Pantry.
Stay in Touch with Mary's Nest
Subscribe to My YouTube Channel for Traditional Foods Videos (Free) - When you subscribe, be sure to click on the notification bell that will let you know each time I upload a new video.
Subscribe to Mary's Traditional Foods Newsletter (Free) - Get a free 36-page eBook for signing up: How to Stock Your Essential Traditional Foods Four-Corners Pantry.
Join the Traditional Foods Kitchen Academy (Optional Paid) - For more detailed videos, live streams, and exclusive members-only perks, join my YouTube membership community.
Order The Modern Pioneer Cookbook (Optional Paid) - Get a printed book of Mary's nourishing recipes from a Traditional Foods Kitchen. This bestselling cookbook is published by Penguin Random House with their DK imprint.
I look forward to having you join me in my Texas Hill Country Kitchen!
---
Shop for items used in this blog post or video
Favorite Prepper Pantry Food Storage Supplies
Favorite Kitchen Supplies
Use promo code MARYSNST for a one-time 15% off Masontops and Breadsmart products on Amazon.com.
Use my Mockmill affiliate link for a special one-time 5% discount on Mockmill Stone Grain Mill products, including the new Flake Lover's Flaker. (The Mockmill discount will appear when you checkout.)
Amazon Shop and Shopping Guide
Recommended Reading
**Disclaimer: I am not a medical doctor, a medical professional, a dietician, or a nutritionist. All content found on the MarysNest.com website, including text, images, videos, eBooks or eGuides, social media, or other formats, were created solely for informational purposes only. The content is not intended to be a substitute for professional medical advice, diagnosis, or treatment. Always seek the advice of your physician or other qualified healthcare provider with any questions you may have regarding a medical condition or proper nutritional advice. Never disregard professional medical advice or delay in seeking it because of something you have watched in a video or read on this website. Use caution when following the recipe in this video. The creator and publisher of this video and website will not be held responsible for any adverse effects that may arise from the use of this recipe and method or any other recipe and method on this website or corresponding video channel.