Affiliates note: As an Amazon Associate I earn from qualifying purchases. My content may contain affiliate links to products and services. If you click through and make a purchase, I'll receive a small commission. It does not affect the price you pay.
Water Bath Canning Ingredients – Salts, Spices, and Pectin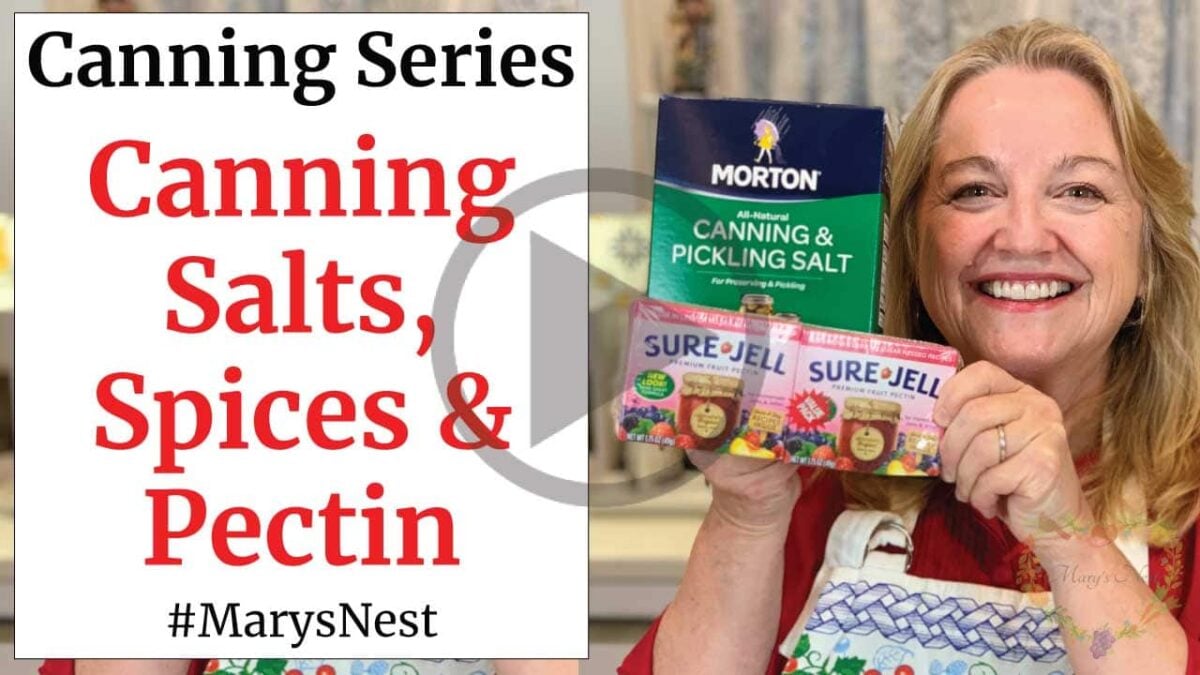 The latest post in my series all about Water Bath Canning discusses the special ingredients you need in addition to your Water Bath Canning Equipment and Supplies.
Salts For Water Bath Canning
Once you decide on a recipe that you want to make and process in a water bath canner, you may find that the recipe calls for salt. But it's not going to be just any salt. You will need canning or "pickling" salt. Why? Because when it comes to home canning, standardization is the key to success, and canning salts are standardized. But don't worry. Canning salts are not hard to find, and they are generally sold in most grocery stores and large "big box" stores.
Flexibility When It Comes to Spices
When it comes to the type of spices that you may want to use in your canned foods, you have a lot of choices. You can certainly buy the prepared spice mixes sold along with the canning salts and other supplies, but it's not required. You can use any spice or spice mixes that you want.
Which Pectin To Choose?
As you start water bath canning, and you decide to try your hand at making homemade jams, jellies, and marmalades, you'll need to learn about pectin. The common question is…do I need to buy pectin? And the answer is no.
You can make jams and more without using commercially prepared pectin. The process is a bit different than if you are using purchased pectin, and you can learn all about this process in the video where I show you How to Make a Three Citrus Marmalade.
If you want the jam-making process to go quicker and decide to buy pectin, there are generally two kinds:
Powdered pectin
Liquid pectin
Both pectins offer similar results, and the choice boils down to which type you like using. As you make more jams, jellies, and marmalades, you will begin to discover which type of pectin you like best and which one works best in the recipes you choose.
What About Lemon Juice?
As we discussed in the Essential Guide to Water Bath Canning Equipment and Supplies, you use the water bath technique to can tomatoes, but most recipes will call for adding extra acid to your canning jar. Generally, you should use bottled lemon juice, as opposed to fresh, because just like tomatoes that contain an uncertain and variable acid level, the level of acidity of the juice from a fresh lemon can be unpredictable too.
But not to worry. Bottled lemon juice is usually very easy to find at most grocery stores. And as a backup, you can use a bit of powdered citric acid, and this powdered acid is usually sold in the same place as the other canning supplies.
More Water Bath Canning Videos
Now that you know about the Water Bath Canning Salts, Spices, and Pectin, learn about Water Bath Canning Books, as well as Water Bath Canning Supplies and Equipment. I also show you how to make Low-Sugar Strawberry Jam and a Marmalade Jam with a step-by-step guide to water bath canning both. Lastly, you'll find videos for canning crushed tomatoes and a Ball Electric Water Bath Canner unboxing.
Stay in Touch with Mary's Nest
Subscribe to My YouTube Channel for Traditional Foods Videos (Free) - When you subscribe, be sure to click on the notification bell that will let you know each time I upload a new video.
Subscribe to Mary's Traditional Foods Newsletter (Free) - Get a free 36-page eBook for signing up: How to Stock Your Essential Traditional Foods Four-Corners Pantry.
Join the Traditional Foods Kitchen Academy (Optional Paid) - For more detailed videos, live streams, and exclusive members-only perks, join my YouTube membership community.
Order The Modern Pioneer Cookbook (Optional Paid) - Get a printed book of Mary's nourishing recipes from a Traditional Foods Kitchen. This bestselling cookbook is published by Penguin Random House with their DK imprint.
I look forward to having you join me in my Texas Hill Country Kitchen!
---
Shop for items used in this blog post or video
Favorite Water Bath Canning Equipment
Amazon Shop and Shopping Guide
Visit my Shopping Guide page
Get up to 15% off for stocking your Traditional Foods Pantry and equipping your Modern Pioneer Kitchen, including discounts from Lehman's, Mockmill Grain Mill, Masontops, Cultures for Health, Survival Garden Seeds, Redmond Real Salt, Plan to Eat, US Wellness Meats, and More!
*Affiliates note: As an Amazon Associate I earn from qualifying purchases. My content may contain affiliate links to products and services. If you click through and make a purchase, I'll receive a small commission. It does not affect the price you pay.
**Disclaimer: I am not a medical doctor, a medical professional, a dietician, or a nutritionist. All content found on the MarysNest.com website, including text, images, videos, eBooks or eGuides, social media, or other formats, were created solely for informational purposes only. The content is not intended to be a substitute for professional medical advice, diagnosis, or treatment. Always seek the advice of your physician or other qualified healthcare provider with any questions you may have regarding a medical condition or proper nutritional advice. Never disregard professional medical advice or delay in seeking it because of something you have watched in a video or read on this website. Use caution when following the recipe in this video. The creator and publisher of this video and website will not be held responsible for any adverse effects that may arise from the use of this recipe and method or any other recipe and method on this website or corresponding video channel.