Learn how to can pears with no sugar with this step-by-step water bath canning tutorial. You can apply this technique to can any fruit. This video is a Canning 101 class that is perfect for beginners.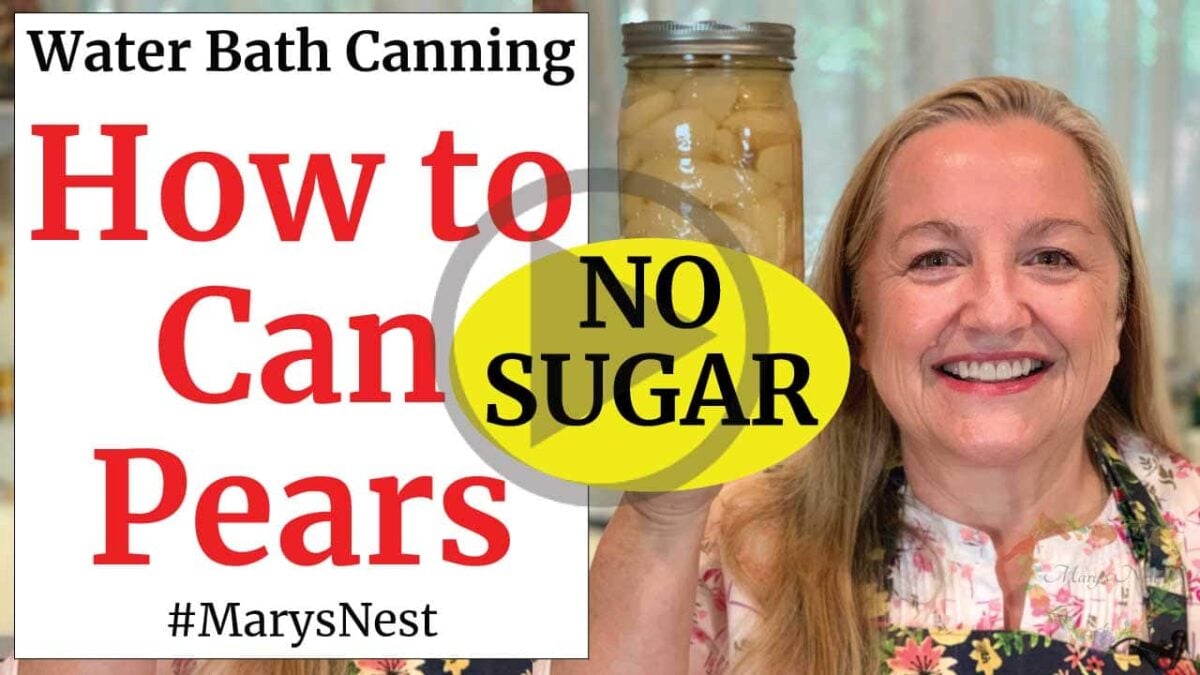 Can You Water Bath Can Fruit?
When it comes to water bath canning, you can water bath can fruit. The secret is to make sure that your fruit has the correct level of acidity because only high acid foods can be water bath canned. So how do we guarantee that our pears—or any fruit for that matter—is acidic enough to be water bath canned? Great question!
Does Bottled Lemon Juice Help with Caning?
You can guarantee the perfect level of acidity for your water bath canned foods by adding a bit of bottled lemon juice to every jar. Manufacturers produce bottled lemon juice to guarantee a certain level of acidity in each measurement, as opposed to a random squeeze of fresh lemon juice that adds an unpredictable acid level. So when it comes time to water bath can pears or any fruit, be sure to have some bottled lemon juice on hand.
Step-by-Step Instructions
In my tutorial video, I walk you through detailed instructions on how to prepare your pears for water bath canning and then proceed with the entire canning process. If you are new to canning, this is the perfect video and printable recipe for you!
Water bath canning is the best place to learn how to can when you are new to canning. This type of canning is less intimidating than pressure canning, plus you do not need any special canning vessel. If all you have is a large stock pot or soup pot, you can start water bath canning. I even show you how to make a makeshift rack out of canning rings in the video!
Related Videos
Now that you've learned the basics of how to water bath can, be sure to try your hand at canning tomatoes and pickles.
Plus, be sure to try making all types of jams, including a low sugar and no sugar strawberry jam. And don't forget to make some marmalade too! 😊
And for the truly adventurous, try making jam just like our grandmothers did—without store-bought pectin!
If you make strawberry jam, do not throw out the scraps. Instead, use them to make homemade strawberry vinegar. It's easy to do, and the recipe just costs pennies to make!
And if you are completely new to water bath canning, be sure to watch the following three videos to learn about the best canning books, plus all the equipment and supplies that you'll need to get started on your canning journey!
Stay in Touch with Mary's Nest
Subscribe to My YouTube Channel for Traditional Foods Videos (Free) - When you subscribe, be sure to click on the notification bell that will let you know each time I upload a new video.
Subscribe to Mary's Traditional Foods Newsletter (Free) - Get a free 36-page eBook for signing up: How to Stock Your Essential Traditional Foods Four-Corners Pantry.
Join the Traditional Foods Kitchen Academy (Optional Paid) - For more detailed videos, live streams, and exclusive members-only perks, join my YouTube membership community.
Order The Modern Pioneer Cookbook (Optional Paid) - Get a printed book of Mary's nourishing recipes from a Traditional Foods Kitchen. This bestselling cookbook is published by Penguin Random House with their DK imprint.
I look forward to having you join me in my Texas Hill Country Kitchen!
Shop for items used in this blog post or video
Amazon Shop and Shopping Guide
Visit my Shopping Guide page
Get up to 15% off for stocking your Traditional Foods Pantry and equipping your Modern Pioneer Kitchen, including discounts from Lehman's, Mockmill Grain Mill, Masontops, Cultures for Health, Survival Garden Seeds, Redmond Real Salt, Plan to Eat, US Wellness Meats, and More!