Bread and Butter Pickles Recipe with Water Bath Canning Tutorial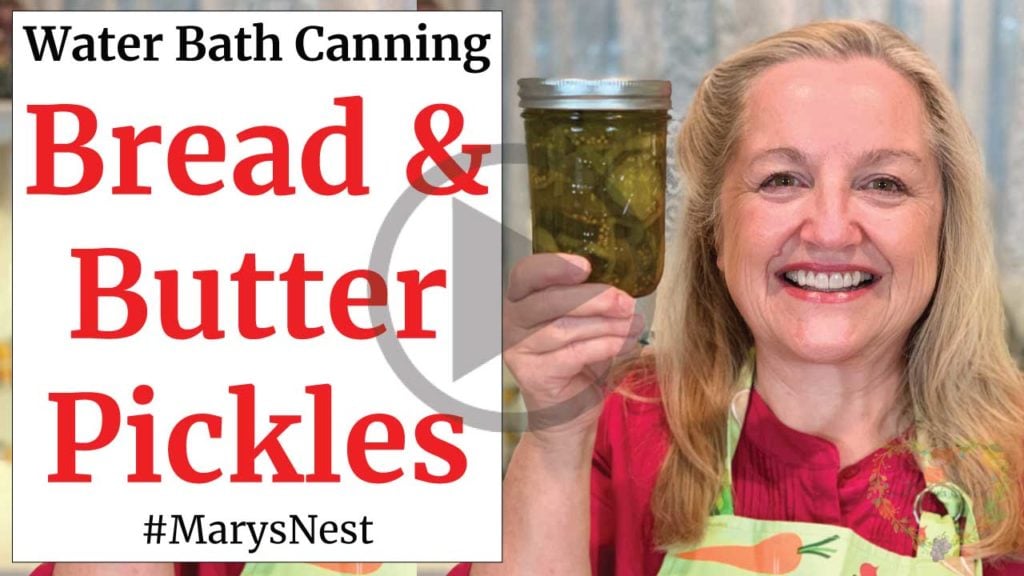 Today, I am sharing a delicious Bread and Butter Pickles Recipe that you can store directly in your refrigerator. If you want to make these pickles shelf-stable for long-term storage, I include a step-by-step water bath canning tutorial so that you can save your pickles in your extended pantry.
The Origin of Bread and Butter Pickles
Where did Bread and Butter Pickles get their name, if they don't contain bread or butter? Well, when I was a little girl, my mom—who lived during the Great Depression of the 1930s—shared with me what she believed was the origin of the name.
People, who were able to grow vegetables, were sure to grow cucumbers because this vegetable was easy to grow and would create a bountiful harvest for their family. Once they harvested the cucumbers, home cooks would can them to make them shelf-stable and provide a supply of food for their families through the winter months.
And the name? It turns out that loving moms, who were trying to do their best with the limited food they had, would make sandwiches for their family that was a simple combination of bread and butter…and you guessed it…pickles! These three ingredients made for a flavorful and filling sandwich during hard times.
Tasty Pickles with Any Meal
To this day, Bread and Butter Pickles are always welcome when you serve a hamburger or cold cut sandwich. And they make a great accompaniment to any heavy meat or fat-laden meal. Thanks to all the vinegar (one of the ingredients in my printable recipe), the pickles help to make rich meals more digestible. As a result, these pickles are the perfect condiment to serve with any traditional foods lunch or dinner.
To Can or Not to Can
If you are new to canning food, water bath canning is the easiest place to get started. You can certainly use a water bath canner, but you really don't need any special equipment. As I share in my recipe video, a simple stockpot will do the trick. Plus, I provide lots of other tips and tricks for successful water bath canning, including a clear explanation of what exactly it means to make your canning rings (bands) fingertip tight.
Being able to make your pickles shelf-stable frees up a lot of room in your fridge. Plus, canning your food gives you a supply of pickles that can last up to 18 months in your extended pantry.
But what if you are not ready to embark on a home canning adventure? No problem. Once you jar up your pickles, you don't have to water bath can them. Simply use the lid that came with your jar, if you are using a recycled jar, or use a canning jar with a storage lid (as opposed to a canning lid and ring) to seal your jars. Then go ahead and pop your pickles right into your fridge. They should last a good six months, but since they are so tasty, I suspect they will be consumed long before that!
More Pickling and Canning Videos
Now that you've learned how to make bread and butter pickles, try these Quick Pickles that can be ready in a little over an hour!
If you want to try fermenting vegetables, check out the following videos where I share the secret to crisp lacto-fermented pickles and how to make sauerkraut, red cabbage, salsa, and giardiniera—a tasty dish of Italian pickled vegetables.
And when you are ready to try your hand at canning more homemade foods, check out these videos where I share how to can crushed tomatoes and homemade jam. Both recipes are wonderful staples for your traditional foods pantry.
Stay in Touch with Mary's Nest
Subscribe to My YouTube Channel for Traditional Foods Videos (Free) - When you subscribe, be sure to click on the notification bell that will let you know each time I upload a new video.


Subscribe to Mary's Traditional Foods Newsletter (Free) - Get a free eBook for signing up: How to Stock Your Essential Traditional Foods Four-Corners Pantry.


Join the Traditional Foods Kitchen Academy (Optional Paid) - For more detailed videos, live streams, and exclusive members-only perks, join my YouTube membership community.
I look forward to having you join me in my Texas Hill Country Kitchen!
Love,
Mary
♥
Shop for items used in this blog post or video
Recommended Reading
More recommended canning books:
Amazon Shop and Shopping Guide
Visit my Shopping Guide page
Learn where I buy my beef bones, electric grain mills, sprouted grains, and more…and get special discounts for Mary's Nest visitors, including from US Wellness Meats, Mockmill, Masontops, and Cultures for Health.
*Affiliates note: As an Amazon Associate I earn from qualifying purchases. My videos and blog posts may contain affiliate links to products and services. If you click through and make a purchase, I'll receive a small commission. It does not affect the price you pay.
**Disclaimer: I am not a medical doctor, a medical professional, a dietician, or a nutritionist. All content found on the MarysNest.com website, including text, images, videos, eBooks or eGuides, social media, or other formats, were created solely for informational purposes only. The content is not intended to be a substitute for professional medical advice, diagnosis, or treatment. Always seek the advice of your physician or other qualified healthcare provider with any questions you may have regarding a medical condition or proper nutritional advice. Never disregard professional medical advice or delay in seeking it because of something you have watched in a video or read on this website. Use caution when following the recipe in this video. The creator and publisher of this video and website will not be held responsible for any adverse effects that may arise from the use of this recipe and method or any other recipe and method on this website or corresponding video channel.