Affiliates note: As an Amazon Associate I earn from qualifying purchases. My content may contain affiliate links to products and services. If you click through and make a purchase, I'll receive a small commission. It does not affect the price you pay.
Bread and Butter Pickles Recipe with Water Bath Canning Tutorial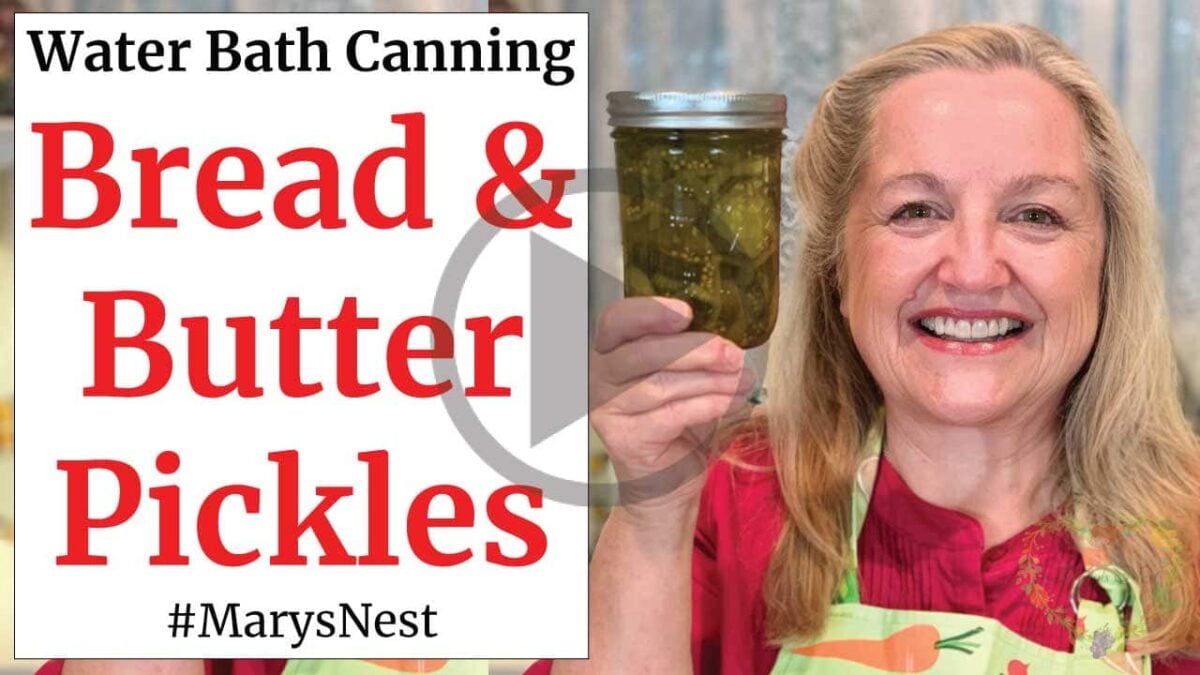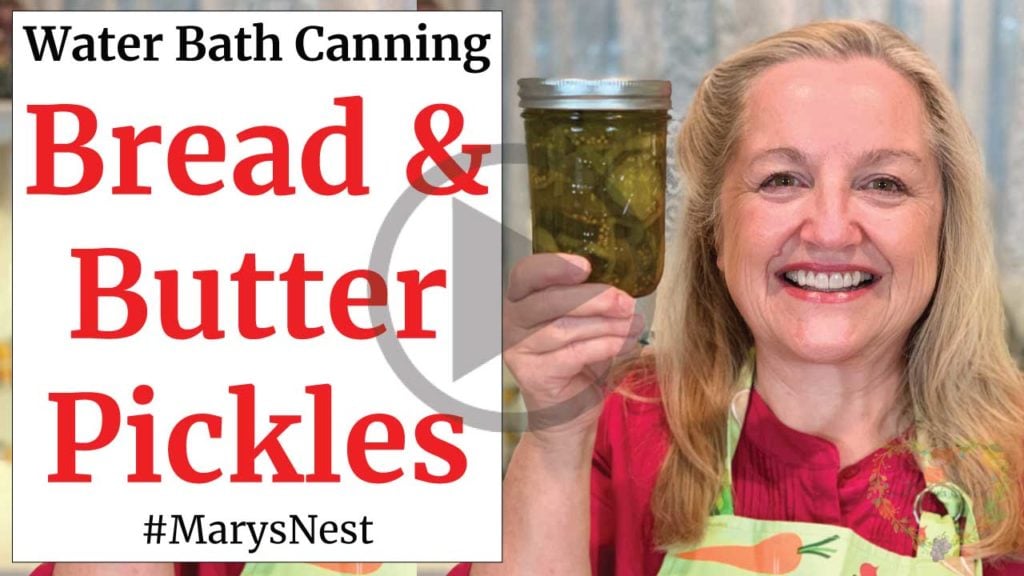 Today, I am sharing a delicious Bread and Butter Pickles Recipe that you can store directly in your refrigerator. If you want to make these pickles shelf-stable for long-term storage, I include a step-by-step water bath canning tutorial so that you can save your pickles in your extended pantry.
The Origin of Bread and Butter Pickles
Where did Bread and Butter Pickles get their name, if they don't contain bread or butter? Well, when I was a little girl, my mom—who lived during the Great Depression of the 1930s—shared with me what she believed was the origin of the name.
People, who were able to grow vegetables, were sure to grow cucumbers because this vegetable was easy to grow and would create a bountiful harvest for their family. Once they harvested the cucumbers, home cooks would can them to make them shelf-stable and provide a supply of food for their families through the winter months.
And the name? It turns out that loving moms, who were trying to do their best with the limited food they had, would make sandwiches for their family that was a simple combination of bread and butter…and you guessed it…pickles! These three ingredients made for a flavorful and filling sandwich during hard times.
Tasty Pickles with Any Meal
To this day, Bread and Butter Pickles are always welcome when you serve a hamburger or cold cut sandwich. And they make a great accompaniment to any heavy meat or fat-laden meal. Thanks to all the vinegar (one of the ingredients in my printable recipe), the pickles help to make rich meals more digestible. As a result, these pickles are the perfect condiment to serve with any traditional foods lunch or dinner.
To Can or Not to Can
If you are new to canning food, water bath canning is the easiest place to get started. You can certainly use a water bath canner, but you really don't need any special equipment. As I share in my recipe video, a simple stockpot will do the trick. Plus, I provide lots of other tips and tricks for successful water bath canning, including a clear explanation of what exactly it means to make your canning rings (bands) fingertip tight.
Being able to make your pickles shelf-stable frees up a lot of room in your fridge. Plus, canning your food gives you a supply of pickles that can last up to 18 months in your extended pantry.
But what if you are not ready to embark on a home canning adventure? No problem. Once you jar up your pickles, you don't have to water bath can them. Simply use the lid that came with your jar, if you are using a recycled jar, or use a canning jar with a storage lid (as opposed to a canning lid and ring) to seal your jars. Then go ahead and pop your pickles right into your fridge. They should last a good six months, but since they are so tasty, I suspect they will be consumed long before that!
More Pickling and Canning Videos
Now that you've learned how to make bread and butter pickles, try these Quick Pickles that can be ready in a little over an hour!
If you want to try fermenting vegetables, check out the following videos where I share the secret to crisp lacto-fermented pickles and how to make sauerkraut, red cabbage, salsa, and giardiniera—a tasty dish of Italian pickled vegetables.
And when you are ready to try your hand at canning more homemade foods, check out these videos where I share how to can crushed tomatoes and homemade jam. Both recipes are wonderful staples for your traditional foods pantry.
Stay in Touch with Mary's Nest
Subscribe to My YouTube Channel for Traditional Foods Videos (Free) - When you subscribe, be sure to click on the notification bell that will let you know each time I upload a new video.
Subscribe to Mary's Traditional Foods Newsletter (Free) - Get a free 36-page eBook for signing up: How to Stock Your Essential Traditional Foods Four-Corners Pantry.
Join the Traditional Foods Kitchen Academy (Optional Paid) - For more detailed videos, live streams, and exclusive members-only perks, join my YouTube membership community.
Order The Modern Pioneer Cookbook (Optional Paid) - Get a printed book of Mary's nourishing recipes from a Traditional Foods Kitchen. This bestselling cookbook is published by Penguin Random House with their DK imprint.
I look forward to having you join me in my Texas Hill Country Kitchen!
Bread and Butter Pickles with Water Bath Canning Instructions
Learn how to make delicious Bread and Butter Pickles that can be stored in your refrigerator. This recipe also includes steps on how to water bath can your pickles to make them shelf-stable.
Equipment
6 pint-sized jars or 3 quart-sized jars with screw top lids

Water bath canner, optional

6 pint-sized wide mouth canning jars with lids and rings (bands), optional
Ingredients
4

pounds

Cucumbers, preferably Kirby pickling cucumbers, approximately 12 cucumbers

Other thin-skinned cucumbers can be substituted, such as English or Hot House cucumbers.

2

pounds

Yellow onions, thinly-sliced, approximately 2 large onions.

1/3

cup

Salt that is free of preservatives and anti-caking agents.

Sea salt or Himalayan pink salt are good choices. However, if you are going to water bath can these pickles, use salt made for pickling and canning.

3

cups

Sugar

You can reduce this ingredient, but using this amount of sugar will give you a flavor that's close to grocery store or deli bread and butter pickles.

2

tablespoons

Yellow mustard seeds

2

teaspoons

Ground turmeric

2

teaspoons

Celery seeds

1

teaspoon

Ground ginger

1

teaspoon

Whole black peppercorns

3

cups

White vinegar, 5% acidity

1

teaspoon

"Pickle Crisp," optional for water bath canning

This is calcium chloride. It will keep your pickles "crisp," however, I do not recommend this ingredient, as it is a chemical that I prefer not to add to my pickles. And personally, I think the salt keeps these pickles sufficiently crisp.
Instructions
Making Pickles
Using a colander, rinse the cucumbers under cold water. Drain and transfer to a large bowl.

Remove the stem and blossom end of each cucumber. Cut cucumbers crosswise into 1/4 inch slices and place the slices into a colander that you have placed over a bowl to catch any liquid drippings.

Add sliced onions to the colander that contains the sliced cucumbers. Toss the entire mixture with salt.

Allow the mixture to drain at room temperature for 1 1/2 hours. Alternatively, you can drain the mixture in the refrigerator for 3 hours.

After the cucumber mixture has completed the draining process, combine sugar, spices, and vinegar in a large non-reactive saucepan or stockpot (stainless-steel or enameled). Bring this brine mixture to a boil and stir until the sugar dissolves. Now add the un-rinsed cucumbers and onions, along with any liquid that has drained into the bowl, into the saucepan and bring the brine back up to a boil. Stir well. Once the mixture comes up to a boil, remove it from the heat.

If you are NOT water bath canning your hot pickles and brine, transfer them to clean jars that have been washed in hot soapy water and rinsed well. Make sure the jars are still hot when you fill them with the pickles and brine.

And if your NOT water bath canning, once the jars are filled, allow the pickles to cool slightly, place the lids on the jars, and refrigerate. Pickles should stay fresh stored in the refrigerator for six months.
Steps for Water Bath Canning Pickles
Pack the hot pickles and brine into a hot jar leaving a 1/2 inch headspace.

At this point, if you are using the "Pickle Crisp," add approximately 1/8 teaspoon to the jar.

Use a debubbler to remove any air pockets and recheck for 1/2 inch headspace. If headspace has dropped, add a bit of additional hot brine.

Wipe jar rim with a paper towel dipped in white vinegar.

Center the canning lid on to the rim of the jar.

Apply the canning ring (band) and adjust to "fingertip" tight. (See video.)

Place the jar into your water bath canner and repeat this process until all your jars are filled. Place the lid onto the canner. Bring the water in your water bath canner up to a rolling boil and process (boil) for 10 minutes. (Be sure to check with the National Center for Home Food Preservation's website for altitude adjustments.)

After 10 minutes, turn off the heat and remove the lid of the canner. Be careful when you remove the lid, as steam will be released. Allow the jars to stand in the hot water for 5 minutes.

After 5 minutes, remove the jars, one at a time, from the water bath canner using a jar lifter. Keep the jars upright as you remove them and place them on a well-padded surface. Allow them to cool for 24 hours.

After 24 hours, verify that each jar is sealed properly by checking to see that the "button" (raised area) on the canning lid is now depressed. (See video.) If all the jars are sealed properly, remove the rings (bands) and store them in a cool, dry place, preferably in the dark but at the very least out of direct sunlight.

If, for any reason, a jar did not seal properly, refrigerate it to keep the contents fresh. Water bath canned pickles should stay fresh, unopened, for 18 months. Once opened, they must be refrigerated and should stay fresh for six months.
Watch Mary's Nest on YouTube
Shop for items used in this blog post or video
Favorite Water Bath Canning Equipment
Recommended Reading
More recommended canning books:
Amazon Shop and Shopping Guide
Visit my Shopping Guide page
Get up to 15% off for stocking your Traditional Foods Pantry and equipping your Modern Pioneer Kitchen, including discounts from US Wellness Meats, Farmhouse Teas, Lehman's, Masontops, Cultures for Health, Survival Garden Seeds, Redmond Real Salt, Plan to Eat, and More!
*Affiliates note: As an Amazon Associate I earn from qualifying purchases. My content may contain affiliate links to products and services. If you click through and make a purchase, I'll receive a small commission. It does not affect the price you pay.
**Disclaimer: I am not a medical doctor, a medical professional, a dietician, or a nutritionist. All content found on the MarysNest.com website, including text, images, videos, eBooks or eGuides, social media, or other formats, were created solely for informational purposes only. The content is not intended to be a substitute for professional medical advice, diagnosis, or treatment. Always seek the advice of your physician or other qualified healthcare provider with any questions you may have regarding a medical condition or proper nutritional advice. Never disregard professional medical advice or delay in seeking it because of something you have watched in a video or read on this website. Use caution when following the recipe in this video. The creator and publisher of this video and website will not be held responsible for any adverse effects that may arise from the use of this recipe and method or any other recipe and method on this website or corresponding video channel.