Canning Crushed Tomatoes with Water Bath Tutorial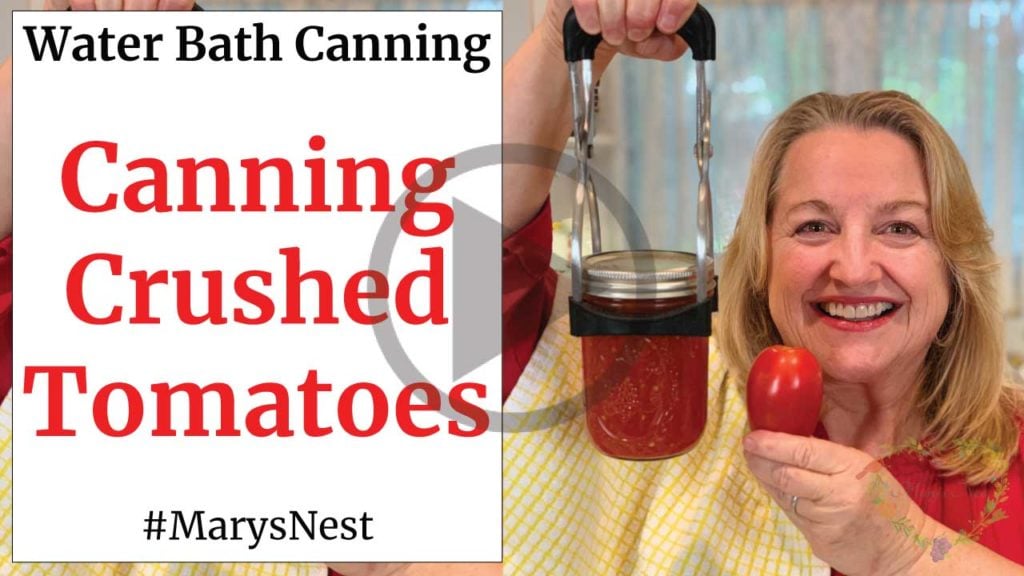 Hi Sweet Friends,
If you've never tried to can tomatoes at home or you've tried and failed, then this is the video for you. I take you through the process of making crushed tomatoes and then walk you through – step-by-step – how to water bath can them so that they can be shelf stable for storing in your pantry.
The good news is that you don't need a pressure canner or any other special equipment. If you have a water bath canner – great! But if not, a stock pot will work just fine. And I'll show you an easy way to make a homemade rack that literally takes seconds to put together!
And don't worry. You CAN do this! 😉 With the foolproof tips and tricks I share, you'll be canning tomatoes like a pro in no time!
Related Videos
Subscribe to my channel for more easy recipes
And while you're visiting my Mary's Nest YouTube channel, be sure to subscribe and click on the notification bell that will let you know each time I upload a new video.
I look forward to having you join me in my Texas Hill Country Kitchen!
Love,
Mary
♥
You can print the recipe below.
Print Recipe
Canning Crushed Tomatoes (Video)
With the foolproof tips and tricks I share, you'll be canning tomatoes like a pro in no time!
Ingredients
8-9

pounds

Tomatoes

You will want to have a total of 12 cups of chopped tomatoes.

6-7

tablespoons

Bottled lemon juice

MUST be bottled lemon juice. DO NOT use fresh lemon juice.

6-7

Pint sized wide mouth canning jars

6-7

Wide mouth canning lids

MUST be new lids

6-7

Wide mouth canning rings
Instructions
Prepare your canner, jars, and lids. (See Video)

Place a large stainless steel or enabled cast iron pot on the stove. You will be cooking the chopped tomatoes in the pot. Do not use an aluminum pot as it will react with the acid in the tomatoes and create an "off" flavor.

Next, place a small stock pot on the stove filled to 3/4 full and bring water up to a soft boil (a high simmer).

Next, fill a large bowl 3/4 full with ice water.

Working in batches, put 4-6 tomatoes at a time into the stock pot with the soft boiling water for 30-60 seconds until skins split.

Remove tomatoes using a strainer and plunge the tomatoes into the ice water bath. Leave the tomatoes in the ice water bath for approximately 30 seconds. After 30 seconds, remove tomatoes and slip off skins.

Working with 1 tomato at a time, remove stem end of tomato. If you wish, you can remove the entire core of the tomato as well. Once the stem end is removed, chop tomato and transfer to large pot on stove. Turn on heat to low and allow tomatoes to simmer while you continue to work through preparing all the tomatoes and transferring them to the pot.

Once all the chopped tomatoes are in the pot, bring the tomatoes up to a boil and remain boiling for 5 minutes, stirring and crushing the tomatoes.

After 5 minutes, turn off the heat and remove the pot from the stove and place pot on a heatproof surface close to the canner.

Working with one jar at a time, remove the first jar from your canner, and drain the water from the jar. Check the jar for nicks using a clean paper towel tipped in vinegar. Next, fill the jar with 1 tablespoon of lemon juice and then place a funnel over the jar and ladle in the crushed tomatoes up to a 1/2 inch headspace. Use a remove any bubbles or air pockets from the filled jar using a de-bubbler or other similar tool, such as a knife. Check again for proper headspace and add additional tomatoes if needed. Next, take a clean paper towel dipped in vinegar, and run it over the rim of the jar to make sure it is clean.

Place lid on jar and then put ring on jar and tighten to "finger-tip-tight." (See Video.) Using jar lifter, lift jar and place it down into your canner onto the submerged rack. The jar should be covered with water by 1-2 inches.

Boil pint-sized jars for 35 minutes. (If you use quart sized jars, they will need to be boiled for 45 minutes.) Do not begin timing the 35 minutes, until the water comes up to a boil.

After 35 minutes, turn off heat and carefully remove lid. Allow jars to rest in the canner for 5 minutes. After 5 minutes, remove jars using jar lifter and place on to a cushioned surface, such as a counter lined with a thick dish towel.

Allow jars to cool for 24 hours. Then remove rings and check that the lids are sealed tightly to the jars. Store in pantry based on manufactures suggestions. (Most "Ball" brand lids guarantee that food canned using their lids will stay shelf stable for 18 months.)
Notes
Find this recipe and video at https://marysnest.com/recipe/canning-crushed-tomatoes-with-water-bath-tutorial/
Copyright © 2019 Mary's Nest, LLC, All Rights Reserved
Shop for items used in this blog post or video
Visit my Shopping Guide page
Learn where I buy my Beef Bones, Wild-Caught Fish, Sprouted Grains, and more...and learn about Special Discounts for Mary's Nest visitors, including from US Wellness Meats, Vital Choice, Masontops, and Breadsmart.
Favorite Water Bath Canning Supplies:
***
*A Note About Affiliates: My videos, video descriptions, and blog posts may contain affiliate links to various products. As an Amazon Associate I earn from qualifying purchases. If you click through and make a purchase, I'll receive a small commission. It does not affect the price you pay.
**Disclaimer: I am not a medical doctor, a medical professional, a dietician, or a nutritionist. All content found on the MarysNest.com website, including text, images, videos, eBooks or eGuides, social media, or other formats, were created solely for informational purposes only. The content is not intended to be a substitute for professional medical advice, diagnosis, or treatment. Always seek the advice of your physician or other qualified healthcare provider with any questions you may have regarding a medical condition or proper nutritional advice. Never disregard professional medical advice or delay in seeking it because of something you have watched in a video or read on this website.