Affiliates note: As an Amazon Associate I earn from qualifying purchases. My content may contain affiliate links to products and services. If you click through and make a purchase, I'll receive a small commission. It does not affect the price you pay.
How to Make Three Citrus Marmalade Jam with Step-By-Step Guide To Water Bath Canning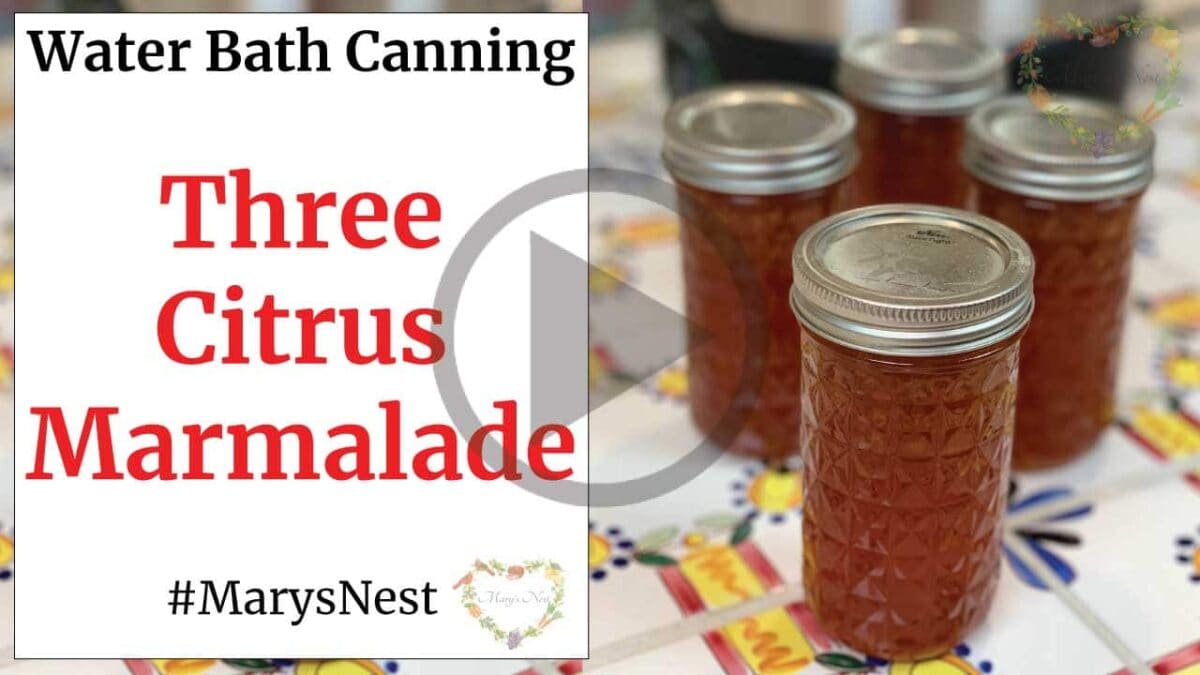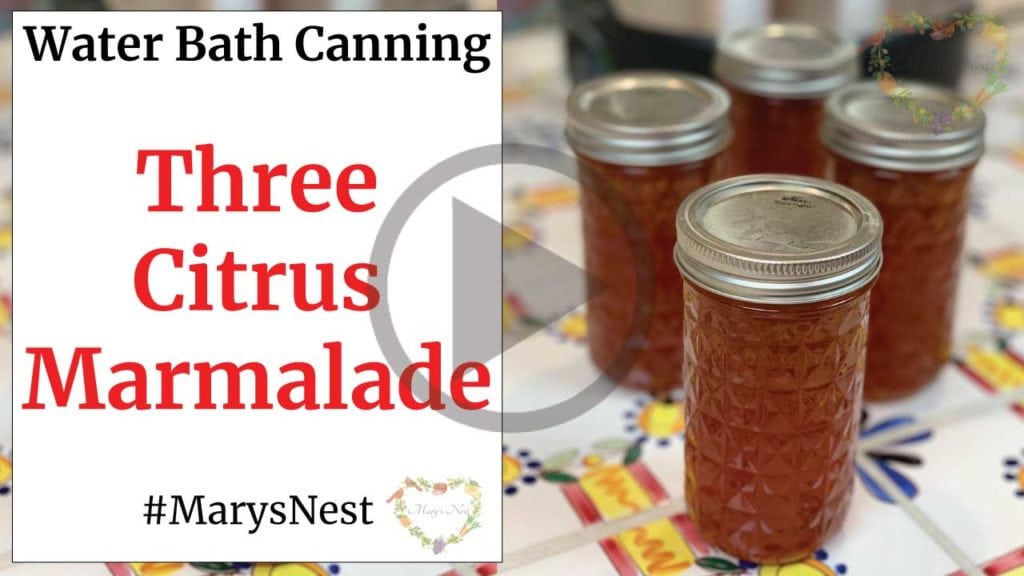 In this video, I show how to make a delicious Three Citrus Marmalade Jam. I also go over water bath canning basics with a step-by-step guide to get you started. Follow the steps in my tutorial video to make and can marmalade for a tasty homemade gift for Christmas or anytime!
*Affiliates note: As an Amazon Associate I earn from qualifying purchases. My content may contain affiliate links to products and services. If you click through and make a purchase, I'll receive a small commission. It does not affect the price you pay.
Marmalade Jam is Always a Favorite!
If you are a fan of marmalade, then you know how delicious it is. And can you imagine someone making it homemade for you? What a special treat that would be. So if you have any family and friends who love marmalade, they will be thrilled to receive this delicious three citrus marmalade that you make at home with a lot of love.
Three Citrus Marmalade
This marmalade recipe is especially tasty because you make it with three types of citrus zest:
This combination of citrus creates a delightfully sweet and tangy flavor. No marmalade aficionado will be able to resist it!
Make This Marmalade the Perfect Gift
You can deliver this gift to friends and family in a lovely jar and tell them to refrigerate it immediately. But if you want to go the extra step and make your marmalade a shelf-stable pantry staple, consider water bath canning your jars of deliciousness.
Water bath canning is a great place to start if you are new to canning. It's actually quite easy to do. In my tutorial video, I walk you through the entire process step-by-step so that nothing is left to chance. I'm right there with you, and you can pause and restart the video as you complete each step and prepare to move on to the next step. This video is a full-length cooking and canning class.
Download My Free 36-Page Pantry List
You can store your shelf-stable marmalade in your long-term pantry until you're ready to enjoy it. To learn about all the homemade and purchased foods that you can store in your pantry, be sure to download my free "How to Stock Your Essential Traditional Foods Four-Corners Pantry" eBook. And be sure to watch the accompanying video to discover how you can customize the list for your pantry.
More Water Bath Canning Videos
Check out these other videos that are part of my Water Bath Canning 101 – Home Canning Basics for Beginners Series. These videos are perfect if you're learning about or just getting started with water bath canning.
Stay in Touch with Mary's Nest
Subscribe to My YouTube Channel for Traditional Foods Videos (Free) - When you subscribe, be sure to click on the notification bell that will let you know each time I upload a new video.
Subscribe to Mary's Traditional Foods Newsletter (Free) - Get a free 36-page eBook for signing up: How to Stock Your Essential Traditional Foods Four-Corners Pantry.
Join the Traditional Foods Kitchen Academy (Optional Paid) - For more detailed videos, live streams, and exclusive members-only perks, join my YouTube membership community.
Order The Modern Pioneer Cookbook (Optional Paid) - Get a printed book of Mary's nourishing recipes from a Traditional Foods Kitchen. This bestselling cookbook is published by Penguin Random House with their DK imprint.
I look forward to having you join me in my Texas Hill Country Kitchen!
How to Make Marmalade Jam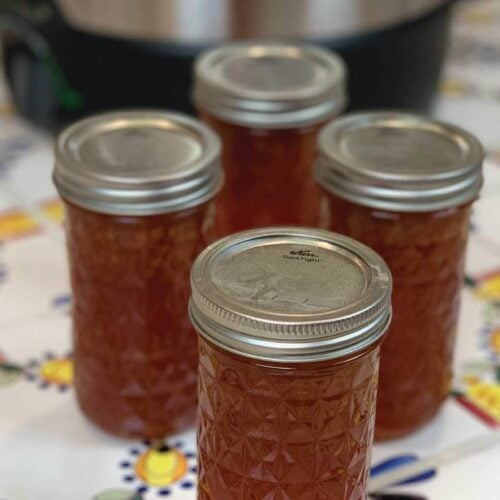 Learn how to make a delicious Three Citrus Marmalade Jam and how to water bath can it to make it shelf-stable. This makes a tasty homemade gift for Christmas or anytime!
Equipment
6-Quart heavy bottom non-reactive pot

Long handled wooden spoon

Candy thermometer, optional but recommended

Four 12-ounce canning jelly jars or Six 8-ounce jelly jars

Water bath canner, optional

Water bath canning supplies, optional
Ingredients
1

whole

Grapefruit

2

large whole

Oranges

Or 3 medium, or 4 small

2

whole

Lemons

1/8

tsp

Baking soda

Water

6

cups

Sugar

1

tsp

Butter, optional

2

tbsps

White vinegar, optional

Plus extra to clean the rim of the jars if water bath canning
Instructions
Marmalade Instructions
Use a potato peeler or sharp paring knife to remove the zest from each piece of citrus fruit.

Chop all the zest and add to the pot.

Next, remove all the pith from each piece of whole fruit using a sharp paring knife. And then cut each section ("supreme") of fruit from between each membrane.

Add each section of fruit to the pot with the zest.

Take the leftover membrane and squeeze it over the pot to release any remaining juice.

Sprinkle 1/8 teaspoon of baking soda into the pot. This will help break down the zest and make it softer during the cooking process and release the pectin.

Place the pot on to the stove burner and add 4 cups of water to the pot. Bring the mixture to a boil and then turn down to a low simmer. You will simmer the contents for 30 minutes.

After 30 minutes, using a wooden spoon remove a piece of the zest from the pot. Allow it to cool, and then press it between your fingers. If it is soft, you are ready to move on to the next step. If it is not soft, allow it to simmer for a few more minutes until soft.

If you plan on water bath canning this marmalade, see the "Water Bath Canning Instructions" section below before you proceed.

Put a small plate into your freezer.

Transfer the contents of your pot into a large heatproof measuring cup. If you have 6 cups of the mixture, you are ready to proceed. If the mixture does not measure 6 cups, add water so that you have a total of 6 cups of mixture. Now you are ready to proceed.

Return the mixture to the pot and bring the mixture up to a boil.

Slowly add 2 cups of the sugar to the boiling mixture and continue to stir.

Once the first 2 cups of sugar have dissolved, add the next 2 cups of sugar and continue to stir. When those 2 cups have dissolved, add the remaining 2 cups of sugar and continue to stir the mixture.

Continue to boil the mixture until you can not stir down the boil. (At this point, a candy thermometer should read 220°F or 105°C.) This can take anywhere from 10 to 30 minutes.

If during the boiling time there is the development of a significant amount of foam, add the butter and stir well to incorporate. The foam should subside. If it does not subside or you decide not to use the butter, you will need to skim off the foam.

Once you can not stir down the boil, boil the mixture for 1 minute more and then turn off the heat.

Remove the small plate from the freezer and place one teaspoon of the marmalade on to the plate. Put the plate back into the freezer for a few minutes.

After a few minutes, remove the plate from the freezer. If the mixture has gelled and you can run your finger down the middle of the dollop of marmalade with each side of the marmalade not leaching back into the middle, the marmalade has gelled correctly.

If you are not canning this marmalade, transfer it to clean sterilized jars, put the lid on the jars, and refrigerate. Marmalade stored in the refrigerator will last approximately 3 months.
Water Bath Canning Instructions
Before making the marmalade, you will want to prepare all your canning equipment.

Using a water bath canner or a large pot fitted with a bottom rack, put your canning jars into the canner and cover with water. Bring the water in the canner up to a boil and then turn down to a low simmer.

If you have very hard water, you may want to add the vinegar to the water in your canner. This will keep your jars from developing a cloudy appearance.

Once the marmalade is finished and removed from the stove, using a jar lifter remove one jar at a time from the canner. And using a funnel, fill the jar with the marmalade leaving a 1/4 inch headspace.

Debubble the jar and add additional marmalade if the headspace has dropped below the 1/4 inch headspace.

Using a clean cloth dipped in vinegar, clean the rim of the jar.

Once the rim of the jar is clean, place the canning lid on the jar and then screw on the canning ring (band) to "finger-tight" resistance. (See video.) DO NOT use brute force. The ring is only there to keep the lid in place while also allowing for air to be released from the jar during the canning process.

Using a jar lifter, return the filled jar back to the canner. Once all the jars are filled and returned to the canner, bring the water up to a boil.

Once the water returns to a boil, start your timer and boil (process) the filled jars for 10 minutes.

After 10 minutes of boiling, turn the heat off and allow the filled jars to sit in the hot water for 5 minutes.

After 5 minutes, use the jar lifter to remove the filled jars to a flat surface that is covered with two layers of dish towels or other fabric. As the jars cool, you should hear a "ping" sound. This sound indicates that the filled jars have sealed correctly.

Once the filled jars have cooled completely, check to see if each jar lid has sealed correctly. The "button" in the middle of the canning lid should be depressed. If the button is depressed, unscrew the ring (band). Your jars are now ready to be stored. If you are using the latest version of Ball canning lids, your marmalade will have an 18-month shelf life. If not, then your marmalade will have a one-year shelf life.

Once opened, your jar of marmalade must be refrigerated and has a 3 month refrigerated shelf life.

If for any reason, you have a jar lid that did not seal properly, you must refrigerate that jar of marmalade.
Watch Mary's Nest on YouTube
Shop for items used in this blog post or video
Favorite Water Bath Canning Equipment
Amazon Shop and Shopping Guide
Visit my Shopping Guide page
Get up to 15% off for stocking your Traditional Foods Pantry and equipping your Modern Pioneer Kitchen, including discounts from Lehman's, Mockmill Grain Mill, Masontops, Cultures for Health, Survival Garden Seeds, Redmond Real Salt, Plan to Eat, US Wellness Meats, and More!
**Disclaimer: I am not a medical doctor, a medical professional, a dietician, or a nutritionist. All content found on the MarysNest.com website, including text, images, videos, eBooks or eGuides, social media, or other formats, were created solely for informational purposes only. The content is not intended to be a substitute for professional medical advice, diagnosis, or treatment. Always seek the advice of your physician or other qualified healthcare provider with any questions you may have regarding a medical condition or proper nutritional advice. Never disregard professional medical advice or delay in seeking it because of something you have watched in a video or read on this website. Use caution when following the recipe in this video. The creator and publisher of this video and website will not be held responsible for any adverse effects that may arise from the use of this recipe and method or any other recipe and method on this website or corresponding video channel.