Affiliates note: As an Amazon Associate I earn from qualifying purchases. My content may contain affiliate links to products and services. If you click through and make a purchase, I'll receive a small commission. It does not affect the price you pay.
The Essential Guide to Water Bath Canning Equipment and Supplies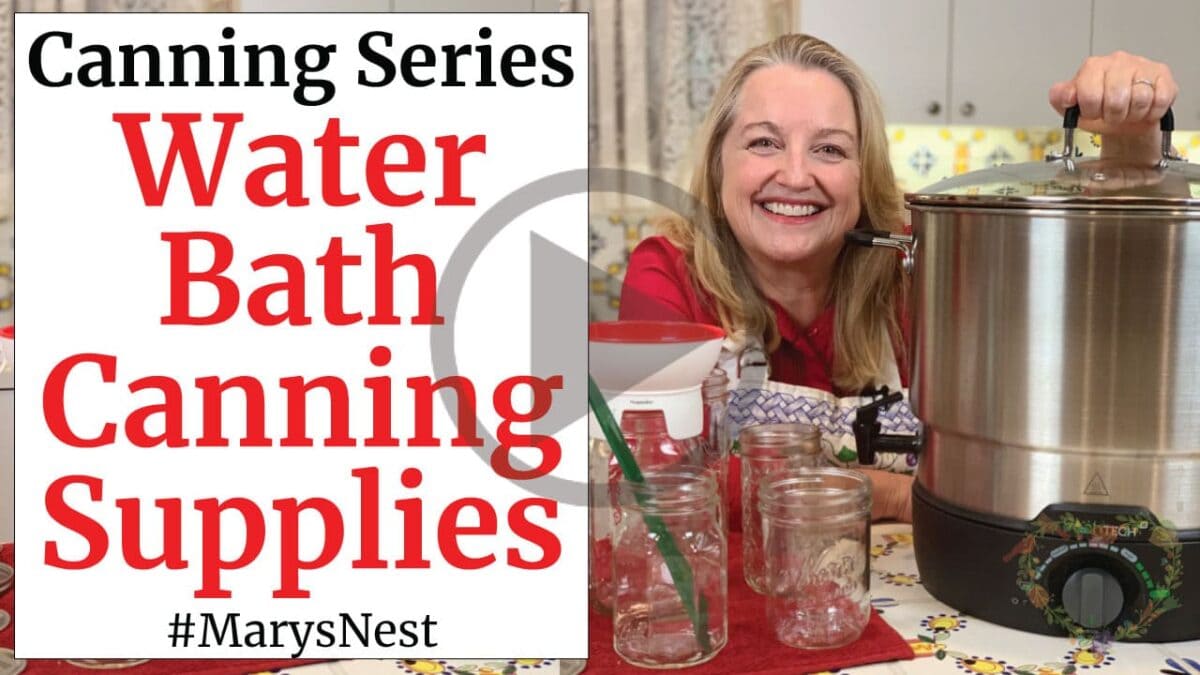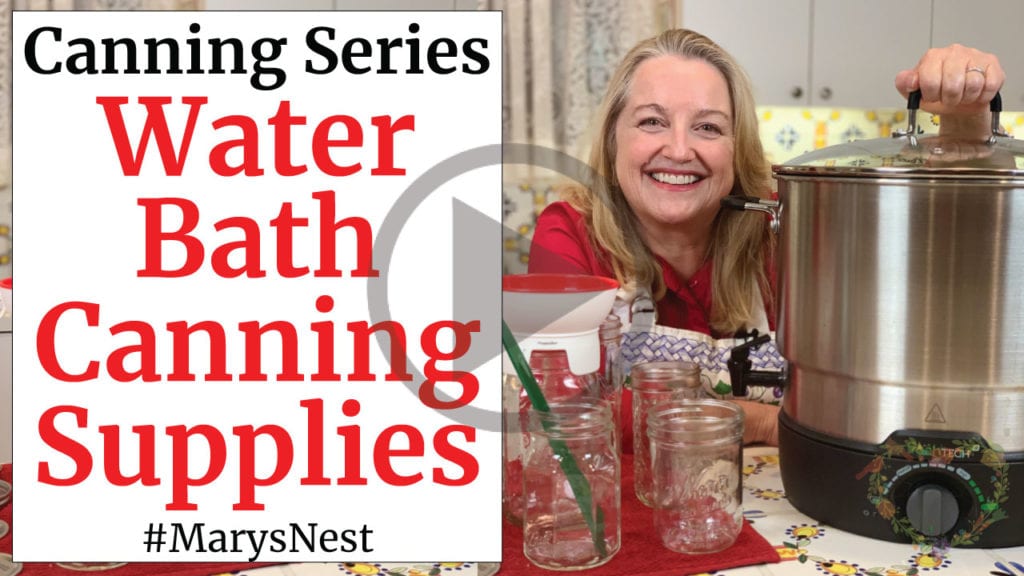 Continuing with my Water Bath Canning Series, I want to go over all the canning equipment you'll need to get started with water bath canning.
Stovetop or Electric Water Bath Canner?
Once you decide you want to try water bath canning, you have to pick out your canner. You can choose between a traditional stovetop canner that's often sold at grocery stores or an electric canner. I prefer an electric canner because it frees up my stovetop.
But what if you can't find either? Not to worry. There are always options when it comes to canning equipment. One option is to use a deep stockpot that has a lid. The only thing you'll need to add will be some sort of rack that you can place on the bottom of the stockpot, such as a small cooling rack that's generally used for baked goods.
Choose from a Variety of Canning Jars
Next, when it comes to your canning equipment and supplies, you'll want to make sure that you have a variety of canning jars on hand before you begin. Manufacturers Ball or Kerr make these canning jars that are specifically for water bath canning or pressure canning. They come in assorted sizes, generally from 4 to 64 ounces. Plus, some are regular-mouth sized jars, while others are wide-mouth jars. These jars each come with a special lid that is held on during processing by a screw-on ring.
Don't worry if this seems a bit overwhelming. Whatever recipe you pick from your canning books will tell you exactly what ounce-size jar you need, whether it should have a regular mouth or a wide mouth, and exactly how many jars you will need.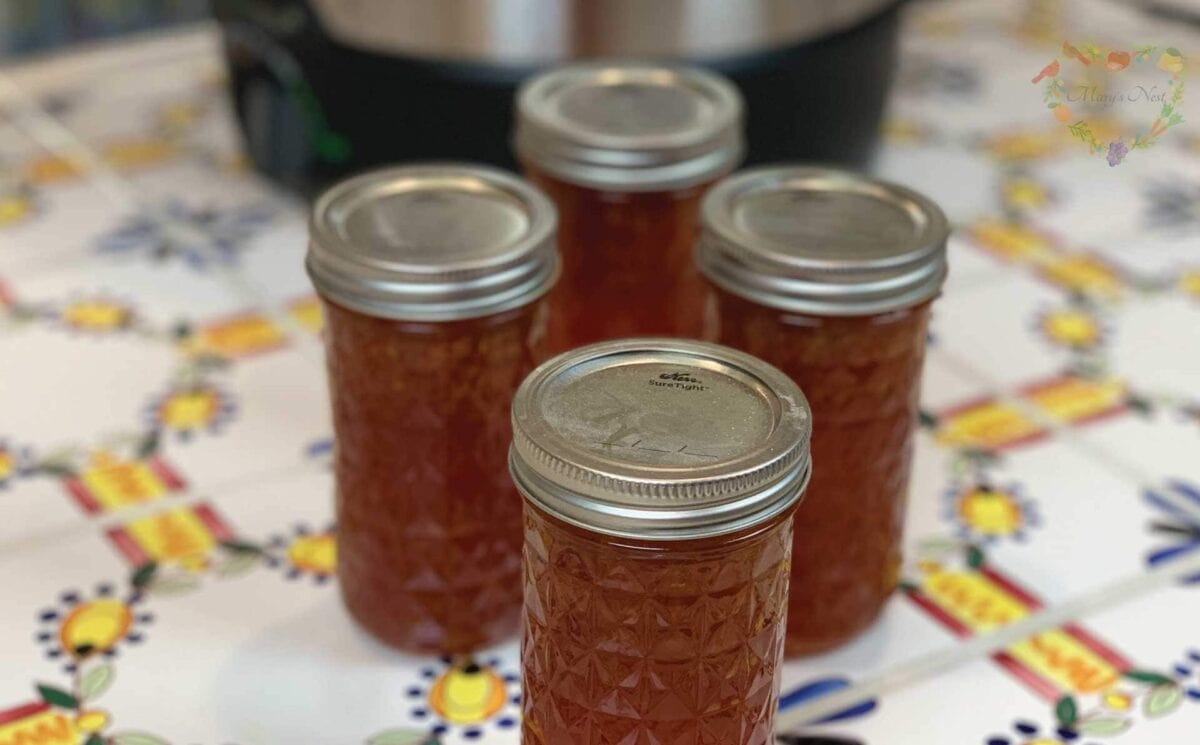 Learn about the Canning Equipment You Need
You'll need other canning equipment and supplies, including a variety of tools from a "de-bubbler" to a funnel and a jar lifter. Oftentimes, these are sold in kits with other supplies, which makes purchasing them convenient. And sometimes if you buy a canner specifically made for water bath canning, it will include all the special tools you'll need. Be sure to watch the water bath canning supplies video where I go over each canning tool individually and explain how it's used.
More Water Bath Canning Videos
Now that you know about the Water Bath Canning Supplies, learn about Water Bath Canning Books and Canning Salts, Spices, and Pectin. I also show you how to make Marmalade Jam with a step-by-step guide to water bath canning. Lastly, you'll find videos for canning crushed tomatoes and a Ball Electric Water Bath Canner unboxing.
Stay in Touch with Mary's Nest
Subscribe to My YouTube Channel for Traditional Foods Videos (Free) - When you subscribe, be sure to click on the notification bell that will let you know each time I upload a new video.
Subscribe to Mary's Traditional Foods Newsletter (Free) - Get a free 36-page eBook for signing up: How to Stock Your Essential Traditional Foods Four-Corners Pantry.
Join the Traditional Foods Kitchen Academy (Optional Paid) - For more detailed videos, live streams, and exclusive members-only perks, join my YouTube membership community.
Order The Modern Pioneer Cookbook (Optional Paid) - Get a printed book of Mary's nourishing recipes from a Traditional Foods Kitchen. This bestselling cookbook is published by Penguin Random House with their DK imprint.
I look forward to having you join me in my Texas Hill Country Kitchen!
---
Shop for items used in this blog post or video
Favorite Water Bath Canning Equipment
Amazon Shop and Shopping Guide
Visit my Shopping Guide page
Get up to 15% off for stocking your Traditional Foods Pantry and equipping your Modern Pioneer Kitchen, including discounts from Lehman's, Mockmill Grain Mill, Masontops, Cultures for Health, Survival Garden Seeds, Redmond Real Salt, Plan to Eat, US Wellness Meats, and More!
*Affiliates note: As an Amazon Associate I earn from qualifying purchases. My content may contain affiliate links to products and services. If you click through and make a purchase, I'll receive a small commission. It does not affect the price you pay.
**Disclaimer: I am not a medical doctor, a medical professional, a dietician, or a nutritionist. All content found on the MarysNest.com website, including text, images, videos, eBooks or eGuides, social media, or other formats, were created solely for informational purposes only. The content is not intended to be a substitute for professional medical advice, diagnosis, or treatment. Always seek the advice of your physician or other qualified healthcare provider with any questions you may have regarding a medical condition or proper nutritional advice. Never disregard professional medical advice or delay in seeking it because of something you have watched in a video or read on this website. Use caution when following the recipe in this video. The creator and publisher of this video and website will not be held responsible for any adverse effects that may arise from the use of this recipe and method or any other recipe and method on this website or corresponding video channel.