Affiliates note: As an Amazon Associate I earn from qualifying purchases. My content may contain affiliate links to products and services. If you click through and make a purchase, I'll receive a small commission. It does not affect the price you pay.
Books to Get You Started with Water Bath Canning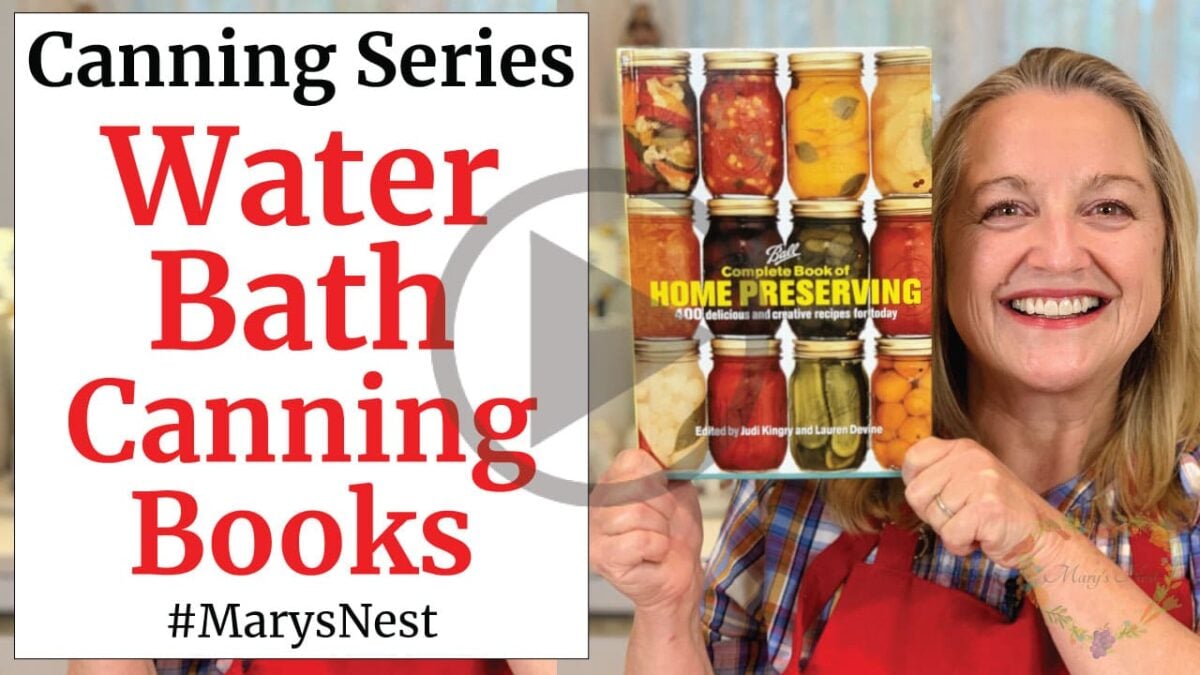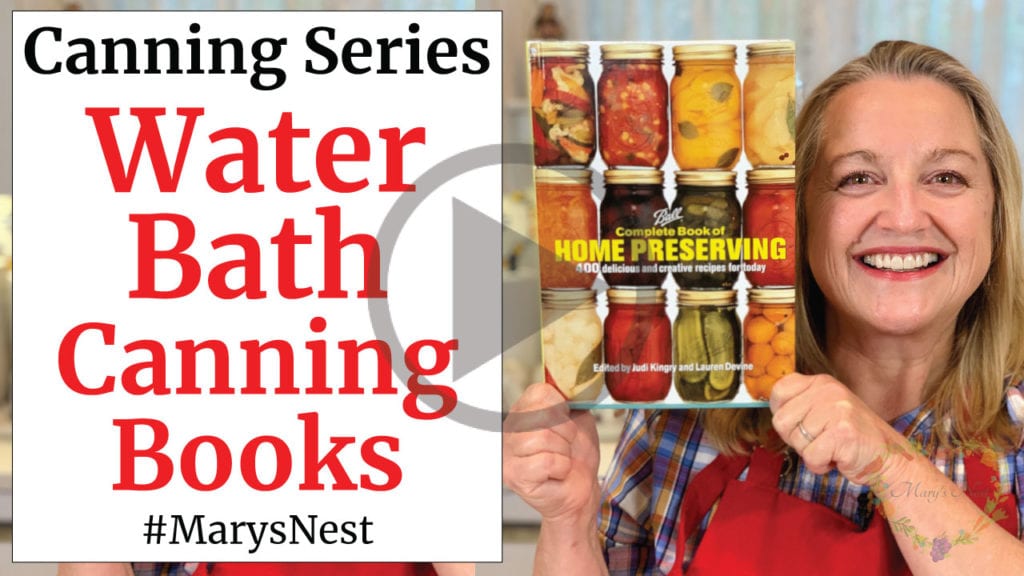 In this post, I share my favorite canning books that are perfect if you're new to Water Bath Canning.
What is Canning?
Canning is a method of preserving perishable food without the need for refrigeration. There are basically two ways of processing foods—commonly referred to as "canning"—that have been approved as safe by the National Center for Home Food Preservation (HFP).
One method is known as "pressure canning," which is for processing low-acid foods, including red meats, fish, poultry, and all vegetables, except most tomatoes.
The other form of canning is known as "water bath canning," which is for high-acid foods. These foods contain enough acid to have a pH of 4.6 or lower. They include fruits, pickles, sauerkraut, jams, jellies, marmalades, and fruit butters. These high acid foods can be processed safely in a boiling water canner. Usually no additional acid, such as lemon juice or citric acid, needs to be added.
What About Tomatoes?
Tomatoes can be pressure canned or water bath canned. If you decide to water bath can tomatoes, the HFP and most canning books will recommend that you add some form of additional acid to the canning jar. When it comes to tomatoes, there is no way to know if your particular variety of tomato and its growing conditions can guarantee a pH of 4.6 or lower. Tips like this one make your canning books very handy!
When you're ready to can tomatoes, watch my Canning Crushed Tomatoes with Water Bath Tutorial video.
Canning Books to the Rescue
When you first start, water bath canning can seem like a daunting task. However, thanks to the help of canning books, it will be a lot easier than you think. Most of the basic canning books that I recommend in the list below will provide you with step-by-step recipes regarding:
Exactly how much food you will need to fill your jars appropriately.
What type of acid to add—if any.
How long you need to process your jars in the water bath canner to make sure that the jars will be properly sealed and protected from air.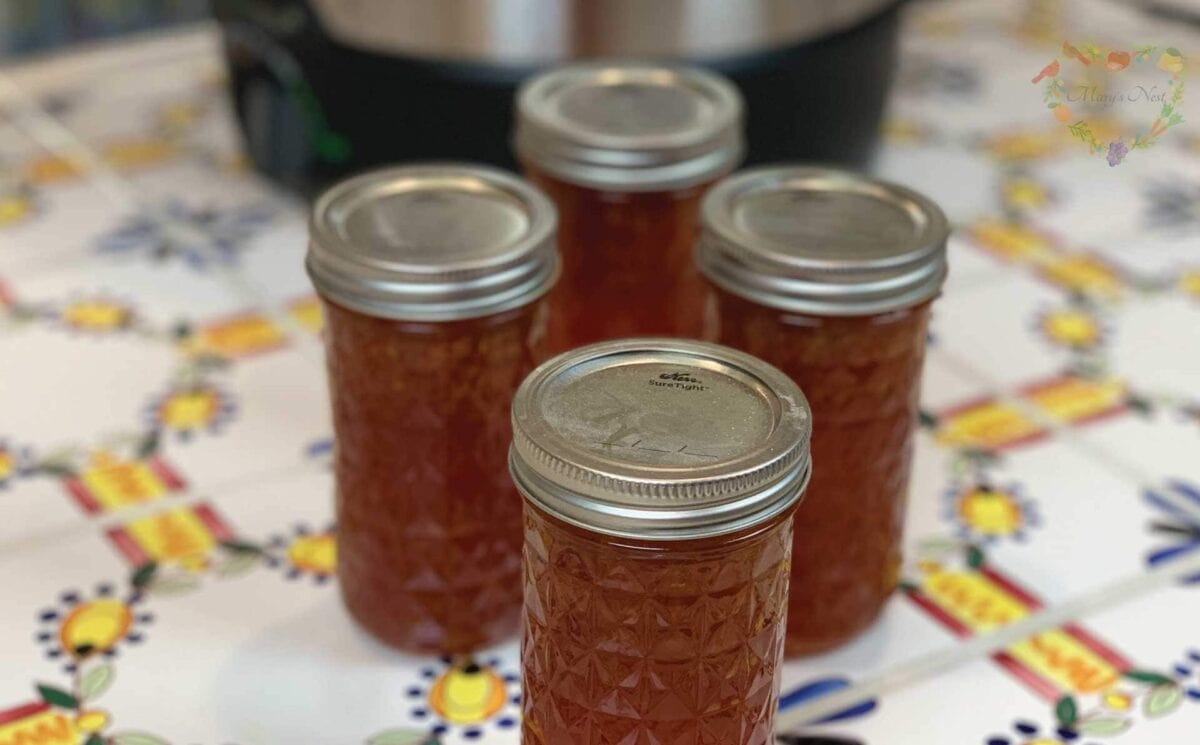 How Long Does the Canned Food Last?
Great question! As a general rule, water bath canned food, if unopened, has a shelf life from one year up to 18 months. Yes, there are a lot of folks who will say that their home-canned goods last a lot longer. And this may be true. However, it's important to know the official rule from a food safety perspective. Once you know the basic information, you can do your research and decide what you consider is safe for you and your family.
Books and Other Resources
As I mentioned previously, I have listed some of my favorite canning books below, so be sure to take a look at all of those. But I will share that when it comes to being a beginner canner, you can't go wrong with any of the Ball Canning Books. And if you are a beginner and only want to start with one or two books, I highly recommend the Ball Canning Back to Basics book. It's a winner! The instructions are clear, and the recipes are simple.
If you want to make sure that you have the definitive guide to home canning in your library as a reference, then you will want the USDA Complete Guide to Home Canning. This is a government-issued paperback with no pictures, but it is filled with a wealth of information to the home canner. This book best serves the purpose as a reference guide, whereas the other listed books offer detailed recipes and an easier format for the beginner to follow.
More Water Bath Canning Videos
Now that you know about my favorite Water Bath Canning Books, learn about Water Bath Canning Supplies and Canning Salts, Spices, and Pectin. I also show you how to make Marmalade Jam with a step-by-step guide to water bath canning. Lastly, you'll find videos for canning crushed tomatoes and a Ball Electric Water Bath Canner unboxing.
Stay in Touch with Mary's Nest
Subscribe to My YouTube Channel for Traditional Foods Videos (Free) - When you subscribe, be sure to click on the notification bell that will let you know each time I upload a new video.
Subscribe to Mary's Traditional Foods Newsletter (Free) - Get a free 36-page eBook for signing up: How to Stock Your Essential Traditional Foods Four-Corners Pantry.
Join the Traditional Foods Kitchen Academy (Optional Paid) - For more detailed videos, live streams, and exclusive members-only perks, join my YouTube membership community.
Order The Modern Pioneer Cookbook (Optional Paid) - Get a printed book of Mary's nourishing recipes from a Traditional Foods Kitchen. This bestselling cookbook is published by Penguin Random House with their DK imprint.
I look forward to having you join me in my Texas Hill Country Kitchen!
---
Shop for items used in this blog post or video
Favorite Water Bath Canning Equipment
Amazon Shop and Shopping Guide
Visit my Shopping Guide page
Get up to 15% off for stocking your Traditional Foods Pantry and equipping your Modern Pioneer Kitchen, including discounts from Lehman's, Mockmill Grain Mill, Masontops, Cultures for Health, Survival Garden Seeds, Redmond Real Salt, Plan to Eat, US Wellness Meats, and More!
*Affiliates note: As an Amazon Associate I earn from qualifying purchases. My content may contain affiliate links to products and services. If you click through and make a purchase, I'll receive a small commission. It does not affect the price you pay.
**Disclaimer: I am not a medical doctor, a medical professional, a dietician, or a nutritionist. All content found on the MarysNest.com website, including text, images, videos, eBooks or eGuides, social media, or other formats, were created solely for informational purposes only. The content is not intended to be a substitute for professional medical advice, diagnosis, or treatment. Always seek the advice of your physician or other qualified healthcare provider with any questions you may have regarding a medical condition or proper nutritional advice. Never disregard professional medical advice or delay in seeking it because of something you have watched in a video or read on this website. Use caution when following the recipe in this video. The creator and publisher of this video and website will not be held responsible for any adverse effects that may arise from the use of this recipe and method or any other recipe and method on this website or corresponding video channel.