How to Quick Pickle Vegetable Scraps for a No Waste Kitchen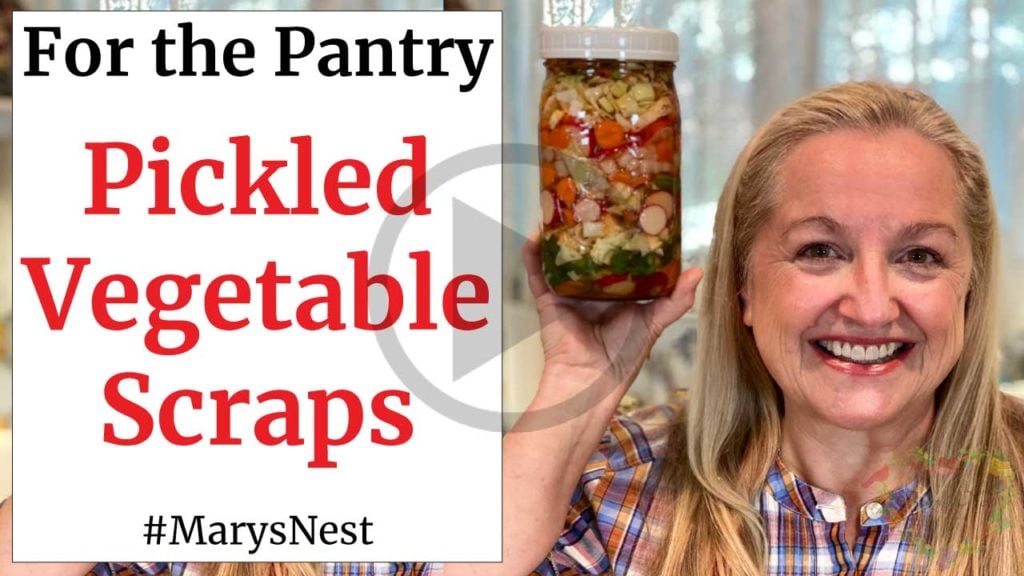 Learn how to quick pickle vegetable scraps for a tasty treat and a no waste kitchen.
*Affiliates note: As an Amazon Associate I earn from qualifying purchases. My content may contain affiliate links to products and services. If you click through and make a purchase, I'll receive a small commission. It does not affect the price you pay.
What are Quick Pickle Vegetables?
A quick pickle refers to an easy way to pickle any vegetable, not just cucumbers. With the quick pickle process, you don't have to cook everything in your brine first. Instead, you simply pack a jar with your veggies and then pour your hot brine over them.
Once you allow your jars to cool to room temperature, refrigerate them. Your quick-pickled vegetables will be ready to enjoy once chilled after about 4 hours. However, they will be even better if you wait to enjoy them the next day.
As I show you in my video and printable recipe, quick pickling is one of the best ways to create a delightfully refreshing treat made from nothing more than vegetable scraps.
Which Brine is Best to Quick Pickle Vegetable Scraps?
The varieties are endless when it comes to creating a brine to make your quick pickle vegetable scraps. The basic backbone of a pickling brine recipe includes the following ingredients:
Sugar is an optional ingredient if you want to make a sweetened brine, which is the brine that I use in my recipe video, but the options don't end there.
Choosing the ingredients for your quick pickle brine depends on what tastes you enjoy. Some of my favorite pickling brines include:
Mediterranean Brine
Mexican Brine
Sweetened Brine (used in my recipe video)
Szechuan Brine
Be sure to check out my printable recipe, where I share the ingredients for how to make each of these brines.
Which Vinegar is Best to Quick Pickle Vegetable Scraps?
You can choose from a variety of vinegars to make a pickling brine for your quick pickle vegetable scraps:
White Vinegar
Wine Vinegar
Apple Cider Vinegar
I like white vinegar the best when making a pickling brine because it lets the flavor of the vegetables shine through.
Using Apple Cider Vinegar for a Quick Pickle
Although you can purchase Apple Cider Vinegar at your grocery store, it's easy to make a probiotic-rich version at home with the ingredients you choose. I show you how in the following recipe video.
However, keep in mind that you are making raw apple cider vinegar. You can use it to make your brine, but when you heat it, you will destroy the good probiotics that are rich in raw vinegars.
However, a clever option is to use both White Vinegar and Apple Cider Vinegar in your recipe. First, make your brine with white vinegar, but only fill your jars 3/4 of the way full. Then, once cooled, top your jars off with the raw apple cider vinegar for a probiotic boost!
Home Cooks Note: If you plan on home canning your quick pickles, remember that you should not use homemade vinegar to make your brine. When home canning, we need to use store-bought vinegars to be able to rely on their guaranteed level of acidity.
Which Salt is Best to Quick Pickle Vegetable Scraps?
Whenever you are pickling vegetables, even when making quick pickle vegetable scraps, you want to make sure that the salt you use is just salt. You do not want to use a salt that contains any anti-caking agents or other chemicals.
Some options for salts to use when making your pickling brine include:
Canning and pickling salt
Sea salt (only use if you are not canning)
Himalayan salt (only use if you are not canning)
My favorite salt when making quick-pickled vegetables is canning and pickling salt because it is specifically made for pickling and helps to keep the distinct flavors of your veggies. Just make sure you are using a fine ground version of any salt you use.
Home Cooks Note: If you plan on home canning your quick pickles, remember that you should only use salt labeled for home canning use, such as Ball Preserving and Pickling Salt or Morton Canning and Pickling Salt. You want to avoid using sea salts because their high mineral count may affect the canning process.
Which Sugar is Best to Quick Pickle Vegetable Scraps?
If you decide that you want to make a sweetened brine for your quick pickled vegetable scraps, it's easy to do, and you have a variety of sweeteners to choose from. Some of my favorites include:
White Sugar
Sucanat (Dried Cane Juice)
Maple Sugar or Maple Syrup
I generally don't recommend honey since the heating process of making the brine will destroy the nutrients found in honey.
If you don't use white sugar, your brine will be darker but just as tasty (if not tastier!) as if you used white sugar.
More Quick Pickle Videos
Now that you've made quick pickle vegetable scraps, be sure to try making these easy quick pickles—actual pickles—in the following recipe.
And for an easy way to pickle any vegetables, check out my no-sugar quick pickles master recipe video.
Ready to try making pickled green beans and then home canning them? I've got you covered in the video below, where I walk you through the entire process. This recipe video is perfect for beginners who are new to both pickling and home canning.
I show you two options in my recipe video:
Quick pickling your green beans only and storing them in your refrigerator.
Quick pickling and canning your green beans for a longer shelf life in your pantry.
Get Started Water Bath Canning
If you want to make traditional pickles, specifically bread and butter pickles, check out the video below where I show you how to make these tasty sweet pickles. Plus, I walk you through step-by-step how to water bath can them to make your pickles shelf-stable.
Water Bath Canning 101 Series
If you're new to water bath canning, be sure to watch my canning series, where I show you the equipment and supplies you will need to get started.
Download Your Free 36-Page Pantry List
As we go into the fall season, now is the time to inventory your pantry and restock those items you have run low on. As part of your restocking, be sure to download my free 36-page pantry list. My comprehensive eBook walks you through the process of identifying what you need for your traditional foods pantry.
Plus, I include lots of links to videos and accompanying printable recipes where I show you how to make delicious and nutritious meals using your pantry ingredients.
Kitchen Scrap Regrowing Videos
Speaking of scraps…if you would like to learn how to regrow your kitchen scraps to create a recurring harvest, watch the following video.
And then join my sweet son and me as we plant vegetable scraps in our experimental garden. I also give you a tour of my extensive herb garden.
Kitchen Scrap Recipe Videos
Need more ideas for what to do with your kitchen scraps so that nothing goes to waste? The following videos give you some tasty and excellent ideas.
Download Your Free 36-Page Pantry List
For an extensive list of the traditional foods you can make and purchase to stock your pantry, be sure to download my free 36-page Traditional Foods Pantry List. This comprehensive eBook is full of links to recipe videos, helpful articles, and more!
Kitchen Academy Videos
Are you looking for more traditional foods videos? I invite you to join the Traditional Foods Kitchen Academy. Members of this optional paid YouTube community get access to exclusive videos, live streams, and other members-only perks. Plus, your YouTube comments include a special members-only badge.
In the following members-only video, I give you an overview of How to Master the Art of Fermentation.
Trending Posts on Mary's Nest
Stay in Touch with Mary's Nest
Subscribe to My YouTube Channel for Traditional Foods Videos (Free) - When you subscribe, be sure to click on the notification bell that will let you know each time I upload a new video.
Subscribe to Mary's Traditional Foods Newsletter (Free) - Get a free 36-page eBook for signing up: How to Stock Your Essential Traditional Foods Four-Corners Pantry.
Join the Traditional Foods Kitchen Academy (Optional Paid) - For more detailed videos, live streams, and exclusive members-only perks, join my YouTube membership community.
Preorder The Modern Pioneer Cookbook (Optional Paid) - Get a printed book of Mary's nourishing recipes from a Traditional Foods Kitchen. This cookbook will be published by Penguin Random House with their DK imprint.
I look forward to having you join me in my Texas Hill Country Kitchen!
Shop for items used in this blog post or video
Favorite Quick Pickling Supplies
Favorite Kitchen Supplies
More Kitchen Supplies with Promo Codes
Use promo code MARYSNST for a one-time 15% off Masontops and Breadsmart products on Amazon.com.
Use my Mockmill affiliate link for a special one-time 5% discount on Mockmill Stone Grain Mill products, including the new Flake Lover's Flaker. (The Mockmill discount will appear when you checkout.)
Amazon Shop and Shopping Guide
Visit my Shopping Guide page
Get up to 15% off for stocking your Traditional Foods Pantry and equipping your Modern Pioneer Kitchen, including discounts from US Wellness Meats, Mockmill Grain Mill, Masontops, Cultures for Health, Survival Garden Seeds, Redmond Real Salt, Plan to Eat, and More!
Recommended Reading
**Disclaimer: I am not a medical doctor, a medical professional, a dietician, or a nutritionist. All content found on the MarysNest.com website, including text, images, videos, eBooks or eGuides, social media, or other formats, were created solely for informational purposes only. The content is not intended to be a substitute for professional medical advice, diagnosis, or treatment. Always seek the advice of your physician or other qualified healthcare provider with any questions you may have regarding a medical condition or proper nutritional advice. Never disregard professional medical advice or delay in seeking it because of something you have watched in a video or read on this website. Use caution when following the recipe in this video. The creator and publisher of this video and website will not be held responsible for any adverse effects that may arise from the use of this recipe and method or any other recipe and method on this website or corresponding video channel.