How to Make Strawberry Jam Without Pectin (with Water Bath Canning Tutorial)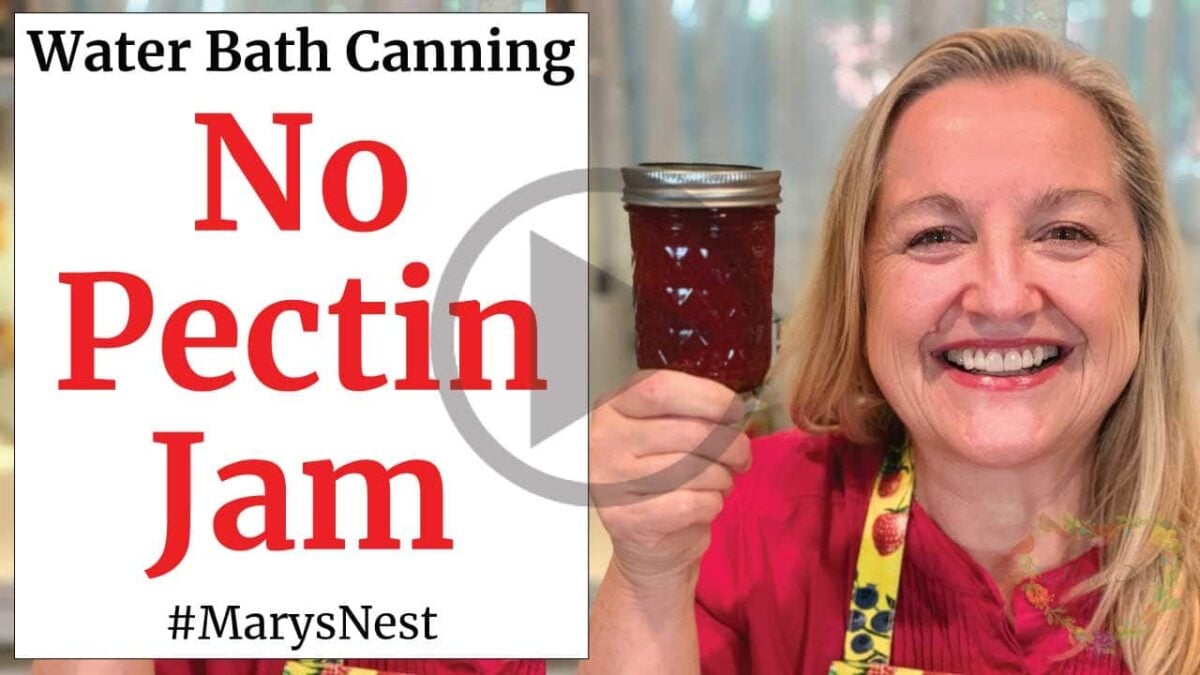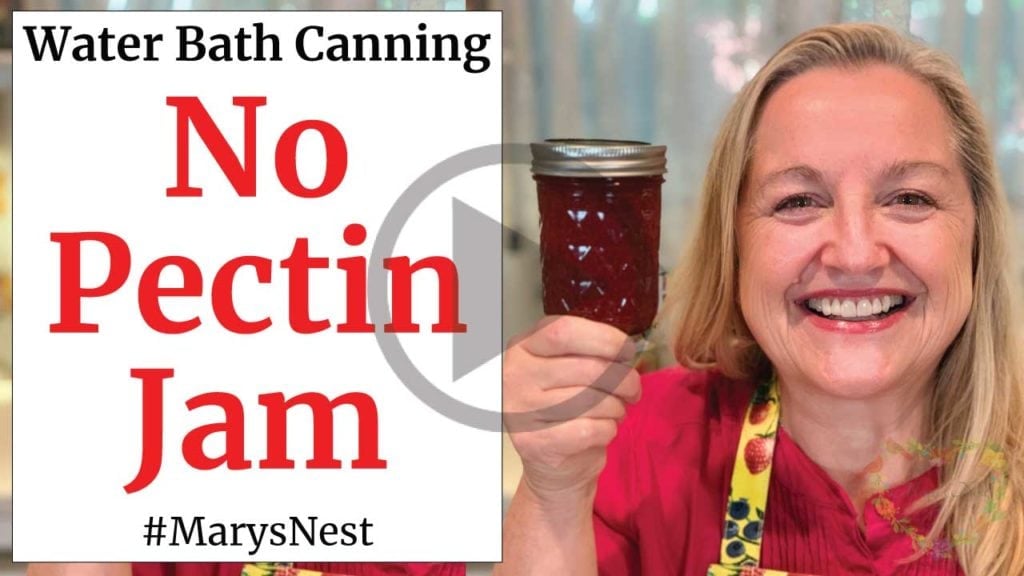 Learn How to Make Strawberry Jam without Pectin in this full-length "How To" Class. This tutorial video also covers sugar-free jam and low-sugar jam options and provides a complete step-by-step Water Bath Canning Tutorial.
*Affiliates note: As an Amazon Associate I earn from qualifying purchases. My content may contain affiliate links to products and services. If you click through and make a purchase, I'll receive a small commission. It does not affect the price you pay.
Does Strawberry Jam Gel without Pectin?
Now, when I say, "No Pectin," I'm not indicating that this Strawberry Jam lacks natural pectin. What I mean is this recipe does not include commercial pectin, such as the pectin in the little box that's sold in the canning section of your local grocery store.
Instead of relying on store-bought pectin, we are going to make jam just like our moms and grandmothers did. Instead, we're going to rely on the natural pectin that occurs in abundance in certain fruits.
Replace Store-Bought Pectin with Lemon Juice
For this Strawberry Jam recipe, we're going to use lemon juice, as well as the leftover lemon rinds, to provide all the pectin we need. These natural pectin sources create a beautiful jam that has a wonderful consistency and flavor.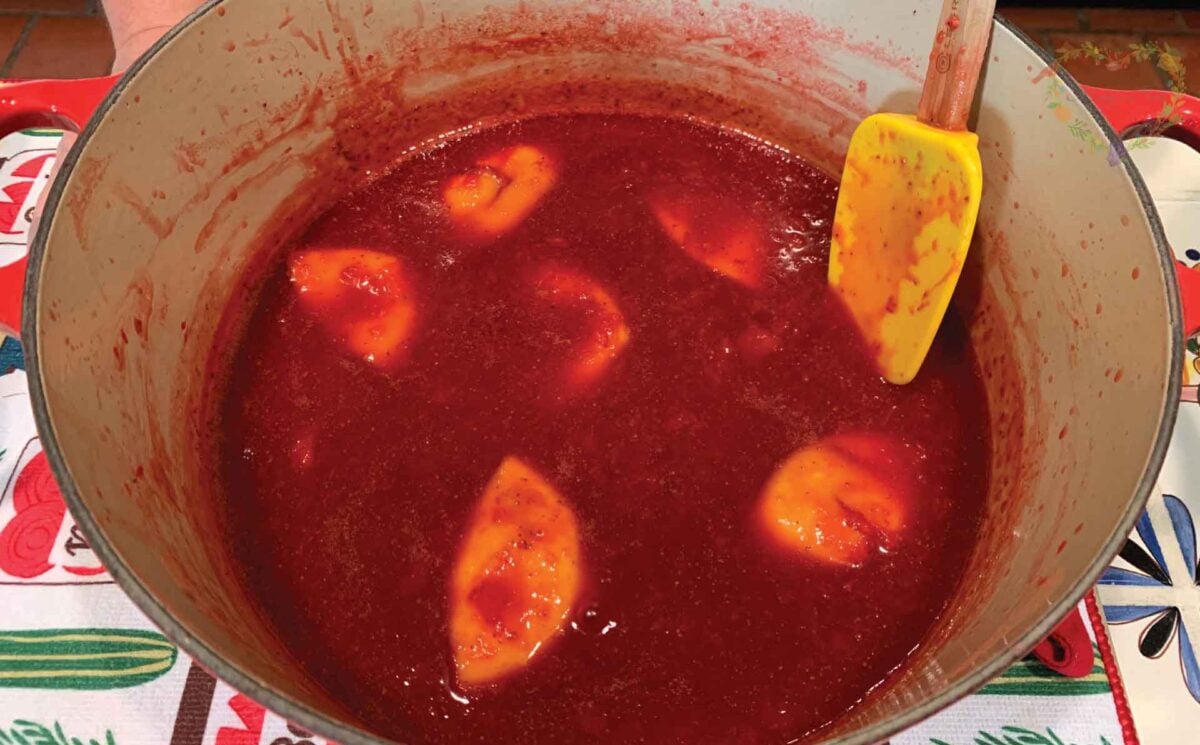 Now, you might be wondering about other high pectin fruits. What about using apples—specifically green apples or, better yet, crab apples?
These types of apples are high in pectin and are great for making homemade pectin. (We'll have to do that another day!). However, to extract enough pectin from these types of apples, you'll need to add a lot of apples to your jam, which will change your final product's consistency.
So best to stick with lemon juice to make jam without pectin. You'll be glad you did because the final product will have a great "gel" to it!
There's One More Tip for a Great Jam Gel
Not only do you want to make sure that you have a strong form of natural fruit-based pectin in your Strawberry Jam, but there's also another trick to making sure that your jam gels up nicely.
Once you bring your jam up to a rolling boil, as I show in my recipe video, you want to turn the heat down to medium and simmer your jam for about 15 minutes. This process allows some of the liquid to evaporate, assuring that your jam will be rich and thick once placed in jars and allowed to cool.
Making Homemade Strawberry Jam is Easy
If you've never made homemade jam before, you're going to find out how easy it is once you give it a try. And now that you know you don't need store-bought pectin, you can just pull out some fresh fruit from your fridge and get started.
Not only does this printable recipe work great for making strawberry jam without pectin, but you can also use any berries that you have on hand.
So get started today making your own jam. You'll be glad that you did because nothing is as fresh tasting as your homemade jam!
More Canning Videos
Now that you've learned how to make Strawberry Jam without Pectin take the next step and learn about everything you'll need to start water bath canning in your kitchen. I show you all the water bath canning books, supplies, and other equipment you'll want for your future canning projects in the following videos.
More Canning Recipes
Once you have all your water bath canning supplies on hand, you can try, not only canning up your jams, but crushed tomatoes and pickles too! Your canned tomatoes and canned pickles will be wonderful staples to include in your traditional foods kitchen.
More Jam Recipes
If you're up for more jams, try your hand at Low Sugar and No Sugar versions of Strawberry Jam and a Three Citrus Marmalade.
Kitchen Academy Videos
Are you looking for more traditional foods videos? I invite you to join the Traditional Foods Kitchen Academy. Members of this optional paid YouTube community get access to exclusive videos, live streams, and other members-only perks. Plus, your YouTube comments include a special members-only badge.
In the following members-only videos, I talk about How to Equip Your Traditional Foods Kitchen.
Stay in Touch with Mary's Nest
Subscribe to My YouTube Channel for Traditional Foods Videos (Free) - When you subscribe, be sure to click on the notification bell that will let you know each time I upload a new video.
Subscribe to Mary's Traditional Foods Newsletter (Free) - Get a free 36-page eBook for signing up: How to Stock Your Essential Traditional Foods Four-Corners Pantry.
Join the Traditional Foods Kitchen Academy (Optional Paid) - For more detailed videos, live streams, and exclusive members-only perks, join my YouTube membership community.
Order The Modern Pioneer Cookbook (Optional Paid) - Get a printed book of Mary's nourishing recipes from a Traditional Foods Kitchen. This bestselling cookbook is published by Penguin Random House with their DK imprint.
I look forward to having you join me in my Texas Hill Country Kitchen!
Shop for items used in this blog post or video
More Favorite Kitchen Supplies
More Kitchen Supplies with Promo Codes
Learn more about Mockmill electric grain mills for making fresh flour and their Flake Lover's Flaker that flakes whole grain in minutes.
Use promo code MARYSNST for a one-time 15% off Masontops and Breadsmart products on Amazon.com.
Amazon Shop and Shopping Guide
**Disclaimer: I am not a medical doctor, a medical professional, a dietician, or a nutritionist. All content found on the MarysNest.com website, including text, images, videos, eBooks or eGuides, social media, or other formats, were created solely for informational purposes only. The content is not intended to be a substitute for professional medical advice, diagnosis, or treatment. Always seek the advice of your physician or other qualified healthcare provider with any questions you may have regarding a medical condition or proper nutritional advice. Never disregard professional medical advice or delay in seeking it because of something you have watched in a video or read on this website. Use caution when following the recipe in this video. The creator and publisher of this video and website will not be held responsible for any adverse effects that may arise from the use of this recipe and method or any other recipe and method on this website or corresponding video channel.