How to Make No Sugar Strawberry Jam with Water Bath Canning Tutorial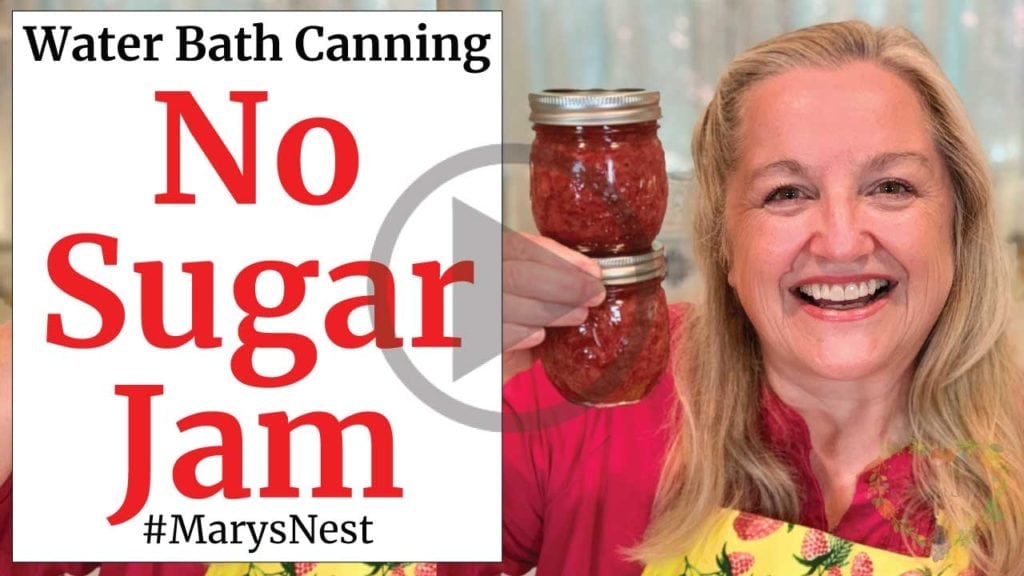 Learn how to make a No Sugar Strawberry Jam that is delicious and nutritious! You can store your homemade jam in your refrigerator and start enjoying it.
However, if you also want to make your jam shelf-stable for long-term storage in your pantry, my recipe video walks you through a complete water bath canning tutorial that's perfect for beginners. I show you all the equipment and steps that you need to create a perfect shelf-stable jam.
*Affiliates note: As an Amazon Associate I earn from qualifying purchases. My videos and blog posts may contain affiliate links to products and services. If you click through and make a purchase, I'll receive a small commission. It does not affect the price you pay.
Why Sugar-Free Strawberry Jam?
When I shared my Low Sugar Strawberry Jam recipe with you in an earlier video, I received numerous requests for a sugar-free version. I'm happy to work on recipes that you—my sweet friends—have requested, and so here it is!
You can make jam with absolutely no sugar at all, as I show you in my printable recipe. Alternatively, if you want to include a touch of sweetness for your tastebuds, you can add an alternative sweetener, such as Stevia. For example, if you decide you want to use Stevia, you'll need to add a 1/4 teaspoon up to a 1/2 teaspoon of the liquid sweetener until you find the taste to your liking.
My recipe and video provide you with the steps to create strawberry jam with or without water bath canning. My video also shows you how to use a water bath canner, including how to make sure your rings (bands) are just "fingertip tight"—no brute force needed—before you put them into your canner. This technique is an essential step to make sure your jars seal perfectly for long-term storage.
Strawberry Jam Made with Water or Juice
In my recipe video, I show you how to make this strawberry jam using just water. Many of you have shared with me that you are on a Keto or autoimmune protocol diet that allows you to enjoy some fruit, primarily berries, but no juice. So water will work great in this recipe.
But what if you want a bit of natural sweetener to boost the flavor of your jam without adding any sugar? You'll find fruit juice to be the perfect addition. Just keep in mind that if you decide to add some juice in place of the water, make sure you pick a mild-flavored, light-colored juice, such as white grape juice or apple juice.
More Canning Videos
Now that you've learned how to make a no sugar strawberry jam, take the next step and learn about everything you'll need to start water bath canning in your own kitchen. In the following videos, I show you all the water bath canning books, supplies, and other equipment you'll want for your future canning projects.
And once you have all your water bath canning supplies on hand, you can try, not only canning up your jams, but crushed tomatoes too. Your canned tomatoes will be a wonderful staple to include in your traditional foods kitchen.
And if you're up for some sweetened jams, try your hand at a Low Sugar version of strawberry jam and a Three Citrus Marmalade.
Stay in Touch with Mary's Nest
Subscribe to My YouTube Channel for Traditional Foods Videos (Free) - When you subscribe, be sure to click on the notification bell that will let you know each time I upload a new video.


Subscribe to Mary's Traditional Foods Newsletter (Free) - Get a free eBook for signing up: How to Stock Your Essential Traditional Foods Four-Corners Pantry.


Join the Traditional Foods Kitchen Academy (Optional Paid) - For more detailed videos, live streams, and exclusive members-only perks, join my YouTube membership community.
I look forward to having you join me in my Texas Hill Country Kitchen!
Love,
Mary
♥
Shop for items used in this blog post or video
Amazon Shop and Shopping Guide
Visit my Shopping Guide page
Learn where I buy my beef bones, electric grain mills, sprouted grains, and more…and get special discounts for Mary's Nest visitors, including from US Wellness Meats, Mockmill, Masontops, and Cultures for Health.
**Disclaimer: I am not a medical doctor, a medical professional, a dietician, or a nutritionist. All content found on the MarysNest.com website, including text, images, videos, eBooks or eGuides, social media, or other formats, were created solely for informational purposes only. The content is not intended to be a substitute for professional medical advice, diagnosis, or treatment. Always seek the advice of your physician or other qualified healthcare provider with any questions you may have regarding a medical condition or proper nutritional advice. Never disregard professional medical advice or delay in seeking it because of something you have watched in a video or read on this website. Use caution when following the recipe in this video. The creator and publisher of this video and website will not be held responsible for any adverse effects that may arise from the use of this recipe and method or any other recipe and method on this website or corresponding video channel.