How to Make Kitchari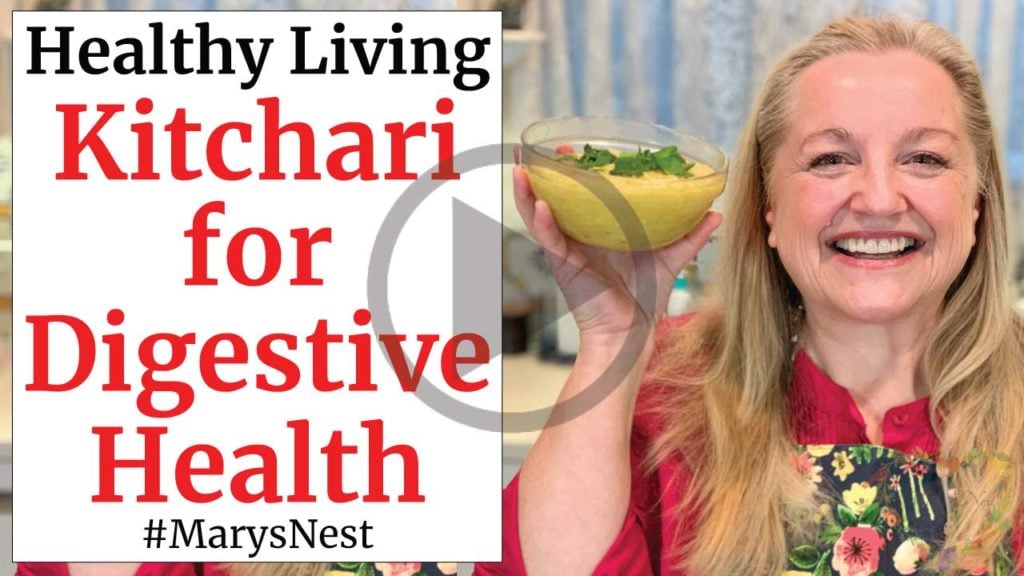 Today, I am sharing How to Make Kitchari. This Cleansing Ayurvedic Porridge helps to heal your gut and improves digestion. A bowl of Kitchari is perfect after holiday time, or anytime we may have overeaten and need to give our digestive system a rest and reset.
*Affiliates note: As an Amazon Associate I earn from qualifying purchases. My videos and blog posts may contain affiliate links to products and services. If you click through and make a purchase, I'll receive a small commission. It does not affect the price you pay.
What Are Ayurvedic and Kitchari?
If you are new to Kitchari and Ayurvedic, both are worth learning more about as they beautifully complement a Traditional Foods Kitchen. Ayurvedic is an adjective that describes things that are part of a healing philosophy known as Ayurveda, which is a natural system of medicine that originated in India more than 3,000 years ago. Ayurveda translates to "knowledge of life."
Ayurvedic medicine is one of the world's oldest holistic or "whole-body" healing systems. It's based on a natural way of working with the human body that promotes overall good health. Ayurvedic medicine does not specifically focus on fighting disease, but dietary plans and treatments are typically advised when a specific health problem presents itself.
Often when digestive upset strikes, nutritionists recommend Kitchari. This porridge is easy to digest and is soothing to the digestive tract, bringing balance back to the body. And that is the focus of Ayurveda—to keep the body in balance.
Kitchari is Easy to Make
A nice feature about Kitchari is that it is very easy to make. So if you feel a bit under the weather from overindulging in rich food or your digestion feels overtaxed with indigestion, Kitchari can help calm down your digestive system.
You can eat this porridge three times a day, if you want, for breakfast, lunch, and dinner until you start to feel back to normal. Or back into balance as Ayurveda would describe it! 😊
Kitchari and Healing Recipes in Books
John Douillard, the author of the Three Season Diet and Eat Wheat, includes the recipe for Kitchari in both of his books because he believes it is one of the most important foods for healing the digestive system.
I highly recommend both of his books if you have struggled:
To lose weight,
Battled food cravings, or
Dealt with food intolerances to wheat and dairy.
He provides insightful advice to help with all three areas of these food imbalances.
And for expanding your knowledge about Traditional Foods and how to properly prepare them, Sally Fallon's books are invaluable:
I have relied on her Nourishing Traditions book for years to guide me on my Traditional Foods Journey.
Behind the Scenes: Making Kitchari
In my latest vodcast, you can get a behind the scenes look at my kitchen when I filmed the making Kitchari recipe video. These in-depth vodcasts and live streams are exclusively available to members of the Traditional Foods Kitchen Academy, who we call Kitchen Pioneers. You can learn more about my optional YouTube membership community, including members-only videos and exclusive perks.
More Healing Recipes
If you are looking for more healing recipes that are Ayurvedic in nature, anti-inflammatory, and help boost immunity, check out the videos below.
Stay in Touch with Mary's Nest
Subscribe to My YouTube Channel for Traditional Foods Videos (Free) - When you subscribe, be sure to click on the notification bell that will let you know each time I upload a new video.


Subscribe to Mary's Traditional Foods Newsletter (Free) - Get a free eBook for signing up: How to Stock Your Essential Traditional Foods Four-Corners Pantry.


Join the Traditional Foods Kitchen Academy (Optional Paid) - For more detailed videos, live streams, and exclusive members-only perks, join my YouTube membership community.
I look forward to having you join me in my Texas Hill Country Kitchen!
Love,
Mary
♥
Shop for items used in this blog post or video
Ingredients for Kitchari
Favorite Kitchen Supplies
Use promo code MARYSNST for a one-time 15% off Masontops and Breadsmart products on Amazon.com.
Use my Mockmill affiliate link for a special one-time 5% discount on Mockmill Stone Grain Mill products, including Ancient Grains, like Einkorn, Emmer, and Spelt. (The Mockmill discount will appear when you checkout.)
Amazon Shop and Shopping Guide
Visit my Shopping Guide page
Learn where I buy my beef bones, electric grain mills, sprouted grains, and more…and get special discounts for Mary's Nest visitors, including from US Wellness Meats, Mockmill, Masontops, and Cultures for Health.
Recommended Reading
**Disclaimer: I am not a medical doctor, a medical professional, a dietician, or a nutritionist. All content found on the MarysNest.com website, including text, images, videos, eBooks or eGuides, social media, or other formats, were created solely for informational purposes only. The content is not intended to be a substitute for professional medical advice, diagnosis, or treatment. Always seek the advice of your physician or other qualified healthcare provider with any questions you may have regarding a medical condition or proper nutritional advice. Never disregard professional medical advice or delay in seeking it because of something you have watched in a video or read on this website. Use caution when following the recipe in this video. The creator and publisher of this video and website will not be held responsible for any adverse effects that may arise from the use of this recipe and method or any other recipe and method on this website or corresponding video channel.