What is Nourishing Traditions?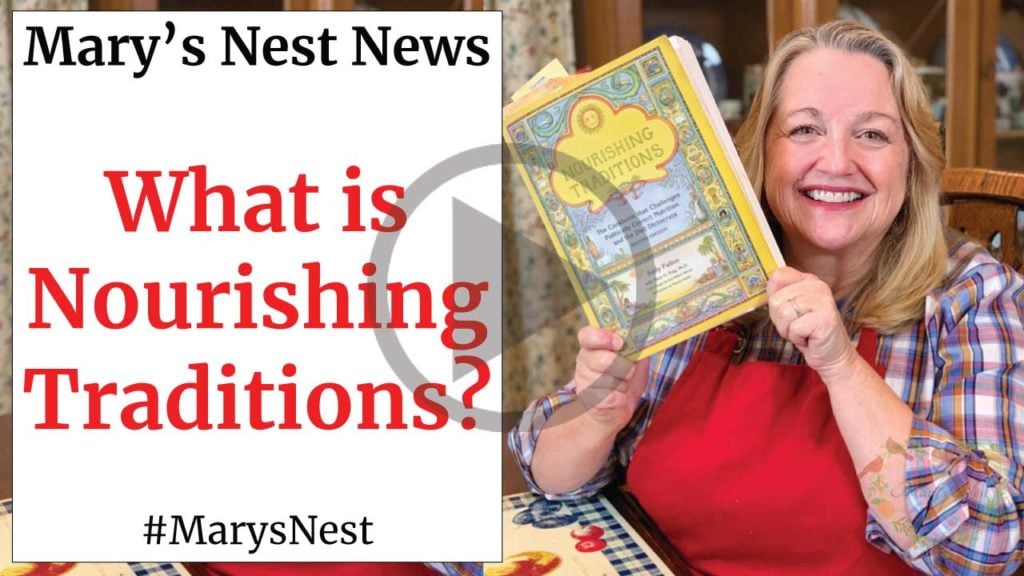 Hi Sweet Friends,
Nourishing Traditions is the pioneering Cookbook about How to Make Traditional Nutrient Dense Foods, including bone broth and sourdough starter by Sally Fallon and Dr. Mary Enig.
I first discovered the Nourishing Traditions book around 1999. This groundbreaking book reaffirmed my thoughts about the health benefits of real foods, prepared in traditional manners. These traditional foods include bone broths, cultured dairy, ferments, sourdough, and more.
Sally Fallon went on to found the Weston A Price Foundation which has a website and printed journal that promote traditional foods and their proper preparation.
Related Videos
Subscribe to my channel for more easy recipes
And while you're visiting my Mary's Nest YouTube channel, be sure to subscribe and click on the notification bell that will let you know each time I upload a new video.
I look forward to having you join me in my Texas Hill Country Kitchen!
Love,
Mary
♥
Shop for items used in this blog post or video
Visit my Shopping Guide page
Learn where I buy my Beef Bones, Wild-Caught Fish, Sprouted Grains, and more...and learn about Special Discounts for Mary's Nest visitors, including from US Wellness Meats, Vital Choice, Masontops, and Breadsmart.
Favorite Books:
***
*A Note About Affiliates: My videos, video descriptions, and blog posts may contain affiliate links to various products. As an Amazon Associate I earn from qualifying purchases. If you click through and make a purchase, I'll receive a small commission. It does not affect the price you pay.
**Disclaimer: I am not a medical doctor, a medical professional, a dietician, or a nutritionist. All content found on the MarysNest.com website, including text, images, videos, eBooks or eGuides, social media, or other formats, were created solely for informational purposes only. The content is not intended to be a substitute for professional medical advice, diagnosis, or treatment. Always seek the advice of your physician or other qualified healthcare provider with any questions you may have regarding a medical condition or proper nutritional advice. Never disregard professional medical advice or delay in seeking it because of something you have watched in a video or read on this website.