How to Stock Your Prepper Pantry with Real Food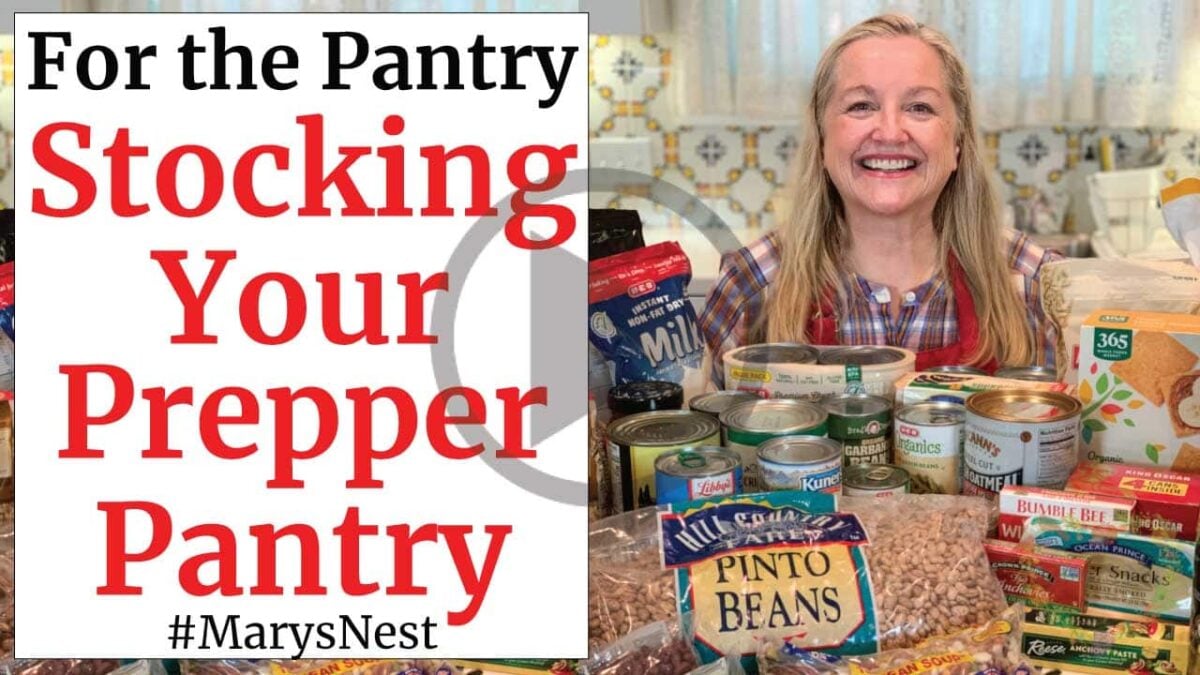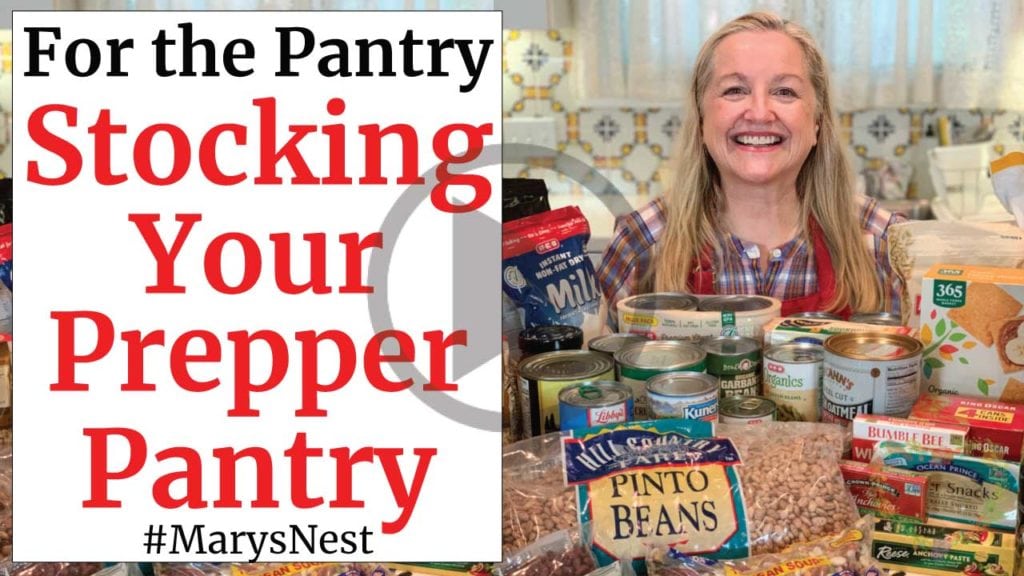 Today, I am continuing my three-part Prepper Pantry Series that you don't want to miss! This video and blog post covers Part 2, How to Stock Your Prepper Pantry with Real Food. Coming up tomorrow, Part 3 will cover How to Stock Your Prepper Pantry on $5 a Week.
Part 1 of this video series answered the question, "What is a Prepper Pantry? And Why We All Need One!" In case you missed it, you can watch the Prepper Pantry basics video below to catch-up. In this video, I discuss the importance of why we all need to have a Prepper Pantry, as well as how this type of pantry fits into the Four Corners Pantry system.
Prepper Pantry: A Quick Review
When you store food items in your home, you place them in one of the following Four Corners Pantry areas:
Main Kitchen Pantry (Working pantry)
Refrigerator
Freezer
Extended Pantry
A Prepper Pantry is essentially your extended pantry. And an extended pantry is an extension of your main working pantry where you keep your non-perishable foods that you access every day to prepare meals. Your extended pantry holds those same foods as your main working pantry that serve as backups when you need to restock your working pantry. Foods in your extended pantry are often referred to as food storage.
However, your extended pantry is much more than just an extension of your main working pantry. As part of your Four Corners Pantry system, your extended pantry should also include additional non-perishable foods to help you weather an emergency when you may not be able to purchase fresh foods. These non-perishable foods may not be foods that you are accustomed to using on a regular basis, but they are there if you need them.
And over time, so that these foods are not allowed to expire, you will periodically need to incorporate the non-perishable foods from your extended pantry into your meals so that you become comfortable cooking with them. We'll explore this idea in more detail below.
What Are Real or Traditional Foods?
If you have been with me for a while, it's not going to come as any surprise that I am talking about stocking our Prepper Pantries with real food—food that is as close to traditional foods as possible.
So when I talk about stocking your Prepper Pantry with real food, I am referring to foods that are as close to their natural state as possible with limited ingredients and minimal processing. However, at the same time, these real foods need to also be in a non-perishable state.
So what types of foods fit that description? All sorts of items. Don't worry. Even in an emergency where you may need to rely on more of these foods than normal, your palate won't get bored! I'll show you some delicious recipes below.
Shopping For Your Prepper Pantry
When you shop for your Prepper Pantry, you'll be choosing a variety of canned goods including:
Beans (canned)
Fruit
Vegetables
Various types of protein, including canned chicken and fish
You'll also add dry foods to your shopping cart, such as:
Beans (dry)
Coffee beans (yes, coffee is a food 😉 )
Oatmeal
Pasta
Rice
And more!
My stocking your Prepper Pantry video shows you many of the specific foods that you'll want to have as part of your Prepper Pantry.
Stocking Your Prepper Pantry with Traditional Foods
As you are making the transition from a processed foods kitchen to a Traditional Foods Kitchen, trying to stock your Prepper Pantry can present a challenge. In an emergency, where you will have to rely on more food than usual from your food storage, you may find that you are now cooking with canned chicken instead of a whole fresh chicken. And you may be wondering how it will taste.
So as you are shopping to add foods to your Prepper Pantry, keep in mind what foods you like to eat when they are fresh. Then try to find non-perishable options as close to your original fresh food. Then take time to practice making recipes with some of the new non-perishable foods that you buy.
Recipes for Your Prepper Pantry
In this section, I list recipes you can try with foods from your Prepper Pantry.
Canned Chicken Recipe
When it comes to canned chicken, I have a delicious Chicken Tortilla Soup recipe that can literally be ready in 10 minutes and relies on only canned food from my Prepper Pantry.
Canned Salmon Recipe
If you like fresh salmon, be sure to add some canned salmon to your food storage and try making my Salmon Patties.
Canned Sardines Recipe
In my video, I show you all the canned fish you can include in your Prepper Pantry. Salmon recipes are always welcome, but canned sardines can be an acquired taste. After you try this best sardines recipe, you'll be adding sardines to your list of favorite foods!
Oat Groats Recipe
Thinking of storing oat groats in your extended pantry, but not sure what to do with them? No problem. I show you how to make oatmeal with them. And I guarantee it is going to be some of the best oatmeal you've ever had!
If you plan to store grains in your Prepper Pantry, learn how the Mockmill Stone Grain Mill can help you make flour to use in your recipes, including baking bread. (And if you decide to get one, be sure to use my Mockmill affiliate link and promocode marysnest to get a 5% discount.)
If you want to learn how to soak and sprout grains and make your own sprouted flour (it's easier than you think!), be sure to watch the video below.
Canned Crushed Tomatoes Recipe
You can water bath can foods to include them in your Prepper Pantry. In the following video, I talk about canning crushed tomatoes. Follow the recipe below to find out how easy it is to water bath can your foods for long-term storage.
I also talk about getting a package of canning lids while you're doing your regular grocery shopping. For other canning supplies that you'll want to have on hand, watch the video below.
Vanilla Bean Extract Recipe
Prepper Pantry recipes don't have to taste bland. In addition to storing spices, you can also make and decant vanilla bean extract to add to your long-term storage.
Chicken Bouillon Recipe
You can include canned bone broth in your Prepper Pantry, but the jars of liquid can take up a lot of space. In addition, you'll need to closely monitor the expiration dates of your broth to make sure your jars of liquid gold don't go bad. You can solve your space and expiration problems by creating your own bouillon, and in the following video, I show you how.
Recipes You Can Make to Store in Your Prepper Pantry
For lots more information on how to make your own homemade apple cider vinegar (that walks you through the entire 30-day process) and how to make all sorts of homemade fermented condiments, be sure to check out these detailed video playlists:
Experiment with Recipes from Your Prepper Pantry
Also, as I experimented with canned food recipes, I was surprised at how delicious canned peas can be when smashed with some ghee (or butter if you have it). It's what the British call "mushy peas," and amazingly, it's really good! So rest assured, there are so many delicious meals that you will be able to make with food from your Prepper Pantry when the need arises.
Pantry List for Your Prepper Pantry
Be sure to download your free pantry list and watch the accompanying video for more tips on how to stock your prepper pantry. The eBook lists specific foods for each of your Four Corner Pantry areas.
Related Videos
Be sure to watch these related videos to discover the forever foods, traditional foods, and home remedies that are essential to your Four-Corners Pantry.
Stay in Touch with Mary's Nest
Subscribe to My YouTube Channel for Traditional Foods Videos (Free) - When you subscribe, be sure to click on the notification bell that will let you know each time I upload a new video.
Subscribe to Mary's Traditional Foods Newsletter (Free) - Get a free 36-page eBook for signing up: How to Stock Your Essential Traditional Foods Four-Corners Pantry.
Join the Traditional Foods Kitchen Academy (Optional Paid) - For more detailed videos, live streams, and exclusive members-only perks, join my YouTube membership community.
Order The Modern Pioneer Cookbook (Optional Paid) - Get a printed book of Mary's nourishing recipes from a Traditional Foods Kitchen. This bestselling cookbook is published by Penguin Random House with their DK imprint.
I look forward to having you join me in my Texas Hill Country Kitchen!
---
Shop for items used in this blog post or video
Favorite Food Storage Supplies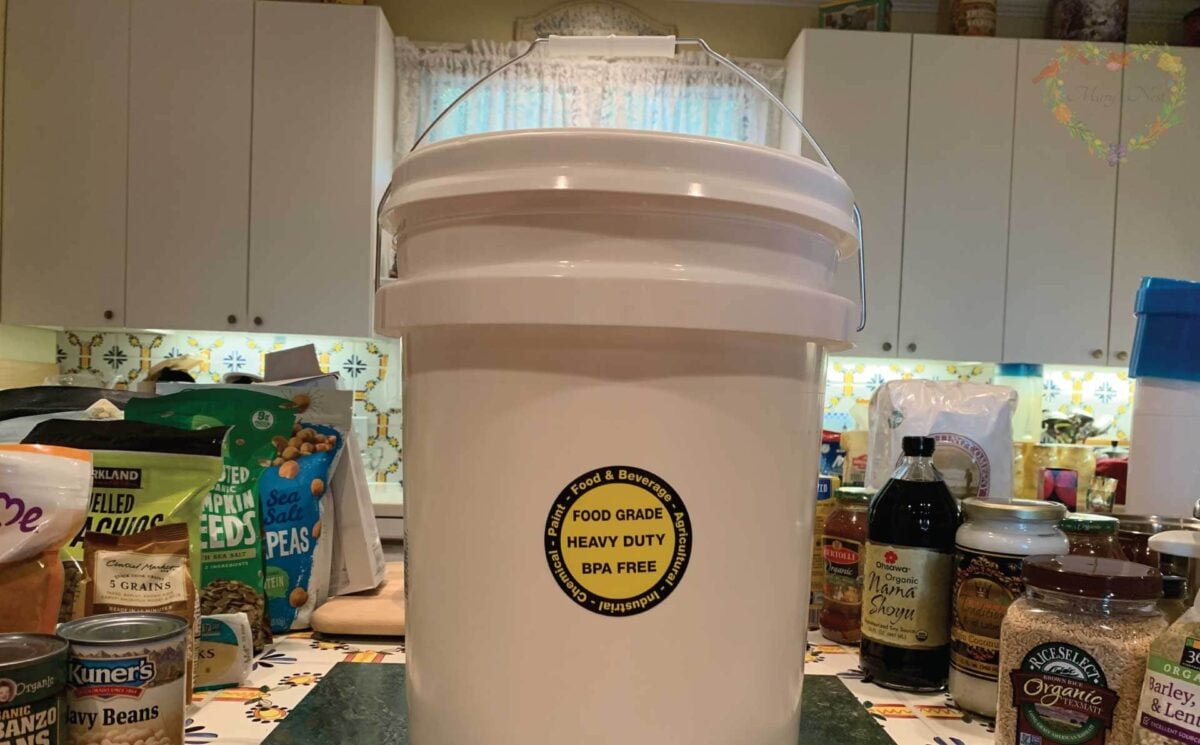 Using 5 Gallon Storage Buckets are a great option when storing large quantities of dry goods, such as grain, rice, flour, and beans. These buckets create an airtight seal, and if you add in some Silica Gel Packs to prevent moisture build-up and some Bay Leaves to kill off the development of any bugs, your dry goods can stay fresh for an extended period of time.
Favorite Kitchen Supplies
Use promo code MARYSNST for a one-time 15% off Masontops and Breadsmart products on Amazon.com.
Use my Mockmill affiliate link for a special one-time 5% discount on Mockmill Stone Grain Mill products, including the new Flake Lover's Flaker. (The Mockmill discount will appear when you checkout.)
Recommended Reading
Amazon Shop and Shopping Guide
Visit my Shopping Guide page
Get up to 15% off for stocking your Traditional Foods Pantry and equipping your Modern Pioneer Kitchen, including discounts from Lehman's, Mockmill Grain Mill, Masontops, Cultures for Health, Survival Garden Seeds, Redmond Real Salt, Plan to Eat, US Wellness Meats, and More!
*Affiliates note: As an Amazon Associate I earn from qualifying purchases. My content may contain affiliate links to products and services. If you click through and make a purchase, I'll receive a small commission. It does not affect the price you pay.
**Disclaimer: I am not a medical doctor, a medical professional, a dietician, or a nutritionist. All content found on the MarysNest.com website, including text, images, videos, eBooks or eGuides, social media, or other formats, were created solely for informational purposes only. The content is not intended to be a substitute for professional medical advice, diagnosis, or treatment. Always seek the advice of your physician or other qualified healthcare provider with any questions you may have regarding a medical condition or proper nutritional advice. Never disregard professional medical advice or delay in seeking it because of something you have watched in a video or read on this website. Use caution when following the recipe in this video. The creator and publisher of this video and website will not be held responsible for any adverse effects that may arise from the use of this recipe and method or any other recipe and method on this website or corresponding video channel.