Affiliates note: As an Amazon Associate I earn from qualifying purchases. My content may contain affiliate links to products and services. If you click through and make a purchase, I'll receive a small commission. It does not affect the price you pay.
Today, I am sharing the Best Sardines Recipe with you. This is one of my favorite ways to eat sardines, and it is a wonderful way to learn how to enjoy sardines if you or your family are new to eating them.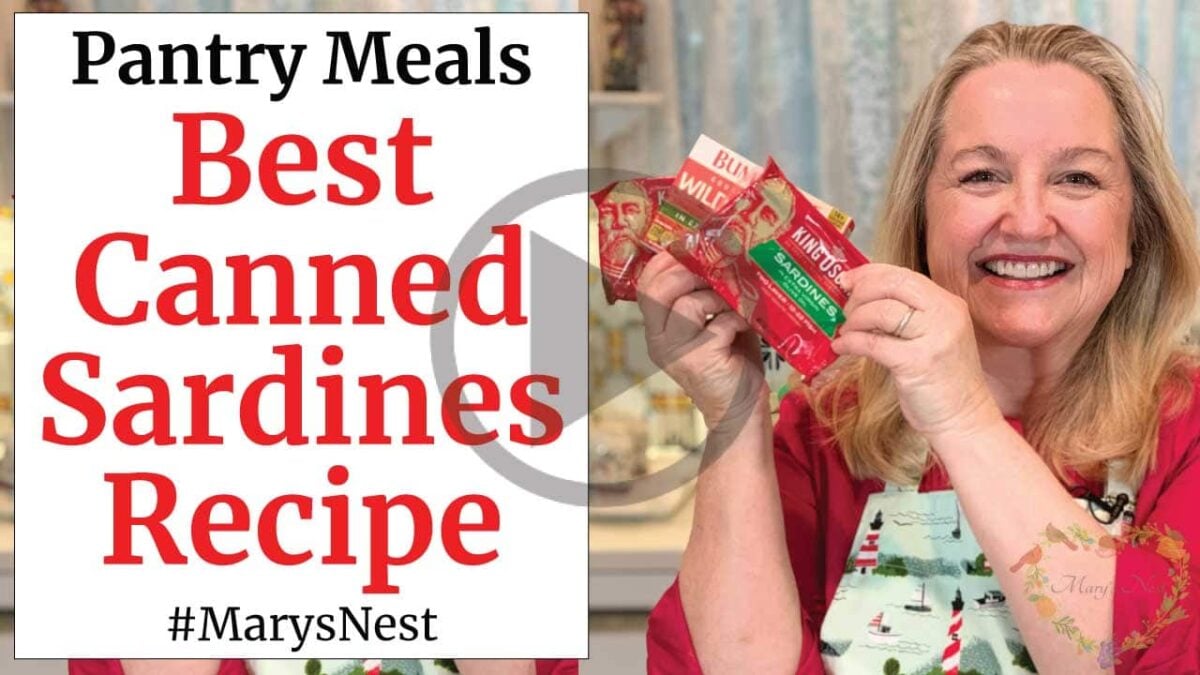 Why Eat Sardines?
You might be wondering why you would want to eat sardines? For starters, they are very high in vitamins and minerals. Sardines are an excellent source of vitamin B12, which keeps our nerve and blood cells healthy, and of calcium, which plays a role in keeping our bones strong.
Plus, sardines are very high in anti-inflammatory omega-3 fatty acids, which scientists tell us helps prevent heart disease. And another benefit to learning to eat and like sardines is that they are a small fish that feed only on plankton (tiny organisms floating in the ocean), which means they don't contain the high levels of mercury that other larger fish do.
Lastly, canned sardines are compact and cost-effective items to stock up on for your traditional foods pantry. You can store them in the "extended" part of your pantry where you keep your long-term food storage.
How to Eat – And Enjoy – Canned Sardines
When I was a child, my mother served sardine sandwiches on rye bread with pickled onions. They were delicious! But I realize that this may be an acquired taste and not something for everyone.
This recipe is a wonderful option for those of you who are new to sardines and want to incorporate this nutrient-dense food into your diet. This recipe includes palate-pleasing ingredients, such as lemon juice, fresh herbs, and a touch of olive oil. So be sure to watch the recipe video and make this scrumptious recipe today!
Now, I can't take credit for the original recipe. I actually found it in a cookbook titled the Longevity Kitchen by Rebecca Katz. When she developed this recipe, she served it to friends who claimed they didn't like sardines. But lo and behold, they gobbled these up and asked for more. She knew she had found a winner!
I've modified Rebecca's original recipe just a bit so as to use the ingredients I had on hand and that were in season. (You can find the original recipe in her book.) But rest assured, both recipes are delicious, and this is one of those recipes you can really make your own by experimenting with different herbs and spices. Try out different ingredients to find the combination that you and your family enjoy the most.
And Rebecca Has Even More Great Recipes
If you like this recipe (and I'm sure you will), you will savor the other recipes in Rebecca's cookbook. In the Longevity Kitchen, she focusses on what she calls the "Top 16 Age-Busting Power Foods." Well, I, for one, definitely want to be working all of those into my diet!
And if you find the Longevity Kitchen an essential addition to your cookbook library, be sure to check out Rebeccas's other cookbooks that I list in my Recommended Reading section of this blog post.
More Traditional Fish Recipes
To incorporate more nutrient-dense fish dishes into your diet, be sure to check out these videos where I share how to make a thyroid-loving Fish Bone Broth, iodine-rich Fish Stew, and a recipe I enjoyed growing up as a child…Cioppino—an Italian Fish Stew.
Download Your Free 36-Page Pantry List
For an extensive list of the traditional foods you can make and purchase to stock your pantry, be sure to download my free 36-page Traditional Foods Pantry List. This comprehensive eBook is full of links to recipe videos, helpful articles, and more!
And if you're looking for a printed book full of my traditional foods recipes that shows you how to create a traditional foods kitchen, be sure to preorder your copy of my new book, The Modern Pioneer Cookbook.
Join the Traditional Foods Kitchen Academy
Are you looking for more traditional foods videos? If so, I invite you to join the Traditional Foods Kitchen Academy. Members of this optional paid YouTube community get access to exclusive videos, live streams, and other members-only perks. Plus, your YouTube comments include a special members-only badge.
I chat about why it was important for me to create this comprehensive curriculum for students in grades K-12.
I share upcoming recipes and what I have planned for my Mary's Nest YouTube channel in 2024.
During this month's members-only live stream, we talked about a variety of topics, including a preview of upcoming videos.
Stay in Touch with Mary's Nest
Subscribe to My YouTube Channel for Traditional Foods Videos (Free) - When you subscribe, be sure to click on the notification bell that will let you know each time I upload a new video.
Subscribe to Mary's Traditional Foods Newsletter (Free) - Get a free 36-page eBook for signing up: How to Stock Your Essential Traditional Foods Four-Corners Pantry.
Join the Traditional Foods Kitchen Academy (Optional Paid) - For more detailed videos, live streams, and exclusive members-only perks, join my YouTube membership community.
Order The Modern Pioneer Cookbook (Optional Paid) - Get a printed book of Mary's nourishing recipes from a Traditional Foods Kitchen. This bestselling cookbook is published by Penguin Random House with their DK imprint.
I look forward to having you join me in my Texas Hill Country Kitchen!
The Best Sardines Recipe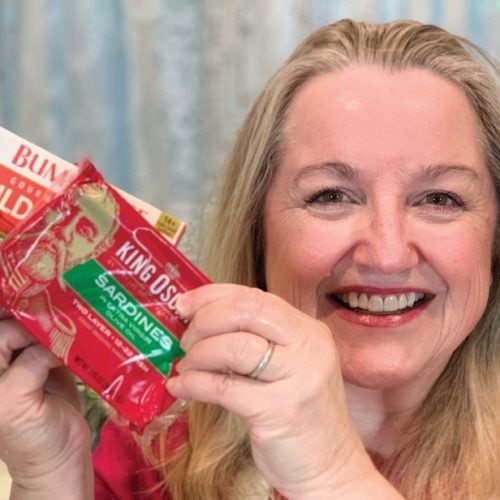 Enjoy this delicious fish dish filled with fresh herbs, lemon juice, and a touch of olive oil.
Ingredients
1

4.35 ounce

Canned sardines, packed in water or olive oil

You can use skinless and boneless sardines, but the sardines that have the skin and bones intact are more nutritious.

1

Fresh lemon, juice and zest

1 – 4

tablespoons

Red onion or scallion, diced

I love red onion, so I used an entire small red onion that equaled 4 tablespoons. You can start with 1 tablespoon as recommended in the original recipe to see what you like best.

6

teaspoons

Fresh herbs, finely chopped

I used all Italian flat leaf parsley, since it was in season. The original recipe recommends 2 teaspoons Italian flat leaf parsley, 2 teaspoons basil, and 2 teaspoons mint. For dried herb amounts, see "Recipe Notes" below.

1

teaspoon

Extra virgin olive oil, optional

Only add olive oil if your sardines are packed in water.

1

teaspoon

Dijon mustard

1/8

teaspoon

Fine ground sea salt

Add more according to your tastes
Instructions
Add sardines to a medium bowl and flake with a fork into chunky pieces. (See video.)

Add remaining ingredients and stir gently to combine.

Taste and adjust seasonings, if necessary.
Notes
Using Dried Herbs: If you decide that you want to use dried herbs in this recipe, decrease the total amount of herbs by half the fresh amount or less. However, do not exceed three teaspoons of dried herbs.
You can find the original recipe for this dish in The Longevity Kitchen cookbook by Rebecca Katz. You can find links to Rebecca's cookbook, as well as this modified recipe and accompanying video, at https://marysnest.com/the-best-sardines-recipe/
Copyright © 2020 Mary's Nest, LLC, All Rights Reserved
Nutrition
Calories:
19
kcal
|
Carbohydrates:
3
g
|
Protein:
0.4
g
|
Fat:
1
g
|
Saturated Fat:
0.2
g
|
Polyunsaturated Fat:
0.2
g
|
Monounsaturated Fat:
1
g
|
Cholesterol:
0.4
mg
|
Sodium:
88
mg
|
Potassium:
45
mg
|
Fiber:
1
g
|
Sugar:
1
g
|
Vitamin A:
20
IU
|
Vitamin C:
15
mg
|
Calcium:
10
mg
|
Iron:
0.2
mg
Watch Mary's Nest on YouTube
Shop for items used in this blog post or video
Favorite Canned Fish Making Supplies
Recommended Reading
Amazon Shop and Shopping Guide
Visit my Shopping Guide page
Get up to 15% off for stocking your Traditional Foods Pantry and equipping your Modern Pioneer Kitchen, including discounts from US Wellness Meats, Farmhouse Teas, Lehman's, Masontops, Cultures for Health, Survival Garden Seeds, Redmond Real Salt, Plan to Eat, and More!