Learn how to make the best homemade hamburger buns ever! These buns are pillowy soft, yet firm enough to hold up to even the juiciest hamburger or the sloppiest sloppy joe.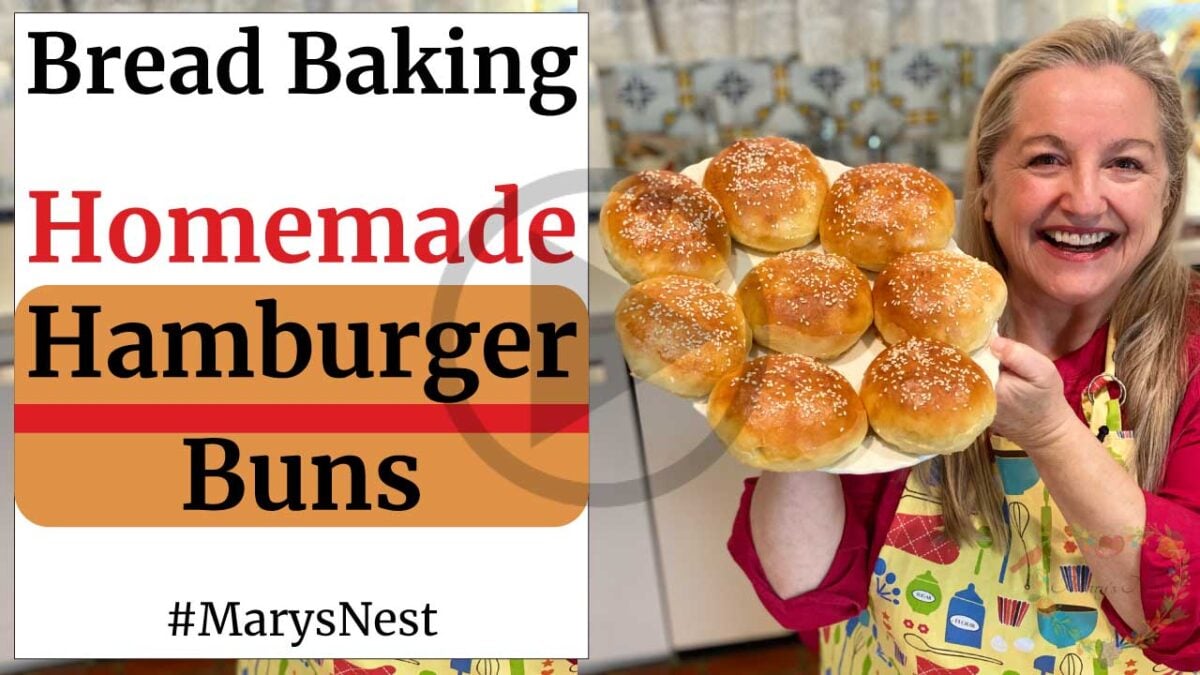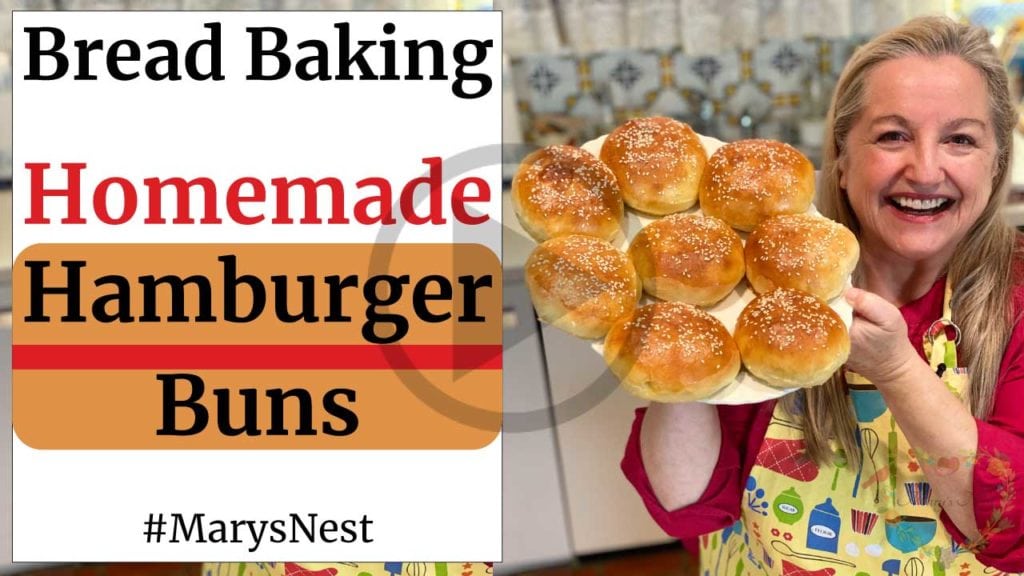 Homemade Hamburger Buns
You can certainly buy hamburger buns at the grocery store. However, just as I have shared with you in my how to make homemade sandwich bread recipe video, you can make pretty much make any type of supermarket bread at home.
And what you make at home will be fresher, tastier, and healthier. Your homemade hamburger buns will contain simple ingredients like:
Flour (Your choice!)
Salt
Water
Yeast
These are all ingredients you can pronounce. Plus, the best ingredient in anything you make homemade is love!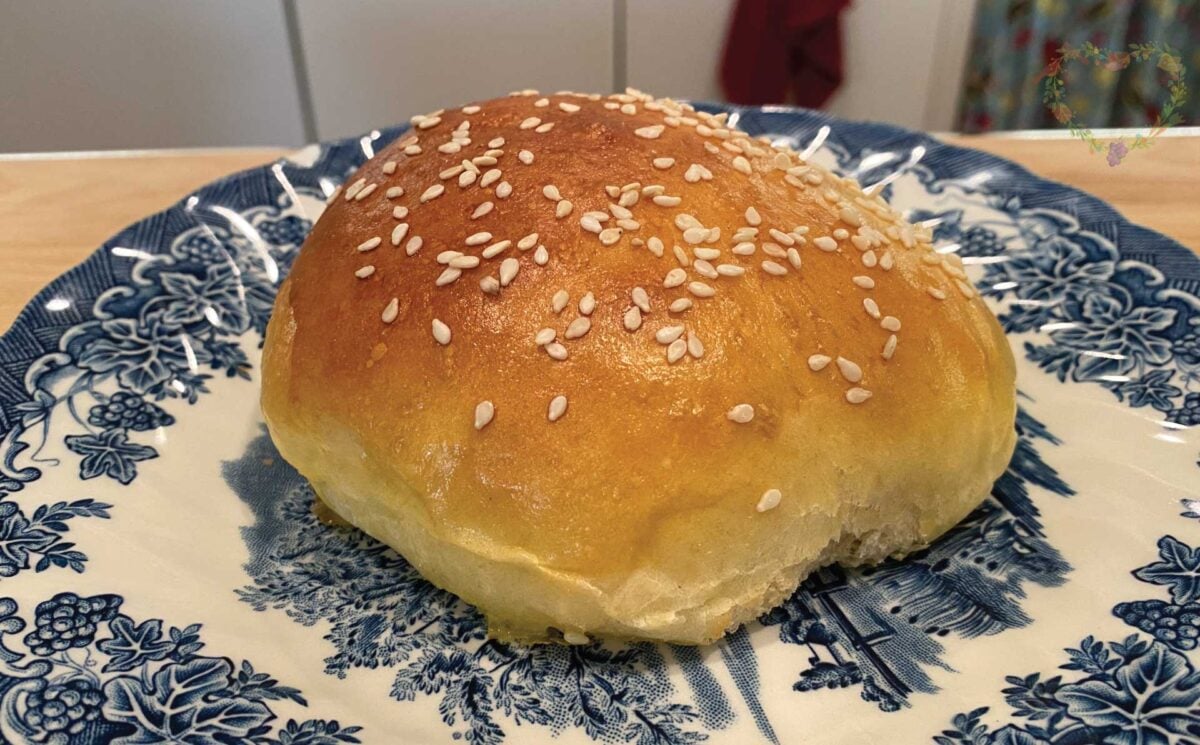 Pillowy Soft Yet Substantial
This recipe for homemade hamburger buns creates a bread that is pillowy soft on the inside but is substantial enough to hold a large hamburger without falling apart or becoming a mushy mess.
And speaking of hamburgers…
Looking for Pastured Raised Meats?
If you can't find ground beef from grass-fed cattle in your neighborhood supermarket or farmer's market, check out US Wellness Meats for some of the best organic meats, pastured chickens, beef bones, and more.
Use discount code MARYNEST and my link to save 15% off regular-priced items on your US Wellness Meats order. You can shop for a variety of products, including:
This post is not sponsored. I'm a long-time customer of US Wellness Meats because I have always been impressed by the quality of their products. Check out my US Wellness Meats unboxing video to see the types of products you can get, including bones for beef bone broth!
White or Whole Wheat Hamburger Buns
This recipe for hamburger buns is well suited for beginners, since you can choose from one of the following easy-to-find flours:
All-purpose flour (also referred to as white flour or plain flour)
Bread flour
Both of these flours have the bran and the germ sifted out of them, and you can find them at almost any grocery store.
Using Whole Grain Flours
If you decide that you want to try your hand at making whole-grain hamburger buns, you can easily use one of these flours in place of some or all of the all-purpose or bread flour:
Whole wheat flour
Ancient whole grain flours
In the printable recipe below, I share how to make the modifications necessary when baking with whole grains.
Start with Flour or Whole Grains
In my recipe video, I show you two ways to start making homemade hamburger buns using:
Whole grains, milled into fresh flour using a grain mill, and then sifted to make a homemade all-purpose flour; or
All-purpose flour, available at pretty much any grocery store.
Check the timestamps in my video description to go directly to the video section where you'd like to start. For example, if you already have all-purpose flour, you can hop to the "Ingredients for Hamburger Buns" section.
If you start with whole grain, this video provides a step-by-step tutorial to show you how to use the Mockmill grain grinder using whatever whole grains you choose. I also show you how to sift out some of the bran and the germ using a mesh strainer and a baker's sifter (or flour sifter).
Using a Mesh Strainer or Baker's Sifter
When using a standard mesh strainer, you will sift out a little less than half a cup of bran and germ from your freshly milled flour. When you re-sift the flour using a baker's sifter that has a tighter mesh, you will sift out an additional amount of bran and germ equally, a little less than one cup.
Don't worry if you don't have a baker's sifter. You can re-sift your flour using your standard mesh strainer, and you will increase the amount of bran and germ that you are able to sift out of the flour. Of course, it won't be as much as what you can sift out using a baker's sifter, but you will still create a flour that will bake up lighter than a 100% whole grain flour.
After you sift out as much of the bran and germ as you can, you'll create a homemade all-purpose flour that you will use in the hamburger buns recipe.
Grind Your Own Flour with the Mockmill
When it comes to electric grain mills, after I did A LOT of research, I decided to buy a Mockmill. And am I so happy I did! The Mockmill is a very affordable but beautifully crafted German-made mill that stone grinds grain with settings ranging from 1 to 10—fine to coarse ground grain. (I use setting 5 in my hamburger buns recipe video.)
And I have great news! The folks at Mockmill are very kind to offer my viewers and readers a discount on any of the grain mills that they sell.
You can see me unbox and try out the Mockmill 100 Grain mill in the following video. (This recipe video and my unboxing videos are not sponsored posts. I purchased my own Mockmill, and I'm happy to help get you started using it to help you on your traditional foods journey.)
What Types of Grain Can I Grind?
Using your Mockmill or another type of grain grinder, you can choose a modern-day wheat berry (such as Hard Red Wheat or Hard White Wheat) or choose from a variety of ancient whole grains (such as Einkorn, Emmer, Spelt, or Kamut) to grind into all-purpose flour for making your hamburger buns.
In the following videos, I introduce you to the different wheat berries that you can grind into flour. These whole grains range from Einkorn to Kamut. I also show you how to stock your baking pantry with the best ingredients.
Sugar for Baking Hamburger Buns
One of the ingredients for making hamburger buns is a small amount of sugar. To make this recipe accessible to beginners, I use plain white sugar. However, if you are farther along in your traditional foods journey, you can use other healthier sugars, such as Sucanat.
To learn more about the different sugars you can choose from, watch my essential sugars for your Prepper Pantry video.
Knead or No Knead?
Also, to help beginners make their first homemade hamburger buns, I show you how to use a stand mixer for kneading your dough. (For making pillowy-soft hamburger buns, you really want to use a kneaded dough.)
However, if you don't have a stand mixer, you can always knead your dough out by hand. You can learn how to knead dough in my tutorial video on how to make easy homemade bread.
No Knead Bread Recipes
If you'd rather not knead your dough, I have a number of no knead recipes, such as my homemade sandwich bread (with over 1 million views) that I mentioned earlier, as well as these other no knead bread recipe videos too:
Homemade Condiments for Hamburger Buns
When you take the time to learn how to make fresh, homemade hamburger buns, you may also want to bring some homemade condiments to the table as well! But not just any condiments. Try your hand at making homemade fermented condiments.
Why Fermented Condiments?
Fermented condiments will not only be fresher and tastier than anything you can buy at the store, but they will also be rich in probiotics. And these probiotics help you by creating a diverse colony of good bacteria in your digestive tract that aid in digestion and contribute to your overall good health.
Although fermenting may take a little longer in the wintertime, the good news is that longer ferments typically have a better flavor, and you don't have to worry about summertime fermenting problems, such as mold or Kahm yeast. Just find a nice, cozy warm spot for your ferments (around 65-72°F) and let them do the work for you.
So be sure to try your hand at making your own fermented:
New to Fermenting?
If you are new to fermenting, you might find using the Masontops Fermentation Kit quite helpful to get you started. Novice and experienced fermenters have found the Masontops system a joy to use.
In my Masontops unboxing video, I show you my Masontops Complete Mason Jar Fermentation Kit and go over everything the kit includes.
If you decide to get one, be sure to use my coupon code below for a special discount.
One-Minute Homemade Mayo Anyone?
And speaking of condiments, would you like to learn how to make your own homemade mayonnaise and how to do it in one minute? If so, I have the perfect recipe for you, and it will taste great on your hamburger buns!
In this easy recipe video, I share the best oils to use to make a mayonnaise that will rival any store-bought brand. Plus, it contains NO soybean oil. That is one highly-processed oil we definitely DO NOT want in our traditional foods kitchens or our bodies!
Download Your Free 36-Page Pantry List
For an extensive list of the traditional foods you can make and purchase to stock your pantry, be sure to download my free 36-page Traditional Foods Pantry List. This comprehensive eBook is full of links to recipe videos, helpful articles, and more!
And if you're looking for a printed book full of my traditional foods recipes that shows you how to create a traditional foods kitchen, be sure to order your copy of my new book, The Modern Pioneer Cookbook.
Homemade Sandwich Bread Recipes
If you enjoyed making homemade hamburger buns, and you're looking for more bread recipes, especially an easy homemade sandwich bread, I have the recipe for you!
Experienced bakers will love the ease of this no-knead sandwich bread, and new bakers will find this to be a great introduction to home bread making. And making bread homemade is a huge money saver!
This no-knead sandwich bread will rival any soft sandwich bread you can buy in a plastic sleeve in the bread aisle at your local grocery store. Plus, it's made with wholesome ingredients you can pronounce as opposed to dough conditioners and a list of preservatives.
As you move further along on your journey, leaving a processed foods kitchen behind and building your traditional foods kitchen, you might want to start incorporating whole grains into your baking repertoire. So, if you are looking for an easy no-knead whole wheat bread, look no further than the following recipe video.
Join the Traditional Foods Kitchen Academy
Are you looking for more traditional foods videos? If so, I invite you to join the Traditional Foods Kitchen Academy. Members of this optional paid YouTube community get access to exclusive videos, live streams, and other members-only perks. Plus, your YouTube comments include a special members-only badge.
In the following members-only video, I talk about Whole Grain Baking for the Traditional Foods Kitchen.
I share upcoming recipes and what I have planned for my Mary's Nest YouTube channel in 2024.
During this month's members-only live stream, we talked about a variety of topics, including a preview of upcoming videos.
I talk about the people I met at this year's conference and share some behind-the-scenes of my new cookbook.
Stay in Touch with Mary's Nest
Subscribe to My YouTube Channel for Traditional Foods Videos (Free) - When you subscribe, be sure to click on the notification bell that will let you know each time I upload a new video.
Subscribe to Mary's Traditional Foods Newsletter (Free) - Get a free 36-page eBook for signing up: How to Stock Your Essential Traditional Foods Four-Corners Pantry.
Join the Traditional Foods Kitchen Academy (Optional Paid) - For more detailed videos, live streams, and exclusive members-only perks, join my YouTube membership community.
Order The Modern Pioneer Cookbook (Optional Paid) - Get a printed book of Mary's nourishing recipes from a Traditional Foods Kitchen. This bestselling cookbook is published by Penguin Random House with their DK imprint.
I look forward to having you join me in my Texas Hill Country Kitchen!
Shop for items used in this blog post or video
Favorite Baking Supplies
More Kitchen Supplies with Discount Codes
Learn more about Mockmill electric grain mills for making fresh flour and their Flake Lover's Flaker that flakes whole grain in minutes.
Use promo code MARYSNST for a one-time 15% off Masontops and Breadsmart products on Amazon.com.
Amazon Shop and Shopping Guide
Visit my Shopping Guide page
Get up to 15% off for stocking your Traditional Foods Pantry and equipping your Modern Pioneer Kitchen, including discounts from US Wellness Meats, Farmhouse Teas, Lehman's, Masontops, Cultures for Health, Survival Garden Seeds, Redmond Real Salt, Plan to Eat, and More!
Recommended Reading
**Disclaimer: I am not a medical doctor, a medical professional, a dietician, or a nutritionist. All content found on the MarysNest.com website, including text, images, videos, eBooks or eGuides, social media, or other formats, were created solely for informational purposes only. The content is not intended to be a substitute for professional medical advice, diagnosis, or treatment. Always seek the advice of your physician or other qualified healthcare provider with any questions you may have regarding a medical condition or proper nutritional advice. Never disregard professional medical advice or delay in seeking it because of something you have watched in a video or read on this website. Use caution when following the recipe in this video. The creator and publisher of this video and website will not be held responsible for any adverse effects that may arise from the use of this recipe and method or any other recipe and method on this website or corresponding video channel.