No Knead WHOLE WHEAT Sandwich Bread – Super Soft!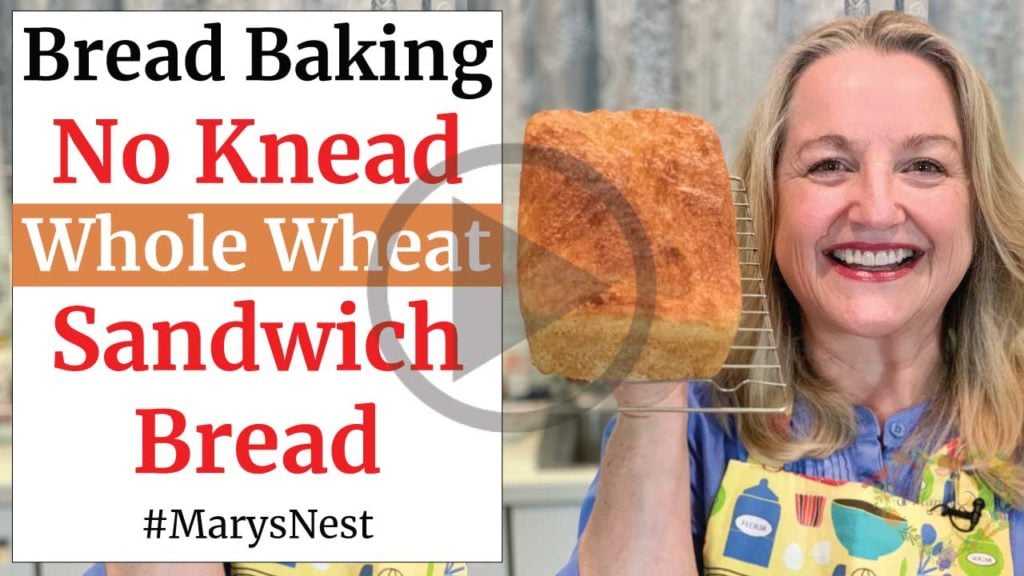 Learn How to Make Super Soft No Knead Whole Wheat Sandwich Bread with this easy recipe. This is another great bread to make that will help you transition from a Processed Foods Kitchen to a Traditional Foods Kitchen.
The Traditional Foods Kitchen
If you are in the process of transitioning from a processed foods kitchen to a traditional foods kitchen, bread can present a challenge. You may still be buying sandwich bread at the store, but now, you want to learn how to make your own bread. There's just one problem. The process of making sourdough frightens you. And you're certainly not ready to start soaking and sprouting grains to make your own sprouted flour! So what do you do?
No Knead Bread Made with Yeast
As I have shared with you in the past, I am not a fanatic when it comes to making traditional foods. Yes, sourdough is great, and so is bread made with sprouted flour. They're both easy to digest and allow our bodies to absorb nutrients more easily. However, those two types of bread can also seem daunting to make to those new to traditional foods.
So when it comes to making bread as a beginner, I have no problem helping you learn this skill—as you're starting out—by making a no knead sandwich bread that uses yeast. My super soft No Knead Sandwich Bread made with all-purpose flour is an example of this.
Just as with my all-purpose flour No Knead Sandwich Bread, this recipe for No Knead Whole Wheat Sandwich Bread, works the same way. The only difference is that we're going to make this bread with half all-purpose flour and half whole wheat flour to help you, your family, and your friends get used to the taste and texture of whole wheat. But yes, if you're ready to jump into a 100% whole wheat sandwich bread, I share how to do this in the recipe below.
The nice thing about any of my recipes for no knead bread is that there's no need (sorry for the pun) to worry about the finger-poke test or the window-pane test. And even better, by using packaged yeast to give your breads a rise, you don't have to worry about a sourdough starter. All you have to do is mix a few simple ingredients (that are available at pretty much every grocery store) together to create your dough, let the mixture rise for about an hour and a half, transfer your dough to a loaf pan for another short rise…and then bake it. There is very little work on your part. And then…Voila!…Fresh homemade bread in a few hours! And your home-baked sandwich bread is going to be better than anything you can buy at the grocery store.
Why Whole Wheat in the First Place?
But you might be wondering, why you can't just make and eat a sandwich bread made with all-purpose flour? And that's a great question! Yes, homemade bread—regardless of the type of flour that you use—is going to be better than store-bought packaged bread that often contains lots of other unnecessary—and possibly unhealthy—ingredients that were added to prolong shelf life. When we make bread homemade, we don't need to add these ingredients. But where does whole wheat flour fit into all of this?
Whole wheat flour, unlike all-purpose flour, contains the bran and the "germ" of the grain, which maintains the fiber and nutrition of the flour. When you bake with whole wheat flour, you are including that fiber and nutrition in your bread. And scientists tell us that a high-fiber nutrient-rich diet is best for maintaining or improving our overall health.
More Bread Recipes
Now that you've created your homemade No Knead Whole Wheat Sandwich bread, you can also make my traditional No Knead Sandwich Bread using all-purpose flour for those in your family who are not ready to transition to whole wheat bread.
And next, be sure to try out my Faster No Knead Bread that creates a bakery worthy "boule" with very little work on your part. It's perfect for the beginner!
And if you're ready to venture into the world of sourdough, be sure to check out my Foolproof Sourdough Starter made with rye flour, or my Complete Guide to Sourdough Starter that will walk you through a step-by-step process for making a starter with all-purpose flour. And then I'll walk you through how to make a beautiful sourdough boule.
Once you're ready to bake some sourdough bread, I've got you covered with three great recipes, including a No Knead Sourdough Bread, a Traditional Sourdough Boule, and a No Knead Spelt Boule.
Finally, if you're feeling especially adventurous, be sure to check out my step-by-step tutorial where I walk you through how to soak and sprout your own grain, then dry it and turn it into sprouted flour!
Stay in Touch with Mary's Nest
Subscribe to My YouTube Channel for Traditional Foods Videos (Free) - When you subscribe, be sure to click on the notification bell that will let you know each time I upload a new video.


Subscribe to Mary's Traditional Foods Newsletter (Free) - Get a free eBook for signing up: How to Stock Your Essential Traditional Foods Four-Corners Pantry.


Join the Traditional Foods Kitchen Academy (Optional Paid) - For more detailed videos, live streams, and exclusive members-only perks, join my YouTube membership community.
I look forward to having you join me in my Texas Hill Country Kitchen!
Love,
Mary
♥
Shop for items used in this blog post or video
Favorite Bread Making Supplies
Use promo code MARYSNST for a one-time 15% off Masontops and Breadsmart products on Amazon.com.
Favorite Yeasts for Bread Making
Recommended Reading
Amazon Shop and Shopping Guide
Visit my Shopping Guide page
Learn where I buy my beef bones, electric grain mills, sprouted grains, and more…and get special discounts for Mary's Nest visitors, including from US Wellness Meats, Mockmill, Masontops, and Cultures for Health.
*Affiliates note: As an Amazon Associate I earn from qualifying purchases. My videos and blog posts may contain affiliate links to products and services. If you click through and make a purchase, I'll receive a small commission. It does not affect the price you pay.
**Disclaimer: I am not a medical doctor, a medical professional, a dietician, or a nutritionist. All content found on the MarysNest.com website, including text, images, videos, eBooks or eGuides, social media, or other formats, were created solely for informational purposes only. The content is not intended to be a substitute for professional medical advice, diagnosis, or treatment. Always seek the advice of your physician or other qualified healthcare provider with any questions you may have regarding a medical condition or proper nutritional advice. Never disregard professional medical advice or delay in seeking it because of something you have watched in a video or read on this website. Use caution when following the recipe in this video. The creator and publisher of this video and website will not be held responsible for any adverse effects that may arise from the use of this recipe and method or any other recipe and method on this website or corresponding video channel.