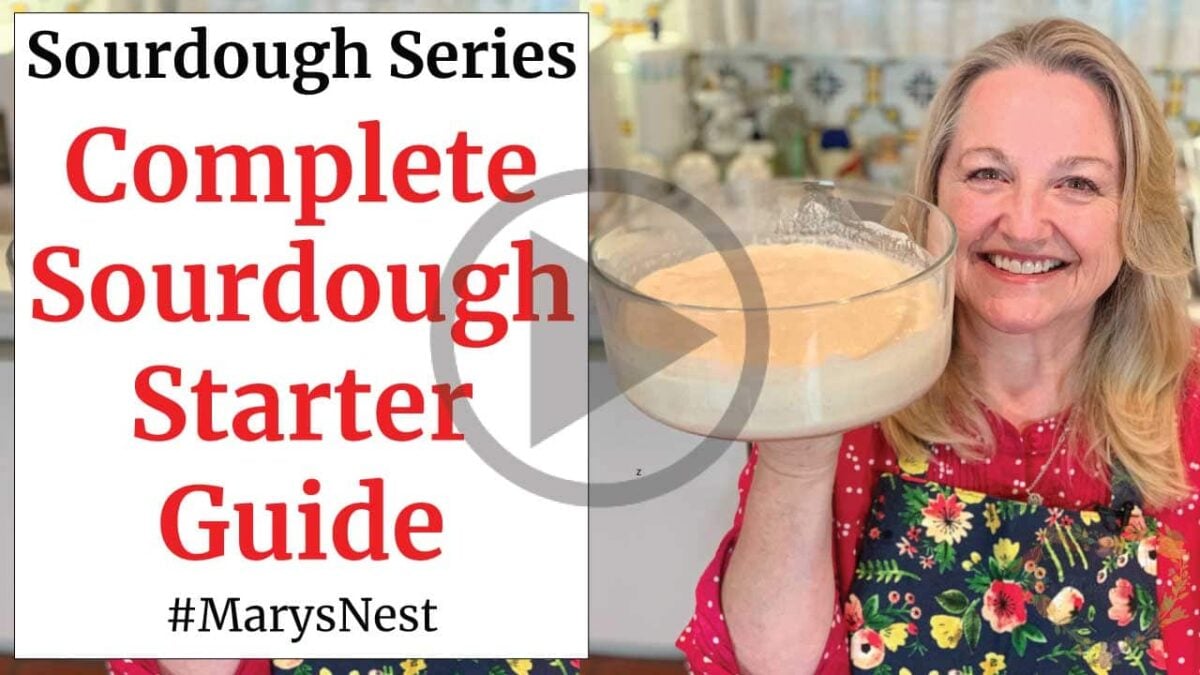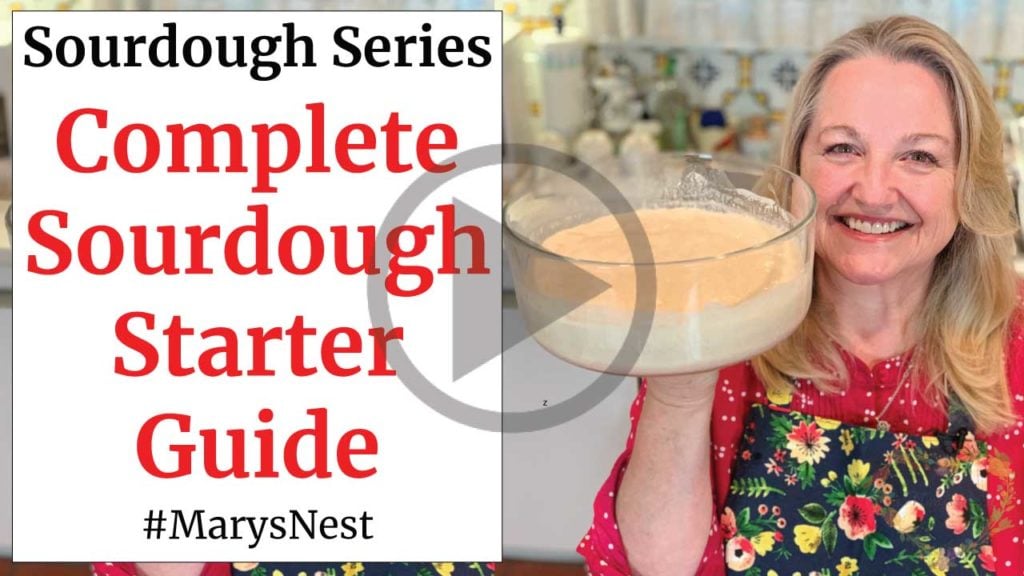 In this Complete Sourdough Starter Guide, you'll learn how to make Sourdough Starter, diagnose and fix problems that might occur, and discover how to maintain your starter to keep it bubbly and strong.
And this couldn't be easier! You don't need a scale, a thermometer, or a proofing box. All you need is all-purpose flour and water. So let's get started!
No Scale Required to Make Sourdough Starter
People have been making sourdough starter for thousands of years. And many of them never had a scale to weigh their ingredients. So if you don't have a scale, don't worry. You can do this. I never want a lack of equipment to stand in the way of anyone being able to make sourdough starter—or any nutrient dense food for that matter.
So if you don't have a scale, how do you know you have the right amount of flour and water in the correct proportions? It's easy. Instead of putting your measuring cup into your flour, dip a clean spoon into your flour and use the spoon to fill your measuring cup. This will give you approximately the same amount of flour by weight as your measuring cup full of water. Is it 100% exact? No. But it doesn't matter. It's close enough.
Let's Start Our Sourdough Starter
The first thing you want to do is get a bowl or a jar to mix your starter. To the vessel that you choose, add your flour and water and stir well to make a slurry. Cover the bowl or jar loosely, and leave it in a warm place between 70-80°F. This is basically room temperature.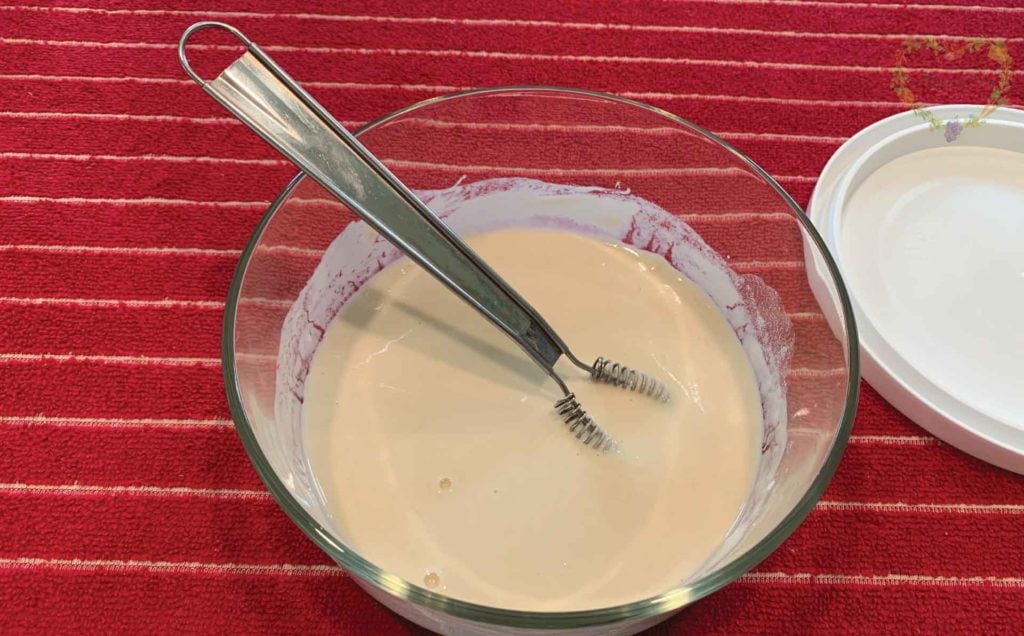 I started with a half cup of flour and a half cup of water, but you can use any amount you want, as long as the flour and water are in the same amounts. This makes for a 100% hydration starter. I find this type of starter is easiest for beginners to have success.
When Day Three Arrives
After having left your starter-in-the-making for two days, you are now ready to feed it. You'll want to remove half of the mixture from your bowl (this is known as "discarded sourdough starter"), and you'll want to feed what is left in the bowl with the same proportional amounts of water and flour that you started with. In my example, I use one-half cup of flour and one-half cup of water. Next, I stir it, cover it, and let it rest for 12 hours.
After 12 hours, you'll want to repeat the process all over again. And you will continue to do this every 12 hours until your starter is bubbly and frothy. This process can take as little as 7 days or as long as 10 or more days.
Is It Time to Bake Sourdough Bread?
Once your starter is bubbly and frothy, you're ready to bake bread. But keep in mind that a new sourdough starter is often not as strong as a mature starter. And by mature, I mean a starter that has been alive for a long time.
You can still bake bread with your young starter, but you will find that over time, as your starter matures, the rise of your bread will improve.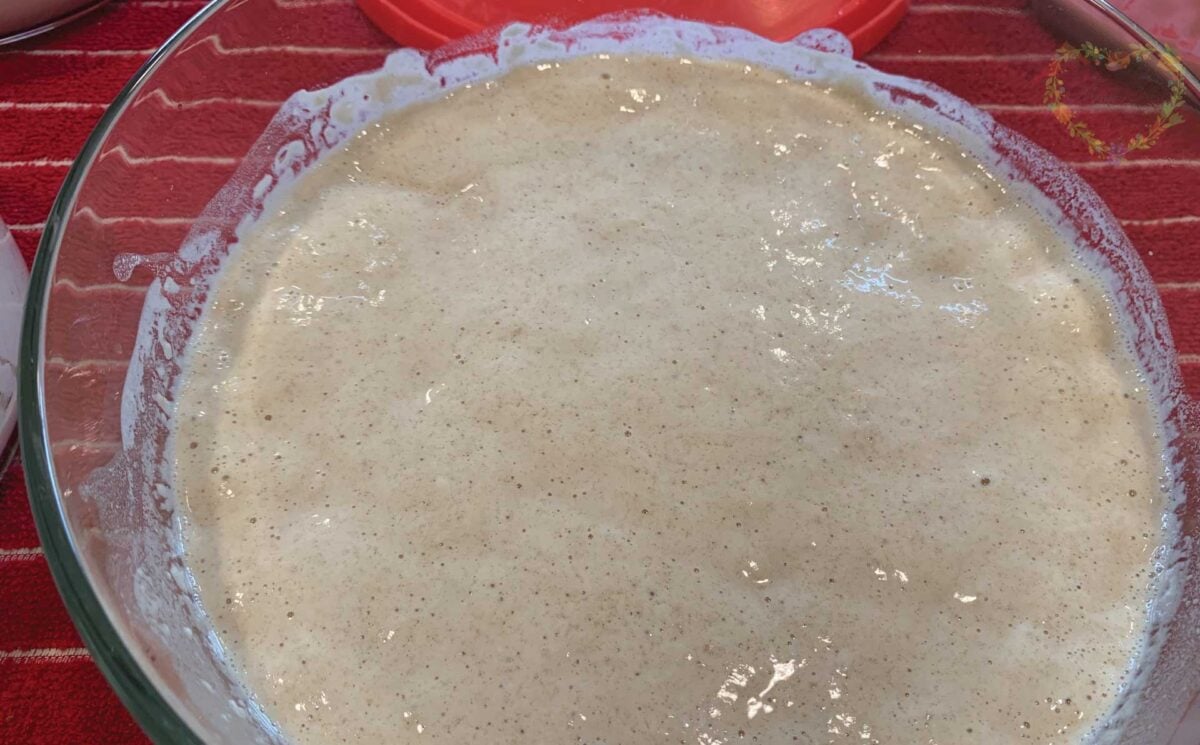 With your starter ready, you can now bake a nice round boule of sourdough bread. As a beginner, I highly recommend that you try my Fast No-Knead Sourdough Bread since it has a short rise time and a mild flavor. This can be very helpful if you and your family are new to the taste of sourdough bread as you are making the transition form a processed foods kitchen to a traditional foods kitchen and incorporating more traditional foods into your diet.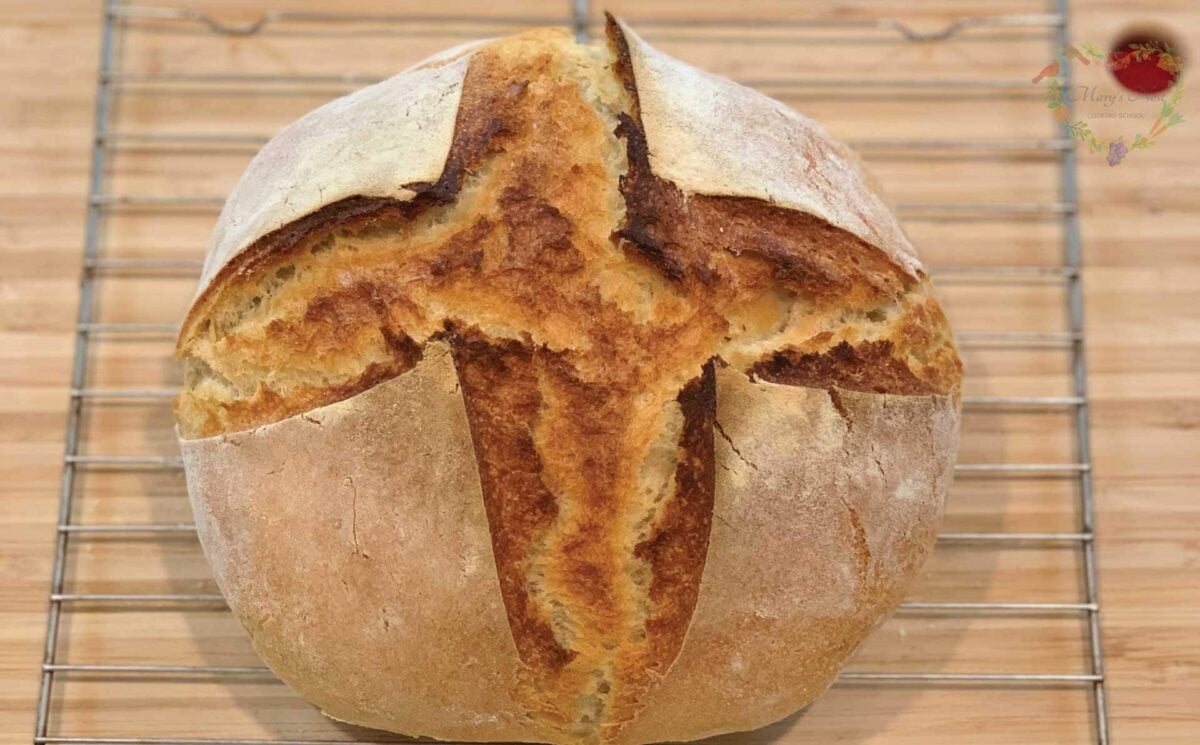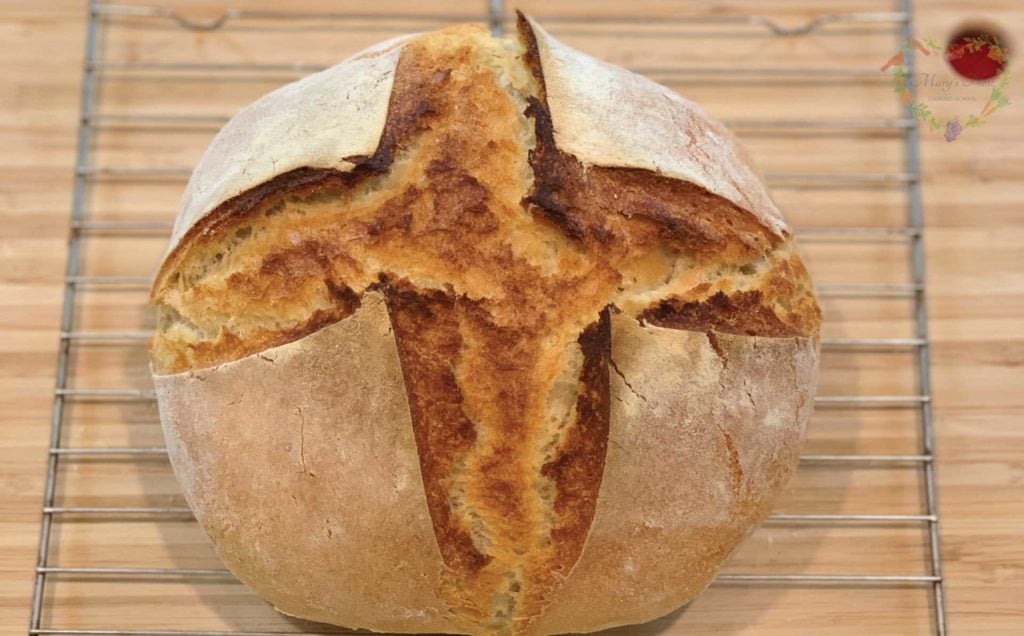 As you become more experienced at baking sourdough bread and want to try a recipe with a long rise time, visit my How to Make Sourdough Bread Using a Foolproof Starter post for a step-by-step video and printable recipe.
What If Something Goes Wrong with My Sourdough Starter?
OK, what if after 7 days or even longer, you see no activity in your starter? What if you starter smells like nail polish remover? What if you stored your starter in the refrigerator and a black liquid formed on top? Not to worry!
All of these things can happen, and all can be remedied. Be sure to check out my Complete Sourdough Starter Guide video, where I diagnose these problems and more at the 12:20 mark.
And if you have any problems or questions that I have not addressed in the video, check the video comments, since I have may have answered a previous viewer's question that's similar to yours. You can also leave me a comment on the video or this blog post.
More Sourdough Recipes
For what to do with all your Sourdough Starter, watch the Discarded Sourdough Starter Recipes playlist. To learn more about how to make sourdough starter and bread, watch the following recipe videos.
And if you need a little help getting your sourdough starter underway, check out the Busy Mother's Sourdough Secret.
In the following videos, I show you how to make sourdough bread with different types of flour.
Learn how to make whole grain breads lighter in texture and easier to digest.
Learn how to make this tasty biscuit on your stovetop with just a handful of ingredients.
Get to know the general rules for baking with and adding liquids to fresh milled flour.
Grind Your Own Flour with the Mockmill
When it comes to electric grain mills, after I did A LOT of research, I decided to buy a Mockmill. And am I so happy I did! The Mockmill is a very affordable but beautifully crafted German-made mill that stone grinds grain with settings ranging from 1 to 10—fine to coarse ground grain.
And I have great news! The folks at Mockmill are very kind to offer my viewers and readers a special one-time discount on any of the grain mills that they sell.
You can see me unbox and try out the Mockmill 100 Grain mill in the following video.
Download Your Free 36-Page Pantry List
For an extensive list of the traditional foods you can make and purchase to stock your pantry, be sure to download my free 36-page Traditional Foods Pantry List. This comprehensive eBook is full of links to recipe videos, helpful articles, and more!
The Modern Pioneer Cookbook
And if you're looking for a printed book full of my traditional foods recipes and that shows you how to create a traditional foods kitchen, be sure to preorder your copy of my new book, The Modern Pioneer Cookbook.
Kitchen Academy Videos
Are you looking for more traditional foods videos? If so, I invite you to join the Traditional Foods Kitchen Academy. Members of this optional paid YouTube community get access to exclusive videos, live streams, and other members-only perks. Plus, your YouTube comments include a special members-only badge.
In the following members-only video, I talk about How to Make Any Baking Recipe a Sourdough Recipe.
I chat about why it was important for me to create this comprehensive curriculum for students in grades K-12.
I share upcoming recipes and what I have planned for my Mary's Nest YouTube channel in 2024.
During this month's members-only live stream, we talked about a variety of topics, including a preview of upcoming videos.
Stay in Touch with Mary's Nest
Subscribe to My YouTube Channel for Traditional Foods Videos (Free) - When you subscribe, be sure to click on the notification bell that will let you know each time I upload a new video.
Subscribe to Mary's Traditional Foods Newsletter (Free) - Get a free 36-page eBook for signing up: How to Stock Your Essential Traditional Foods Four-Corners Pantry.
Join the Traditional Foods Kitchen Academy (Optional Paid) - For more detailed videos, live streams, and exclusive members-only perks, join my YouTube membership community.
Order The Modern Pioneer Cookbook (Optional Paid) - Get a printed book of Mary's nourishing recipes from a Traditional Foods Kitchen. This bestselling cookbook is published by Penguin Random House with their DK imprint.
I look forward to having you join me in my Texas Hill Country Kitchen!
Shop for items used in this blog post or video
Favorite Sourdough Starter and Baking Supplies
More Kitchen Supplies with Discount Codes
Learn more about Mockmill electric grain mills for making fresh flour and their Flake Lover's Flaker that flakes whole grain in minutes.
Use promo code MARYSNST for a one-time 15% off Masontops and Breadsmart products on Amazon.com.
Amazon Shop and Shopping Guide
Recommended Reading
**Disclaimer: I am not a medical doctor, a medical professional, a dietician, or a nutritionist. All content found on the MarysNest.com website, including text, images, videos, eBooks or eGuides, social media, or other formats, were created solely for informational purposes only. The content is not intended to be a substitute for professional medical advice, diagnosis, or treatment. Always seek the advice of your physician or other qualified healthcare provider with any questions you may have regarding a medical condition or proper nutritional advice. Never disregard professional medical advice or delay in seeking it because of something you have watched in a video or read on this website. Use caution when following the recipe in this video. The creator and publisher of this video and website will not be held responsible for any adverse effects that may arise from the use of this recipe and method or any other recipe and method on this website or corresponding video channel.