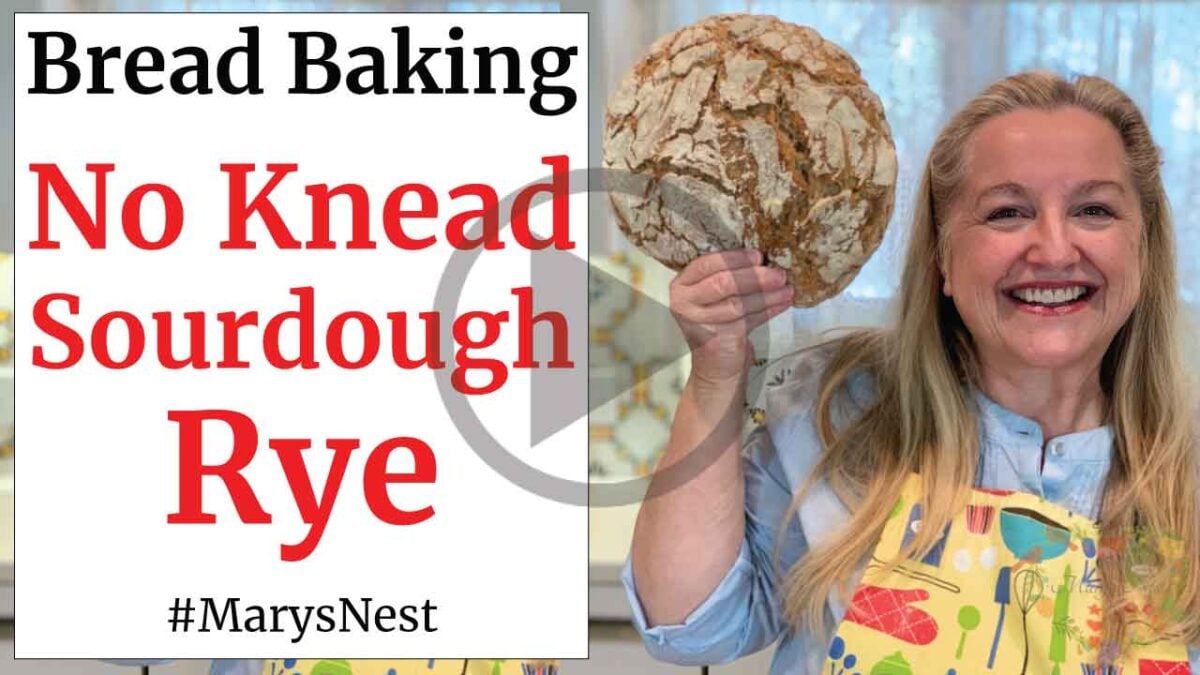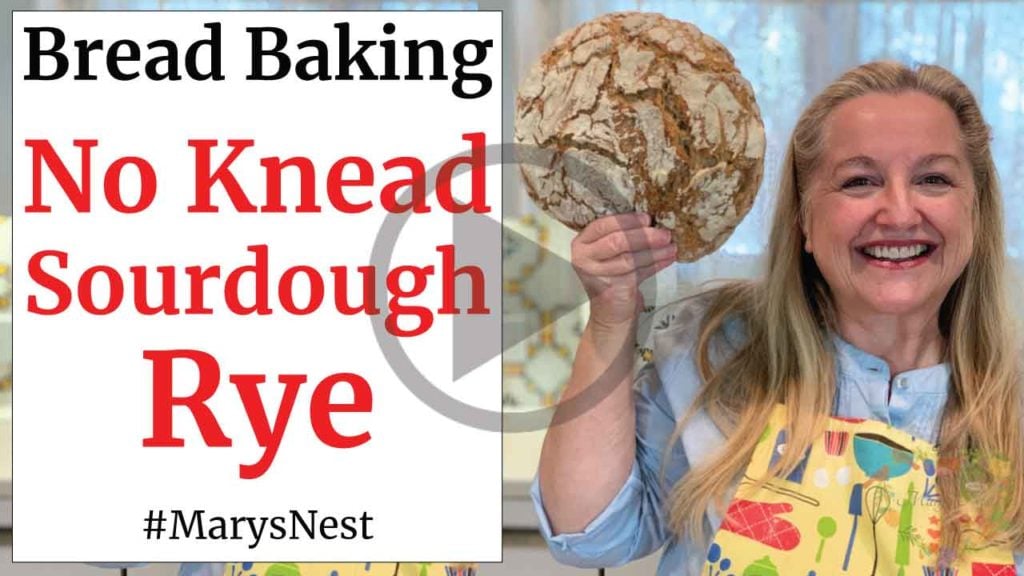 Here is an easy recipe for how to make a no knead sourdough Rye Bread. The sourdough starter and an overnight rise do all the work!
Sourdough Rye Bread's Amazing Flavor
If you like sourdough—and you like rye—this bread will become your new favorite. The flavor of the rye shines through, but the sourdough adds a bit of tang that those of us who love sourdough can't get enough of!
An Overnight Rise Does All the Work
The best thing about making traditional sourdough breads is that the overnight rise lends an amazing flavor to the bread. But by making this a no knead bread, we streamline the process by letting the "kneading" take place overnight while the flavor is developing.
How is this achieved? All it takes is making a very loose and sticky batter. The extra liquid makes all the difference, and it starts by activating the gluten. Gluten is a wheat protein—actually two proteins, glutenin and gliadin—that combine and form what we call gluten.
But in order to be activated, gluten needs to be wet. Withholding water from dough deters gluten's development. To really maximize gluten's development, you want to add enough water to create a wet sticky dough.
Reasons to Encourage Gluten Development
We want to encourage this development of gluten because the more we develop the gluten, the better the rise of the bread and the lighter the consistency of the crumb. You can cause gluten to develop by kneading the dough for 10 minutes or more, but the easier way is to simply add a bit more water than a normal bread dough batter would call for and then let the dough rest at room temperature for anywhere from 12-18 hours. Voila! You've created perfectly developed gluten and no knead to…knead!
If you want to slow things down even further, you can refrigerate your dough and let it rise in the refrigerator for anywhere from 24-36 hours. This delay allows you to bake the bread on your schedule. No knead breads offer a great deal of flexibility!
Learn More About Rye and Wheat Berries
Have you ever wondered what the difference is between ancient grains (such as Einkorn, Spelt, and Kamut) and modern-day wheat? And how about Rye? If so, be sure to check out the following videos where I talk about the history of these grains and how they are best used for baking. I'll also show you how to make traditional Rye Bread Kvass.
Mockmill Grain Grinder
To make my Sourdough Rye recipe, you can use rye flour, but if you feel adventurous and enjoy the aroma of freshly ground flour, I show you how to grind your own Rye flour from Rye berries in my Sourdough Rye recipe video.
After a lot of research, I purchased a Mockmill Grain Grinder to create fresh flour for my baking. You can see me unbox my Mockmill 100 grain mill in the following video.
If you would like to get a Mockmill or other Ancient Grains, like Einkorn, the folks at Mockmill were so kind to offer my viewers a special 5% discount off their purchase. Just use the following link and promocode.
Sourdough Starter Recipes
If you're new to sourdough baking and need to learn how to make a sourdough starter to make your Sourdough Rye Bread (or another type of Sourdough Bread), I show you a few different ways to do this. My first starter video on how to make a Foolproof Sourdough Starter is the easiest. You'll make this sourdough starter with rye flour, and you'll have your starter bubbling and ready in about four days or so. Rye contains a starch that yeast loves, so it's great for using to make a sourdough starter!
Can't find rye flour? No problem. I show you how to make a sourdough starter using all-purpose flour in my Complete Sourdough Starter Guide. Plus, I also review all the problems you may encounter when making a starter and how to correct them. This is the perfect video for beginners to start with!
And in my next sourdough starter video, I show you a shortcut to making a sourdough starter that becomes a true sourdough starter. It's the Busy Mother's Sourdough Secret, and I'm happy to share it with you!
What to Do with Discarded Sourdough Starter
When you make a traditional sourdough starter, you'll have to "feed" your starter and remove part of the starter, which is what we call the "discard." For ideas for what to do with your sourdough discard, check out the following recipe videos. You'll never have to throw out your discard again!
More Sourdough Bread Recipes
New to sourdough baking? If so, my Fast No Knead Sourdough is for you. It has a short two-hour rise with a mild flavor even children love.
When you're ready to make a traditional sourdough bread with a long rise and tangy flavor, I show you how in my how to make Sourdough Bread using a Foolproof Starter. Yum!
Kitchen Academy Videos
Are you looking for more traditional foods videos? I invite you to join the Traditional Foods Kitchen Academy. Members of this optional paid YouTube community get access to exclusive videos, live streams, and other members-only perks.
In the following members-only video, I talk about How to Make Any Baking Recipe a Sourdough Recipe.
Stay in Touch with Mary's Nest
Subscribe to My YouTube Channel for Traditional Foods Videos (Free) - When you subscribe, be sure to click on the notification bell that will let you know each time I upload a new video.
Subscribe to Mary's Traditional Foods Newsletter (Free) - Get a free 36-page eBook for signing up: How to Stock Your Essential Traditional Foods Four-Corners Pantry.
Join the Traditional Foods Kitchen Academy (Optional Paid) - For more detailed videos, live streams, and exclusive members-only perks, join my YouTube membership community.
Order The Modern Pioneer Cookbook (Optional Paid) - Get a printed book of Mary's nourishing recipes from a Traditional Foods Kitchen. This bestselling cookbook is published by Penguin Random House with their DK imprint.
I look forward to having you join me in my Texas Hill Country Kitchen!
Shop for items used in this blog post or video
Favorite Baking Supplies
Learn more about Mockmill electric grain mills for making fresh flour and their Flake Lover's Flaker that flakes whole grain in minutes.
Favorite Kitchen Supplies
Use promo code MARYSNST for a one-time 15% off Masontops and Breadsmart products on Amazon.com.
Amazon Shop and Shopping Guide
Recommended Reading
**Disclaimer: I am not a medical doctor, a medical professional, a dietician, or a nutritionist. All content found on the MarysNest.com website, including text, images, videos, eBooks or eGuides, social media, or other formats, were created solely for informational purposes only. The content is not intended to be a substitute for professional medical advice, diagnosis, or treatment. Always seek the advice of your physician or other qualified healthcare provider with any questions you may have regarding a medical condition or proper nutritional advice. Never disregard professional medical advice or delay in seeking it because of something you have watched in a video or read on this website. Use caution when following the recipe in this video. The creator and publisher of this video and website will not be held responsible for any adverse effects that may arise from the use of this recipe and method or any other recipe and method on this website or corresponding video channel.