How to Make a Foolproof Sourdough Starter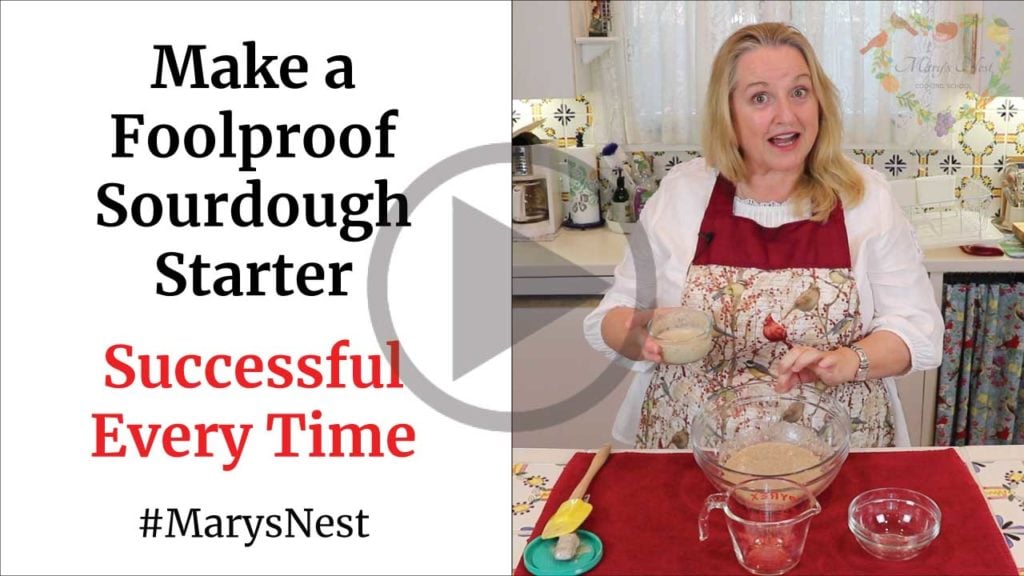 Hi Sweet Friends,
Making a Sourdough Starter is easier than you think.  The secret is to start with rye flour.  You can use freshly ground rye grain for best results.  Or, if rye grain isn't available to you, use rye flour, but make sure it's fresh and not passed its expiration date.
Now that I have a starter…
Once you get your starter going, you'll want to make a sponge to make your sourdough bread.  At this point, you can use any flour you want to use to make bread—and you will not have any rye taste in your final product.
Step-by-step instructions
Watch this YouTube video as I walk you through the step-by-step process of making a foolproof sourdough starter.
Stay in Touch with Mary's Nest
Subscribe to My YouTube Channel for Traditional Foods Videos (Free) - When you subscribe, be sure to click on the notification bell that will let you know each time I upload a new video.


Subscribe to Mary's Traditional Foods Newsletter (Free) - Get a free eBook for signing up: How to Stock Your Essential Traditional Foods Four-Corners Pantry.


Join the Traditional Foods Kitchen Academy (Optional Paid) - For more detailed videos, live streams, and exclusive members-only perks, join my YouTube membership community.
I look forward to having you join me in my Texas Hill Country Kitchen!
Love,
Mary
♥
You can print the recipe below.
Print Recipe
How to Make a Foolproof Sourdough Starter
Making a Sourdough Starter is easier than you think.  The secret is to start with rye flour.  You can use freshly ground rye grain for best results.  Or, if rye grain isn't available to you, use rye flour, but make sure it's fresh and not passed its expiration date.
Ingredients
5

tbsp

Rye flour

preferably freshly milled

4

tbsp

Filtered water

preferably filtered, chlorine-free
Instructions
Day 1 Mix 1 Tbsp. rye flour and 2 Tbsp. room temp/lukewarm water (preferably filtered chlorine-free water) in a small jar or bowl that holds approximately no more than 1 cup. Mix the two ingredients well, incorporating lots of air. Cover the jar or bowl loosely. Place in a warm spot in your kitchen at about 75 degrees Fahrenheit where it can rest undisturbed.

Day 2 Do nothing. The starter in the making will probably smell a little sweet - some say like honey. But if not, don't worry.

Day 3 Now stir in 1 Tbsp. rye flour (no water) into your mixture and stir well, incorporating a lot of air. You may see a few bubbles starting but if not, don't worry. Re-cover loosely and re-place in its undisturbed warm spot.

Day 4 Add 2 Tbsp. room temp/lukewarm water and 2 Tbsp. rye flour into your mixture and stir well, incorporating a lot of air. Re-cover loosely and re-place it back in its undisturbed warm spot.

Day 4 1/2 After 8 hours or up to 12 hours later check on your starter. It should be bubbly and foamy. If not, don't worry. If it has not bubbled up and there is no foam, leave it for another 12 hours. Then repeat Day 4 - which is now Day 5 for you. Check it halfway through after 12 hours on Day 5. At this point, it should be ready. If not, rye grain/rye flour was probably very old. The key to success here is to have fresh rye flour.

If everything has gone well, and you have a thriving starter, you are now ready to make sourdough bread. Using your rye starter, you will first want to make a "sponge" which you will use to make your sourdough bread. I have included this information in the Recipe Notes below along with a recipe for a No-Knead Sourdough Bread.
Notes
This recipe works best if you use fresh rye grain that has been recently grounded right before making the starter. If you do not have this option, try using milled rye flour that you have purchased from a reputable source so that you know it is fresh. Hodgson Mills and Bob's Red Mill are usually reliable sources unless you have a local option.
How to make a "Sponge"
You will need:
2 Tbsps. Rye Sourdough Starter
1/3 cup Water (preferably filtered chlorine-free water)
1/3 cup Fresh Rye Flour (You can try using All-Purpose Flour in this step, but it might not work as well.)
Mix the starter, water, and flour in a small bowl. Cover loosely with plastic wrap and leave in a warm, undisturbed place in your kitchen for about 10 hours. It should not need 12 hours to become bubbly and foamy. You can start checking it at 6 hours.
Once it is bubbly and foamy, you are ready to make the dough for the sourdough bread. I usually make this no-knead version.
MAKE THE SOURDOUGH BREAD (This makes two loaves)
Sponge
2 cups Water
4 1/2 cups Bread Flour (you can also use All-Purpose flour)
1 Tbsp. Salt
IMPORTANT: First, remove 2 Tbsp. of your sponge and add it to the little jar or bowl of your original rye starter. Now you can refrigerate your rye starter. It will stay strong in the fridge for about a week. If you want to bake bread with it, feed it as in step 1 above, and it should be ready to go in a day. If you leave it in the fridge longer than a week, you will need to revive it, which involves discarding half of it and then following the Day 1-4 steps above for making a starter.
OK, let's make the dough.
Mix the sponge, water, flour, and salt in a large bowl. Mix by hand until it just comes together. The dough will be slightly sticky.
Cover the bowl with plastic wrap and let it rest for about 8 hours. However, you can start checking it 6 hours. 
To know if it is ready, I use the finger test. If you poke the dough with two fingers and the indents remain the same it has not "proofed" enough. If you poke the dough with 2 fingers and it springs back slightly, but you can still see the finger indents, it's ready. (If the finger pokes fill in 100%, it is over proofed. Oh well, don't worry. Just roll it flat and use it to make a pizza.)
Once the dough is ready, remove it from the bowl. You can use your hand or a plastic bendable bench scraper. Transfer it to a well-floured surface. Cut it in half and shape each half into a round loaf (a "boule"). At this point, I place mine on a cutting board that has been covered with a well-floured dish towel, and then I dust the tops with flour and cover with another dish towel. I let the loaves rest for 1-2 hours in a warm place in my kitchen. In the summer, they have usually doubled in 1 hour. In the cooler months, it might take 2 hours. Just keep an eye on them.
I pre-heat my oven to 475 Degrees Fahrenheit for 30 minutes before I put in my loaves. I place each loaf on a parchment lined baking sheet dusted with flour. You can also use a baking stone dusted with flour, bran, or cornmeal. And then I slash the top of my loaves with a lame. If you prefer not to use a lame, you can use a sharp knife, or you can simply flip your bread upside down and place it seam side up on to your baking sheet. 
Some people ask me why I don't let them rise on the baking sheets—it would just be easier. True, but I find that the cold aluminum inhibits a nice rise. That's just me.
Once the oven is nice and hot, put the loaves into the oven. Everyone's oven temp is different, but I usually turn my oven down to 450 degrees Fahrenheit at this point. It takes about 30-35 minutes for the loaves to bake.
Once the loaves look nicely browned and have a hollow sound if I tap then on the bottom, I remove them from the oven and transfer them to a rack to cool. Then Enjoy!!
Shop for items used in this blog post or video
Visit my Shopping Guide page
Learn where I buy my Beef Bones, Wild-Caught Fish, Sprouted Grains, and more...and learn about Special Discounts for Mary's Nest visitors, including from US Wellness Meats, Vital Choice, Masontops, and Breadsmart.
*Affiliates note: As an Amazon Associate I earn from qualifying purchases. My videos and blog posts may contain affiliate links to products and services. If you click through and make a purchase, I'll receive a small commission. It does not affect the price you pay.
**Disclaimer: I am not a medical doctor, a medical professional, a dietician, or a nutritionist. All content found on the MarysNest.com website, including text, images, videos, eBooks or eGuides, social media, or other formats, were created solely for informational purposes only. The content is not intended to be a substitute for professional medical advice, diagnosis, or treatment. Always seek the advice of your physician or other qualified healthcare provider with any questions you may have regarding a medical condition or proper nutritional advice. Never disregard professional medical advice or delay in seeking it because of something you have watched in a video or read on this website. Use caution when following the recipe in this video. The creator and publisher of this video and website will not be held responsible for any adverse effects that may arise from the use of this recipe and method or any other recipe and method on this website or corresponding video channel.